I have a cute idea for an easy to make fall wreath today from Katie Femia from The Homespun Hydrangea who is going to be doing some guest posting for me while I pack up my house. She came up with this clever idea to use a burlap charger ($2) as the basis for a easy frugal fall wreath!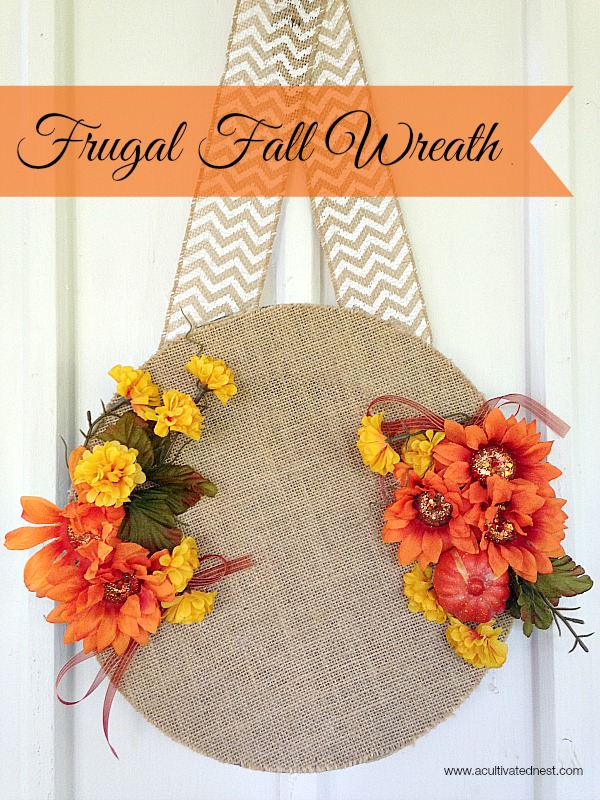 Disclosure: This post may contain affiliate links to Amazon and/or Etsy, which means that I may earn a small commission from some of the links in this post. Please see our Disclosure Page for more information.
Invite the warmth of fall into your home when you craft this festive and frugal fall wreath. Made from just a few dollar store materials, this pretty wreath is a fresh spin on the traditional idea of a wreath. Here's how to make it.
Easy Frugal Fall Wreath Tutorial
Materials:
1 burlap covered charger ($2 at local craft store)
Assorted fall foliage and flowers (dollar store)
Mini pumpkins (dollar store)
Fall ribbon of your choice. You will need wide ribbon for hanging and thin ribbon for an accent. (dollar store)
Hot glue, glue gun
Scissors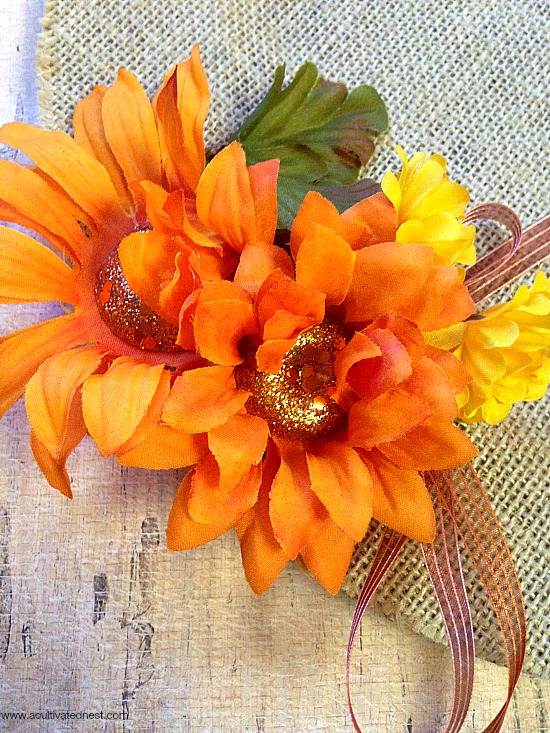 Directions:
1. Begin by cutting your fall foliage and flowers up into individual stems. This will make them easier to work with. If any of the flowers are large (such as the orange sunflowers we used) you can remove the bloom at the head.
2. Before you apply your flowers, lay out a design. Once your happy with how it looks, apply some hot glue generously to the back of your flower heads. Press them to the charger and hold them in place until secure.
3. Add some embellishment around the flower heads. I used smaller fall mums as well as some mini pumpkins. Apply a generous amount of glue to these items and press them in place creating a cluster. As you can see I created two dominate clusters, but you can arrange as you wish.
4. Finish the front by adding a few small bows, created from your thin ribbon if you like.
5. Cut a length of the thick ribbon to use for hanging. Apply some hot glue to the ends and press it to the back of the charger until secure.
Once your glue is dry, your frugal fall wreath is ready for hanging!
This  easy fall wreath is perfect for hanging on  a door, mirror or over a buffet. Anywhere you need a touch of fall in your home.  It is sure to make your space look great without spending tons of money!
About Katie:Katie Femia is a blogger and YA author who loves stretching a buck, trying her hand at those Pinterest pins, and watching old black and white movies. A good day is one where she gets the chance to be creative and thrifty! You can see her latest projects at www.thehomespunhydrangea.com and www.katiefemia.com