Sometimes I enjoy making my own wreaths and the other day I was feeling crafty, so I decided to DIY a Spring Wreath. I made a really easy, budget friendly, felt flower and yarn spring wreath for my foyer!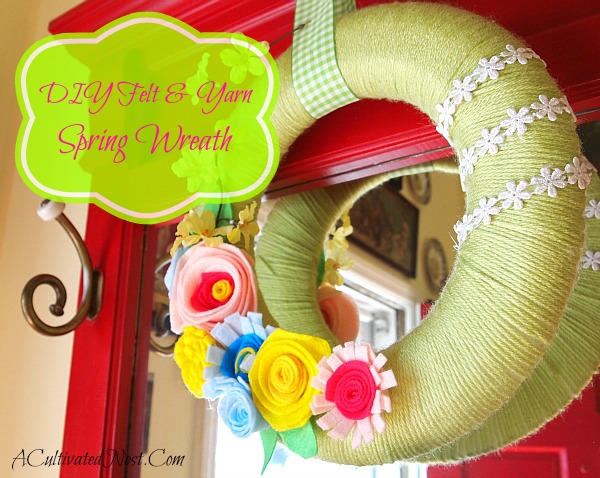 Disclosure: This post may contain affiliate links to Amazon and/or Etsy, which means that I may earn a small commission from some of the links in this post. Please see our Disclosure Page for more information.
I had all the supplies I needed on hand so this cost me zero dollars. You need a wreath form, felt (I think you can get it 4/$1), yarn ( have tons from trying to learn to knit and crochet), ribbon to hang your wreath and a glue gun. Optional: decorative trim, small branch of some kind of spring flowering tree or shrub (fake)
DIY Spring Wreath With Felt Flowers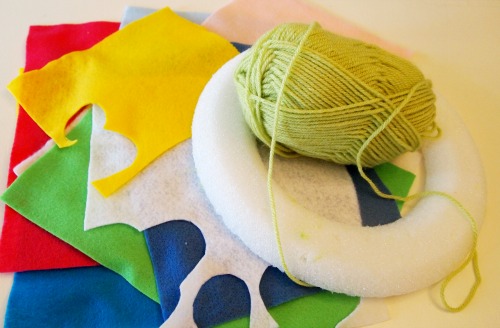 Supplies
A word about wreath forms – I've never made a wreath that I loved so much that I wasn't willing to take it apart and re-use it or re-fashion it over and over again.  I have a few different types of forms and different sizes that I got from various places.  The thrift store (just pull everything off it), clearance, purchased with a coupon, the dollar store, the dollar area at Target etc. I rarely go out and buy a new wreath form for a project. Lots of times you don't even need a "wreath form" you can just  cut yourself a circle or square from cardboard,  a cereal box, or poster board/foam core.
1. wrap your yarn around your wreath form…yawn…watch a movie while wrapping yarn around your wreath form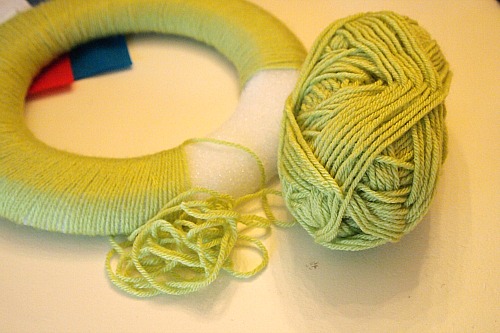 2. make various felt flowers & a few leaves. You can make your flowers all one kind. I chose to make a few different kinds. If you don't know how to make a felt flower, I show how to  make felt rosettes in this post Christmas Felt Rosette Tree or you can of course just google "how to make a a felt flower". It's SO easy!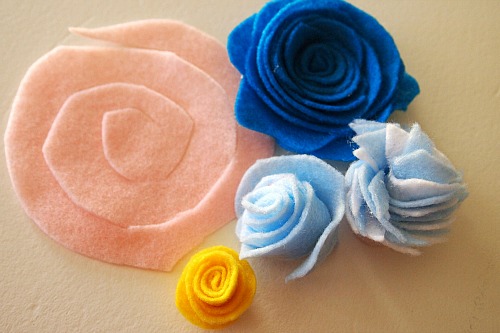 3. glue felt flowers onto your wreath in a manner that pleases you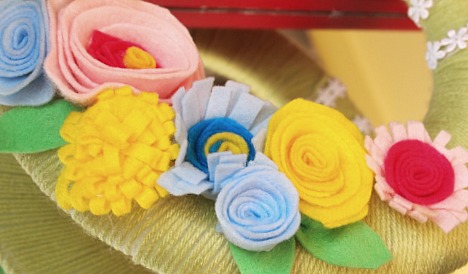 4. Optional:  glue your pieces of trim onto your wreath and a branch of a spring flowering tree or shrub and then hang your wreath with a ribbon.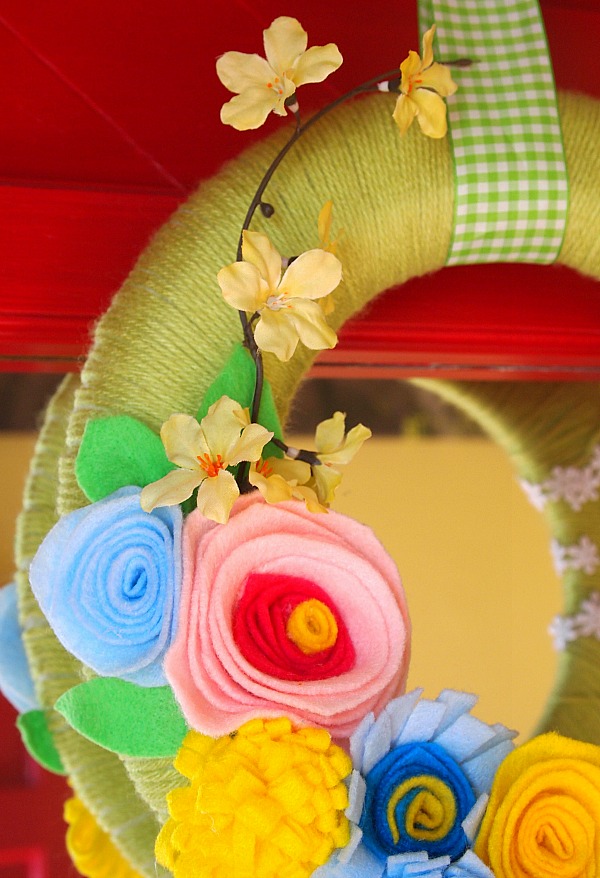 This was a really inexpensive and easy spring wreath to make!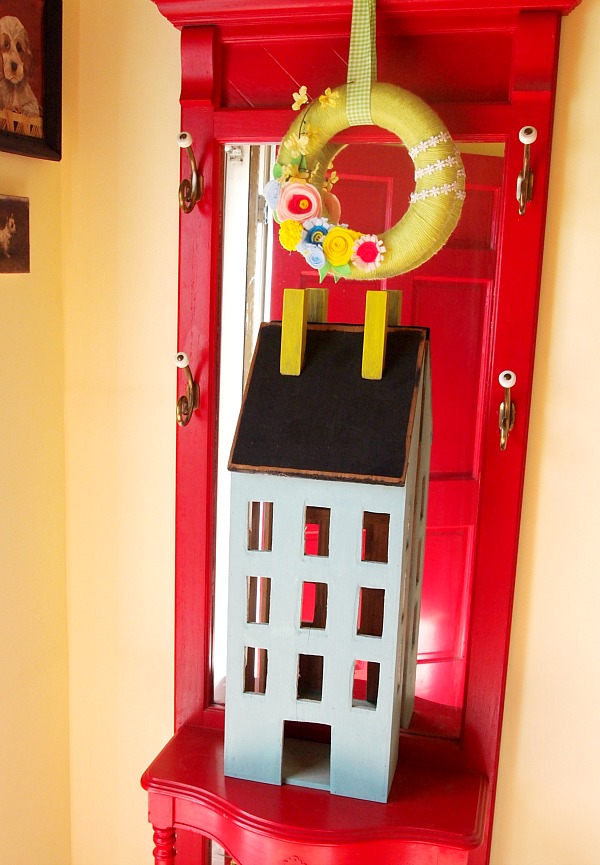 I like making my own wreaths since it's usually very hard to find ones in the colors that I like.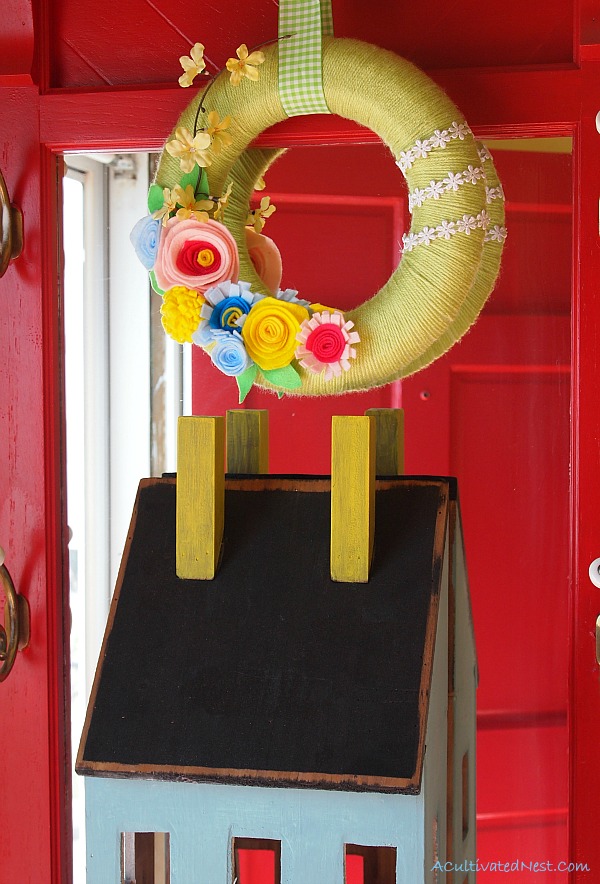 Last year I used a green fluffy feather boa for the base of my spring wreath. You can see it here Easy DIY Spring Wreath.
Spring will be here before we know it (I hope) !
You May Also Be Interested In: No Sew Felt Butterfly Craft