There are so many possibilities with these felt butterflies! Toss a magnet on the back for instant fun on your refrigerator. Attach to hair clips or bobby pins and adorn in your lovely locks. Glue onto photo frames to add a fun splash of color. Use in place of a bow on a gift. Attach to a burlap banner and hang. Glue onto skewers and stick into a plant or use as decorations for your next table setting. Glue them onto to branches for a fun whimsical display! There are so many things you can do with this adorable felt butterfly craft!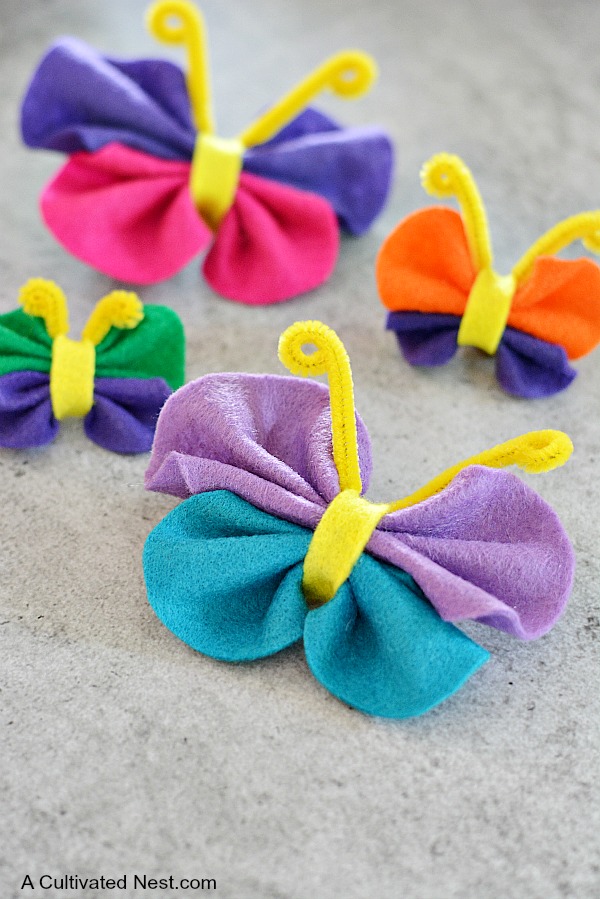 Felt is really inexpensive and easily found in many stores.
No Sew Felt Butterfly Craft
 Materials:
Felt
Hot Glue
Pipe Cleaners
Circle Templates – I use my glass lids
Sharp Scissors
Pencil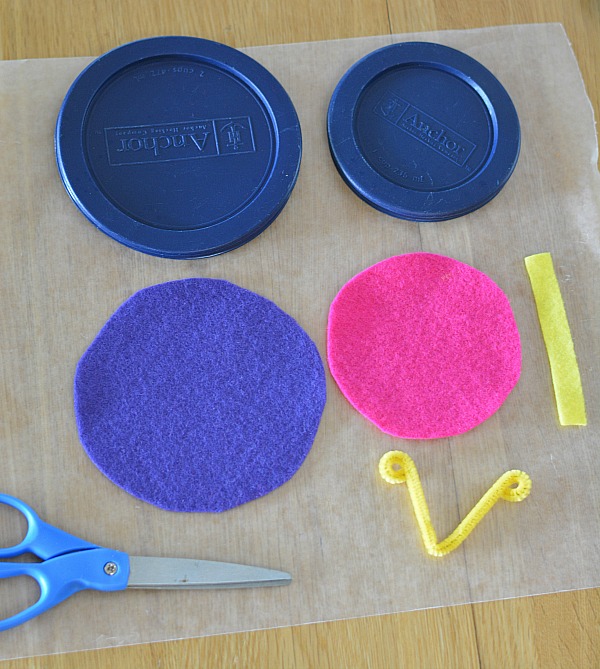 The large butterflies contain 1 each of the following:
4″ circle and 5″ circle
3-1/2″ x 1/2″ body
6″ antenna
The small butterflies contain 1 each of the following:
3″ circle and 2″ circle
body
antenna
Directions:
Using a circle pattern (lids, cookie cutters, glasses) trace the circle onto the felt with a pencil. Cut out circles.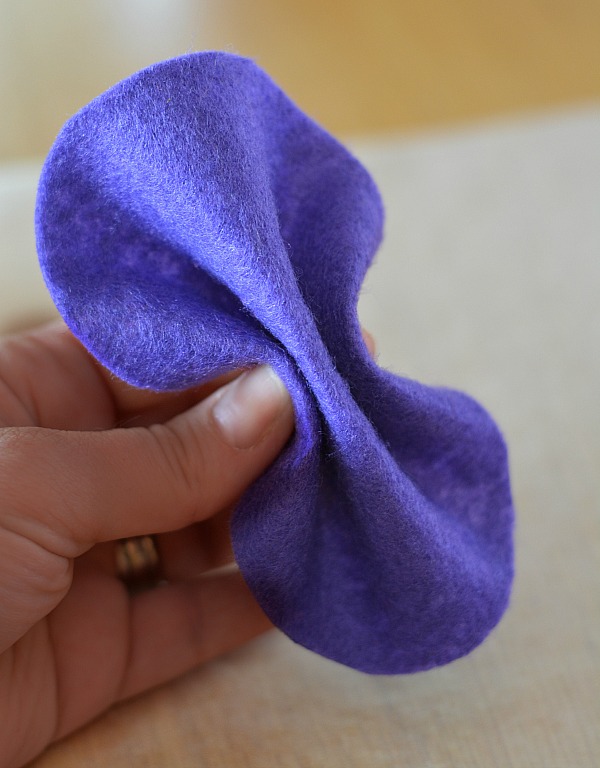 Fold the circle in the center and fold ends in to create wing shape.
Affix with hot glue in the seams and hold for a few minutes until it stays together. Flip over and add more hot glue in the center of the seams. Repeat until one large and one small circle is glue together.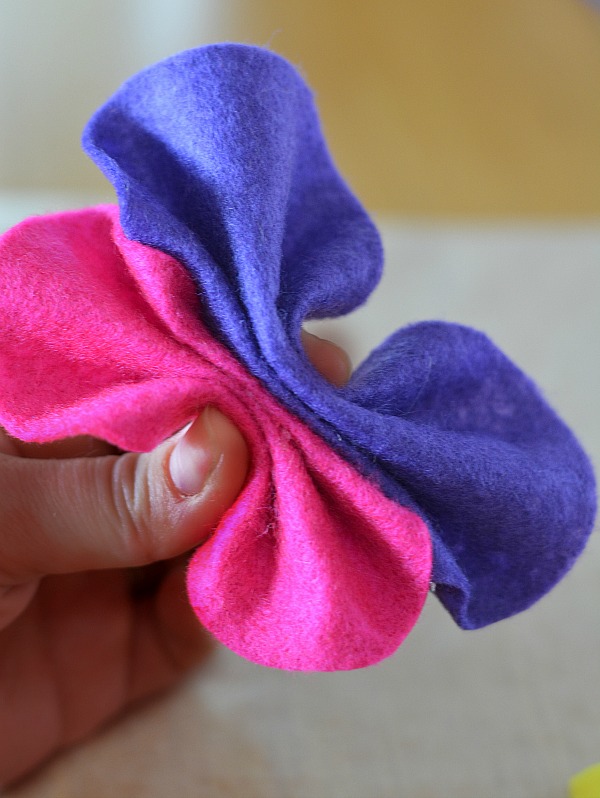 Hold one large and one small wing in your hand and glue together with hot glue.
Fold pipe cleaner in half. Roll each end with a pencil to create antennae.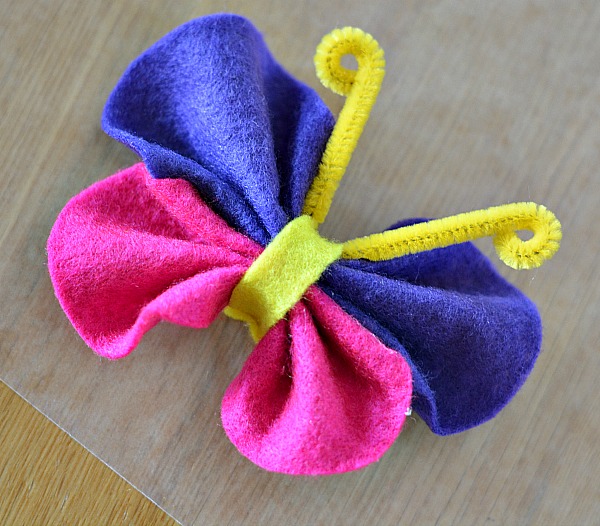 Wrap the center of the wings with the yellow body and add the antenna. Hold together and hot glue.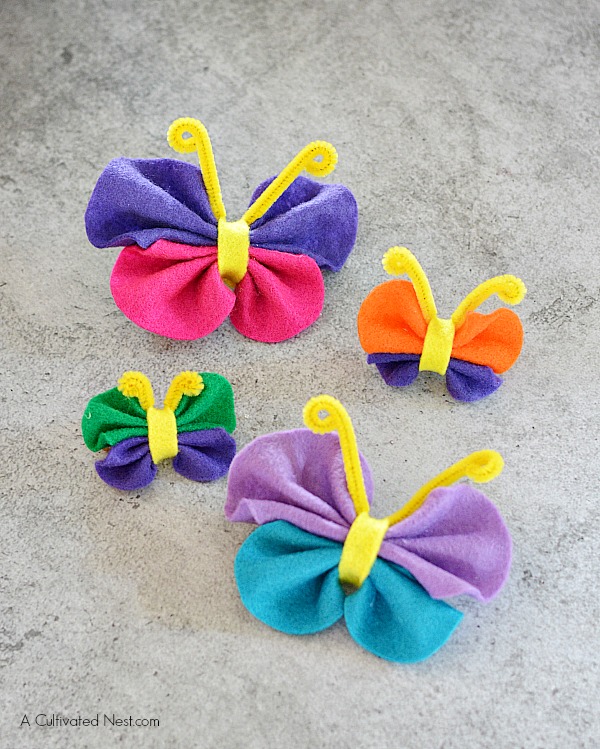 That's it! You're done! Make as many as you want and with as many colors as you want!
You may also be interested in this felt craft: