Happy weekend everyone! I was super excited when I found this DIY because every year it seems I have to replace my outdoor cushions because they get so faded and yucky looking from all the strong sun we get here (and probably the wind and rain from all our storms too). I know people get outdoor fabric and recover them but until you have time to do that, you should try this method. It's fast, it's easy –  DIY Spray Painted Cushions from The Frugal Homemaker.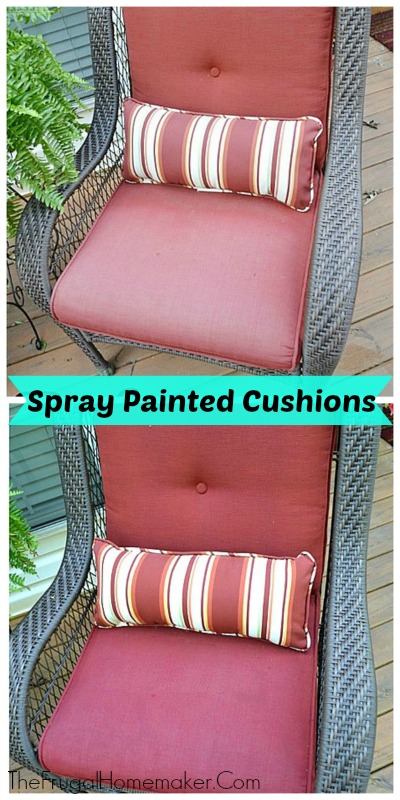 A can or two of spray paint is much cheaper than buying new cushions each year!
Disclosure: This post may contain affiliate links to Amazon and/or Etsy, which means that I may earn a small commission from some of the links in this post. Please see our Disclosure Page for more information.
I tested it last week and at the bottom of the post I'll show you my cushions.
Revived Outdoor Cushions With Spray Paint
Materials:
some old faded cushions

satin spray paint (she used Krylon, I used Rustoleum)
Directions:
See the before and after at The Frugal Homemaker (be sure to read the comments for more info)
Like I said I tested this last week and so far so good. It's amazing! I just spray painted one cushion just to see if it would work. I put the before and after cushions together so you could see the difference. Here are my results: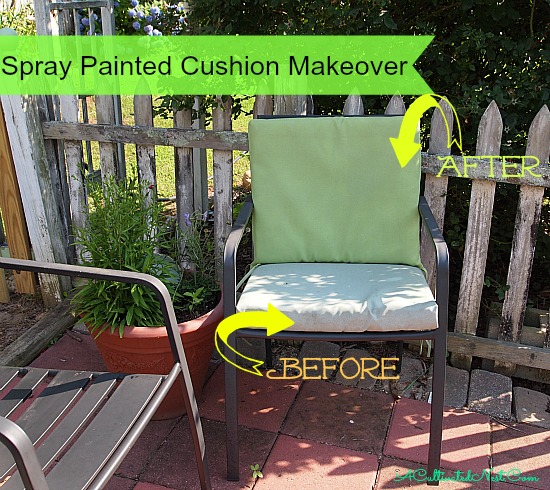 Isn't that great! I'm going to spray paint the other cushion and I have a bench cushion that I'm going to try it on.