I don't know about you, but I love teacups! There are so many pretty designs and different shapes! They're like art, in the form of a usable cup! Unfortunately, just because I love teacups doesn't mean I really use all the teacups I have as often as I probably should. I've collected a number of pretty teacups over the years, some of which I put on display, and others which unfortunately have stayed hidden away in the garage. I don't like to let something pretty go unused, so I figured, why not upcycle a teacup into something else? I've already tried a teacup garden and teacup birdfeeder, so I wanted to do something new and different. And so this DIY Lavender Teacup Candle was born!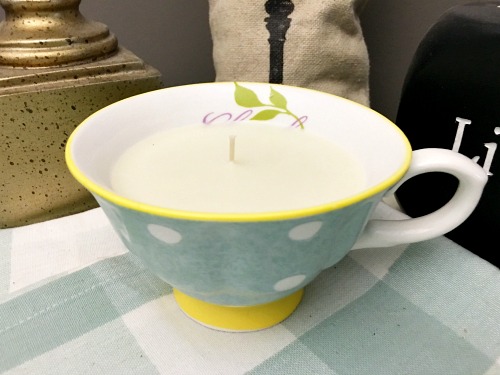 Disclosure: This post may contain affiliate links to Amazon and/or Etsy, which means that I may earn a small commission from some of the links in this post. Please see our Disclosure Page for more information.
This DIY candle makes a great new addition to your home's decor. You could even get themed teacups that fit different holidays and seasons! This is also a great DIY gift idea. Once the lavender teacup candle has been burnt for a while and the wax has melted away, your gift recipient is left with a pretty teacup! So it's like two gifts in one!
I made this candle with soy wax flakes, as they're much safer than traditional paraffin. I used a lavender candle scent for my DIY candle, but feel free to use a different scent for yours! Technically you can scent soy candles with essential oils, but be aware that the oils will burn along with the candle wax. So do your research to make sure the essential oil you're using can be safely burnt.
DIY Lavender Teacup Candle
Materials
1 1/2 cups soy wax flakes
1 teaspoon lavender candle scent
Wax coated candle wick
Wax melting pour pitcher
Candle thermometer
Wooden skewer or pencil
Teacup
Scissors
Directions
1. Add 1 1/12 cups of soy wax flakes to your wax melting pour pitcher.
2. Place the metal pitcher into a pot of boiling water.
3. Stir your wax until the temperate reaches 167°F with your candle thermometer.
4. Mix in your lavender scent and stir.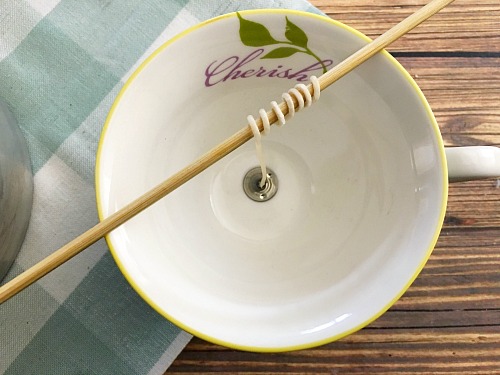 5. Wrap the top of the wick around your wooden skewer, dip the bottom of the wick into the melted wax, then press the wick bottom into the bottom of your teacup so your wooden skewer sits on top of the teacup.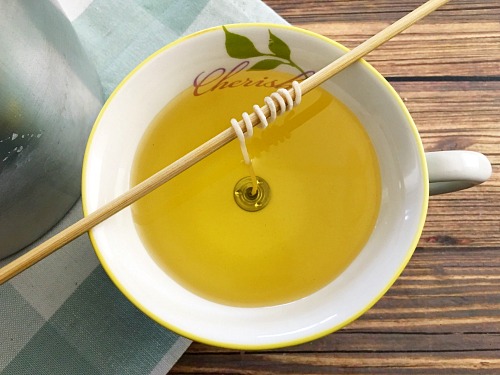 6. Carefully pour your melted wax into the teacup, filling it about 3/4 way up.
7. Carefully transfer your teacup to your freezer and freeze for an hour.
8. Trim your wick and display your DIY lavender teacup candle!
Do you collect teacups?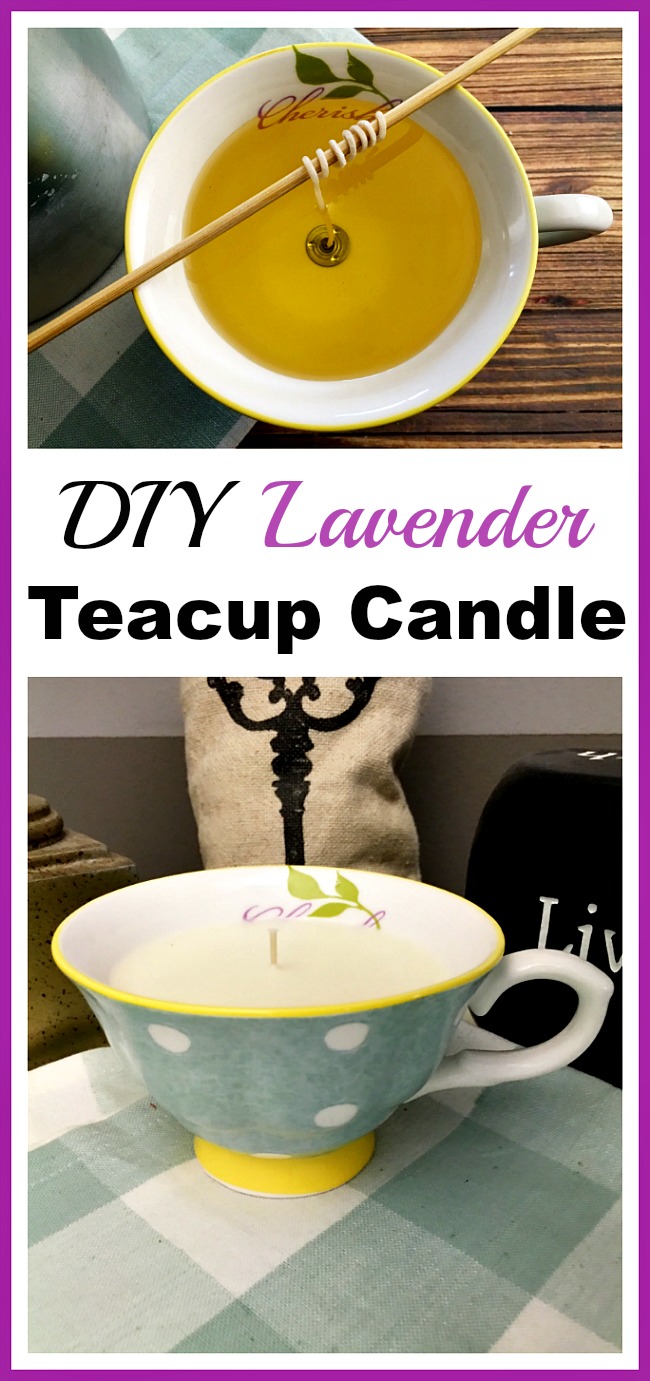 This post contains affiliate links to Amazon. Please see our Disclosure Page for more information.
You might also be interested in: