Hot Chocolate Bath Fizzies DIY Gift.
It's DIY gift time! With less than 25 days until Christmas, I'm finalizing all my online shopping (so I won't have to worry about late deliveries) and in-store shopping (so I won't have to worry about stores being out of things) and am about to start focusing on my DIY gifts! Luckily the DIY gifts I plan to make don't take too long, though they're still awesome presents! I plan to make all sorts of DIY bath bombs to give this year, but I wanted a seasonal one to add to the lot. That's how I came up with these cute DIY Hot Cocoa Bath Bombs!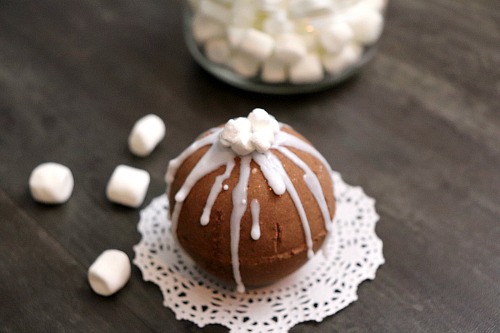 Disclosure: This post may contain affiliate links to Amazon and/or Etsy, which means that I may earn a small commission from some of the links in this post. Please see our Disclosure Page for more information.
Aren't these fun? These homemade hot chocolate bath fizzies look like something you could eat, complete with "icing" on top! But while you can't eat these, you can enjoy a luxurious hot chocolate bath. I don't think there's anything more seasonal than soaking in "hot chocolate"!
A fun way to gift these would be to pair them with my hot cocoa mix in a jar gift, with my pretty free printable Mason jar labels on front. So you'd be giving hot cocoa to soak in, and hot cocoa to drink!
DIY Hot Cocoa Bath Bombs
Materials
2 cups baking soda
1 cup citric acid (It's better to buy in bulk on Amazon)
1/2 cup cornstarch
1/4 cup cream of tartar
1/4 cup SLSA (Sodium Laurel Sulfoacetate, not to be confused with SLS AKA Sodium Lauryl Sulfate. It's just used to create bubbles.)
1/3 cup coconut oil (melted or solid. Both work!)
1 tablespoon polysorbate 80 (optional)
1 teaspoon hot chocolate scent
1 teaspoon brown mica powder
1 tablespoon cocoa powder
Bath bomb molds (I get mine on Amazon)
2-3 cubes of white or goats milk melt and pour soap base (Get yours on Amazon)
Dehydrated mini marshmallow nibs. I get mine on Amazon. You can also get them at some grocery and large retailers.
Spray bottle filled with rubbing alcohol
1 large mixing bowl
1 small bowl
Directions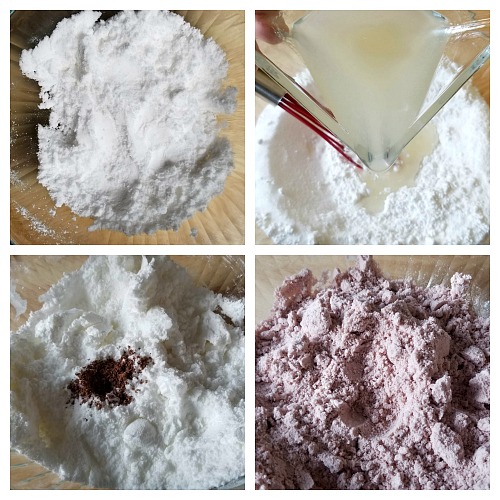 1. In a large mixing bowl, add the baking soda, citric acid, cornstarch, cream of tartar and SLSA.
2. Add coconut oil. This binds all the ingredients together, so you bath bombs don't crumble when you touch them!
3. Add the polysorbate 80 (if you've chosen to use it). This helps the coconut oil disperse more evenly in your bath water, makes the bath bombs bubbly and prevents the mica from sticking to the side of the tub.
4. Add the mica color and cocoa powder.
5. Add the hot chocolate scent.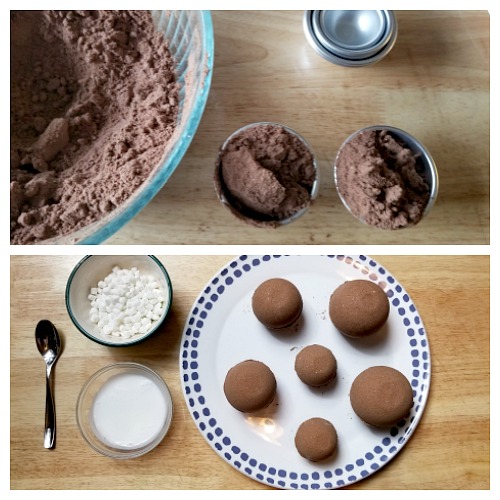 6. Mix the ingredients together. I use my hands to break down any lumps and make sure everything is really mixed in there. The mixture is perfect when it holds together when you press it into your hands and feels like wet sand.
7. Take one mold and fill each side with the mixture until it is a bit over-flowing. Press both sides together, using a twisting/grinding motion to get rid of any excess mixture. Gently tap each side and carefully remove the bomb. As you progress through making the bath bombs, you may need to spray them with the rubbing alcohol to moisten them, so they bind together. Allow the bath bombs to dry a minimum of 24 hours. My rule of thumb is that when it is hard to the touch, they are ready for the final stage- the glaze!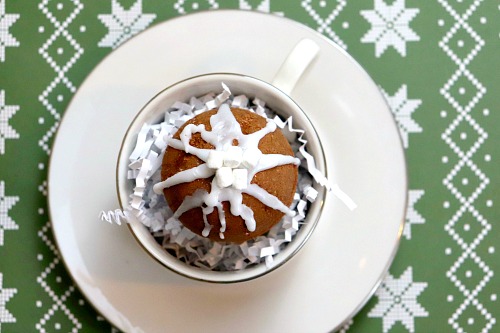 8. Place soap cubes into a microwave safe bowl and melt for 30 seconds and stir. Continue to melt in 30 second intervals until completely melted.
9. Using a condiment or hair coloring bottle or spoon, drizzle the soap over the bombs. Add a few of the marshmallow nibs to the top of the bath bomb, but do it before the glaze hardens.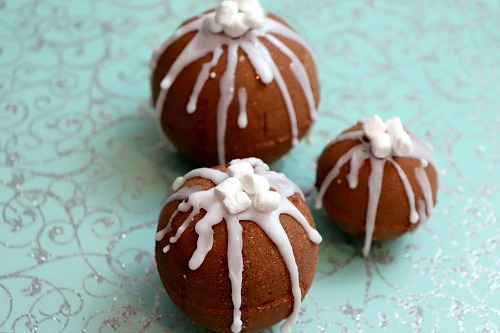 Then your DIY hot cocoa bath bombs are finished and ready to gift or enjoy right away!
Are you giving handmade gifts this year? What are you making?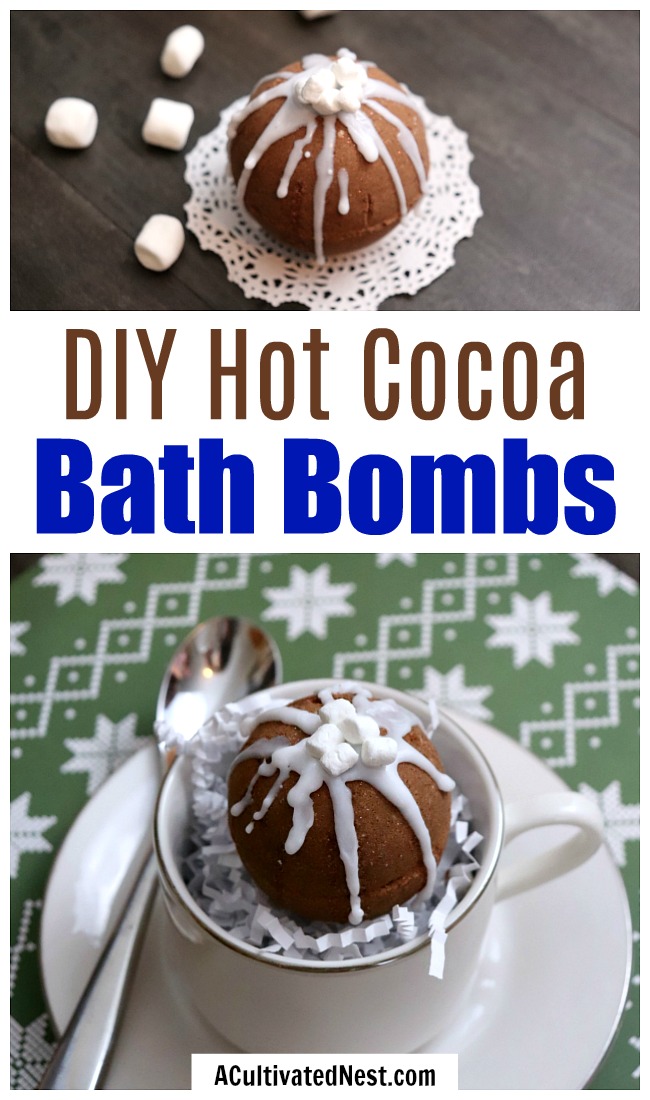 You might also be interested in: DIY Candy Cane Bath Bombs