Don't you just love a good thrift store makeover? I found this cute round clock at Goodwill the other day, but wasn't that much of a fan of the wood pattern it had. So I decided to paint it. But even better than just painting it, I painted it with a quick DIY chalky paint I made using a paint sample! Follow my steps to find out how to do your own DIY Chalky Paint Clock Makeover!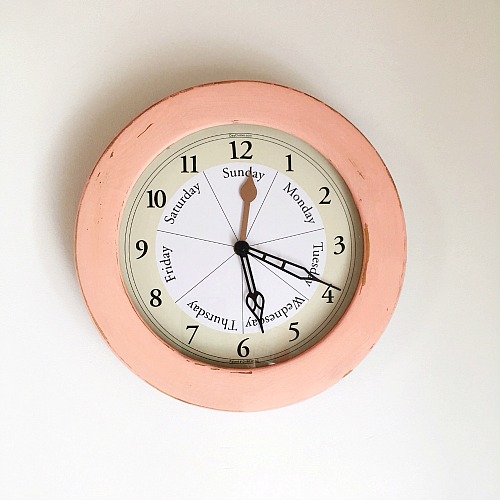 Disclosure: This post may contain affiliate links to Amazon and/or Etsy, which means that I may earn a small commission from some of the links in this post. Please see our Disclosure Page for more information.
I haven't seen many clocks with the days of the week on the inside! That's why I couldn't pass this inexpensive clock by just because I didn't like the color. And the great thing about this chalky paint clock makeover is that if I ever get tired of this color, I can just do the project again with a new color!
DIY Chalky Paint Clock Makeover
Materials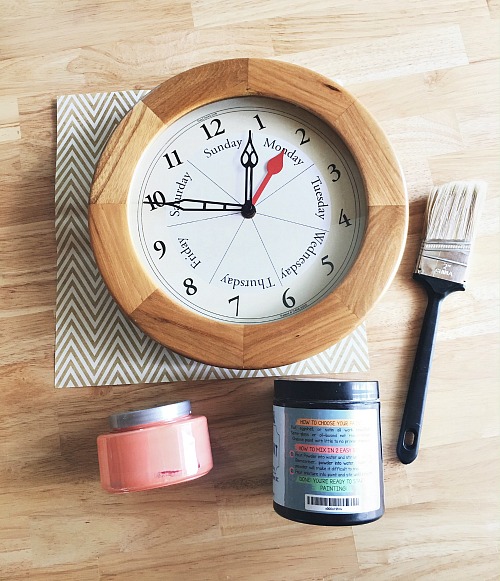 Clock
Latex paint (I just picked up a sample color from the paint department!)
Chalk additive (I used this one.)
Sandpaper – you don't have to use sandpaper prior to painting with chalk paint, but it does help the paint adhere better. I just used it after the paint dried to give it an old chippy paint look.
Paint brush ( I used an angle sash brush, but any kind will do)
Directions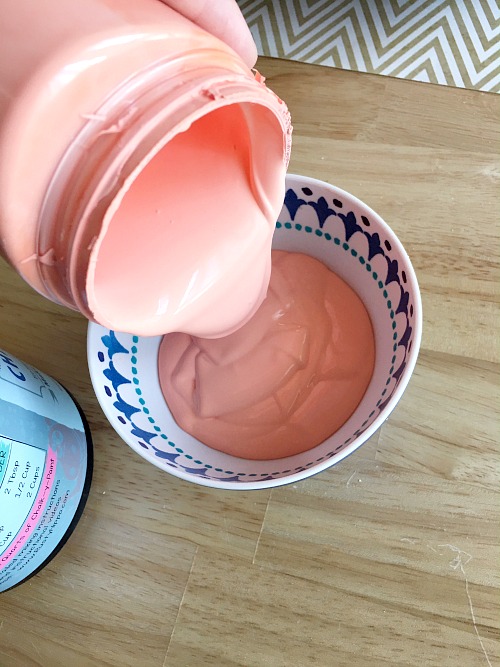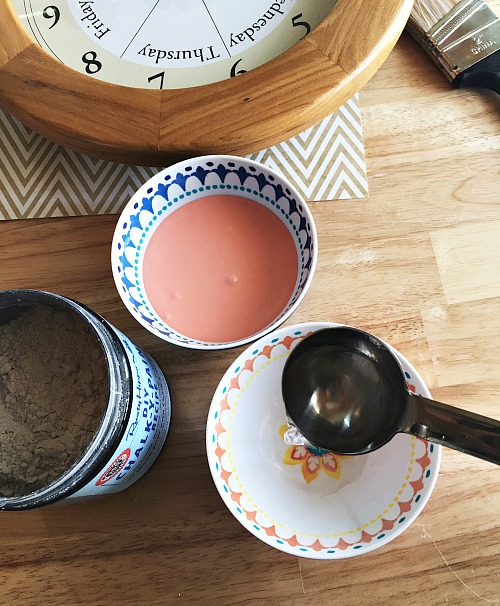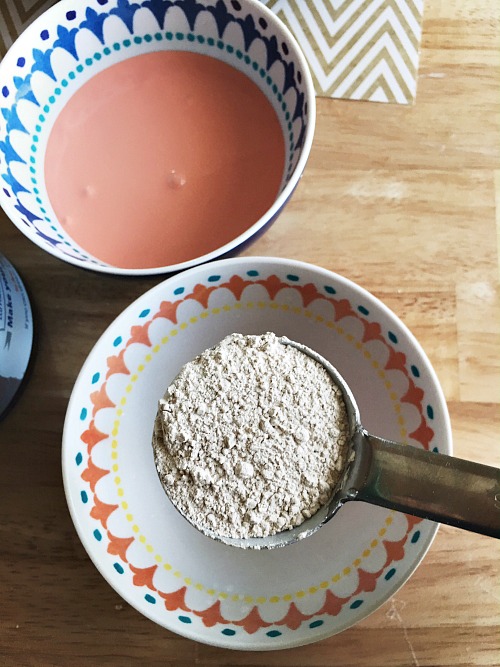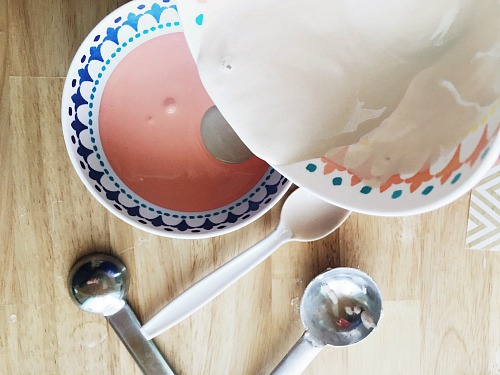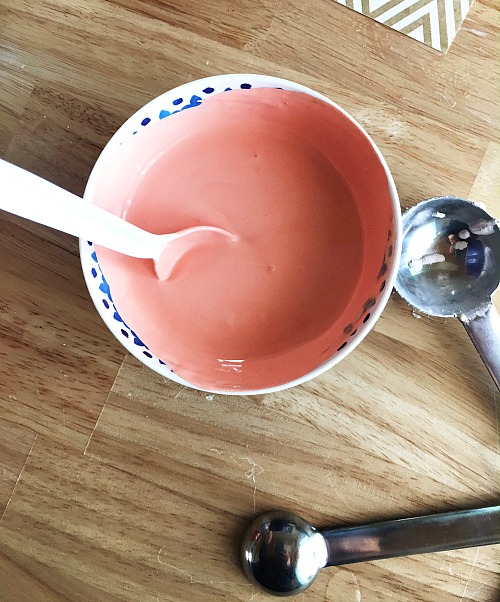 1. First, prepare your paint. Follow the directions on your chalk additive's container to add it to your paint. My chalk additive also required the addition of warm water. Stir until thoroughly combined.
2. If you like, sand your clock's surface before starting to paint. I chose to skip this step, and it still turned out fine!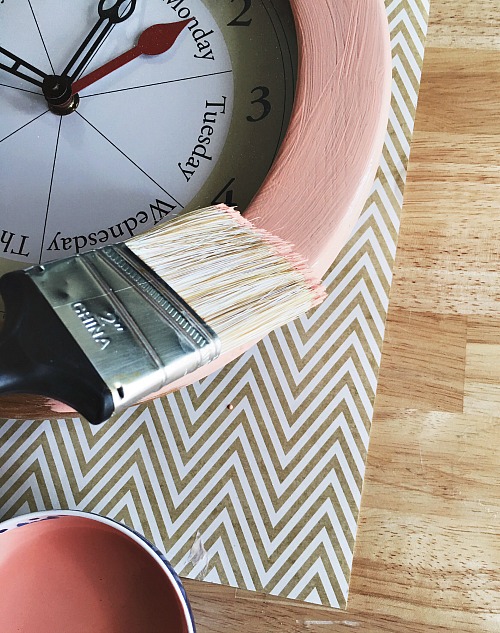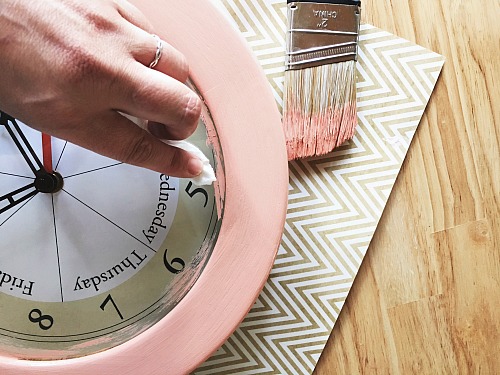 3. Paint one light coat. Let dry. Try to avoid getting paint on the glass. If you do, use a damp paper towel to rub it off before it dries.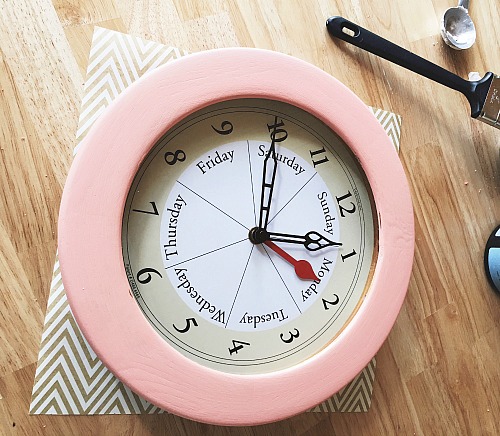 4. Paint a second light coat. Let dry.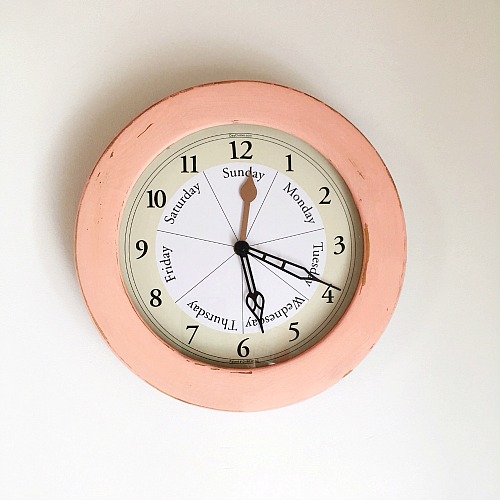 5. Use your sandpaper to rough up the painted surface (primarily the edges) to get a nice aged, chippy look.
6. If your clock has hands that you want to paint, remove the clock's backing so you can get to the hands. I painted the red hand in my clock gold. Then reassemble the clock, hang, and enjoy the results of your DIY chalky paint clock makeover!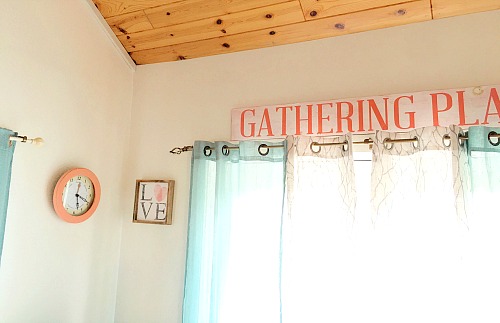 Have you ever done a great thrift store decor makeover?
This post contains affiliate links to Amazon. Please see our Disclosure Page for more information, and thanks for supporting this site!
You might also be interested in: