So a while ago I said I wanted to make a new chain cover for my dining room chandelier but I wasn't sure what color/pattern of material to use. You wouldn't think it would be hard to decide on such a little thing would you? But I find that it's the little details that make a room. Sure the big elements make the biggest statement, but it's often the little things that bring it all together and add personality!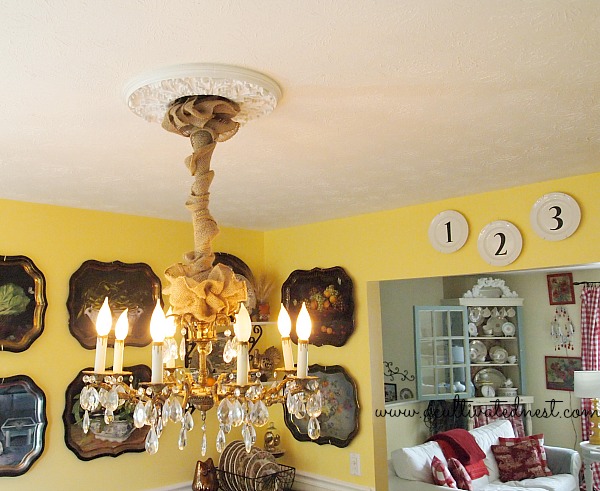 Disclosure: This post may contain affiliate links to Amazon and/or Etsy, which means that I may earn a small commission from some of the links in this post. Please see our Disclosure Page for more information.
Anyway, all of that is to say that I made a chain cover for my chandelier 🙂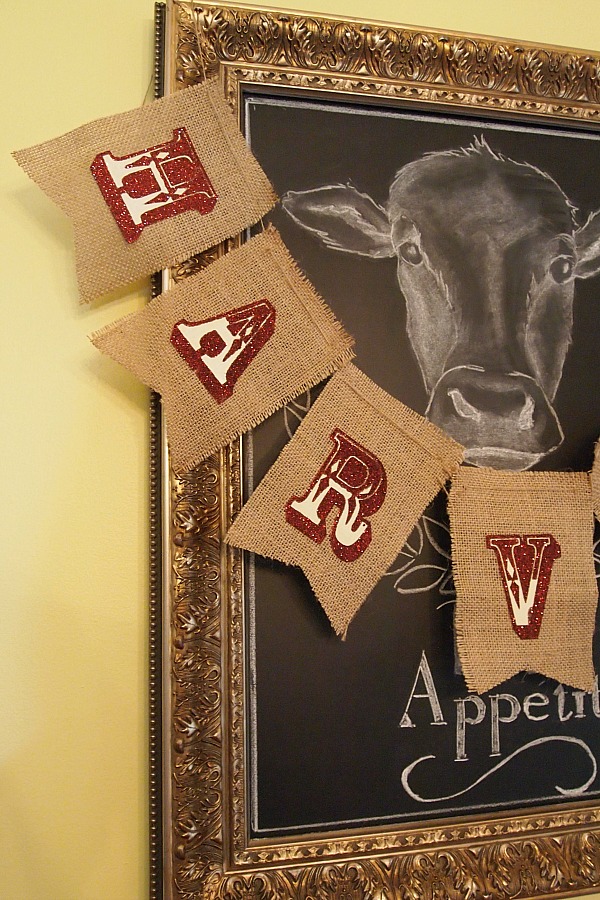 Well, first I made a Harvest banner for my cow chalkboard which is burlap and I also had used a burlap runner in my dining room Thanksgiving display plus my dining room typography rug is bamboo and has the same brownish tone. So I thought why not burlap?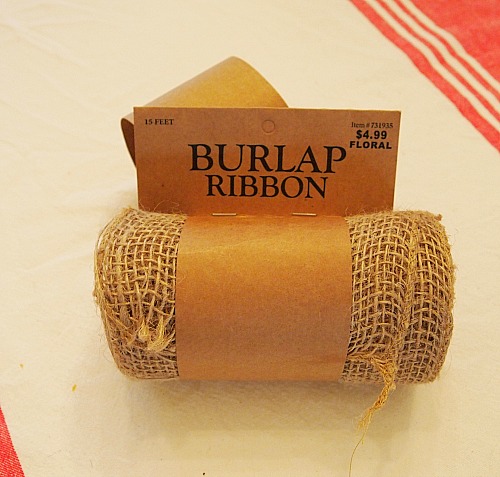 I did try strips of burlap fabric but that didn't work too well and burlap is so incredibly messy with those fibers and threads flying every where! But I had a few rolls of burlap ribbon which I got at Hobby Lobby a few months ago when ribbon was 50%. So for  $2.49 I have myself a new cord cover that I'll keep up at least through Christmas! Plus I can just unwind it and use it for something else if  I get tired of it.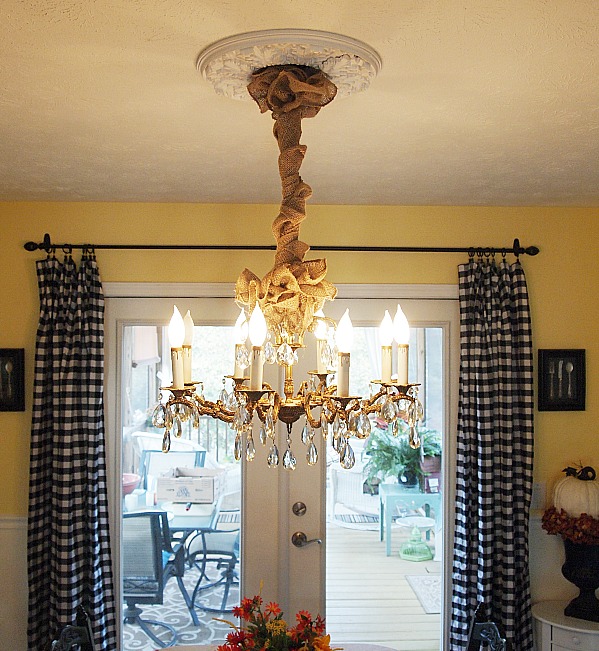 Basically I just started at the top with the 15 feet of ribbon and fluffed it, pinned strategically with some push pins to keep it up, wrapped the chain and fluffed some more, tucked the ends in the fluffing and was done in a few minutes!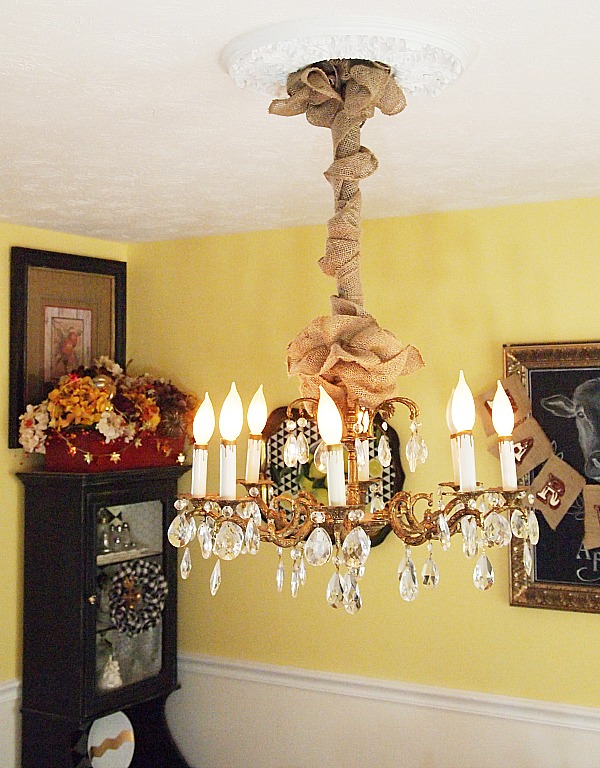 Easiest no sew chain cover ever!!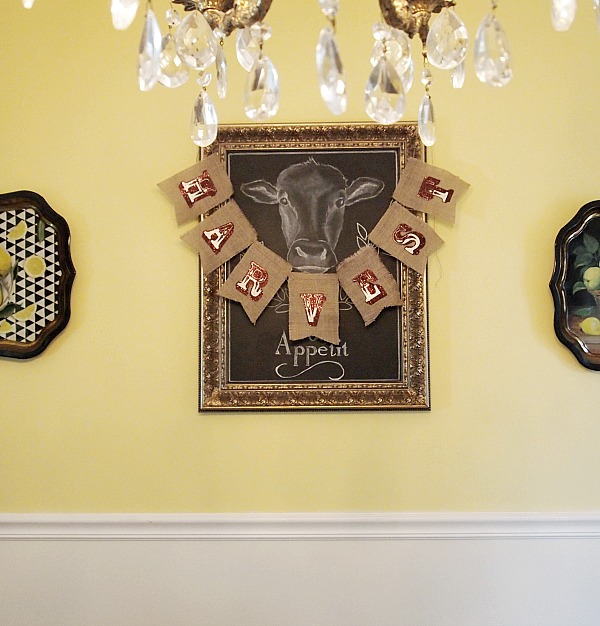 I gotta say "Harvest" may have been an unfortunate word to choose to hang under the cow! By the way, the cow chalkboard is available as a printable in my daughter's etsy shop along with some other animals (she did a series).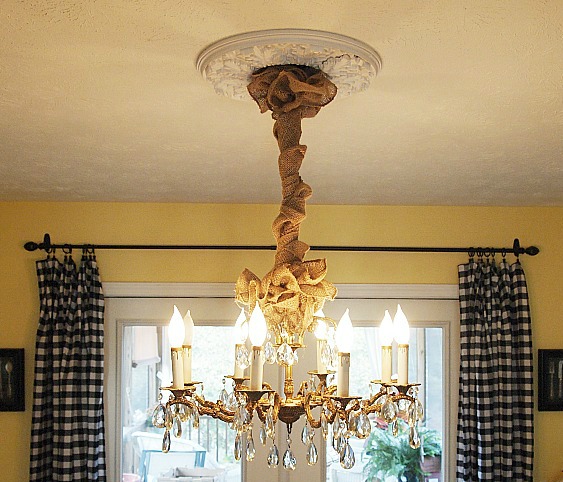 Hope you all have a great weekend!