20 Mouth Watering Homemade Fry Recipes.
One of the most popular side dishes ever is fries! They are so versatile and go well with so many other foods. Serve them with a big fat, juicy steak, eat them as a side to burgers, or enjoy them alone with some yummy toppings. These 20 Delicious Homemade Fry Recipes are going to have you smacking your lips!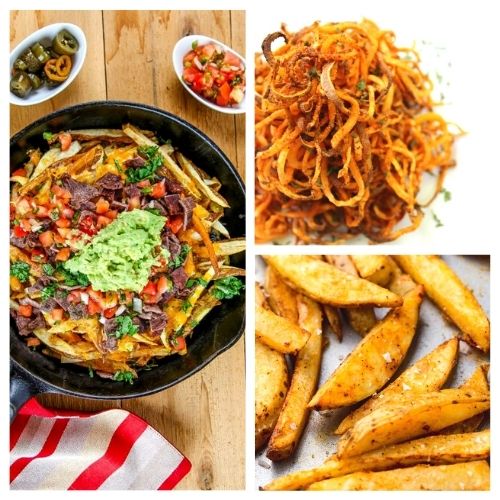 Disclosure: This post may contain affiliate links to Amazon and/or Etsy, which means that I may earn a small commission from some of the links in this post. Please see our Disclosure Page for more information.
There isn't anything more irresistible than a big plate of French fries. I prefer to enjoy homemade fries because then you are more in control of the flavors and seasonings that you use. Plus, if you bake them and go easy on the salt, homemade fries actually are just as healthy as regular roasted potatoes.
20 Delicious Homemade Fry Recipes
If you haven't made many homemade fries or even if you are an old pro, I wanted to share a few tips to make them even better. This list of tips is general, so be sure to follow each individual recipe direction along with them.
Pick the best potatoes. Each recipe is going to tell you which potatoes to use to get the best results. If they don't, reach for Russet or Idaho potatoes because they have a high starch that gives you delicious fries. Yellow potatoes are usually too soft to make good fries.
Skin or no skin? Well, when it comes to potato skins, it's completely up to you. You can enjoy them either way, depending on your preference. So do whatever you like best, and you can't go wrong. An old-fashioned handheld potato peeler will do the trick, but you can save time with an electric rotating peeler.
Oil is important. While not every recipe below needs to be fried in oil, those that do need a good quality oil. The top oil for fries is refined peanut oil. However, you could also use canola oil as well.
Use a fry cutter. If you make homemade fries often, you can save a lot of time and effort and get an inexpensive fry cutter tool that can cut a whole potato at once. If you want to make crinkle fries and don't mind taking a bit more time, this crinkle cutter tool is very handy. I particularly like to use the crinkle cutter tool to make sweet potato fries, as sweet potatoes are super firm, and the wide blade of the cutter makes it easier to chop through them.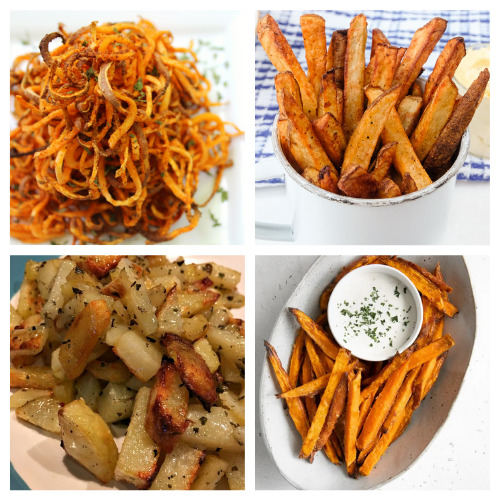 What kind of fries do you tend to like the best?
You might also be interested in: 20 Easy Air Fryer Dinner Recipes