Clever Hacks that Use Mayonnaise.
Mayonnaise is yummy on sandwiches, and it makes dip and dressing recipes taste their very best. But did you know there are other ways to use mayonnaise around the home, bath, and garden? Check out these 8 Creative Uses for Mayonnaise, and see how to put the power of mayo to work for you!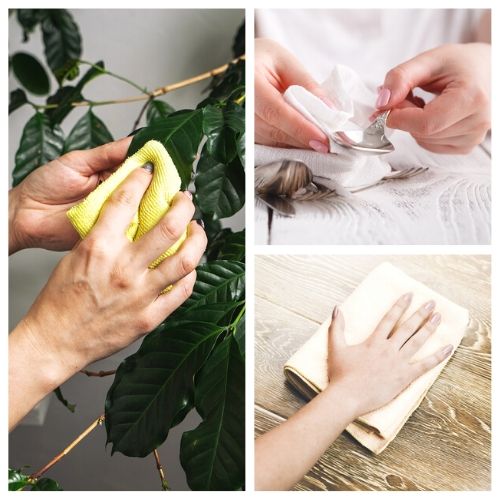 Disclosure: This post may contain affiliate links to Amazon and/or Etsy, which means that I may earn a small commission from some of the links in this post. Please see our Disclosure Page for more information.
Remember, the following clever uses for mayonnaise use traditional mayonnaise and in some cases rely on the fats in the mayonnaise. They may not work with Miracle Whip or egg-free mayonnaise. Also, low-fat versions of mayonnaise may be less effective.
8 Creative Uses for Mayonnaise
These 8 mayonnaise hacks are easy to implement and so clever. So grab a jar of mayonnaise, and give these 8 creative uses for mayonnaise your attention!
1. Clean your silver jewelry.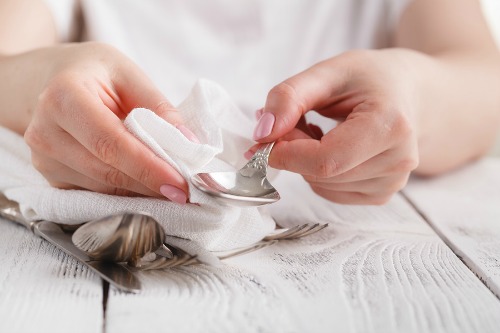 The fats and oils found in mayonnaise are great for silver and can help make this metal shine. Apply a small dab of mayonnaise to a damp cloth and wipe onto your silver jewelry pieces in a circular motion. Then, just rinse and dry thoroughly. Your silver will shine in no time.
You can also use this same method to clean silver teapots, silver serving pieces, and other silver home decor pieces. Just be sure to always dry well when done.
2. Replenish dry and damaged hair.
One of the best uses for mayonnaise is this hair hack! Mayonnaise is full of those rich, healthy fats your body and hair craves. If dry hair is an issue, take a quarter size amount of mayonnaise and rub it into your split ends. Let it sit on the dry hair for 20 minutes. Then rinse and shampoo as you normally would.
The oils in the mayonnaise will soak deep into the damaged hair and help feed it so it looks shiny and healthy.
3. Get rid of those rough elbows.
Don't be embarrassed by rough and flaky elbows. All you need is a dime sized amount of mayonnaise. Massage it gently into rough spots such as dry elbows, dry heels, and other dry patches of skin.
The oils and fats in the mayonnaise will help nourish and feed the skin, making it smoother and free from flakes… fast!
4. Remove water rings on tables.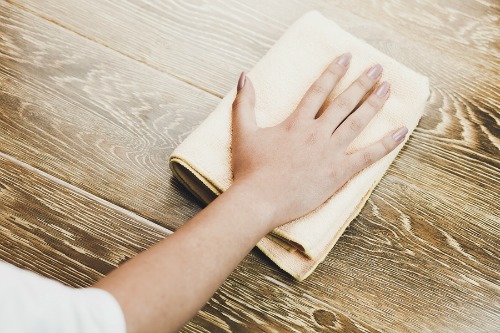 Are water rings an issue in your house? If you let a water glass sit too long on a wood table, a pesky white ring may form. Mayonnaise can help! All you need to do is apply some mayonnaise to a soft cloth and gently massage it into the stained area. Take a dry cloth and wipe clean when done. The oils and fats in the mayonnaise will help fill in the dry water ring, helping to diminish its appearance.
5. Remove price tag/sticker residue.
Don't you hate it when you remove a price tag and sticky, gunky, residue remains? Mayonnaise can help. Take a cotton swab and apply some mayonnaise to it. Then rub it over the residue gently. The oils will help loosen the sticker so you can wipe it clean.
You should only use this method on hard surfaces, as mayonnaise will stain paper, fabrics, and other porous materials.
6. Moisturize dry cuticles.
Cold weather can turn your cuticles dry and flaky. Instead of fancy lotions and creams, try using mayonnaise. Dab a little mayonnaise onto your cuticles and the oils and fats it contains will help moisturize and nourish the skin.
Don't worry if some of the mayo gets on your nails, it can help nourish and feed those too!
7. Get gum out of your hair fast.
If you have a child, you no doubt will experience gum in their hair at some point. Before you feel like your only option is cutting their hair, grab some mayo. Dab some mayonnaise on the gum and massage it in. The oils in the mayo will help loosen the gum so it easily slides out. Problem solved!
8. Make your houseplants shine!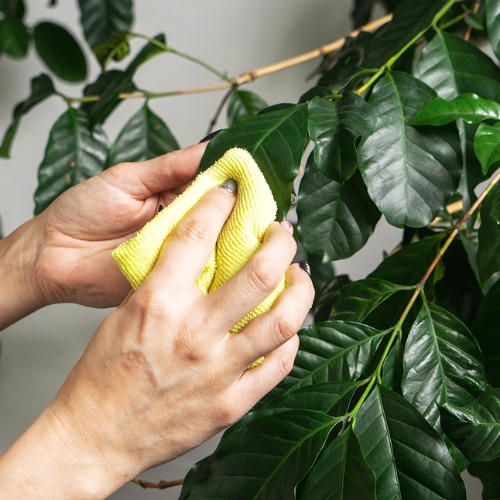 Dab a tiny amount of mayonnaise on the leaves of your houseplants and massage it in. The oils will help the leaves look shiny and healthy! You don't need a lot, in fact a little will go a long way. You can try this hack on faux houseplants too, as it will help remove dust and moisturize the leaves, helping them look more realistic.
Are you ready to put the power of mayonnaise to work for you? Consider these 8 creative ways to use mayonnaise and see what a great product it is to have around!
Do you have any clever mayonnaise hacks that you use?
You might also be interested in: 15 Money Saving Dawn Dish Soap Hacks