Whether it's the color of the leaves, the noticeably cooler weather, or the amazing smell of pumpkin pie spice that has you thinking pumpkin, we hear you. The minute it starts to look a little like fall, we start hunting down some delicious pumpkin recipes. In fact, we've found 18 Completely Irresistible Pumpkin Desserts for you to try!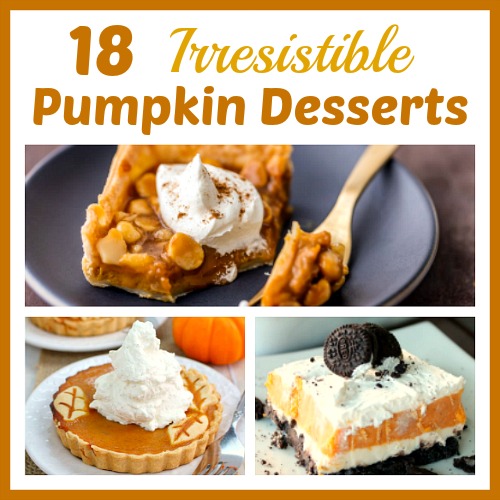 Pumpkins not only make great decorations, they also happen to be excellent in pies, tarts, breads, cakes and more. For example, try the Pumpkin Pie Parfait for a stunning dessert.  Plus, you could totally enjoy it for breakfast! Impress your guests with the Slow Cooker Pumpkin Pecan Bread Pudding. Satisfy your most intense fall dessert craving with Crème Brule Pumpkin Chocolate Cheesecake Bars. You can never have too many pumpkin recipes in your recipe binder!
Around this time of the year, I like to buy canned pumpkin in bulk. I used to try just buying a few cans at a time when I was planning on making a recipe, but I've discovered that fall is when pumpkin shortages happen easily and quickly because everyone else has the same idea! Rather than having to check all the grocery stores in my area, I now just buy a bunch of cans so I always have plenty available for when I need them.
18 Completely Irresistible Pumpkin Desserts
 1. Magic Custard Cake by The Gunny Sack
2. Oreo Pumpkin Delight by Six Sisters' Stuff
3. Peanut Butter Pumpkin Fudge by Crazy for Crust
4. Crème Brule Pumpkin Chocolate Cheesecake Bars by Handle the Heat
5. No-Bake Turtle Pumpkin Pie by A Cultivated Nest
6. Pumpkin Delight Dessert by Lil' Luna
7. Caramel Macadamia Nut Pumpkin Pie Bars by The Cookie Rookie
8. Pumpkin Pie Tarts by Delightful E Made
9. Pumpkin Pie Parfaits by Spend with Pennies
10. Pumpkin Pie In A Jar by Kicking It With Kelly
11. Pumpkin Nutella Bars by A Cultivated Nest
12. Pumpkin Chocolate Bread by Dinner Then Dessert
13. No Bake Pumpkin Pie by Flour on My Face
14. Pumpkin Pie Dip by Rachel Cooks
15. Pumpkin Whoopie Pies by Food, Folks, and Fun
16. Pumpkin Cake with Brown Sugar Cinnamon Buttercream Frosting by A Cultivated Nest
17. Pumpkin Gooey Butter Cake by All Things Mama
18. Slow Cooker Pumpkin Pecan Bread Pudding by Bless Her Heart Y'all
For more delicious pumpkin recipe ideas, check out Pumpkin Love- Autumn Clean Eating Cookbook by Rachel Maser and Pumpkin, a Super Food for All 12 Months of the Year by DeeDee Stovel.
Which of these fall pumpkin desserts do you want to try first?



Written by ACN Team Member Evelyne N. : Evelyne is the fearless, axe wielding, quirky, hardworking and incredibly funny creative genius behind Nemcsok Farms and Knits' End. Who also has a weird fascination with soil, and wreaths.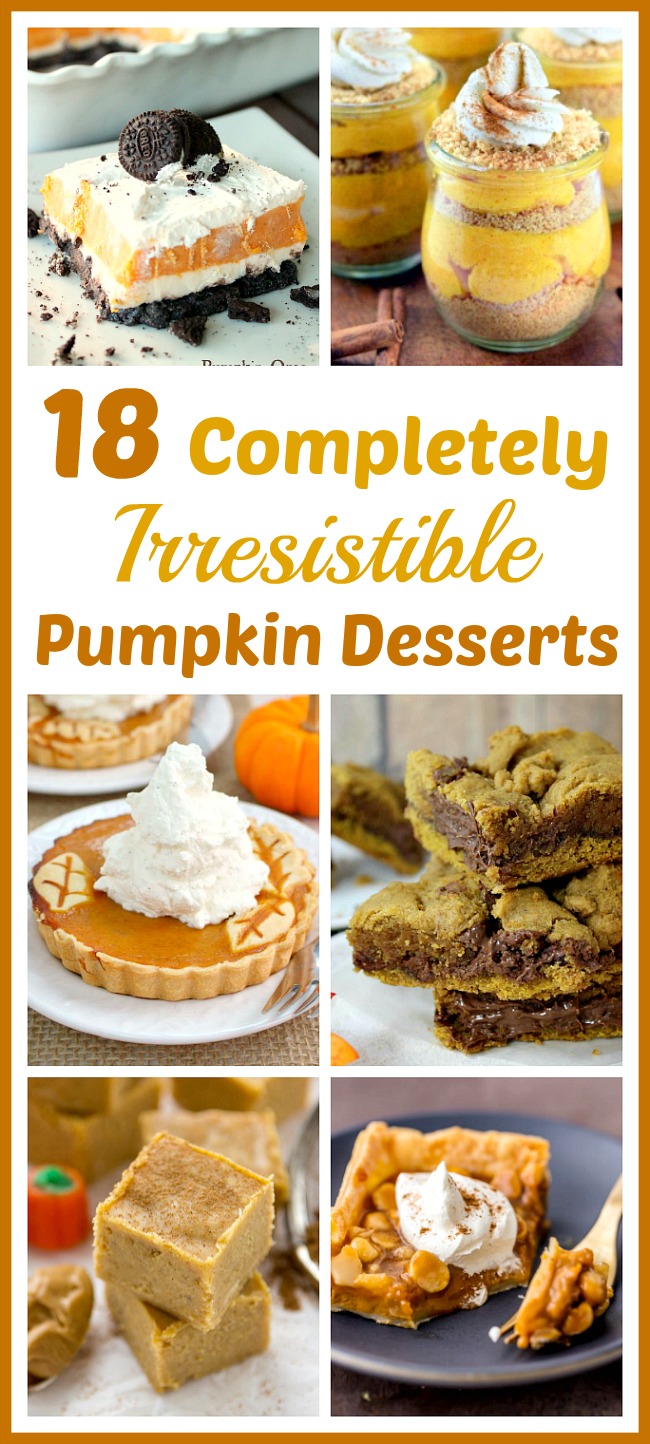 This post contains affiliate links to Amazon. Please see our Disclosure Page for more information.
You might also be interested in: 10 Delicious Pumpkin Cookie Recipes