I've been working on a small china cabinet I have in my dining room. The shelves are small – not very wide, deep or tall. I usually display a few small soup for-one  tureens in it since that's all that will fit. It's one of those pieces of furniture that I loved when I got it but it's been bugging me for a few years now because it's so small.   I keep looking for a larger china cabinet that'll fit in that spot but haven't had any luck.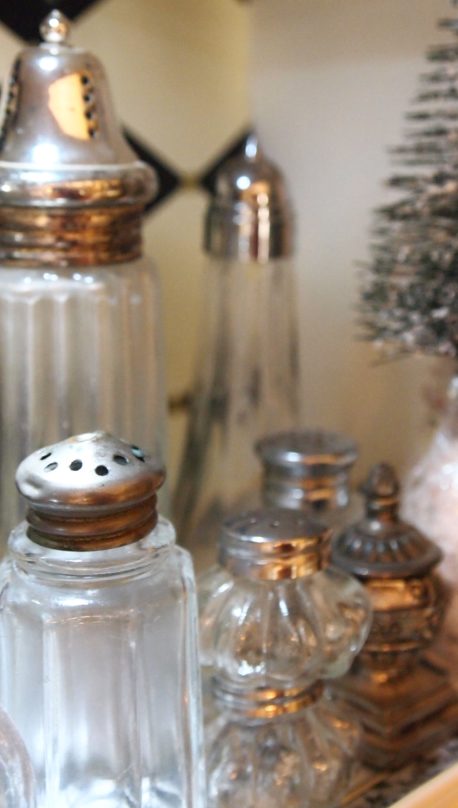 I was playing around with this little cabinet, decorating it for Christmas when I decided to  display my  collection of mostly vintage salt and pepper shakers on the top shelf….and I  LOVED  it.  Making that one little change gave me a whole new appreciation for my little cabinet and my little collection of shakers!
I filled one shaker with faux snow and put a green bottle brush tree in it. Topped off with a vintage brooch as a tree topper.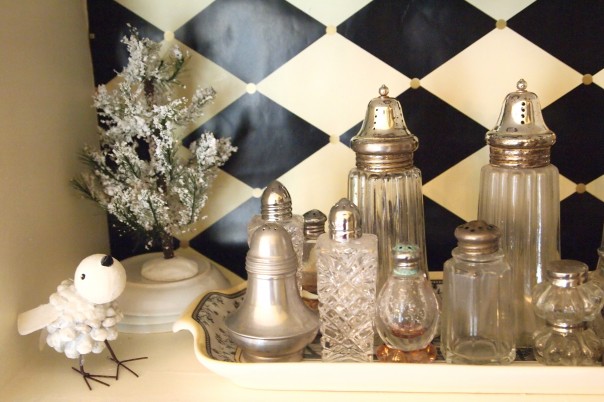 A couple of shakers were given to me a few years ago by a reader (thanks again Viola).
I've suddenly realized that this little cabinet is a perfect place to display all my "littles".  I have more kitschy salt and pepper shakers, a few egg cups, demitasse cups,  lots of tea cups and a few vintage clocks ( I'm sure there's more 🙂 ) that I could display in this cabinet.
I'm linking to Claudia's A Favorite Thing  which was going to be my salt & pepper shaker collection but now I'll have to include my little cabinet too ( I'll show all of it next week  after I finish adding a few Christmas touches).