Genius DIY Car Organization Solutions.
Keeping a car organized isn't easy. You pick up small things during your daily travels and have nowhere to put them! Or the kids leave behind toys and colored pencils. On top of that, there are a bunch of things you need to travel with for safety and comfort. Where do you put all of those without making a mess in the trunk? A lot of commercial vehicle organizers exist to help with these problems, but not all of them are inexpensive. Since I believe there are frugal answers to most organizing problems, I went looking for ways to organize my car for little cost. Take a look at the 10 Clever Car Organization Ideas I found!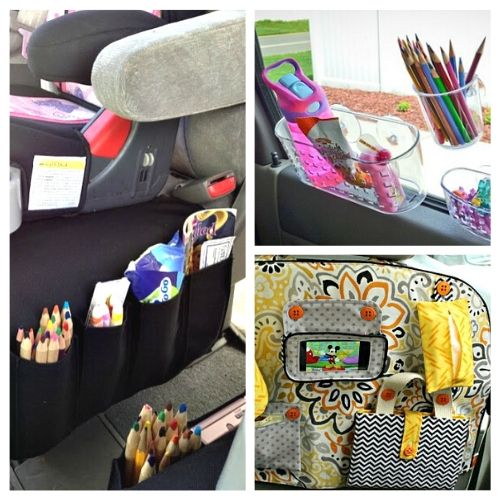 Disclosure: This post may contain affiliate links to Amazon and/or Etsy, which means that I may earn a small commission from some of the links in this post. Please see our Disclosure Page for more information.
There are a good variety of car organization ideas below. Some require basic DIY skills. Other require sewing skills. And others are simple products repurposed as car organizers. Whatever you need to organize in your car, these vehicle organizing ideas should help!
10 Clever Car Organization Ideas
If you spend a lot of time in your car or truck, you already know that there isn't always a lot of space. By keeping it clean and organized, you will be able to enjoy it so much more. Here are a few tips to keep your vehicle organized and more comfortable!
Throw out the trash. It may seem like a common-sense idea, but many people let their vehicles fill with clutter. Throw out that burger wrapper or old bottle of water. Every time you go somewhere with a trash can, take the time to throw out any garbage. You'll be amazed by how easy it is to keep your car clean with little effort.
Clean your vehicle on a regular basis. At least once a month, do a complete deep cleaning on your vehicle. Run it through the car wash, get rid of any garbage, take the kid's toys and organize them, and give it a good dusting and vacuuming. It will feel good to always have it looking and smelling clean.
Have a place for everything. Don't just toss items on your floorboard if you can help it. Instead, invest in some organizers to keep in the trunk or on the back of the seats. You can usually fit a lot of items in them, and they are fantastic.
1. Suction Cup Window Organizers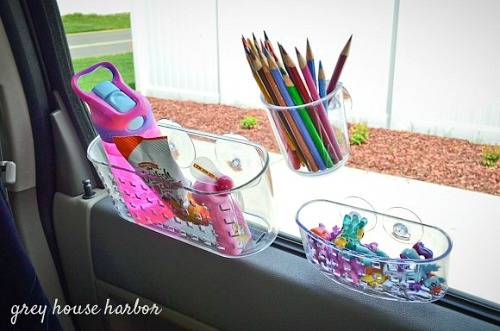 Isn't this clever? It's such an inexpensive solution, but so effective! These Suction Cup Window Organizers by Grey House Harbor are pretty much genius!
2. DIY Back Seat Organizer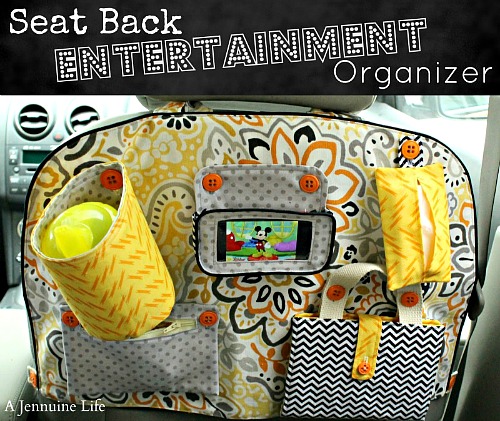 Take a look at what Jennuine Life came up with for your vehicle! If you know how to sew and have a kid that likes to draw in the car, then you have to try this car organization DIY seat back organizer project! You could use any fabric that you like to really make it your own! The folio is the handy book-shaped part in the lower right of the photo.
3. Sew Your Own Car Visor Organizer
Sew Your Own Car Visor Organizer just like Vanilla Joy did and you will enjoy it like crazy. Such a cute idea.
4. DIY Pop-Up Trunk Shelf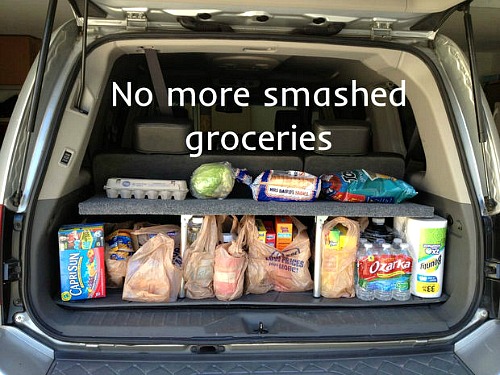 Instructables shows you a great way of doing a DIY project is always a great way to solve your problems without spending a lot of money. This handy DIY trunk shelf pops up when needed, then folds away!
5. Repurposed Seat Back Organizer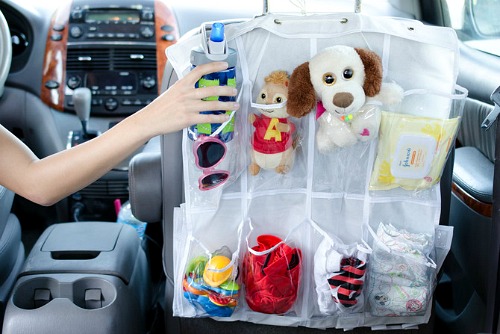 I love simple solutions like this on from the Krazy Coupon Lady! With this Repurposed Seat Back Organizer you can store anything in the pouches, from toys to sunblock and diapers!
6. DIY Car Trash Bag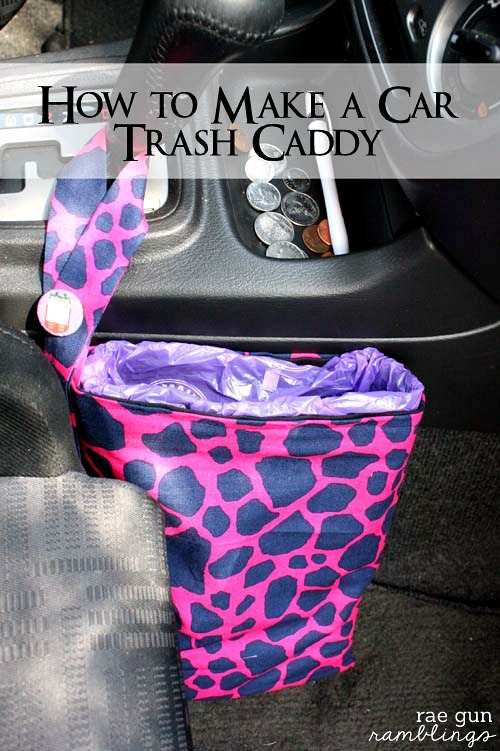 Never know where to put the little pieces of trash that accumulate during your daily travels? Then you need to make this DIY car trash bag like Skip to My Lou made.
7. Kids' Car Organizer Ikea Hack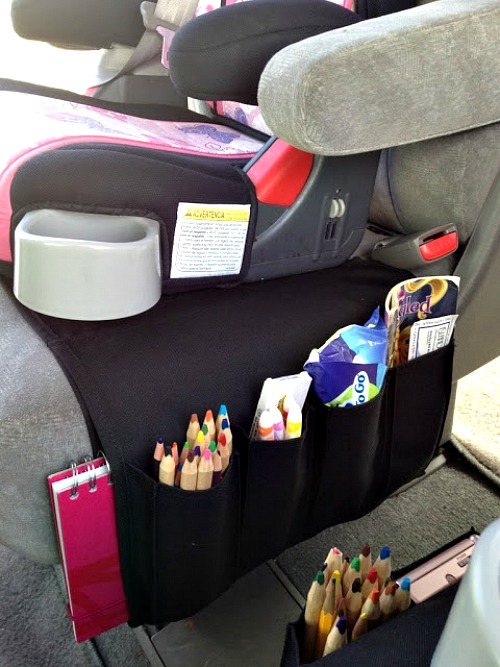 It's amazing how versatile Ikea products are! Check out this Kids' Car Organizer Ikea Hack by Ikea Hackers for some lovely inspiration.
8. DIY Car Kit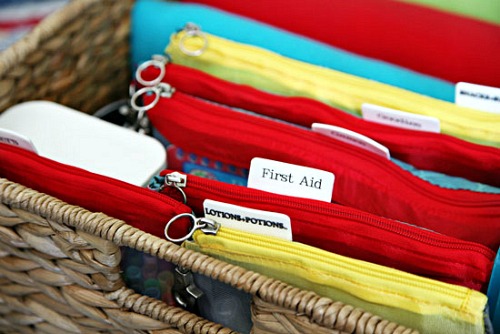 Traveling with kids requires a bit of prep. Make sure you'll have everything you need (and have it nicely organized) by making this car kit like I Heart Organizing did.
9. IPad Headrest Holder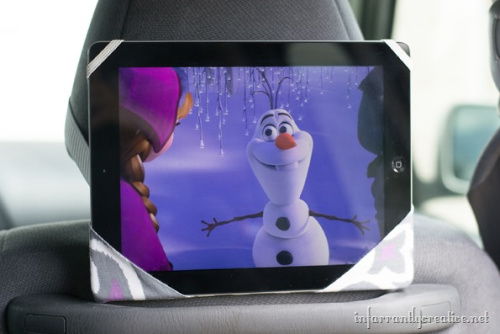 If you don't have a DVD player in your vehicle, you can easily add in some iPad headrest holders instead. It's easy to make, and Infarrantly Creative gives you the details on how to make it happen.
10. Vehicle Emergency Kit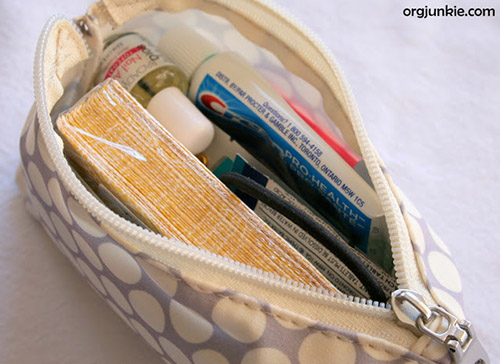 No more searching everywhere for a bandage or stomach medicine because you can keep it in one place like I'm An Organizing Junkie Did with this vehicle emergency kit. You never know when you are going to need something, and keeping all the items together is a big time saver.
How do you keep your car organized?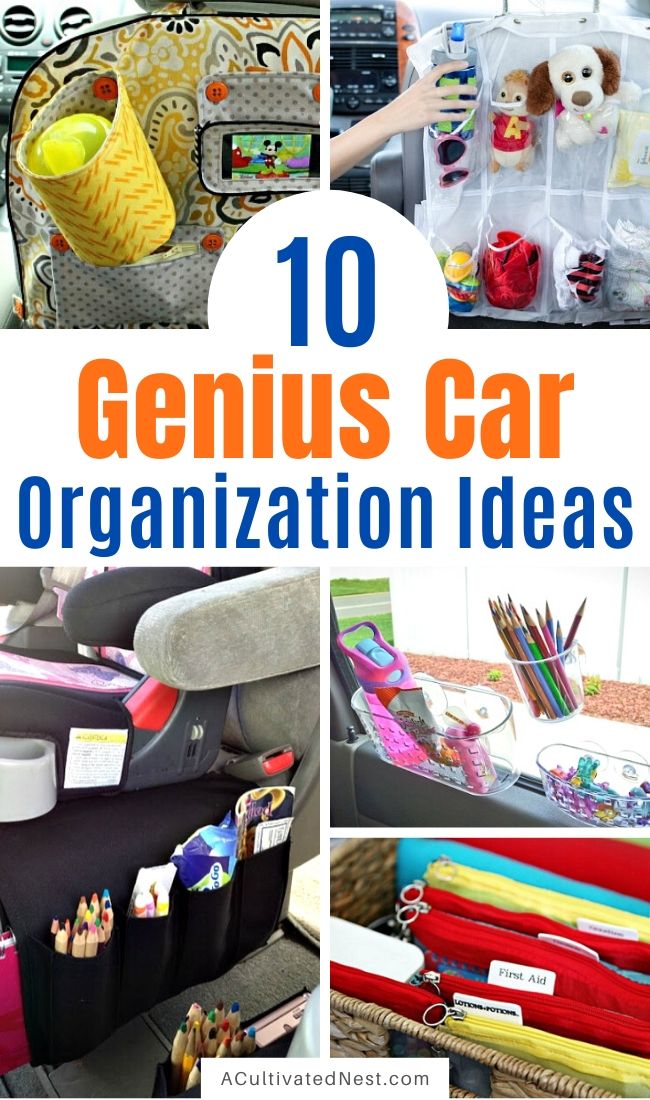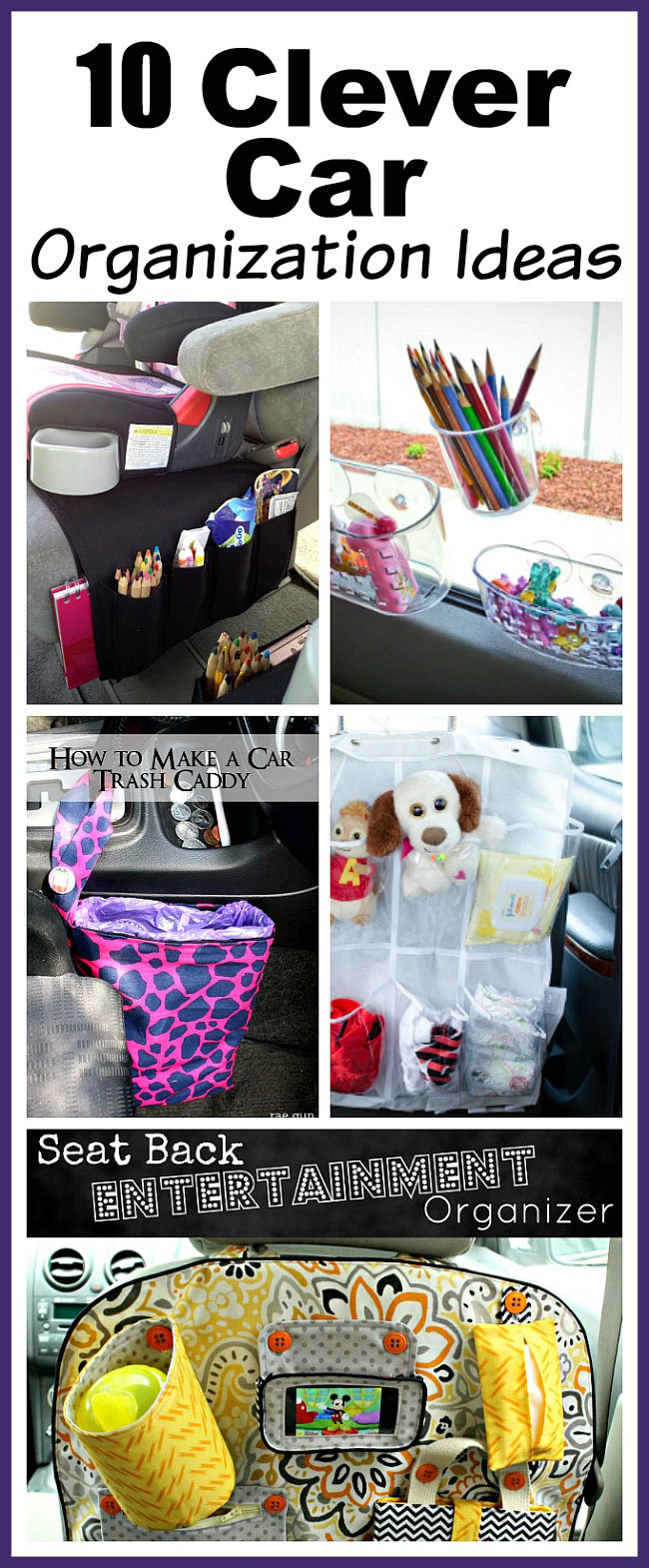 You might also be interested in: 11 Dollar Store Organizing Hacks