Hi everyone! I was inspired to make a burlap heart wreath for Valentine's Day after seeing one on another blog here.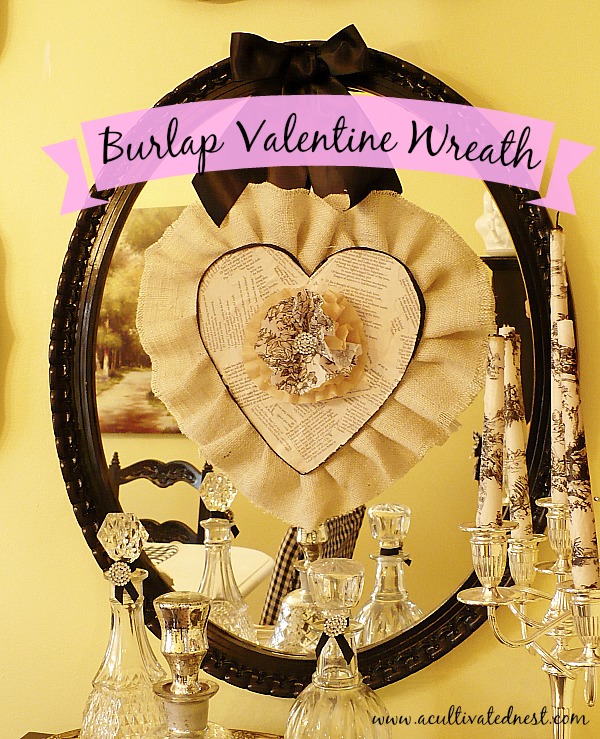 Disclosure: This post may contain affiliate links to Amazon and/or Etsy, which means that I may earn a small commission from some of the links in this post. Please see our Disclosure Page for more information.
I wanted to use it in my dining room (which has a lot of black in it) so I wanted to be sure to also have black in this heart wreath even though it's not your traditional Valentine colors. But you can of course use  what ever colors you like!
How to make a Burlap Heart Valentine Wreath
(1) cut a heart shape out of some foam core (you could also use cardboard/cereal box/dollar store wreath etc.
(2)Then you decoupage that with newspaper or book pages
(3) Glue ribbon of your choice around the outside edge of the foam core heat.
(4) Cut a burlap strip (I did 4 inches wide) and hot glue it around the outside on the back of the foam core heart
(5) make a coffee filter flower for the center of the wreath and hot glue some ribbon to the back of the heart so you can hang it.

I  used mostly love poems from an old paperback Dover Thrift edition of poetry instead of newspaper to decopauge the heart.
I find that when you use text people always want to see what it says. So what could be more appropriate for VDay than to use poems about love.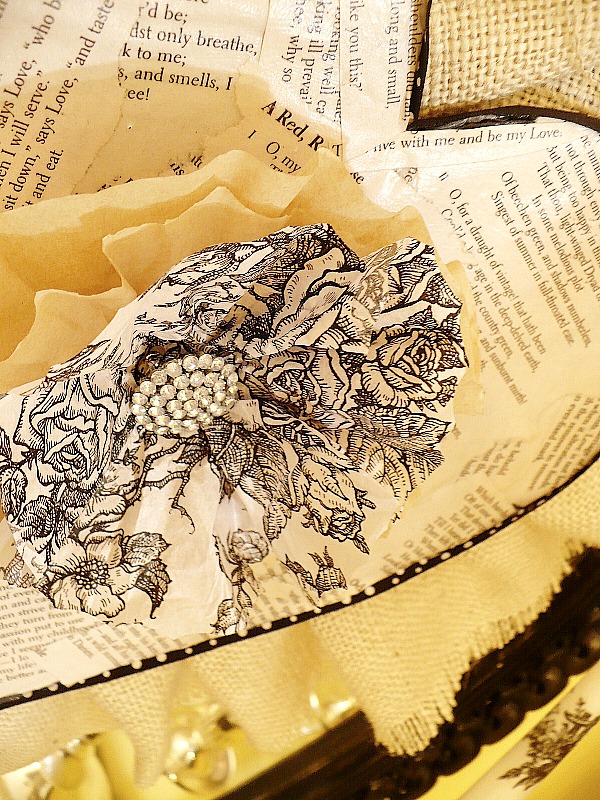 I made a coffee filter/wrapping paper flower for the center and used one of the three vintage brooches I found at Goodwill for the center. I've never used coffee filters before – they make such cute flowers!
I hung it with some black silky ribbon and added a bow on top.

I like the contrast of the smoothness of the ribbon with the rough texture of the burlap.
I think it makes an elegant wreath and you could do so many things to personalize it to your decor!