Do you dream of having a really lush and beautiful garden. I do! We have a large suburban lot – a corner lot – and I've been faced with trying to landscape it without emptying our 401K ! Here are some things that I've done in my Georgia garden that have helped me garden on a budget.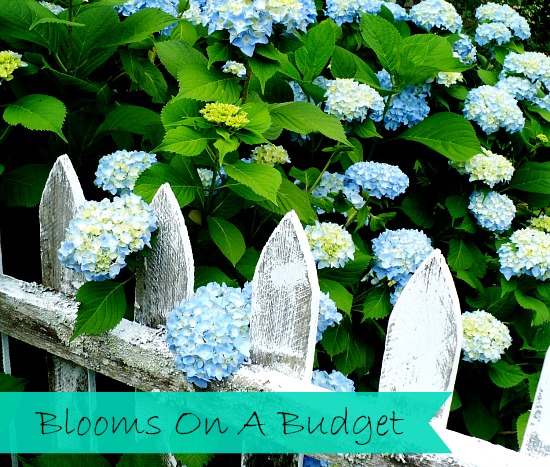 I hope some of you find this helpful. I'm sure all you experienced gardeners already do these things and maybe you could share what has worked for you in the comments.
Gardening 101: My Thrifty Gardening Tips
Disclosure: This post may contain affiliate links to Amazon and/or Etsy, which means that I may earn a small commission from some of the links in this post. Please see our Disclosure Page for more information.
1. When buying plants always check to make sure that your cell packs have plants in each cell. Sometimes a 6 pack will only have 5 cells filled with plants. I also check to see if I can find a cell pack with extras that I can divide. When I buy the single pots I try to make sure I buy one that is easy to divide.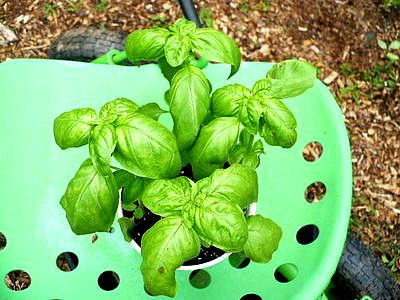 This pot had four very distinct plants. The others I looked at had one or two bushier plants.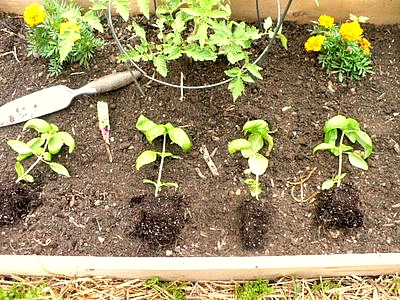 This was cheaper than buying a cell pack!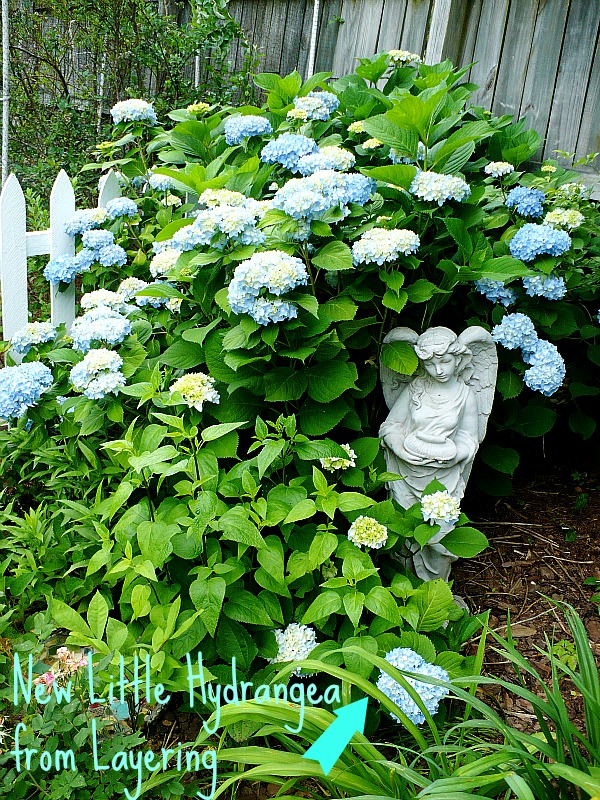 2. Learn to propagate! It's really not that hard! I LOVE hydrangeas and they are so easy, easy to propagate. This is my favorite way to propagate hydrangeas and forsythias..
It's called ground layering.
I select a branch that is close to the ground.
I scrape a little bit the outside of the stem off preferable at a leaf nodule.
Lay the part down into the dirt and put a rock on top and then wait. I usually do this during the growing season – spring and summer.
Soon you'll have another plant. I wait until the new plant is pretty well established before I cut it off from the mother plant and I usually leave it where it is for a few weeks so it can get used to growing on it's own.
The hydrangea pictured below, under the Dogwood is about 4 years old now. The only hydrangea I've had trouble with is Oakleaf but usually this variety will have off shoots that you can dig up.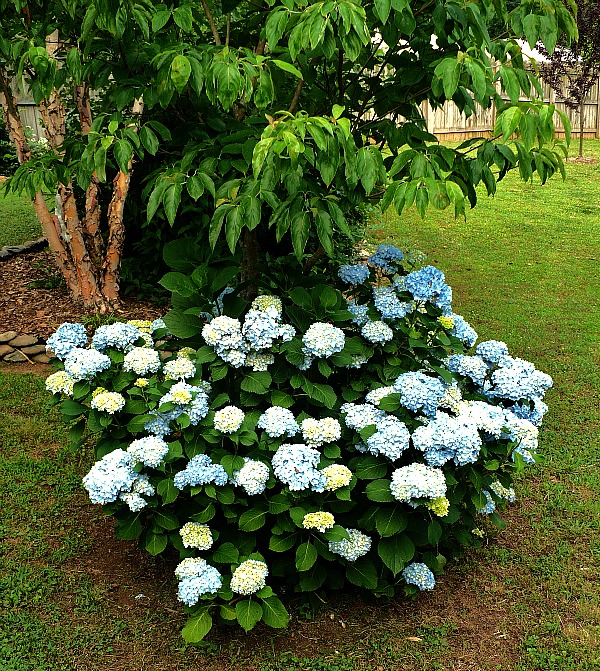 All the hydrangeas along this fence have been propagated by me with the exception of the first one. As you can see, they get smaller as you get to the end because those are the newer ones. All you need is patience and the will to suppress the desire to impress your neighbors with an "instant" garden. (The plant to the right of the last hydrangea are some blackberries creeping under the fence)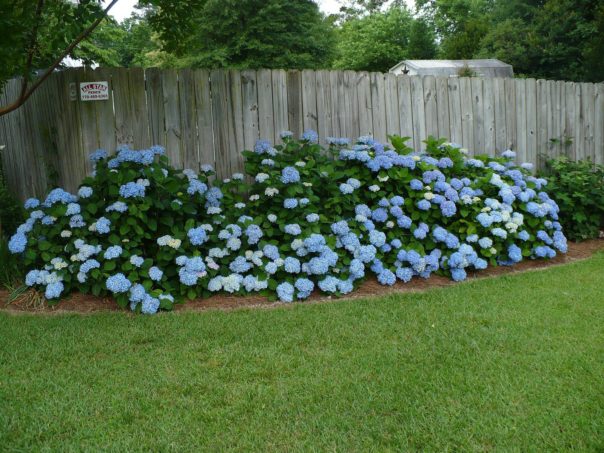 I do the same thing with forsythia. Although, I've found that left to it's own devices it will do it by itself! Once you have one Forsythia you have the potential to have lots of babies under and around the main plant.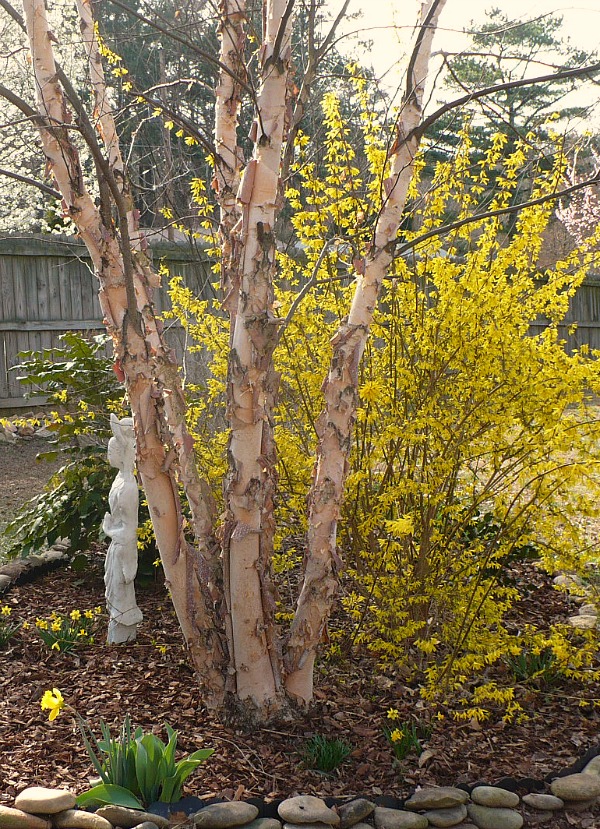 This branch has rooted and now it's time to detach it from the mother plant.
Vines are also good candidates for this method.
The other way is to propagate is to take a cutting, especially if you're trying to do many plants at once. Here is how Martha Stewart does it.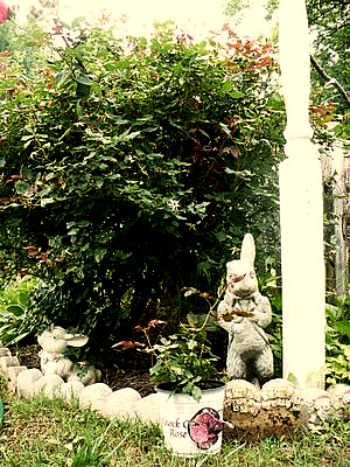 3. The other thing I do is buy the smaller pot. This little Knock Out Rose will be as big as this older one in one or two years. Especially if it's happy where it is and the soil is good. Things will fill in. Also, plants that are started smaller are usually healthier than planting larger versions.
4. Plant division is another way to propagate what you have! That's why even though perennials are more money upfront, thrifty gardeners know that you'll get more than just that one plant in the end.  Day Lily, Daisies, Coneflower, Yarrow, Black-Eyed Susan, Mint, Sage, Bleeding Heart and Lupines are just some of the the plants that you can propagate by division.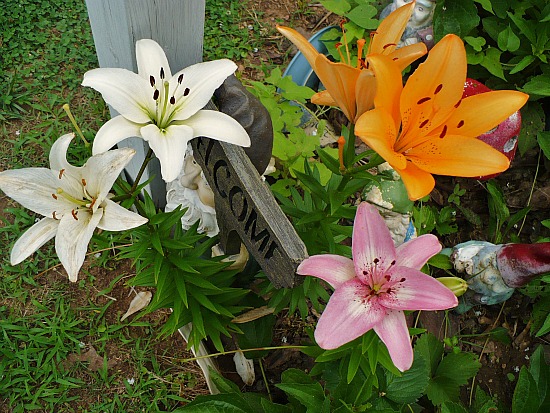 Plants that grow from bulbs, tubers, rhizomes are super easy because they automatically multiple underground and therefore it's easy to see where to divide them. Bearded Iris, Daffodils, Gladiolas, and Dahlias are examples of these types of plants.
The common rule of thumb is to divide spring-blooming perennials in the fall to to divide fall-blooming perennials in the spring. Summer bloomers can be divided anytime. If you divide in the summer be sure to give your new plants extra TLC because of the heat and less rain. Remember even though perennials may seem expensive, for a small investment you'll get a big return.
Daylilies – I will dig up clumps of daylilies and plant them in other parts of my yard. I usually wait until they bloom because otherwise I don't know what color they are. But if you're more organized than me and mark your plants then early spring is a good time. I just give mine extra water. Like this Stella d'Oro that I just divided and moved here.
These Daylilies were divided and moved here. This is one year growth!  See how big they are already. They can be divided again this year.
Hostas are perfect for propagating by division!  I usually dig the whole plant up and then you can see where you can separate it. Just be sure that each piece has its own roots.
I normally divide my Hosta in early summer or late fall so I know what kind it is. By then it's usually fairly large  and it's pretty easy to see where to make divisions. Just be sure to give it's lots of water if you do this in the summer!
Every year I buy a coleus and I always say I'm going to propagate it since I love them. They come in so many colors these days and now there are ones that can handle sun. Did you know that the more red pigment in the leaves the more sun it can tolerate? So this year I remembered and all you have to do is: pinch some off!
Yep, Coleus will root in water! Just change the water every few days and you'll have a roots in no time.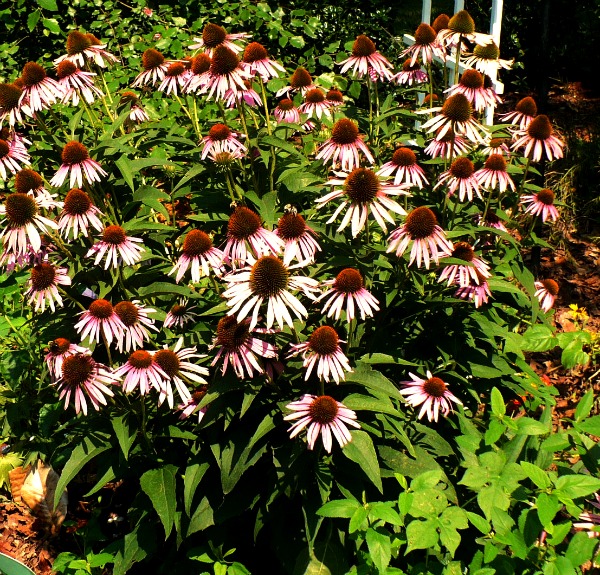 If you have more time than money, like me, this is the way to go! There are many, many more plants than I showed in this post than can be propagated and divided. Of course growing from seed is a huge money saver too as is buying bulbs and swapping with friends.
I hope you're inspired to try some of these techniques for a cost cutting garden!
You might also be interested in: