When we moved into this house we had an old apple tree, a whole bunch of crabapples  and an apricot tree on the property. Now the apricot was planted right outside the backdoor and every summer we'd have to dodge the bees as the fruit dropped. NOT a good idea. So that had to go. The crabapples also had to go.  There were literally 6 old crabapples here – beautiful in the spring but there was no way I could use all those hard little apples. They also were a chore to clean up once they fell. So they had to go too.
But the old apple tree was really wonderful to have. Every year I would get tons of apples to make apple butter, apple pie and applesauce. I never sprayed it – so the fruit wasn't grocery store perfect but they were wonderful to bake with. Unfortunately it got diseased and died.
Disclosure: This post may contain affiliate links to Amazon and/or Etsy, which means that I may earn a small commission from some of the links in this post. Please see our Disclosure Page for more information.
A few years ago I planted another apple tree and last year I planted two more apples and a peach (I also  planted a Fruit Cocktail tree in 2009 which this year was mainly plums).
So now I have an orchard of four trees.  1 Granny Smith, 1 Red Delicious, 1 Fuji and 1 Peach.  1 is a semi-dwarf and the rest are all dwarf.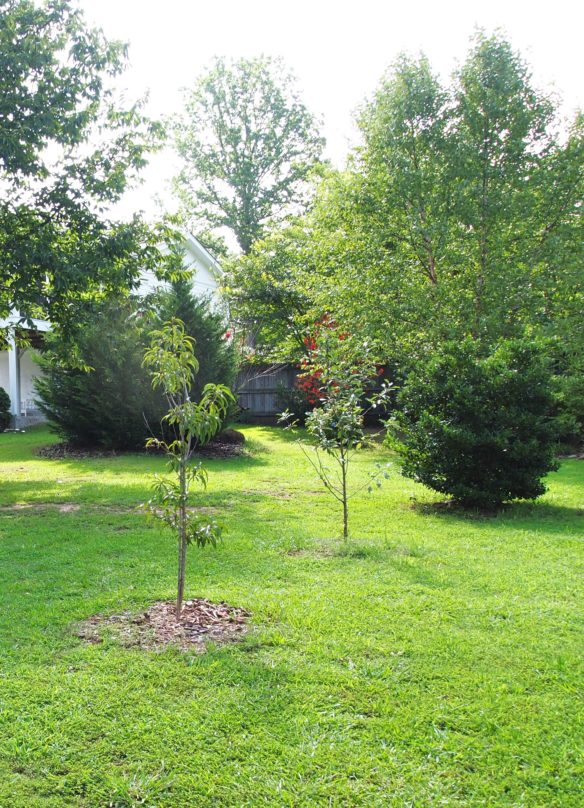 I plan on keeping mine on the smaller side by pruning so they are easier to net and pick. Here is a great site all about how to have backyard orchard using this techinique Dave Wilson Backyard Orchard Culture. He also gives info on high density planting – where you plant more than one tree in a hole. Did you know you can do that? The Home Orchard Handbook is also a good resource.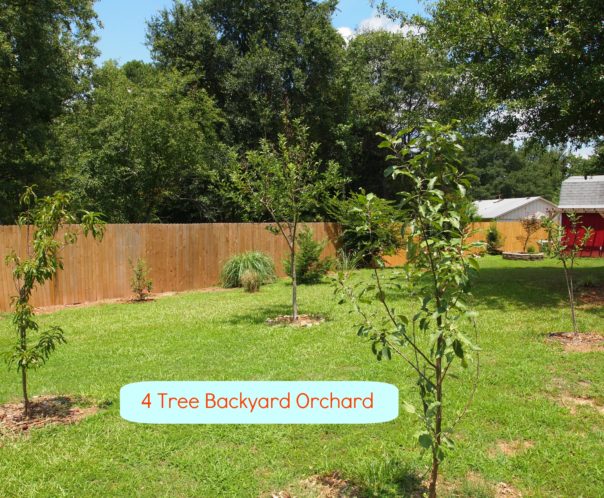 I want to encourage you all to add a fruiting tree or two (or three) to your yard.  Any size yard can accommodate a fruit tree or two. Most are even self pollinating so often you don't even need two. Plus you can grow some varieties in pots. As most of you know, I also have two columnar apple trees that I grow in pots.
As with growing your own veggies, there's nothing more local than going out into your own yard (front or back) and picking your own!