Upcycled Rain Boot DIY Planter Projects.
The key to being frugal is "waste not, want not," which is why I love to upcycle! Upcycling inside to make pretty home décor is always fun, but I especially love to upcycle in the garden! Something I'm really into these days is cute rain boot planters. You may have seen some cement/ceramic versions in stores, but did you know you can use real rain boots too? For some inspiration, here are 10 Adorable Rain Boot Planter Ideas!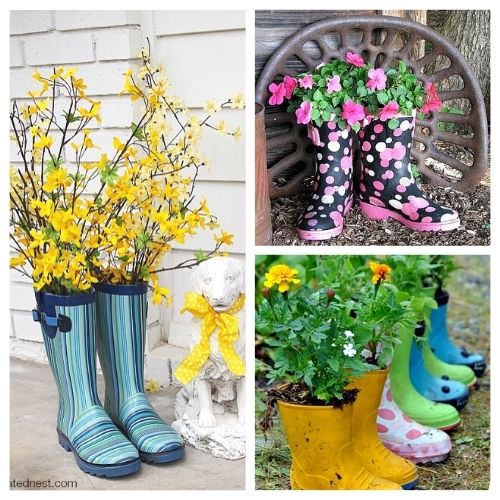 Disclosure: This post may contain affiliate links to Amazon and/or Etsy, which means that I may earn a small commission from some of the links in this post. Please see our Disclosure Page for more information.
Upcycled rain boots make lovely planters for flowers! You just wouldn't want to use real rain boots to plant any produce in (the boot lining could leach into the soil, and then into your plants). But for flowers, they're an inexpensive and fun way to brighten up your garden or front porch!
10 Adorable Rain Boot Planter Ideas
I think flower boots are so cute, whether they're planted with real or fake flowers.  Here are a few tips to help you with making your own DIY rain boot planters!
Hit yard sales. When you are out and about, if you see a yard sale, stop by! You never know if someone is selling some old rain boots.
Paint ugly boots. If you come across some ugly or plain boots, go crazy and paint them all sorts of colors and designs. Just have fun with it and you can't go wrong.
Use faux and real flowers. It doesn't matter if you use real or silk flowers. Both will work well and add some extra pizzazz to walkways, porches, and patios.
1. Spring Boots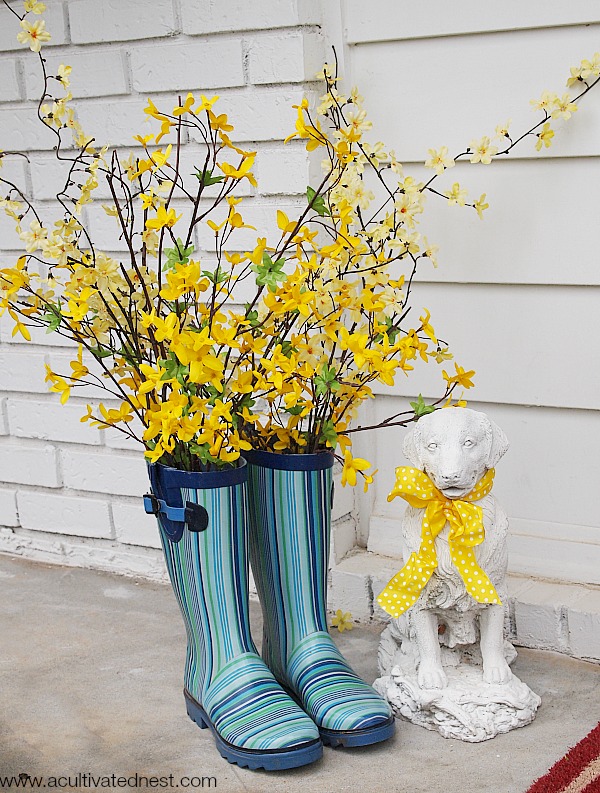 We're slowly decluttering our garage and I found a pair of striped rubber boots that my daughter doesn't wear anymore. I planted them with some faux forsythia until I can plant some real flowers in them. They're out on the front porch and I think they look really pretty as they go nicely with the forsythia wreath on my door.
2. Red Boots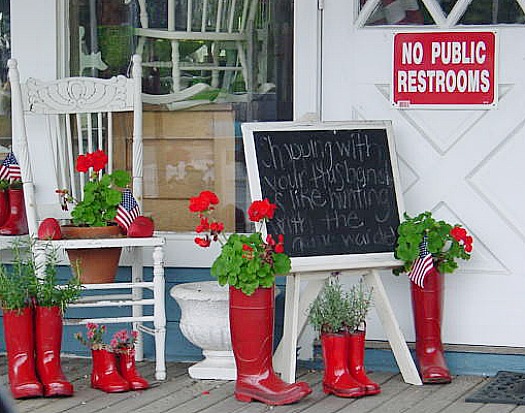 Now I want to find some red rain boots! Aren't these cute planted with red Geraniums! Head on over to Trash 2 Treasure to see more lovely photos.
3. Boot Wreath Idea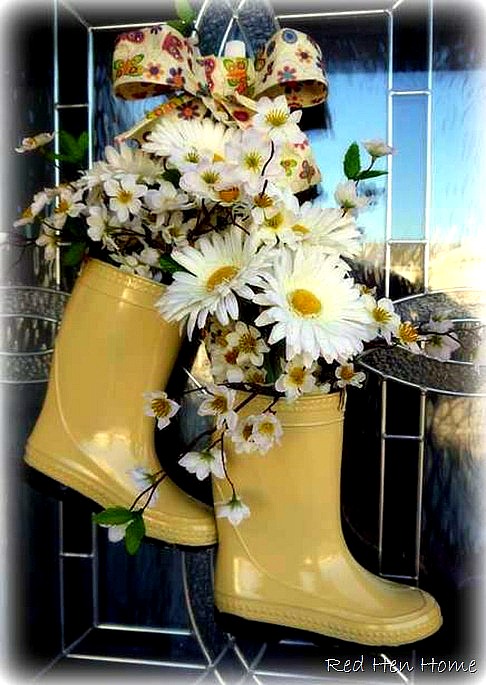 I really love them used instead of a wreath like this one from Red Hen Home. She had boots that were a color that wouldn't work for her front door so she spray painted them! Now that's smart!
4. Spring Flower Rain Boots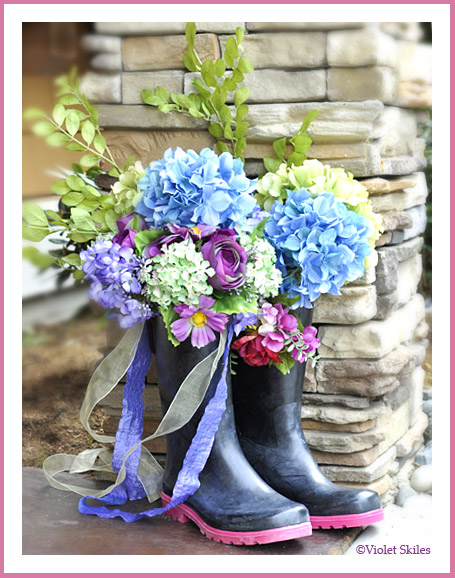 This bouquet in rain boots from Violet Skiles is so beautiful!
5. Pink & Black Rain Boots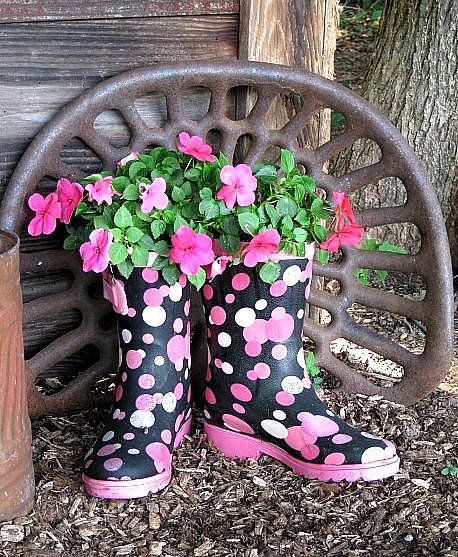 These cute pink and black rubber rains boots from Hometalk look so pretty planted with pink flowers!
6. Playful Kids Rain Boots Idea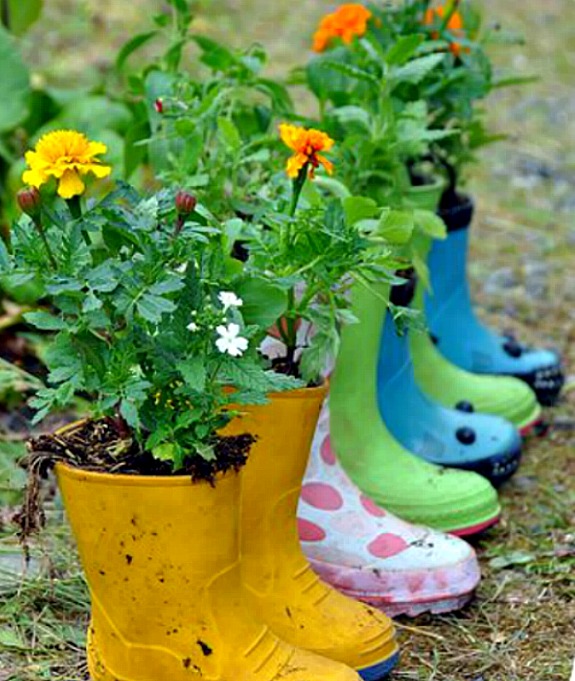 These flower rainboots from Rosy~Posy are a cute way to re-purpose your kids rubber rain boots when they get cracks and tears!
7. Gorgeous Rain Boot Centerpiece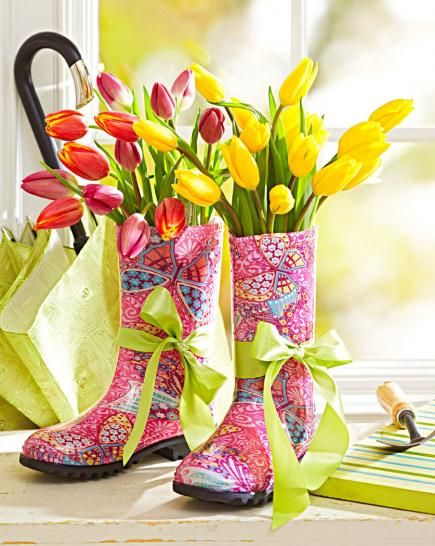 Here's an easy flower boot centerpiece for spring or Easter from Midwest Living.
8. Hanging Rain Boots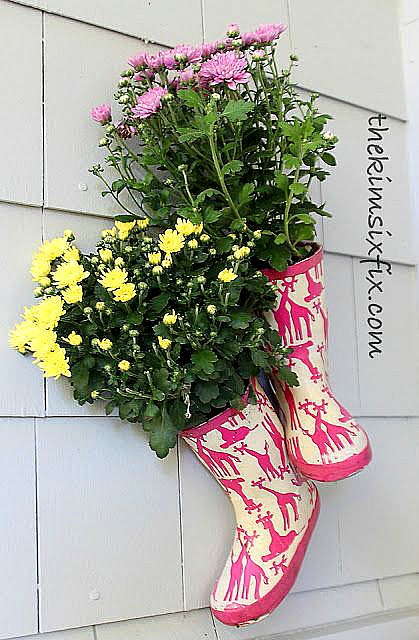 These rain boot planters from The Kim Six Fix are filled with chrysanthemums.
9. Entry Way Boots Display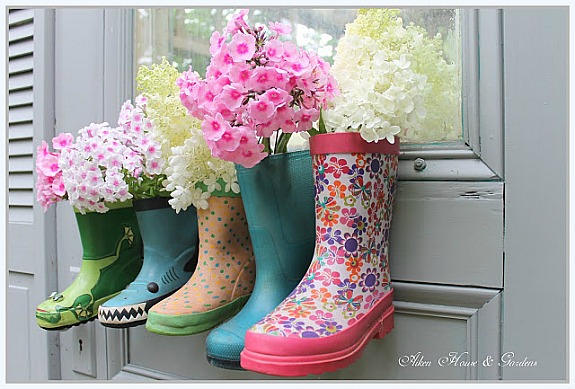 Aiken House  & Gardens uses these cute rubber boots as vases for some phlox.
10. Rain Boots Tutorial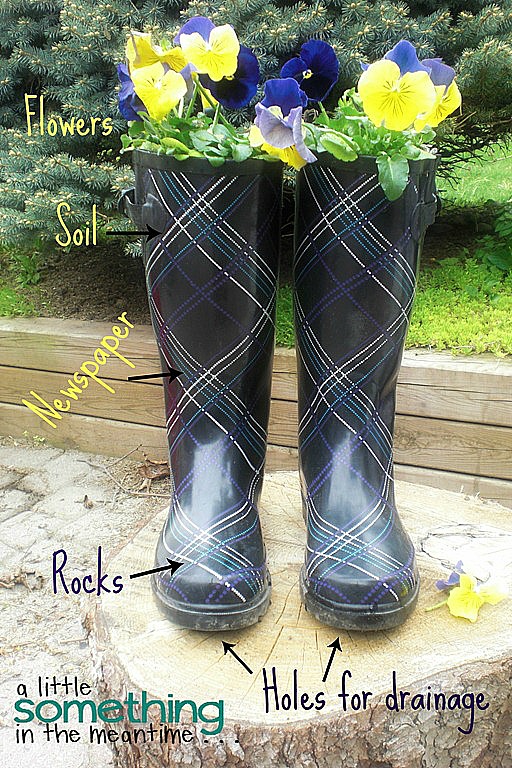 Check out this tutorial from  A little something in the meantime… if you want to find out how to plant rubber boots with live plants.
What have you upcycled into a planter before?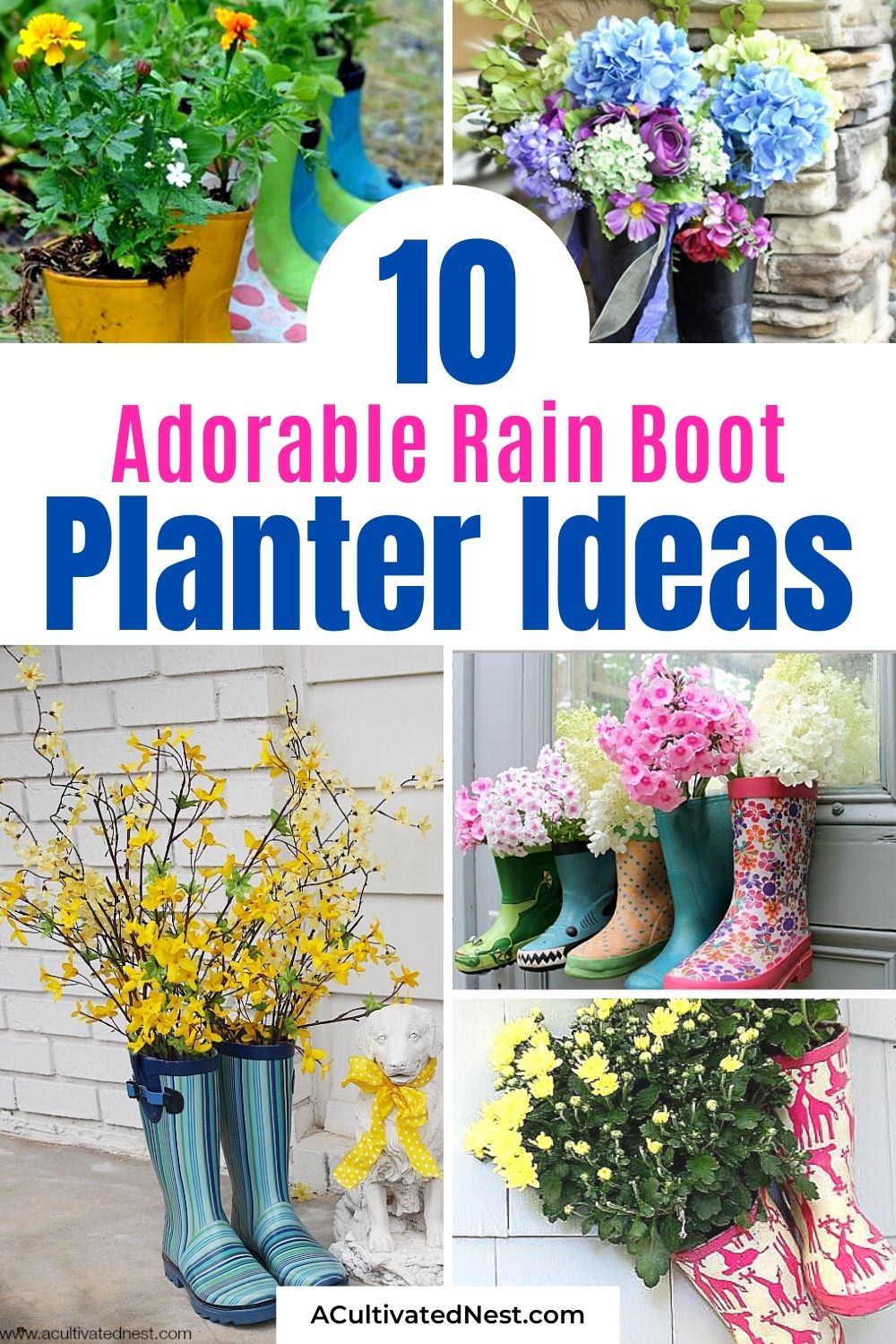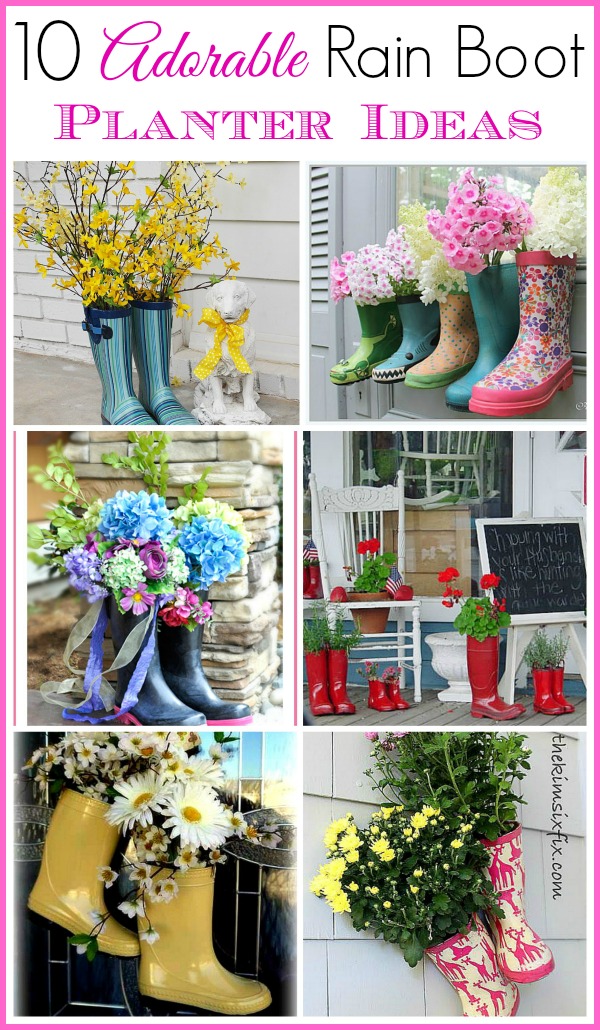 You might also be interested in: Using An Old Bathtub As A Container In Your Garden