If you are between paychecks or perhaps even finding yourself without work at the moment, one of your biggest stresses is probably figuring out how to stretch your food further. The great news is that you can do it! With a little creativity and some helpful hacks, you can eat like a king (okay, maybe not a king, but better than a pauper)! Here are 7 Food Hacks that will help you stretch your grocery budget!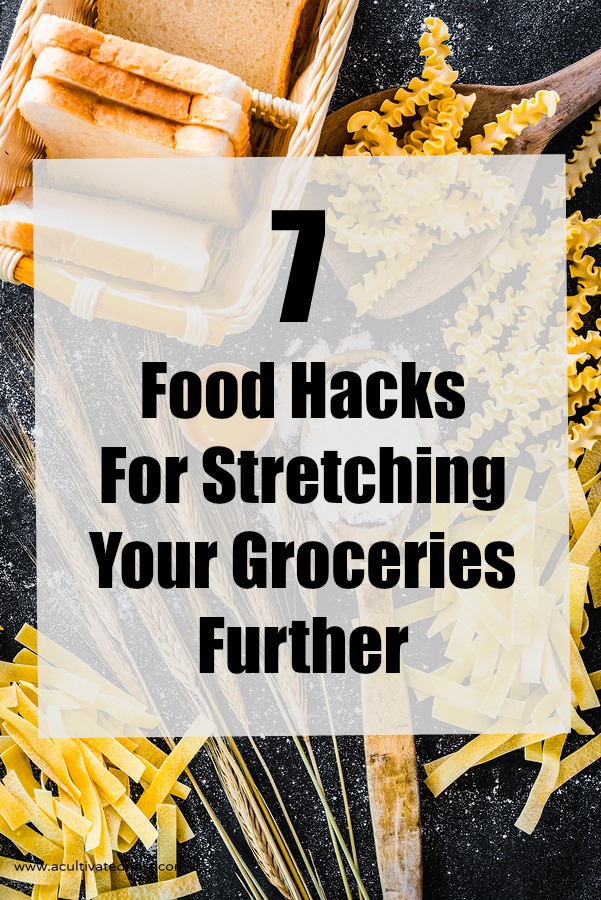 Disclosure: This post may contain affiliate links to Amazon and/or Etsy, which means that I may earn a small commission from some of the links in this post. Please see our Disclosure Page for more information.
I know that between paying bills and just trying to survive the daily grind, it can weigh you down if you're also concerned about how to make your groceries last. The good news is you can eat pretty well by following these food hacks for stretching your groceries!
7  Food Hacks For Stretching Your Groceries Further
1. Focus on Canned Foods: Canned food is not just for the end of the world zombie apocalypse! Canned foods will keep in your pantry for a long time, are super cheap, and can be used to change up meals. Corn, green beans, peas, canned potatoes, all types of tomatoes (diced, stewed, sauce), all types of beans (black, kidney, pinto), tuna and everything in between. As long as you have a bit of imagination and a can opener, there isn't much you can't do with canned foods.
2. Incorporate a Bread Item Into Each Meal: Although it shouldn't be the staple of your meal, if you incorporate a bread item into each meal, it will make the food you use go further. Bread is a filler and is a necessary evil if you are lacking other items for your meals. A lot of cultures make a point of serving a bread item with every single meal, and if you buy wheat bread or some other healthier version, it doesn't have to be only filler.
3. Buy Bulk Food: Granted, not everything you buy in bulk, especially food, is always the best deal. There are times you may find that it's more expensive per part than if you bought separately. You need to research and do some math to figure out if the amount you're buying is worthy of the price you're paying. Grab your calculator, hit the store and if it is, then by all means, buy in bulk!
4. Create a Meal Plan: It may take some time, but if you get a monthly calendar and do some planning, you can save a lot of money and make your food supply stretch out further. It may seem silly that you could make it stretch by simply planning, but you'd be surprised how far your food goes if you actually plan out each meal and stick to your plan. Here's a Free Printable Menu Planner and some additional tips. Also check out this magnetic meal planner for your fridge!
5. Have a Leftover Night: A lot of food gets wasted by being left in the fridge and going bad. Make a dedicated leftover night each week so that you clean out what's been leftover from that week's meals. If you have leftover pork, chicken or steak, you can always change it up and make fajitas or tacos with the meat. Leftover mac 'n cheese can have some corn and other veggies thrown to turn it into a casserole. There are tons of options for leftovers! Here's 5 Ways To Reduce Food Waste.
6. Make Meals Ahead of Time: If you search online, you can find many places where they have a list of  freezer meals that you can make ahead of time. They list out the ingredients and you simply gather everything up and toss it in a Ziploc baggie and into the freezer. This is great to use with a meal plan. With this method, you can dedicate ingredients to that particular meal and not waste time or money trying to figure out what is going to go with what.
7. Beef Up Your Use of Pasta: Just like with bread, if you beef up your use of pastas, it can stretch out the other food items in each meal. And pasta is super cheap (even whole wheat pasta goes on sale). You can add it to most anything, especially with tomato sauce, broths, or even salad dressings.
A little imagination can go a long way if you need to stretch your food further. Taking the time to know what you have on hand and how it can be used in many different ways will help you to eat thriftier and throw some variety into the mix.
What ways do you make your food stretch further? Why not share your tips in the comments?
Here are some books you may find helpful (Amazon Affiliate Links)
Fix, Freeze, Feast: The Delicious, Money-Saving Way to Feed Your Family
The Pioneer Woman Cooks: Dinnertime – Comfort Classics, Freezer Food, 16-minute Meals, and Other Delicious Ways to Solve Supper
Not Your Mother's Make-Ahead and Freeze Cookbook
Good and Cheap: Eat Well on $4/Day
You May Also Find This Post Helpful – How To Plan An Emergency Menu (for those "tight" months)