How to Organize Your Christmas Decorations on a Budget.
When it comes time to put away your holiday décor, do you find yourself feeling stressed and overwhelmed? It isn't nearly as fun putting it away as it is getting it out, is it? But there's no need to buy fancy storage containers for your Christmas decor. Instead, give these thrifty Christmas Decoration Storage Hacks a try!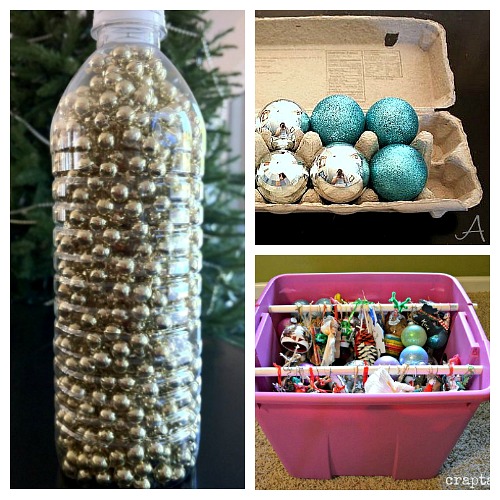 Disclosure: This post may contain affiliate links to Amazon and/or Etsy, which means that I may earn a small commission from some of the links in this post. Please see our Disclosure Page for more information.
Organize your Christmas decor the frugal way wit these handy tips! You'll save money now, and you'll save time next year when it's time to put it all out again.
10 Christmas Decoration Storage Hacks
1. Save Egg Cartons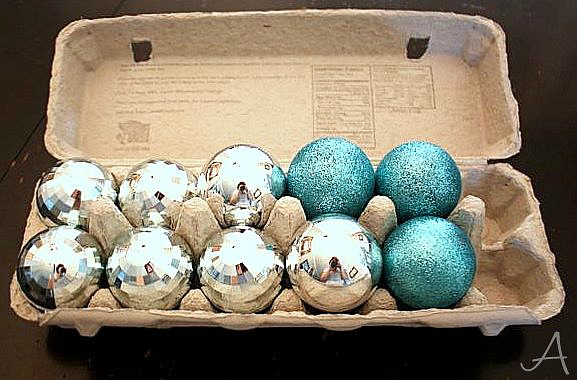 Egg cartons offer easy Christmas storage and great cushioning for those fragile ornaments. Simply drop an ornament in each compartment and close the lid. This egg carton ornament storage hack from Ask Anna is a quick and easy way to keep those fragile decorations safe.
2. Wrap Your Lights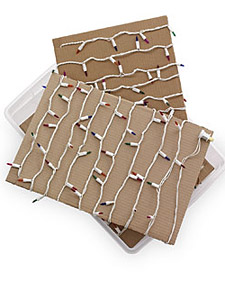 This smart tip from Martha Stewart uses something we all have- extra cardboard! Cut a large square of cardboard and use it to wrap your holiday lights around. You can also label whether the lights are form the tree, house, outside etc.
3. Use Plastic Cups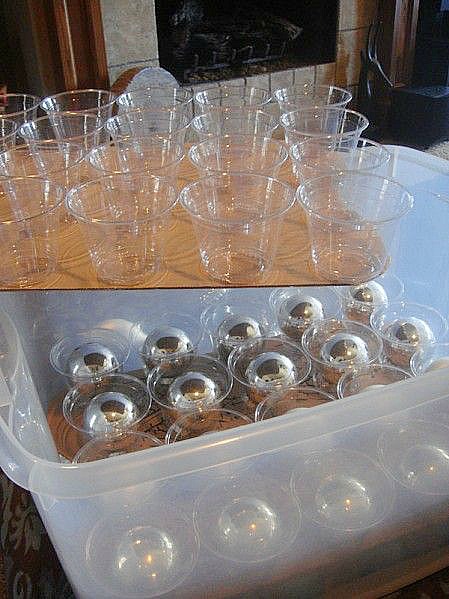 There are so many smart Christmas decoration storage hacks out there! This one from Dollar Store Crafts has you glue cheap plastic cups to cardboard to hold your breakable Christmas ornaments safely.
4. Upcycle Old Stockings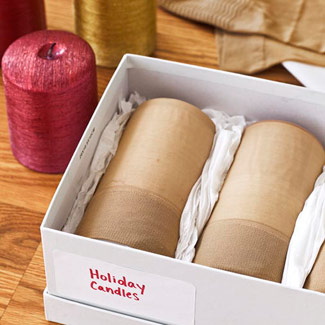 I don't know anyone that burns their special Christmas candles (at least not in one season). So you need a way to store them safely. Use Good Housekeeping's tip and use old stockings to cover your candles before you tuck them in a storage container.
5. Keep the Tree Together
If you use an artificial tree, rethink taking it apart to store it. If you have the room, simply place a trash bag over the tree and tie up the bottom.  Or there are bags that you can buy for this purpose. This will keep dust and debris off the tree and save you the hassle of having to remove and store the branches (not to mention figuring out how to put it all back together again next year).
6. Use a Water Bottle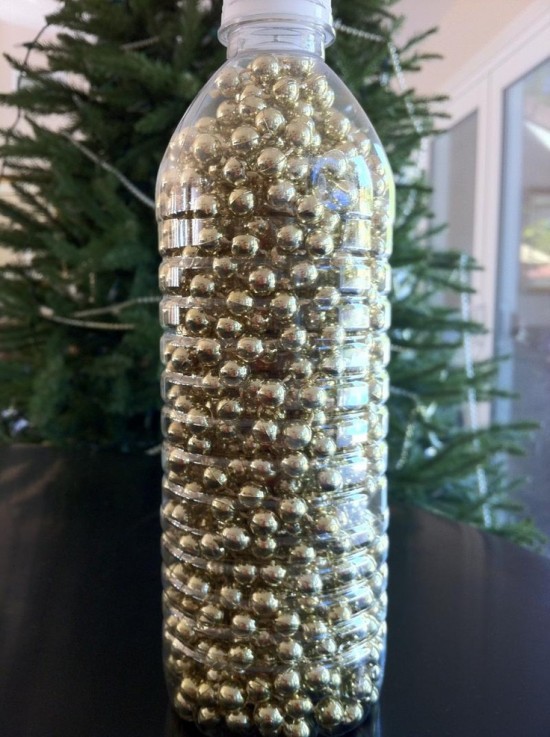 Use plastic bottles to store Christmas garland tangle free and ready to use next year. source – Tip Junkie
7. Use Old Linens
Use old bath towels and sheets as cushioning for your Christmas villages and other breakable ornaments. Tear the linens into smaller pieces and use them to wrap these items. It is so much cleaner than using newspaper (that ink gets on your hands and can get on your ornaments and ruin them), and the linens can be washed as needed. Most importantly, the linens will keep your fragile items safe.
8. Utilize Hangers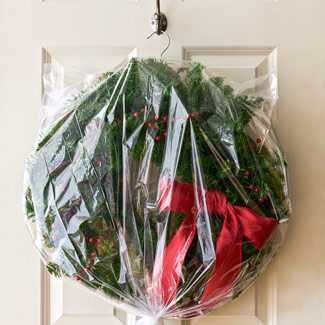 You can hang wreaths onto hangers for easy storage. You can also layer your holiday linens on hangers to keep them high, dry, and wrinkle free. Light strands also do well when strung over hangers.  source – Good Housekeeping
9. Storage Box with Dividers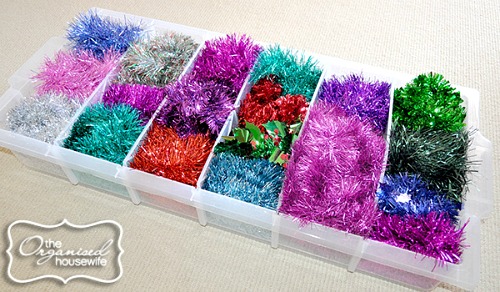 Do you already have a perfectly good storage box with dividers? Just because it isn't technically designed for Christmas decorations doesn't mean you can't use it for them! Check out how The Organized Housewife keeps her tinsel neat in an underbed storage box!
10. DIY Ornament Hanging Tub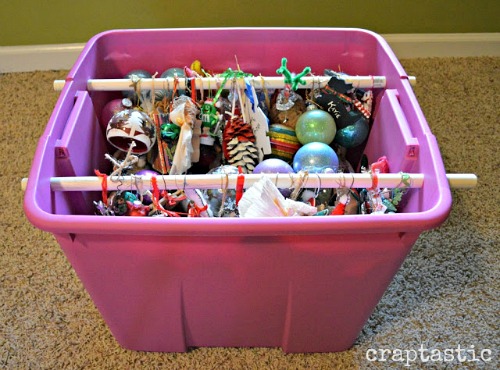 This is such a smart Christmas decoration storage hack that can keep all your ornaments together safely! Head on over to Craptastic to figure out how to make your own DIY ornament hanging tub!
Give these Christmas decoration storage hacks a try and next year you'll be happy you did when you start to decorate for Christmas again!
What are your favorite tips for storing Christmas decorations?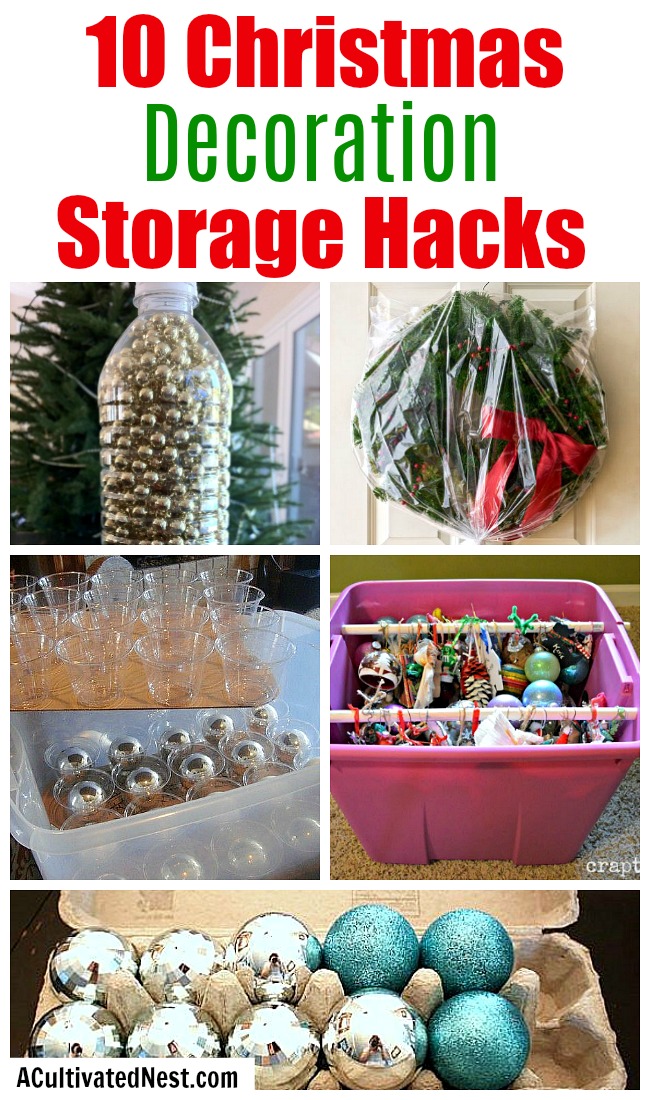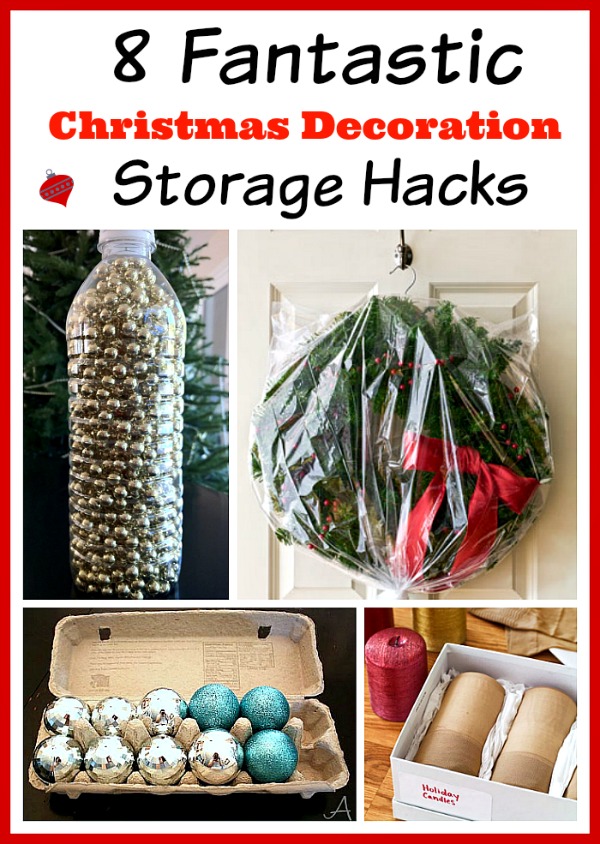 You might also be interested in: How to Store Your Fake Christmas Tree