Delicious Homemade Halloween Treats.
I love Halloween! Creativity and imagination are fully permitted to get the better of us during the planning and prepping and celebrating of this holiday, and it is absolutely the same when you start to talk about the food! Namely the desserts! Just like when doing Halloween decorating, you can focus on the creepy, or keep it more fun and whimsical. You can serve up wet grapes that look like eyeballs (yuck!) or you can put little candy googly eyes on everything (yeah!). It's totally your call, but seeing as how you'll want to make something to indulge in, here are 16 Spooky Sweet Halloween Desserts.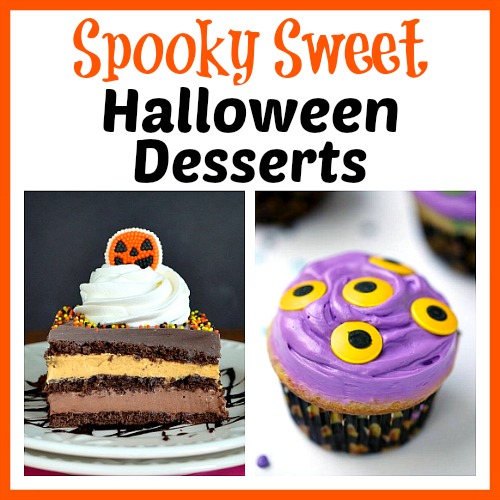 Disclosure: This post may contain affiliate links to Amazon and/or Etsy, which means that I may earn a small commission from some of the links in this post. Please see our Disclosure Page for more information.
There's no reason to keep all the Halloween dessert fun to yourself! If you have kids or grandkids, they'd be more than happy to help out making these spooky treats!
Part of what makes Halloween desserts so fun is the fun colors! So before you start your Halloween baking, you may want to stock up on your food coloring, so you don't have to worry about running out. If you want to avoid artificial additives, you might want to try naturally derived food colors.
16 Spooky Sweet Halloween Desserts
I have a few helpful tips to make your Halloween desserts a success! Plus, some tips to help you save a little money while in the kitchen.
Prep your area! Get your baking area ready before you start to keep things moving smoothly and less messy. Make sure your counter is clean and that you have adequate space to work your magic!
Buy in bulk. Buying in bulk is a great way to save money in the kitchen. Dry goods will keep for a long time and you will be doing a lot of baking with the holiday season coming up.
Good storage containers. If you are going to buy in bulk, make sure to invest in some good storage containers. This will keep your dry good fresh and extend their life in your cabinet.
Don't freak out if you don't have one ingredient! The Internet is full of knowledge so use it to your advantage! If you are missing one ingredient do a quick search and find a substitution. Most things can be substituted and that will save you an unexpected trip to the store and tons of time! Our free printable ingredient substitutions chart can help a lot with this.
1. Pumpkin Donuts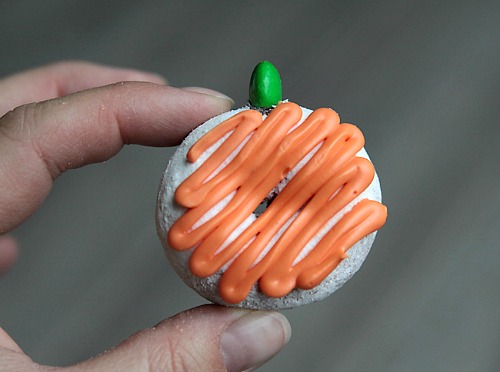 These Pumpkin Donuts by It's Always Autumn are too cute, and way easy! These would make a great addition for a fun lunch or served up to a class or party. Your kids will love helping make these simple desserts from premade ingredients. Plus, she has other fun Halloween ideas for more treats made out of donuts! 
2. Pumpkin Fudge Eclair Cake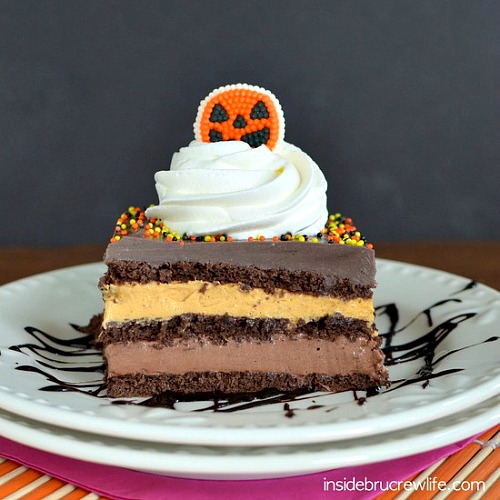 It is no secret that I am drooling over this Pumpkin Fudge Éclair Cake by Bru Crew Life. This is just such a great idea! This recipe takes instant pudding mixes, milk, Cool Whip, and graham crackers and can be changed up to fit any season. 
3. Halloween Oreo Balls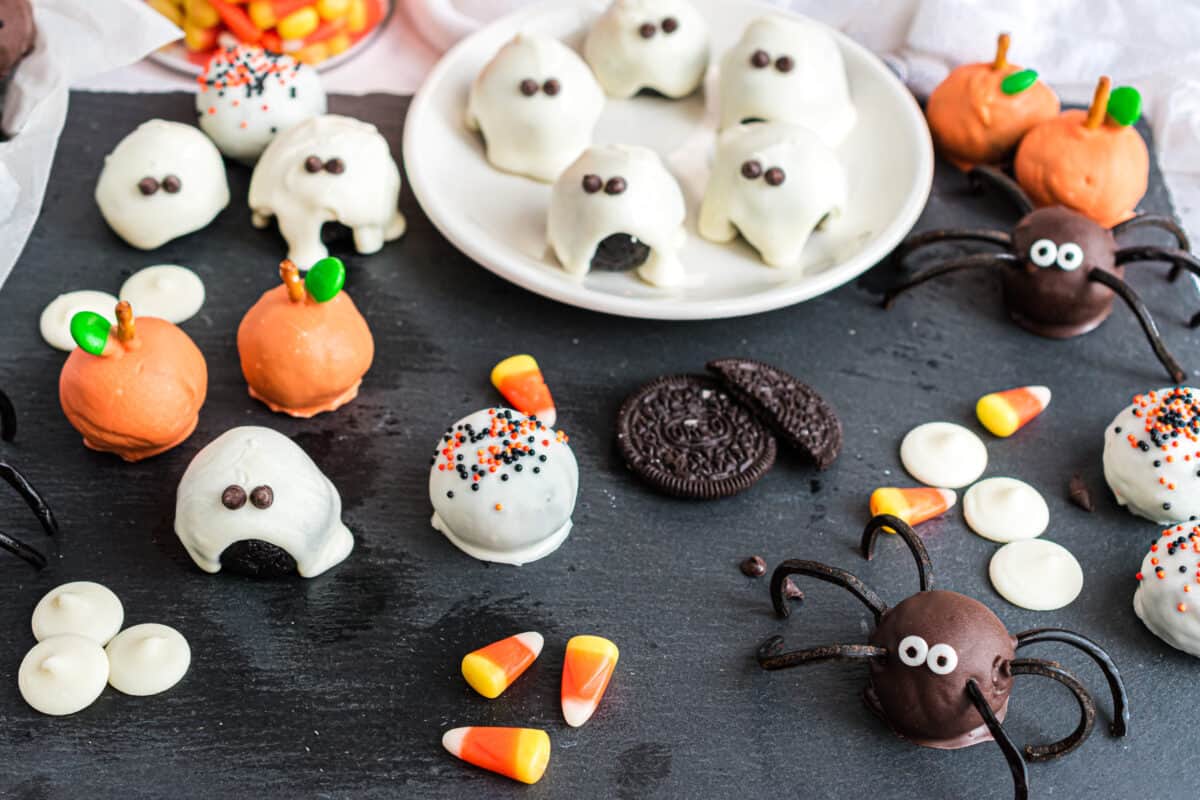 Oreo balls are delicious and a huge crowd pleaser! I Heart Naptime made them with a Halloween flair and they are so cute! They all start the same and then get a quick decorating twist so making a bunch of these won't be bad at all.
4. Witch Hat Cupcakes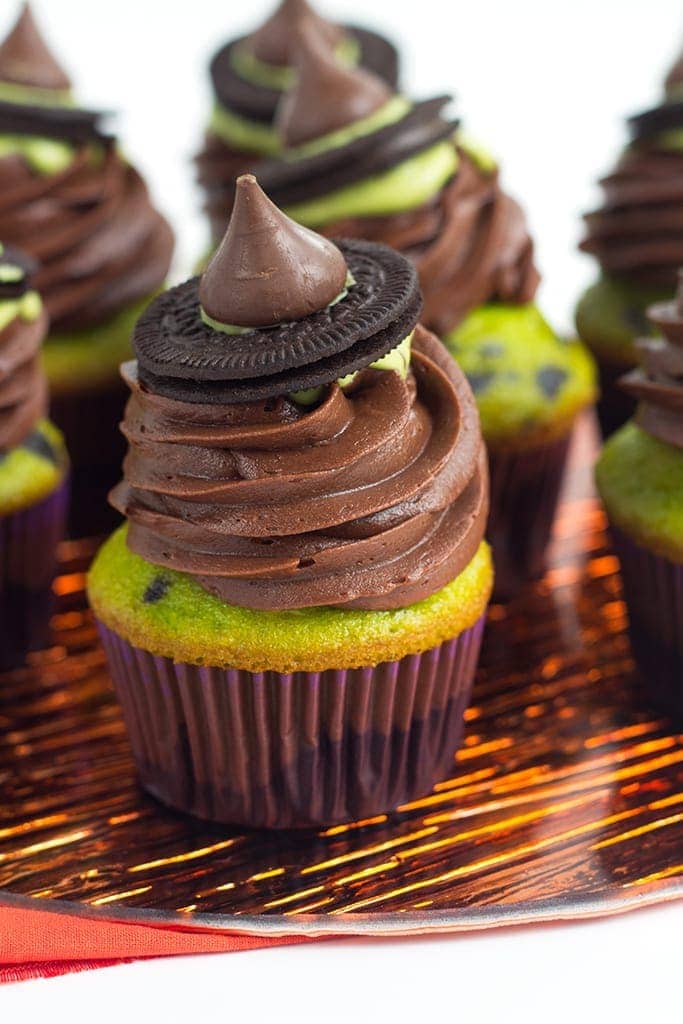 These adorable witch hat cupcakes will get giggles out of the eaters for sure! Yellow Bliss Road has simple directions to make these yummy cupcakes. Plus it all starts with a cake mix; anyone can make these!
5. Eyeball Halloween Pudding Cups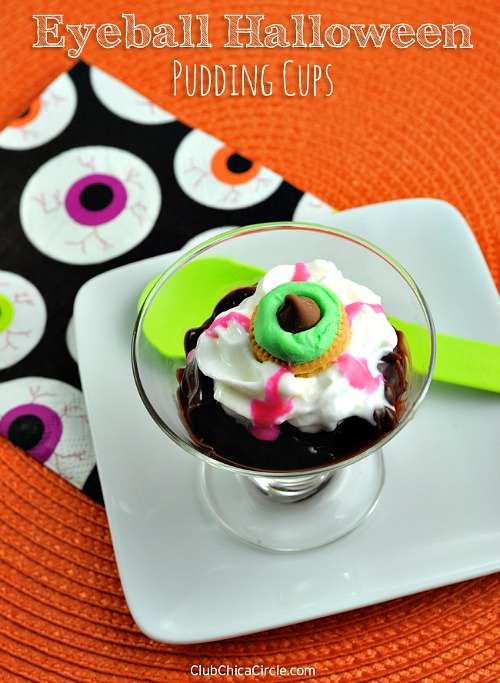 While these Eyeball Dessert Cups by Club Chica Circle are getting a wee bit on the creepy side, they're still lots of fun, and super tasty! Kids would love to help with this quick treat!
6. Frankenstein Wafer Cookies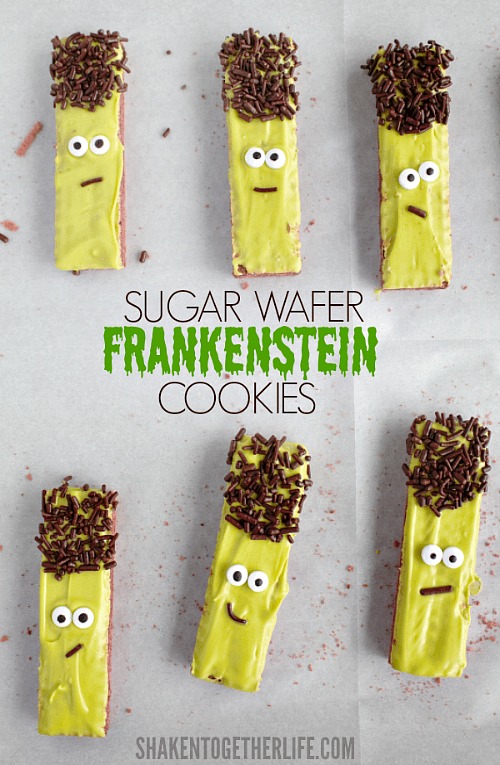 These Frankenstein Wafer Cookies by Shaken Together Life are sure to be a hit! Also, very budget-friendly. Plus, they require no baking so they are perfect for something quick, kid-friendly, and easy for someone just starting out in the kitchen. 
7. Halloween Milk Chocolate Boo Bark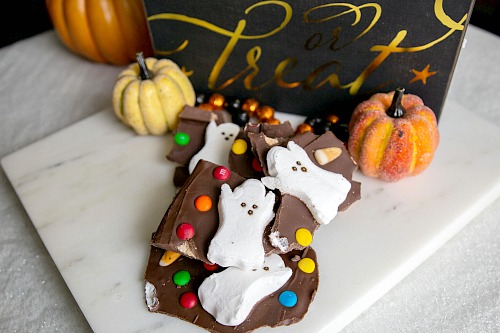 This simple chocolate boo bark will be a favorite among your guests! With multiple different chocolates and a few other candy ingredients, they will be on a sugar overload in no time. We have some great tips for pulling off this chocolatey goodness!
8. Zombie Brain Cupcakes
These Zombie Brain Cupcakes from BrenDid are easy to make and she uses no artificial food coloring. She uses beets which will provide you with the rich pink color and a little added health boost in your sweets!
9. Spiderweb Sandwich Cookies
These Spider Web Sandwich Cookies by Home Cooking Memories are just what you want to enjoy to get a break from all the candy! It is a yummy chocolate cookie with a marshmallow buttercream filling!
10. Macaroon Bats
These cookies and cream macaroon bats are sure to be a hit plus they are super yummy! This Silly Girls Kitchen has this recipe for these bite-sized treats!
11. Easy Bat Cake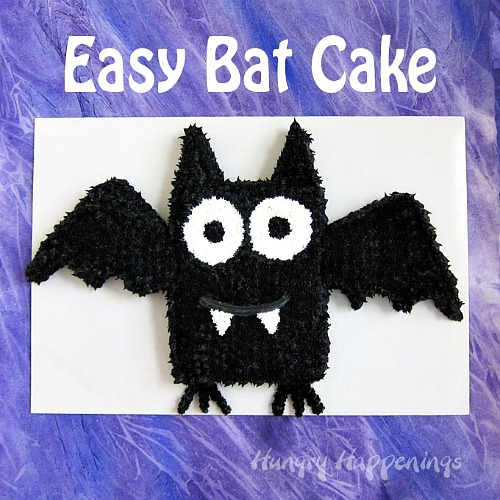 This clever bat cake by Hungry Happenings is one of those genius cut-up cakes, and in this case, you're taking a regular square cake, and re-arranging it to look like a bat.  Again, very easy on the budget! This would be perfect for a Halloween party or maybe a birthday cake for certain themes. 
12. Candy Corn Popcorn Balls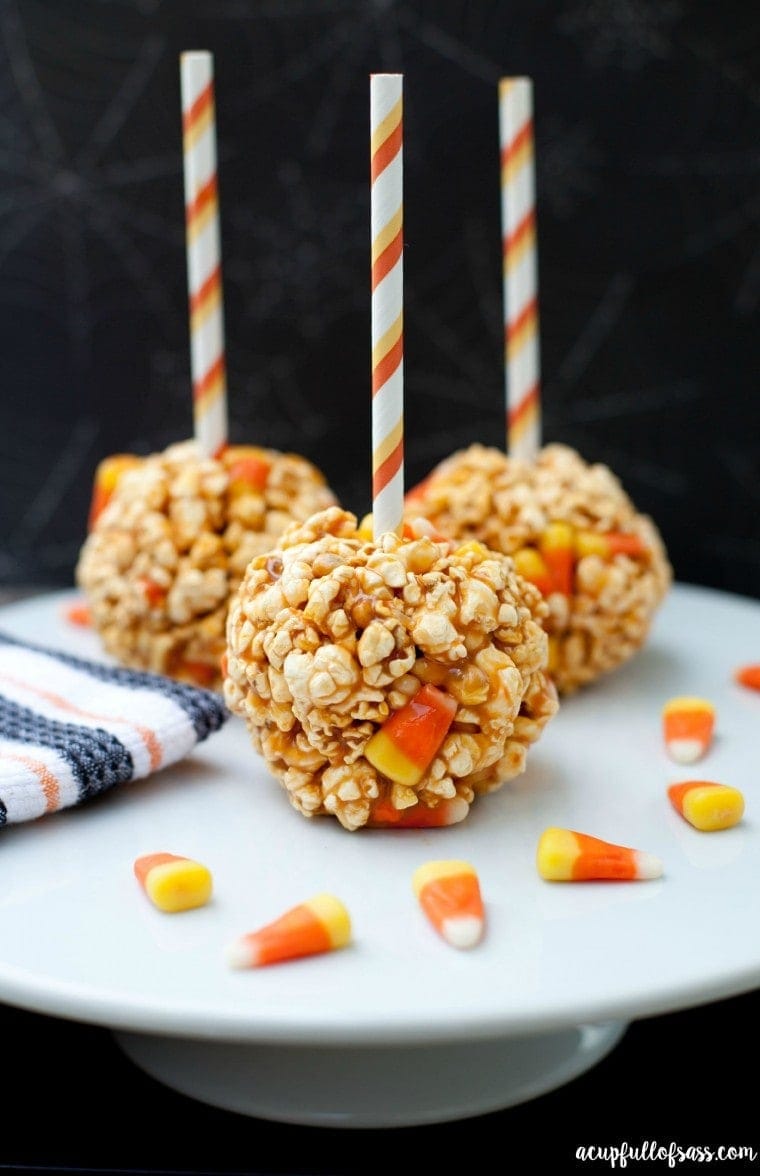 Who doesn't love popcorn balls?! These candy corn popcorn balls from Yellow Bliss Road add a little something fun to a regular, old popcorn ball.
13. Candy Corn Krispie Cake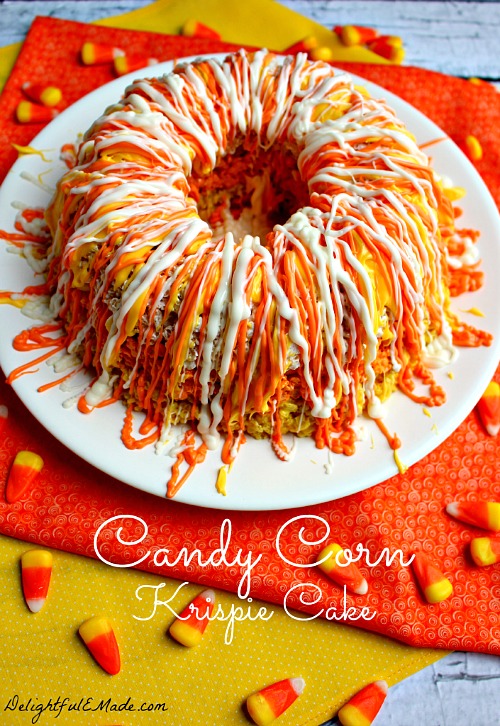 This Candy Corn Krispy Cake by Delightful E Made is a real show stopper! I am pretty sure the kids are going to love this. I mean it is a giant rice krispie treat with Halloween flair; easy to make and ooey gooey yumminess!
14. Colorful Leaf Sugar Cookies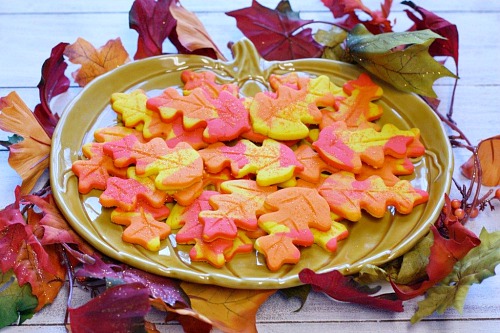 These Fall Foliage Sugar Cookies by Food, Folks, and Fun offer up a lighter dessert alternative that we just kind of need this time of year. They are bright and colorful, perfect to bring to a potluck dinner!
15. Halloween Cookie Cake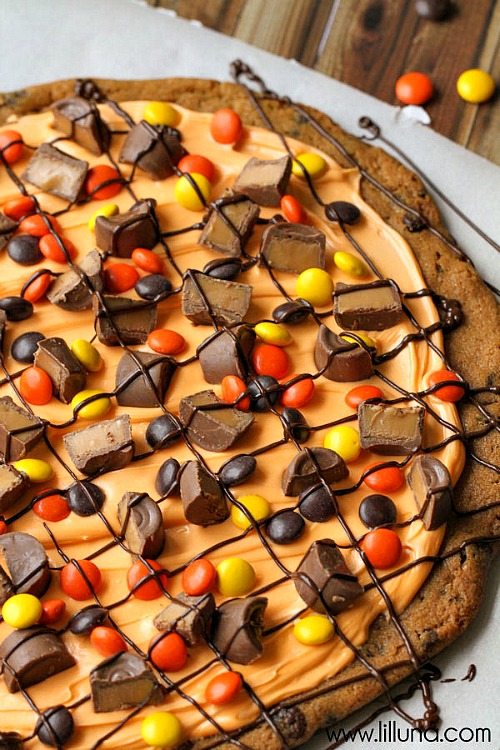 And this Halloween Cookie Cake by Lil' Luna is pure indulgence. I think all of my favorite treats are in this dessert, and I can't wait until we can sample one ourselves! She uses prepared ingredients to make this dessert come together quickly and easily. Little helpers would love to decorate the cookie pizza with lots of candy toppings! 
16. Spider Cookies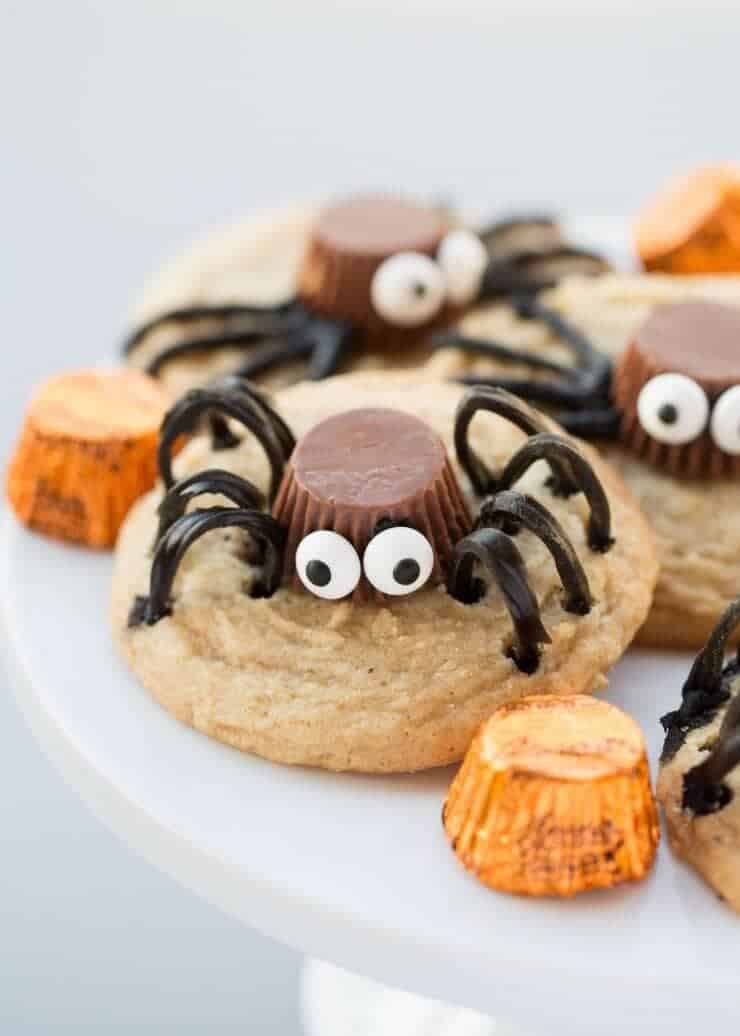 Lastly, these spider cookies by I Heart Naptime will be a crowd pleaser for all ages! They are a basic cookie dough that she adds fun decorations to create the Halloween theme. I can just imagine the laughter and squeals from children when they see these!
Budget-Friendly Spooky Sweet Halloween Desserts
Halloween desserts have come a long way since caramel popcorn balls and candy apples. Although I have to admit I would gladly receive a batch of either from my Mom if she just happened to be reading this and say, spending a bit of time in the kitchen today…
Seriously though, there is something to be said of the recipes we grew up with – I think caramel popcorn balls are probably the cheapest thing you can make that is acceptable Halloween fare, along with maybe homemade sponge toffee. Which, by the way, is really really good and fun to make if you haven't tried it. For more ideas, check out my post on 50 Things You Can Do to Save Money on Groceries. The tips apply year-round, but are especially handy as we get into the holiday season!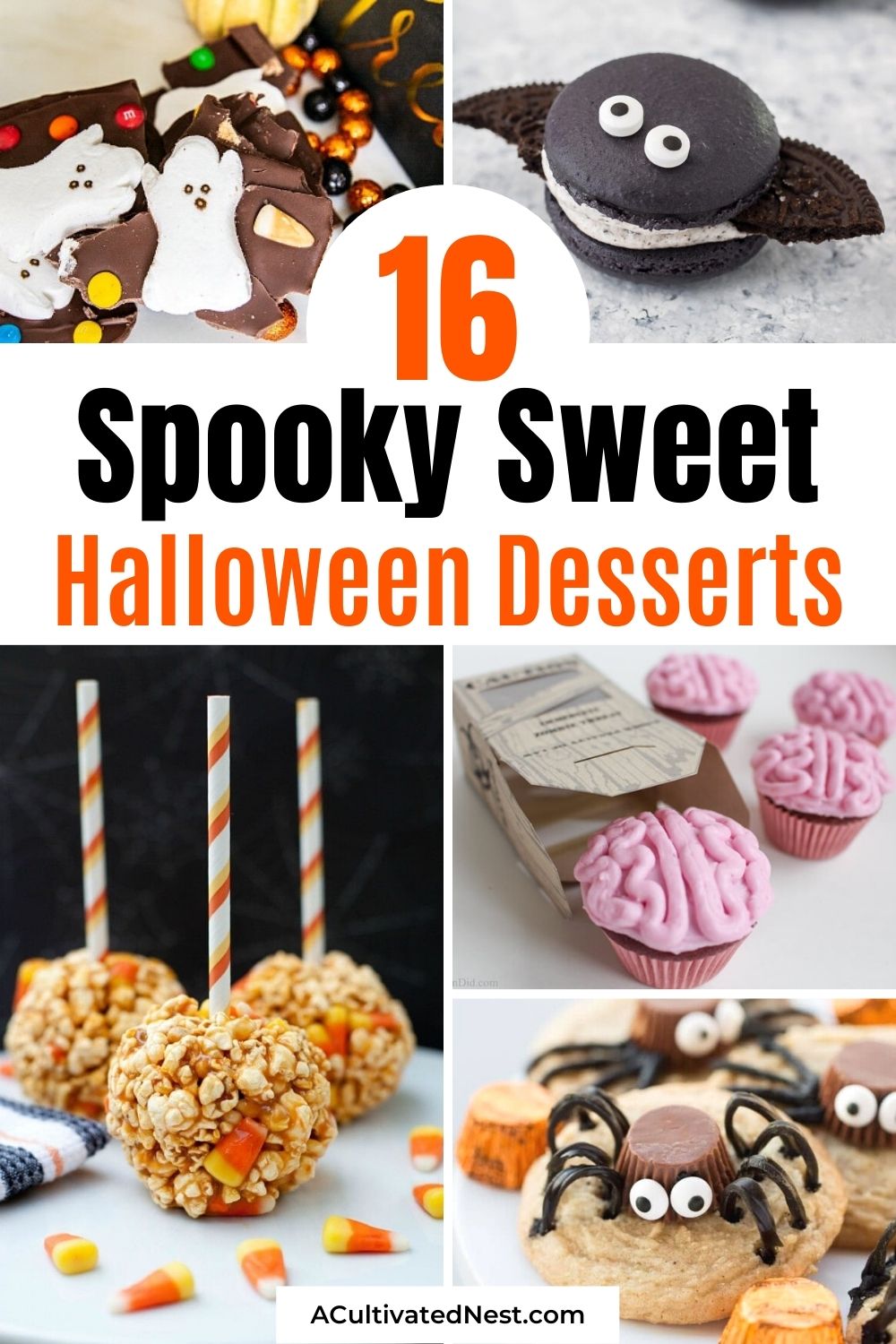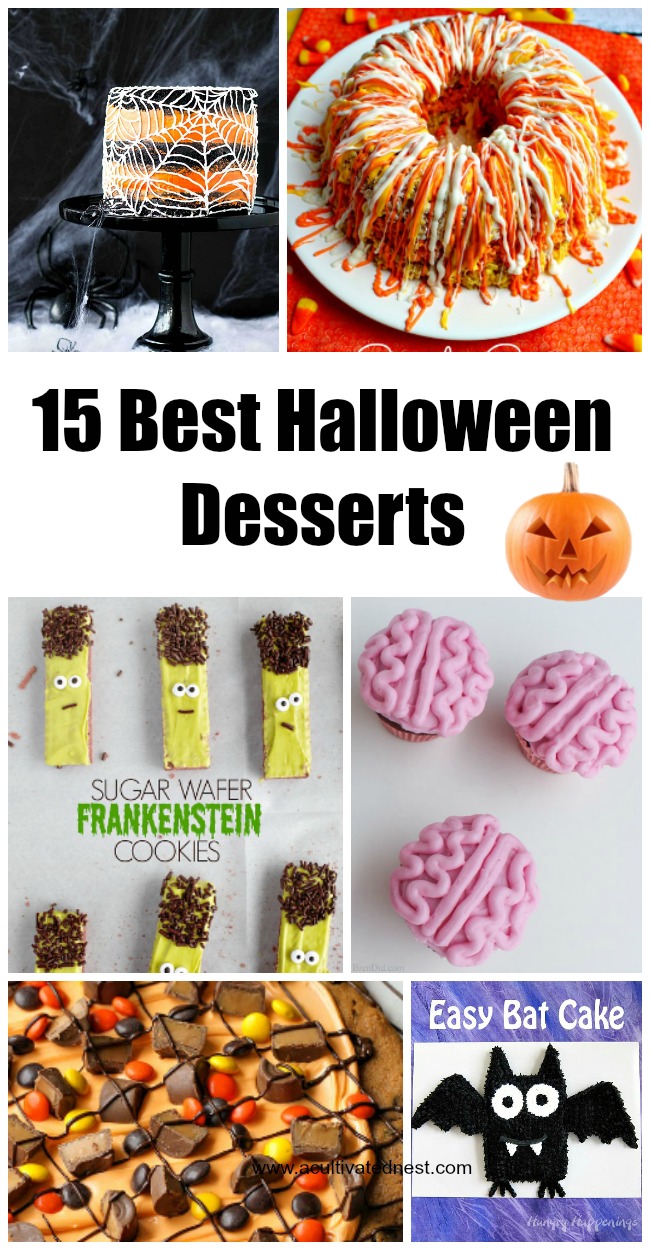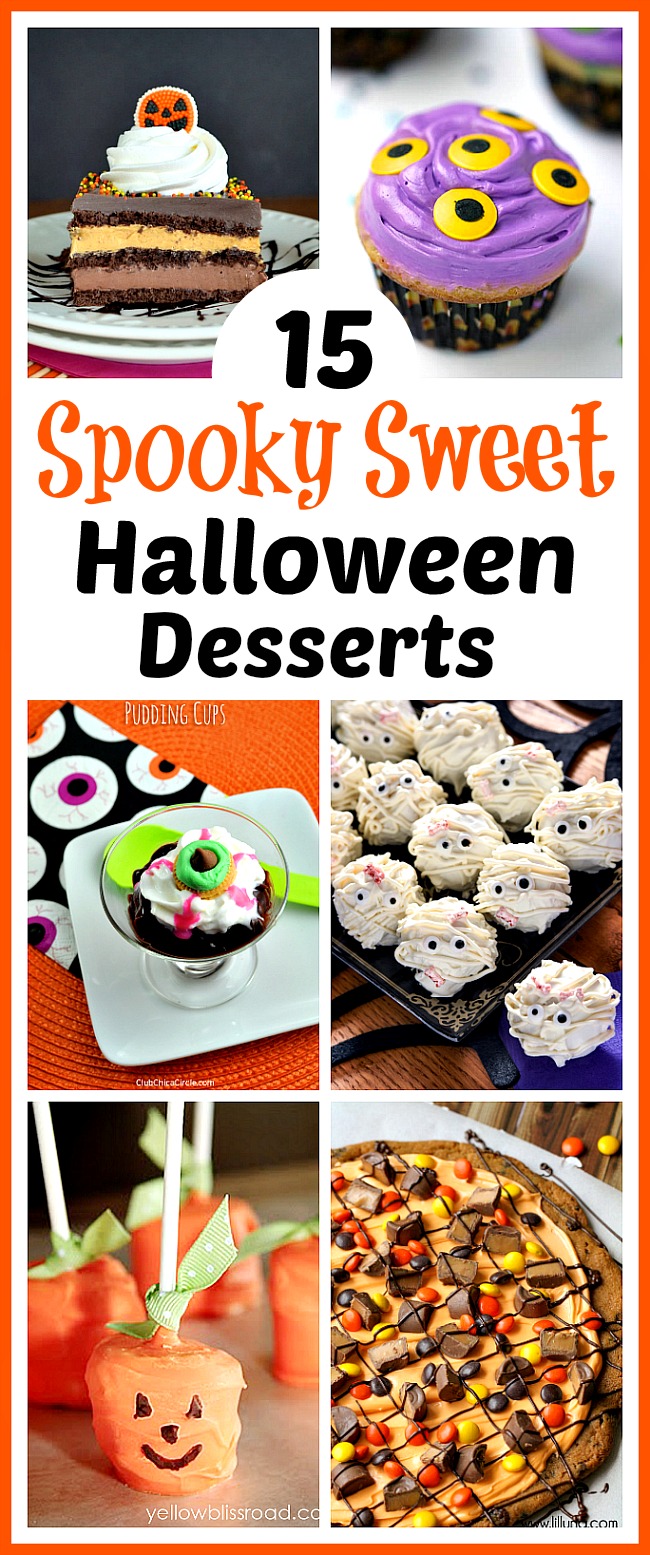 Written by ACN Team Member Evelyne N. : Evelyne is the fearless, axe wielding, quirky, hardworking and incredibly funny creative genius behind Nemcsok Farms and Knits' End. Who also has a weird fascination with soil, and wreaths.
You might also be interested in: 9 Yummy Ways to Use Leftover Halloween Candy