Homemade Rice Krispie Squares for Christmas.
Rice Krispie Squares, the original plain Jane treats, are I must confess one of my favorites. They are super easy to make, the ingredients are not expensive, and they are tasty! So it should be no surprise that people are adding their own special twists to these classics, and tailoring them to their favorite holidays. We've rounded up 15 Homemade Christmas Rice Krispie Treats that we want to try this year, and we're pretty sure you'll want to as well!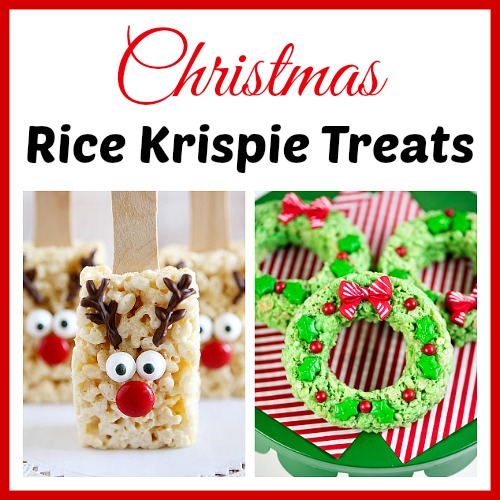 Disclosure: This post may contain affiliate links to Amazon and/or Etsy, which means that I may earn a small commission from some of the links in this post. Please see our Disclosure Page for more information.
From the classic wreath-shaped Rice Krispie treats to absolutely adorable Reindeer Rice Krispie treats, we've found a little something for everyone, even little Lumps of Coal!
15 Homemade Christmas Rice Krispie Treats
Here are some tips to help you have an easier time making your homemade Christmas Rice Krispie treats!
Stock up early. I like to stock up early on Rice Krispie cereal, mini marshmallows, and Rice Krispies Treat bars when stores run sales and buy in bulk. That way I won't run out of any "food crafting" supplies!
Keep water handy. Sometimes, the treat can get a little sticky, so I like to put a little water on my hands so the marshmallow doesn't stick to my skin. I also take off my jewelry so I don't have to clean it later.
Kid-friendly! There is pretty much no reason not to include the kids when making these. They're so easy and so fun! They hold up great as food gifts, especially if you put them in cellophane treat bags. I always stock up on extra so I'll be ready for holiday treat giving!
 1. Santa Rice Krispie Treats

For starters, these Santa Rice Krispie Treats from Positively Splendid are quite possibly the sweetest (and most brilliant!) thing on the Internet! Too cute and totally festive! Plus, really easy to make!
2. Rice Krispie Wreaths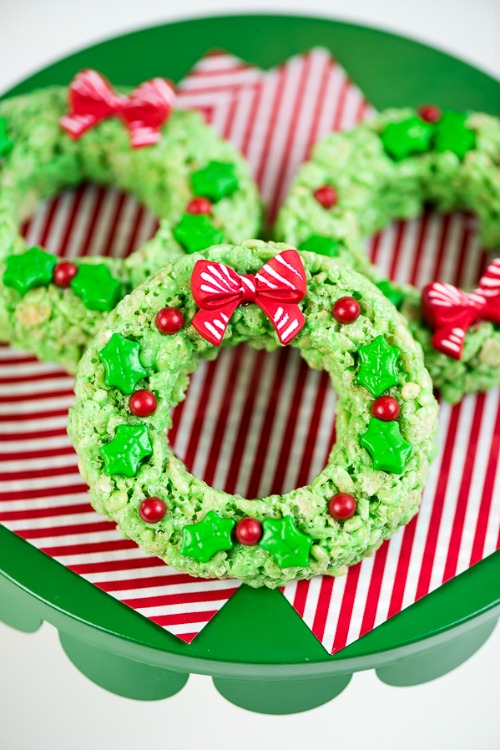 Equally adorable are the classic Rice Krispie Wreaths. This version from a Pumpkin and a Princess are embellished with some candies – and click through to see how she makes hers so tidy!
3. Turtle Rice Krispie Treats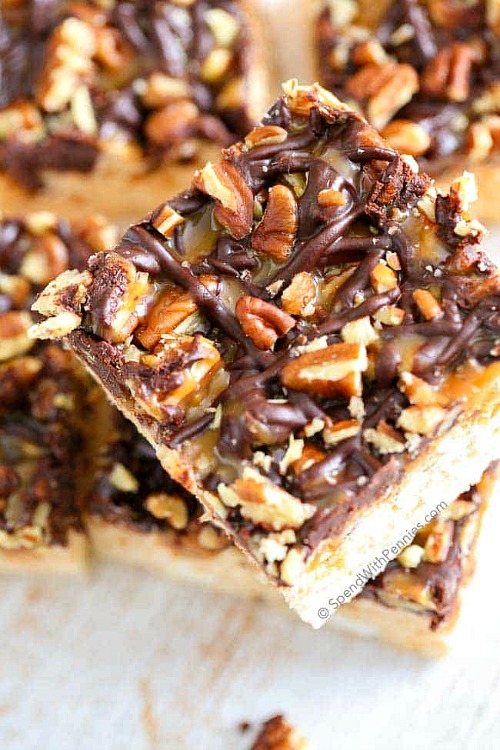 Nothing screams Christmas holiday treats like Turtles and so it won't surprise you that these Turtle Rice Krispie Treats by Spend with Pennies is on the must-make list! Seriously, we must all make these.
4. Hot Chocolate Rice Krispies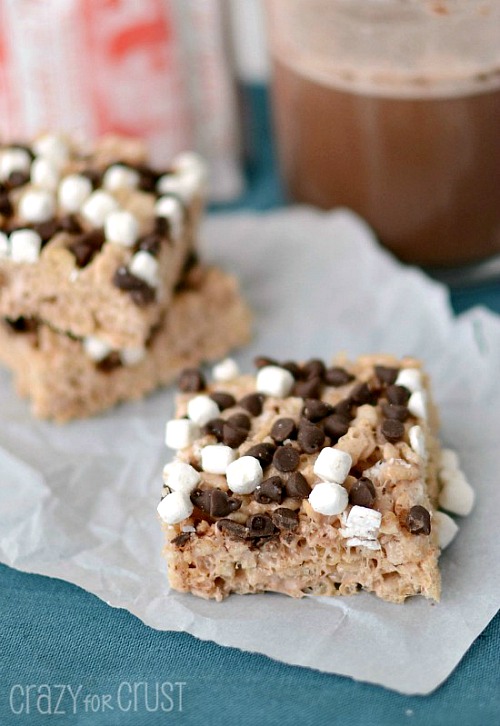 Can you say delish? These Hot Chocolate Rice Krispie Treats by Crazy for Crust are going to be your go-to treat all winter long – but be sure to have them over the Christmas Holidays as well!
5. Peppermint Rice Krispies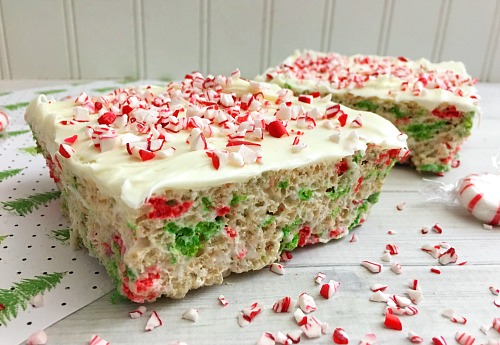 Peppermint is one of my favorite flavors and these Peppermint Rice Krispies are so easy to make and eat! We even makes them festive with colorful Krispies!
6. Christmas Stocking Rice Krispies Treats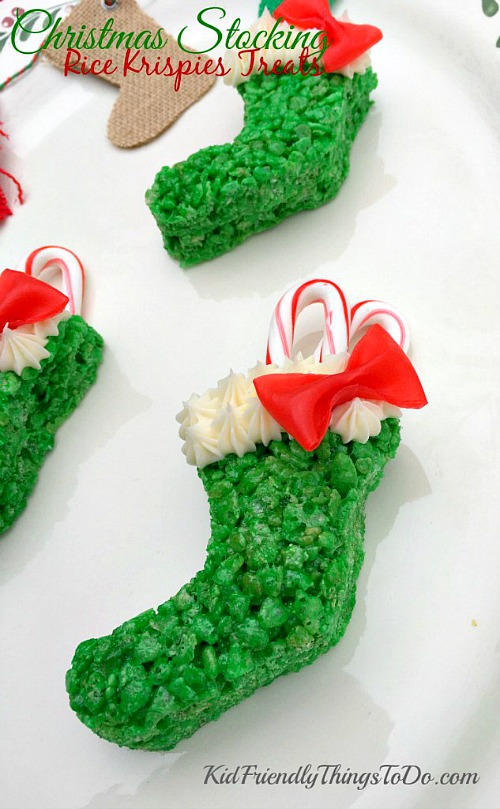 These Christmas Stocking Rick Krispie Treats by Kid Friendly Things To Do would be so fun to make for a gift. A simple cookie cutter and some decorations and you have yourself a fun little treat!
7. Rice Krispie Caramel Marshmallows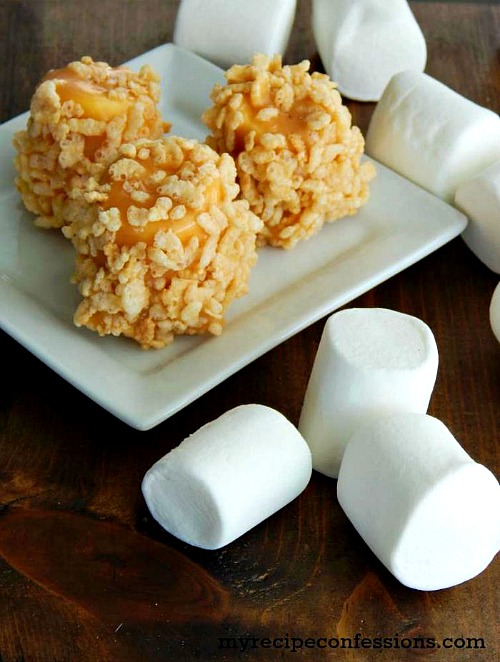 These Rice Krispie Caramel Marshmallows by Lolly Jane would be an ideal treat to wrap up a sleding party with or to serve to any carolers that come your way.
8. Reindeer Rice Krispies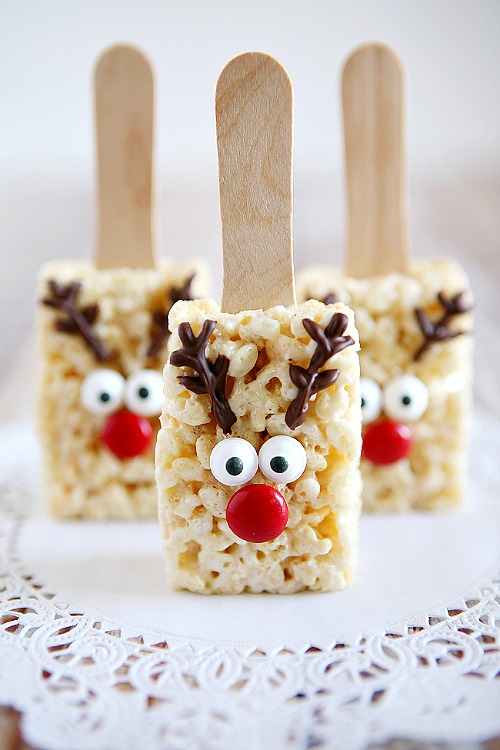 Eeep! It doesn't get any cuter than these Reindeer Rice Krispie Treats by 30 Handmade Days! I mean, look at them! Kids and adults alike will be asking for more, and begging to make them next year!
9. Rice Krispie Presents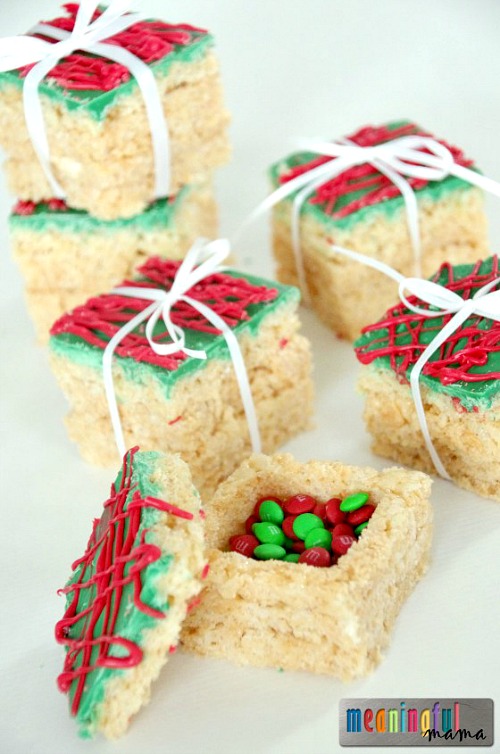 Not only are these Rice Krispie Presents by Meaningful Mama totally and completely adorable, but they also have little surprises inside! What a perfect way to celebrate at a Holiday Party! Kids would LOVE these!
10. Chocolate Caramel Rice Krispie Treats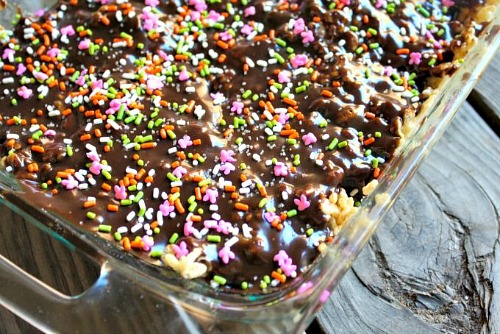 Whoa! Check out these Chocolate Caramel Rice Krispie Treats from Parenting Chaos! Another great treat for a party, or an afternoon of playing in the snow!
11. White Chocolate Dipped Treats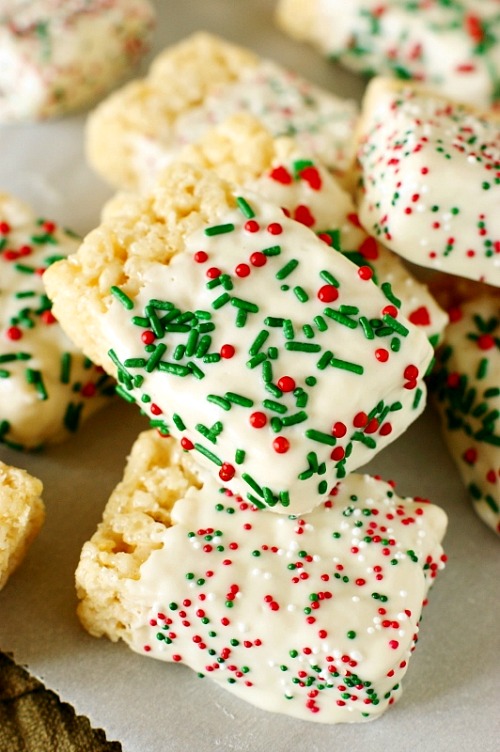 These White Chocolate Dipped Rice Krispie Treats by the Kitchen is My Playground are so festive and so easy! I can see them becoming a go-to snack or dessert treat from Christmas right through the rest of the year! Just change the sprinkles to fit whatever holiday you are celebrating!
12. Christmas Tree Rice Krispies Treats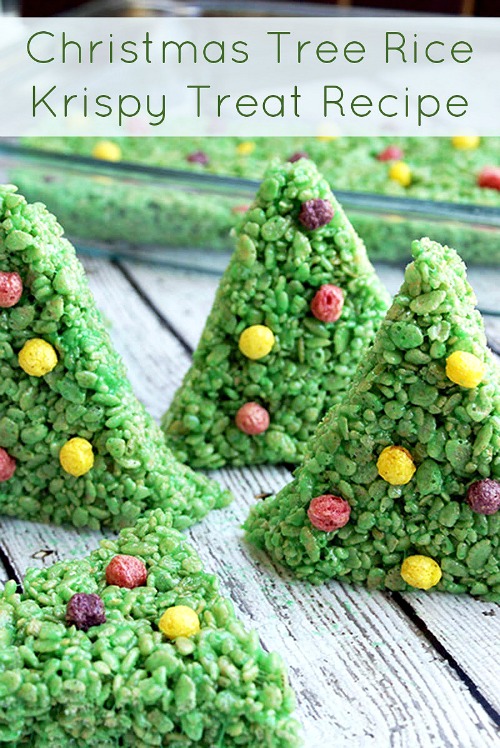 And THESE! These Christmas Tree Rice Krispie Treats by DIY Candy are perfect for the holiday season! These would be a fun one to make with the kids as well!
13. Rice Krispie Treat Pinwheel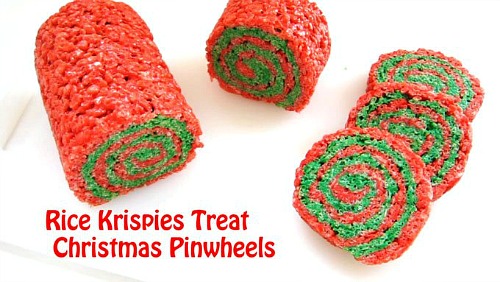 OOOH! Do you love pinwheels as much as I do? I found these Red & Green Christmas Pinwheels by Hungry Happenings, and yep, they're made with Rice Krispies!
14. Elf Hats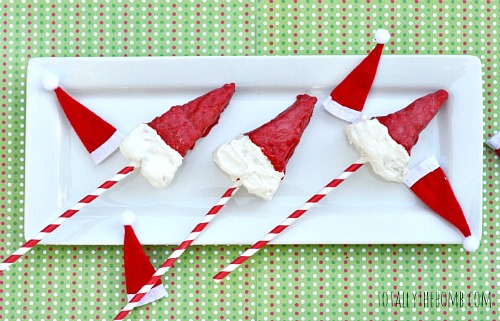 These Elf Hats by Totally the Bomb, are super cute and super fun! Bring party favors to a whole new level with these – your friends and family will LOVE them!
15. Reese's Rice Krispie Treats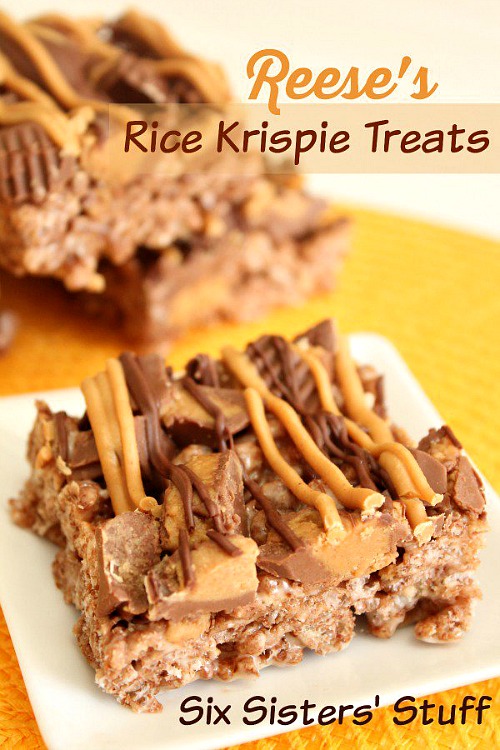 If you happen to have a Reese's addiction like so many of us do, you will not want to leave without checking out these Reese's Rice Krispie Treats by Six Sister's Stuff.  Yum!
Getting a Bigger Bang for Your Buck with Homemade Christmas Rice Krispie Treats
While Rice Krispie Treats are already one of the cheapest desserts you can make, there are ways to make them even cheaper!  You need not get the name-brand Rice Krispies (although you are pretty sure of what you're getting) you can experiment with no names brands and cheaper brands as well.  Same goes for marshmallows, and butter.  If you're hip to using margarine instead of butter, margarine is also often less expensive than butter as well. Put your frugal grocery shopping skills to use and it won't cost much at all to make these fun homemade Christmas Rice Krispie Treats!
Happy Holidays!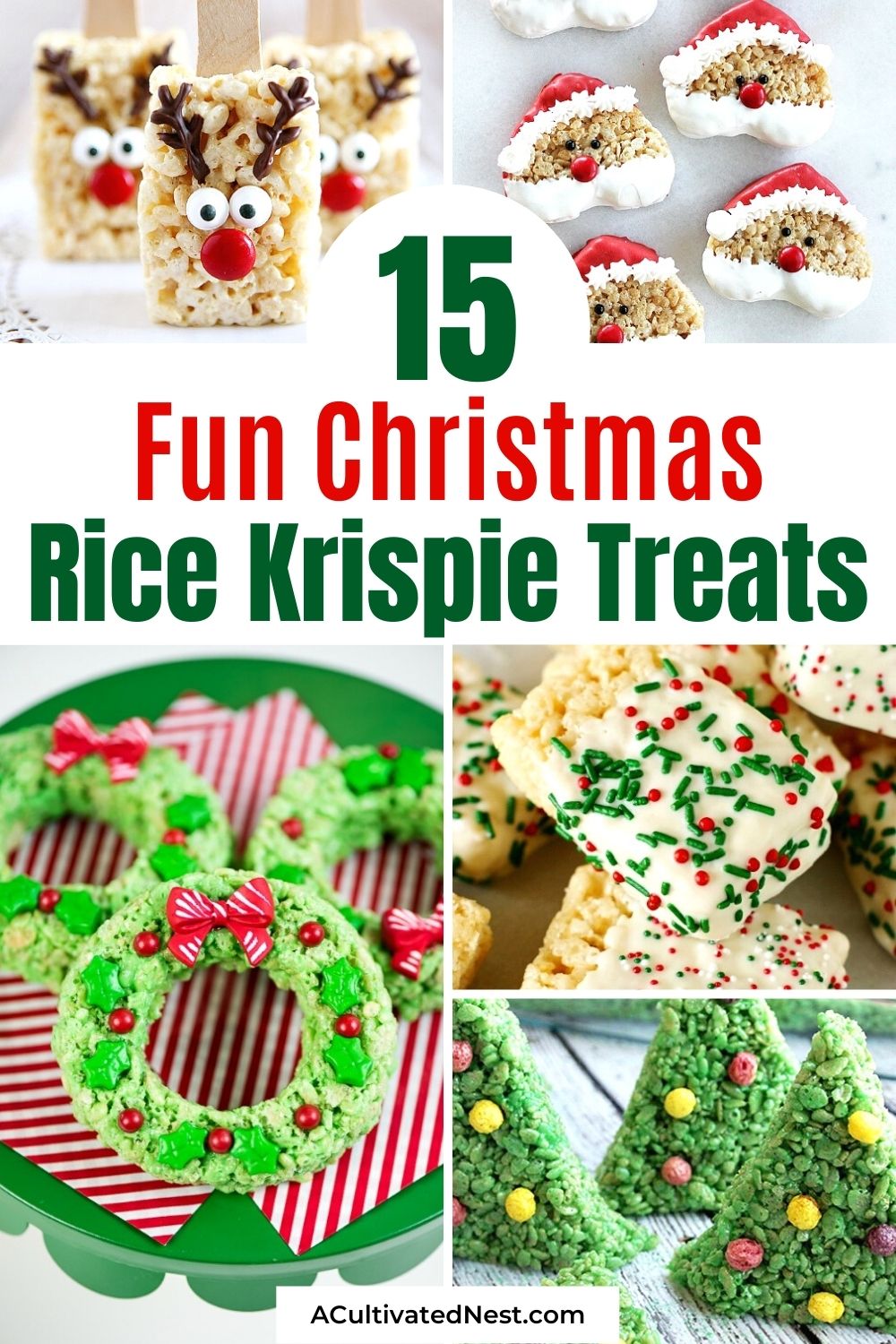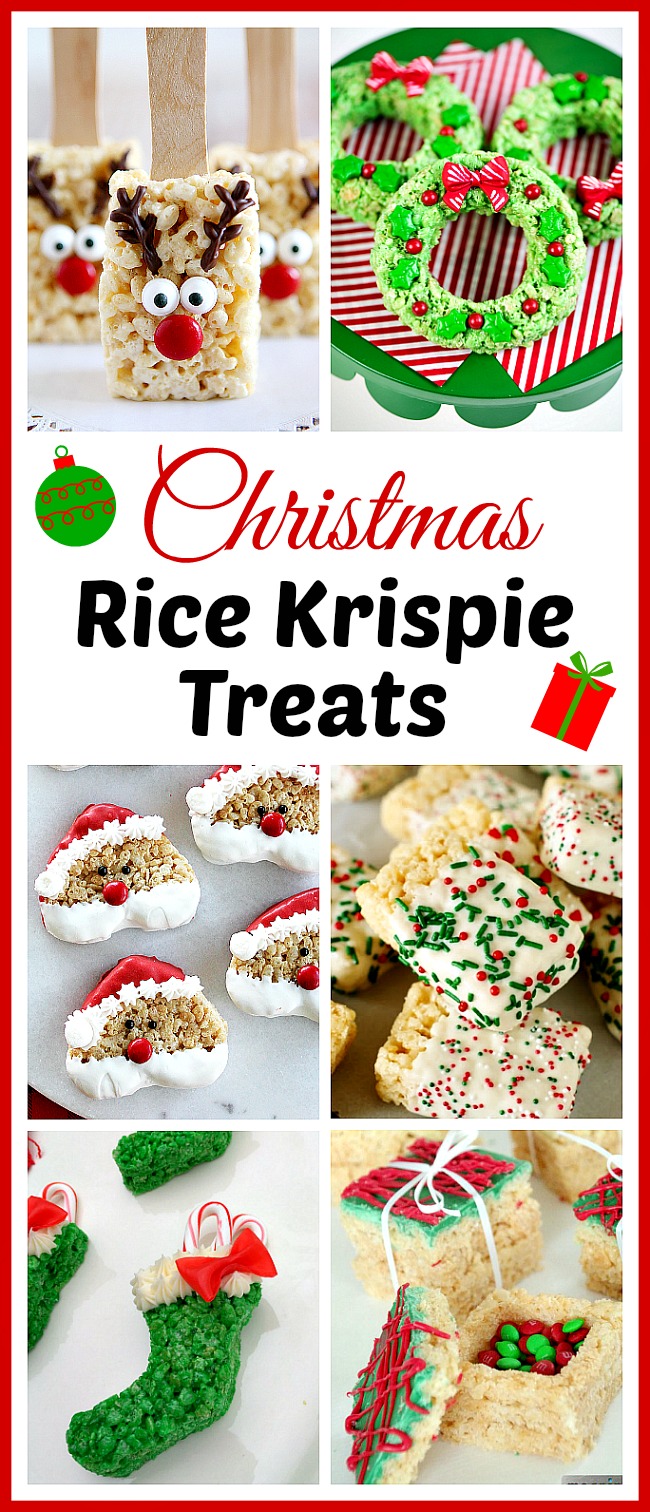 Written by ACN Team Member Evelyne N. : Evelyne is the fearless, axe wielding, quirky, hardworking, and incredibly funny creative genius behind Nemcsok Farms and Knits' End. Who also has a weird fascination with soil and wreaths.
You might also be interested in: 15 Classic Candy Recipes to DIY this Christmas