When you start seeing Easter décor popping up, spring is decidedly on its way, and we really couldn't be happier about that! From the light and airy materials to the soft and friendly colors, there is something about Easter decorations that just lighten up and brighten up the whole place. And of course, when you want to lighten and brighten an entire home, often the best place to start is with your front door! Here are 15 Gorgeous DIY Easter Wreaths to inspire you!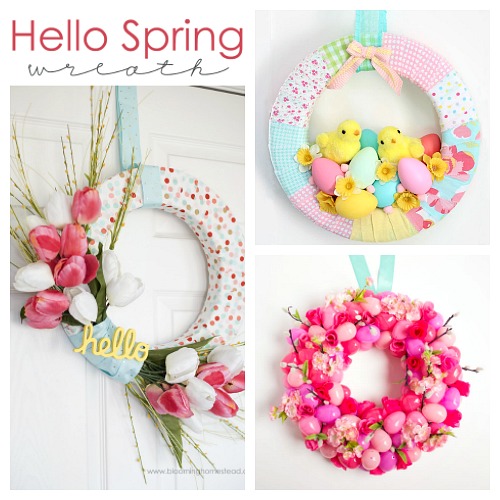 Disclosure: This post may contain affiliate links to Amazon and/or Etsy, which means that I may earn a small commission from some of the links in this post. Please see our Disclosure Page for more information.
From cute and whimsical, to simple and elegant, there are a lot of great DIY Easter wreaths here! One of them is sure to be perfect for your door!
15 Gorgeous DIY Easter Wreaths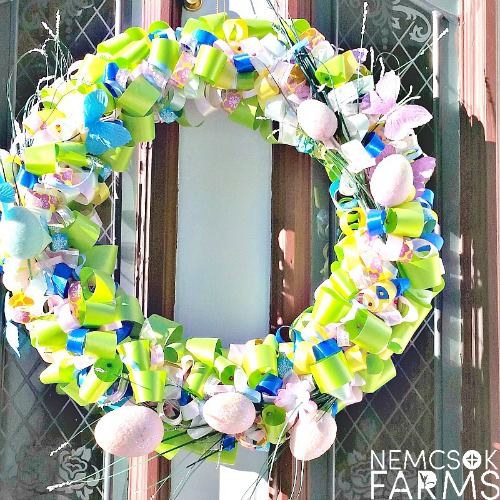 1. A ribbon wreath is always tons of fun and this DIY Easter Ribbon Wreath from Nemcsok Farms is light and airy to keep in the spirit of spring. What the tutorial doesn't specify is that the embellishments were created by purchasing some dollar store Easter décor, and dismantling it into individual pieces, like the faux grass and the glittery butterflies.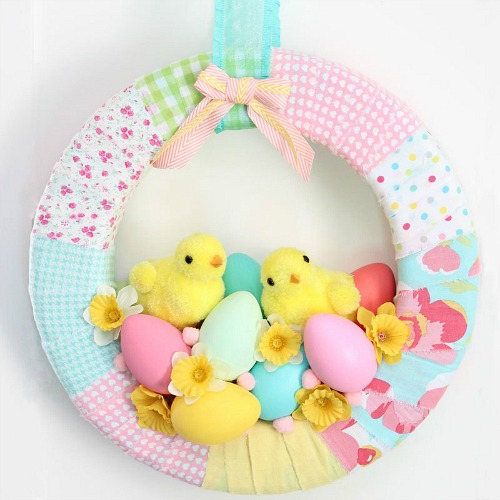 2. This Easter Chick Spring Wreath by Fynes Designs is super cute – but really, what isn't super cute when it comes to Easter chicks? Fynes Designs keeps it frugal by using scrap fabric.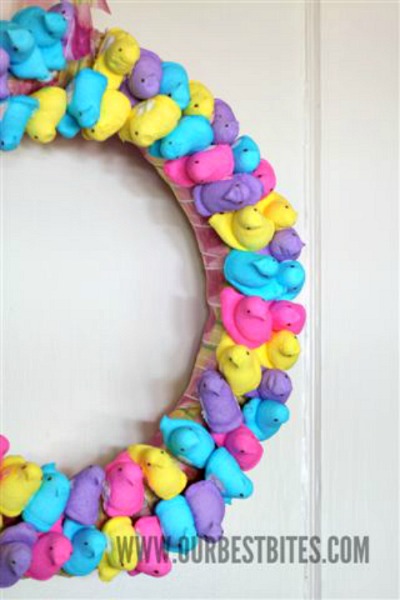 3. If you have a slight Peeps obsession, this Quick and Easy DIY Easter Wreath by Our Best Bites is for you. If you were to use just toothpicks to secure the Peeps to the wreath form, the Peeps themselves could still be edible.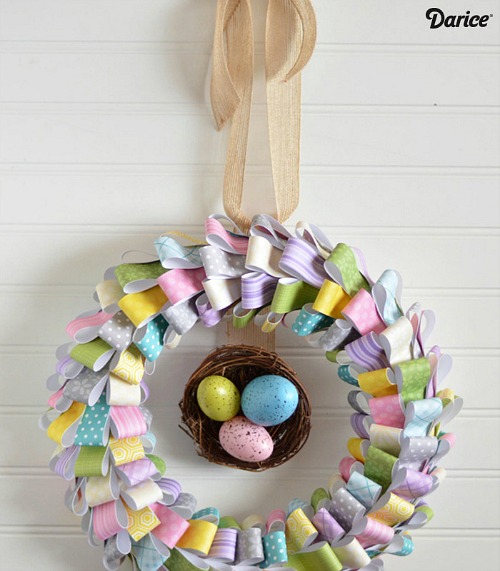 4. This Paper Easter Wreath by Live Craft Love is just so pretty! You could make it with or without the nest in the center, and it would still be lovely. You could use leftover paper scraps from other projects for this as well.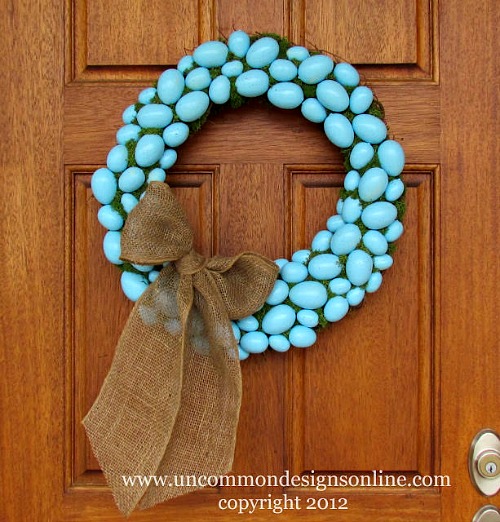 5. This Robin's Egg Wreath by Uncommon Designs is perfect if you love robins egg blue. Bulk plastic eggs and some spray paint keep this one easy on the budget, and very easy on time.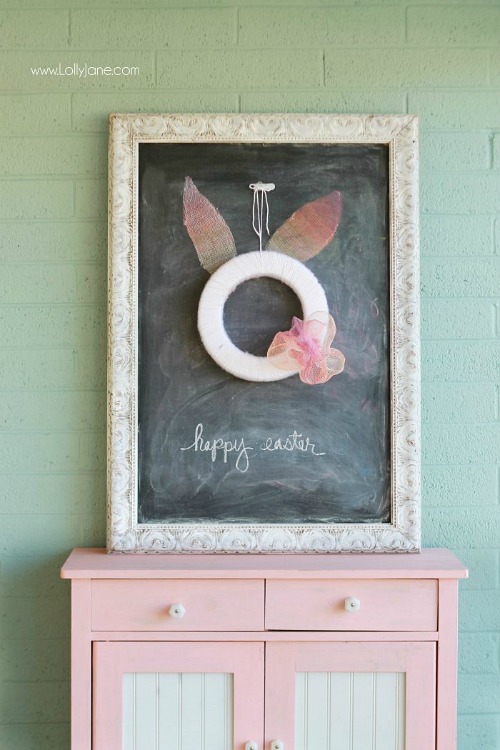 6. For a unique twist on a classic, check out this Easter Bunny Wreath by Lolly Jane. The chalkboard display is fun and quirky, and you could improvise with other materials if you don't have a chalkboard of your own.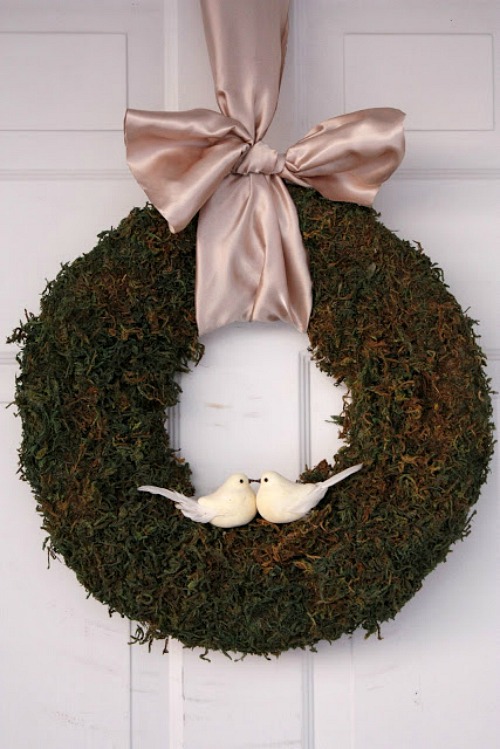 7. This Moss Wreath by i Heart Naptime is stunning! There is nothing quite as frugal as crafting with nature, and hunting for the materials can be half the fun! You can usually buy things like moss prepackaged on Amazon, and at hardware, garden and craft stores, but you can save a ton of money if you can find your own!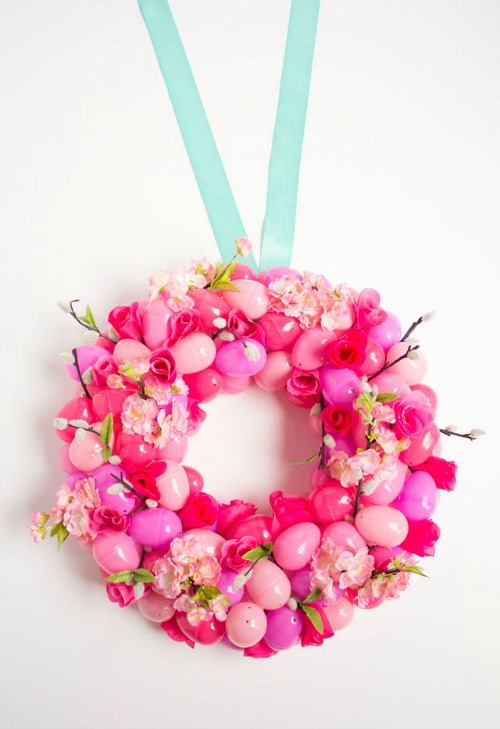 8. This Floral Easter Wreath by Design Improvised is probably the most colorful of all the DIY Easter wreaths I found! Stock up on plastic eggs and flowers in varying shades of pink for this beauty. You might want to try doing one in all yellow or purple as well! Again, hit the dollar store or the bargain bin of your craft store to get plastic eggs on bulk.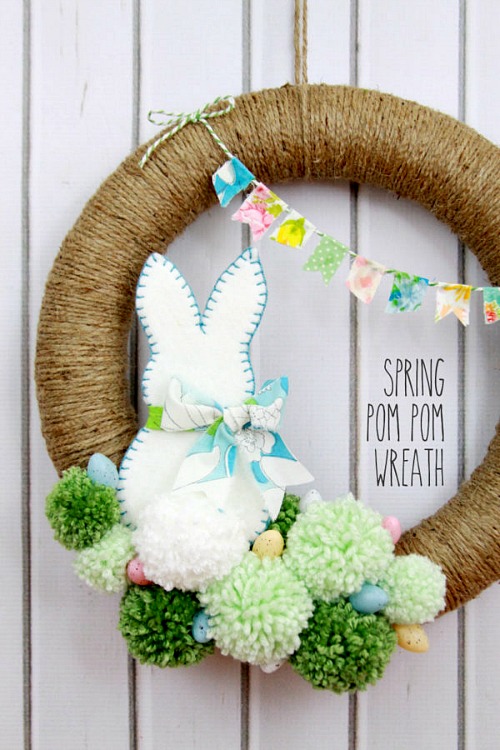 9. I love this Pom Pom Easter Bunny Wreath by Flamingo Toes! The bunny silhouette adds a bit of cute to a simple and easy project. You likely have most of the supplies you need already stashed away somewhere!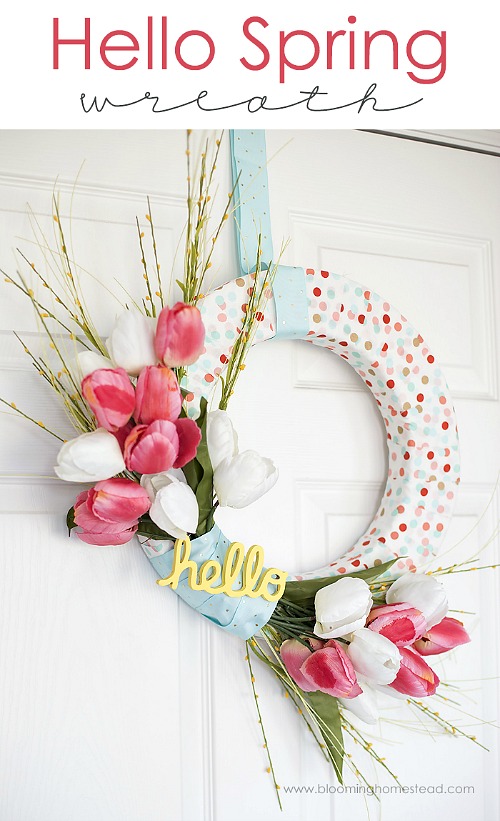 10. If you can get your hands on fresh flowers this DIY Spring Wreath from Lil' Luna has endless possibilities! You could enjoy it all spring by switching up the flowers as they blossom. You could definitely use silk flowers for this as well – and of course it would last forever, and you would have the joy of using this every spring!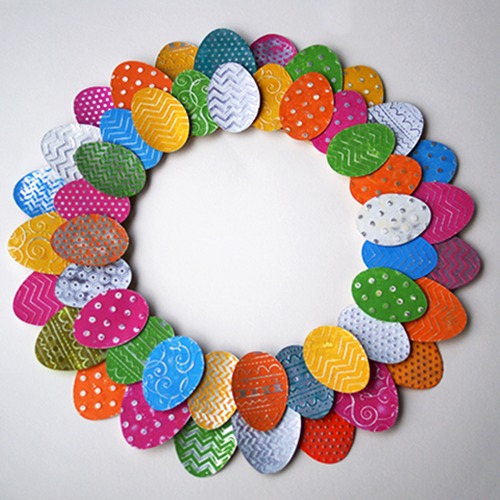 11. Up-cycling is always a great idea and this Aluminum Can Wreath from Saved by Love Creations has raised the bar! While I wouldn't call this a quick project, you could make it as simple or intricate as you want.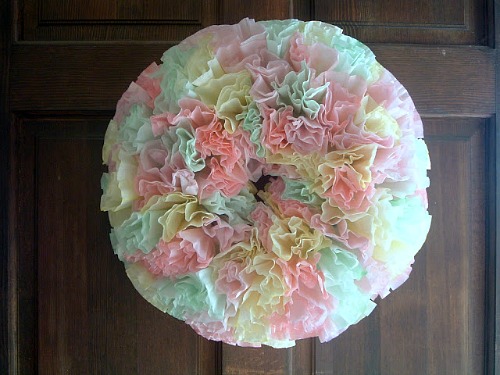 12. A Coffee Filter Wreath by Country Chic Cottage is a great one to make with the kids, and is a great way to use up those nearly obsolete coffee filters. You could also experiment with making your own natural food colors by using various plants etc.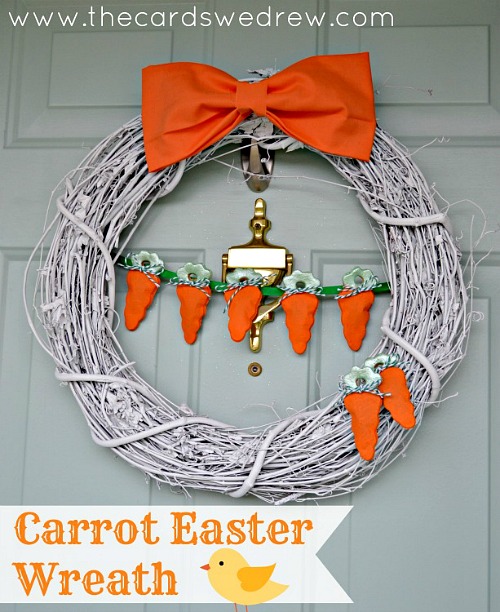 13. This adorable Carrot Easter Wreath by Thirty Handmade Days is just so cute! Pretty easy too and the supplies are light on the budget as well! Another fun one to make with the kids!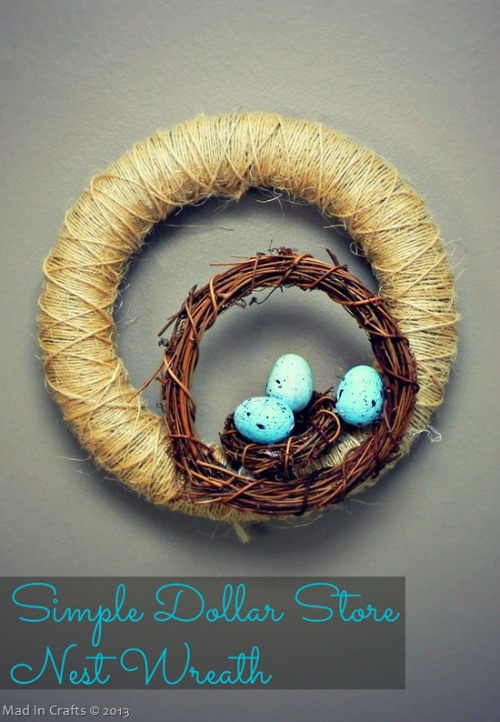 14. This DIY Dollar Store Nest Wreath by Mad in Crafts is probably as simple and as frugal as it gets for DIY Easter wreaths, but it still packs a big punch! The result is very simple, very farmhouse, and really quite nice.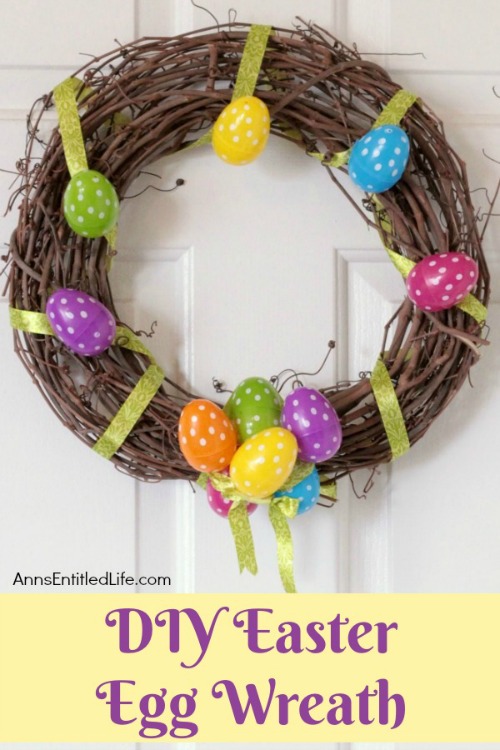 15. This DIY Easter Egg Wreath by Ann's Entitled Life is again so simple, yet so pleasing, that you won't be able to resist making one yourself. Very, very light on the supplies, and time. You could even make a couple!
Happy Easter!
Do you usually make DIY wreaths for holidays? If so, what's your favorite wreath that you've made?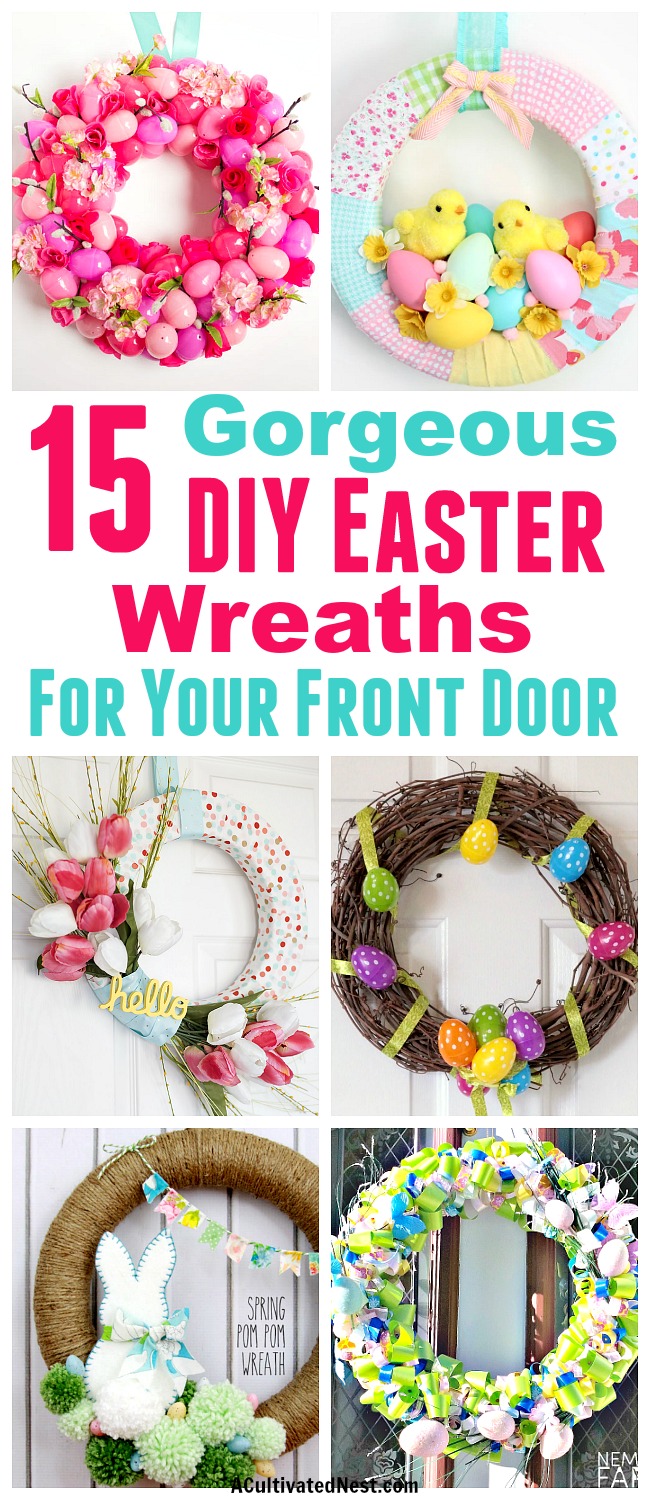 Written by ACN Team Member Evelyne N. : Evelyne is the fearless, axe wielding, quirky, hardworking and incredibly funny creative genius behind Nemcsok Farms and Knits' End. Who also has a weird fascination with soil, and wreaths.
You might also be interested in: 20 Festive DIY Easter Garlands and Banners