Beach Themed DIY Home Decor.
I'm a huge fan of coastal decor, and nothing says "chill out here" like a home decorated in blues, greens, whites, and weathered grays. Those colors are instantly calming and relaxing! Like a good beach vacation! And what can be better than a little DIY decor?  Store-bought, factory-made décor can be lovely and charming, and can also be crazy expensive! And as any crafter knows, when you see something you love, you can usually make it yourself for less. So we've found 20 DIY Beach Inspired Home Decor Projects so you can add a coastal vibe to your home on a budget!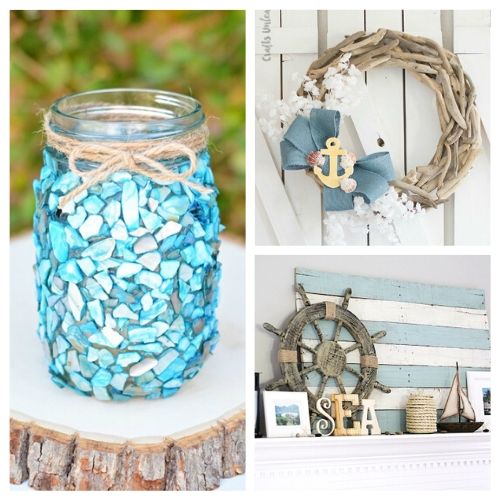 Disclosure: This post may contain affiliate links to Amazon and/or Etsy, which means that I may earn a small commission from some of the links in this post. Please see our Disclosure Page for more information.
These are all easy-to-make home decor projects that will add those beautiful beachy colors to your rooms. From DIY sea glass candlesticks to a nautical beverage tray, we have you covered for optimal relaxation with a few close friends.  Also, for everyday living, we have found a great summer lake-themed mantle and lots of other coastal-inspired projects! 
20 DIY Beach Inspired Home Decor Projects
Beach-inspired home decor is not just adorable, it also gives you the feeling you are on vacation. We all love vacations, right? Once you incorporate some of these ideas into your home's decor, you may never want to leave! Here are a few tips that will help you along the way.
Keep an eye out for seashells. You can go buy them at your local craft store, but you can get them even cheaper if you look for them at yard sales, estate sales, and consignment shops. Beach-inspired home decor doesn't have to be expensive!
When you do take a vacation to the beach, collect seashells! It's even more pleasing when you can decorate your home with items you have gotten while on vacation. It's so much better than keeping everything in a box that you look at every few years.
Use other inexpensive items for decorating. You can get several candlesticks, Mason jars, driftwood sticks, and other items for next to nothing and in some cases even free. Why not collect those items instead of going out and buying a bunch of new things.
1. DIY Sea Glass Candlestick
You may recall the DIY Sea Glass Candlesticks we made – very easy to do, and easy on your budget as well. Plus, they look amazing!
2. Nautical Seashell Lanterns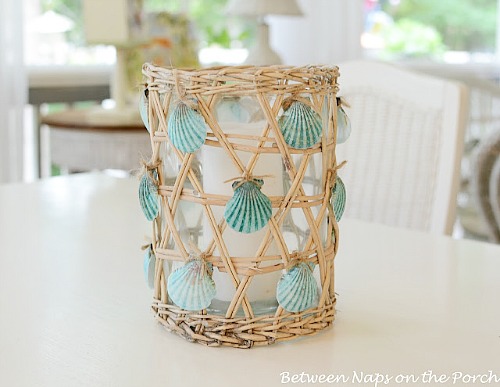 These Nautical Seashell Lanterns by Between Naps on the Porch are super duper easy as well. Again, pretty easy on the budget but makes a big impact.
3. Beachy Mosaic Arrow Sign
This Beachy Mosaic Arrow Sign by Kenarry is just what your porch needs!
4. Pottery Barn Inspired Shell Wreath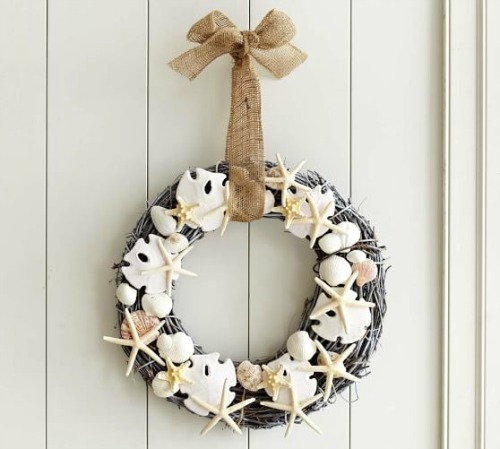 Can you even believe how gorgeous this Pottery Barn Inspired Shell Wreath by Confessions of a Serial DIYer is?
5. Beach Inspired Mason Jar Craft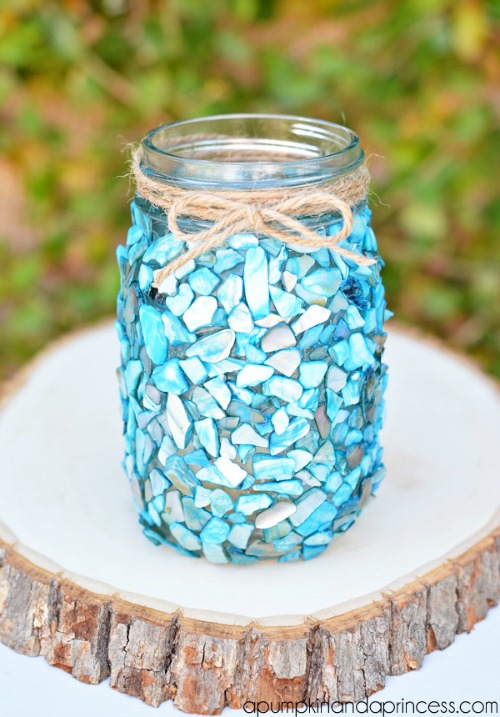 This beach inspired Mason jar craft by a Pumpkin and a Princess is perfect for inside your home or out on your patio.
6. Summer Lake Themed Mantle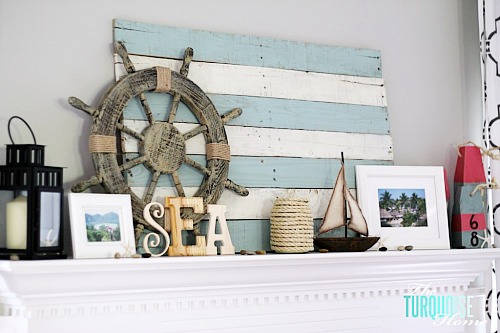 Even if you don't have a mantel, this Summer Lake Themed Mantle by the Turquoise Home is inspirational for any surface where you have a bit of space.
7. Nautical DIY Wreath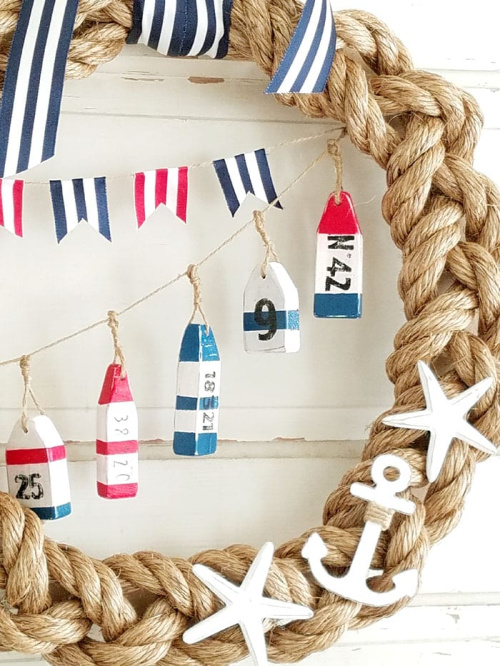 Decorate with this Nautical Wreath by Lil' Luna.  Decorate your home or office.
8. Sea Glass Monogram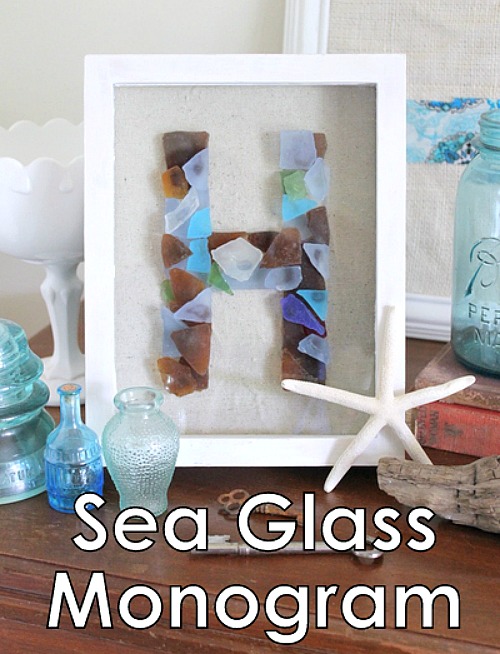 A Sea Glass Monogram by the Country Chic Cottage is a great way to personalize any space and is a great gift for a beach enthusiast.
9. DIY Driftwood Blanket Ladder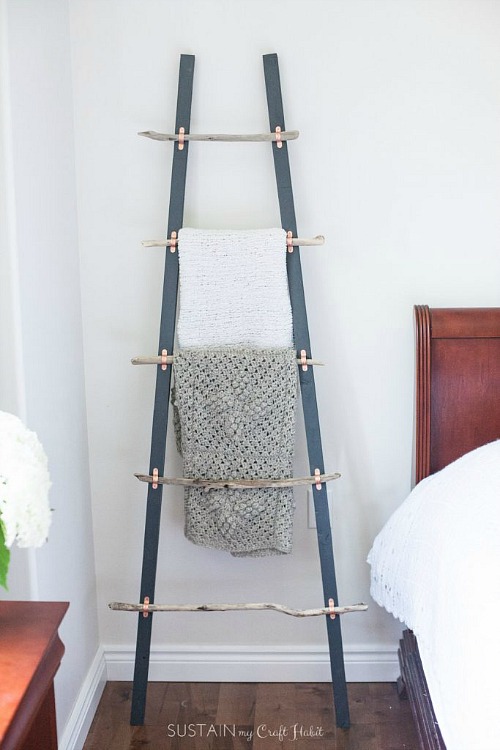 Now, this DIY Driftwood Blanket Ladder by Sustain My Craft Habit is something that would be perfect in any bed, bath, pool, or recreation room. It's just lovely and I love that it is completely functional.
10. Rope Hurricane Vase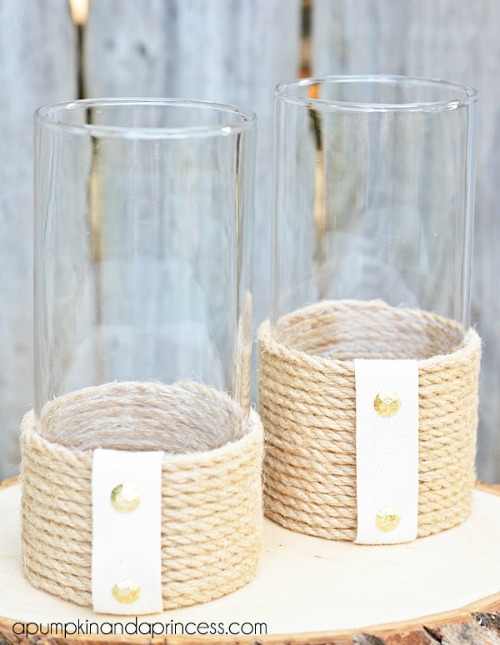 This Rope Hurricane Vase by a Pumpkin and a Princess is so simple, so cheap and so stunning! An all around win for DIY décor.
11. Driftwood Starburst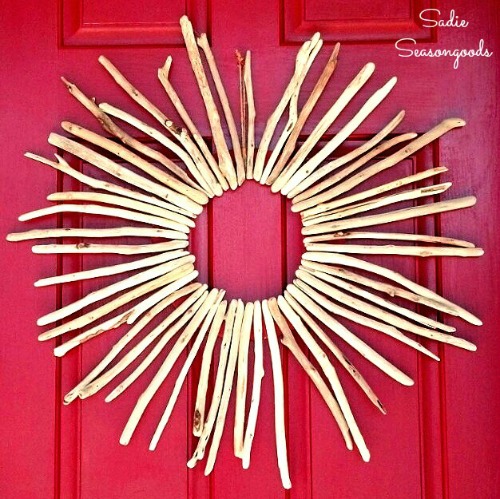 And this Driftwood Starburst by Sadie Seasongoods is just as awesome and appealing! You're going to have to make your own, and tell me how it turns out!
12. Sand Cast Candles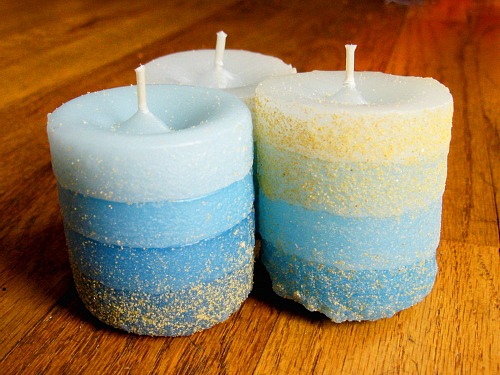 Who knew you could even do this? These Sand Cast Candles by How Did You Make This are officially on my "Must Try" list. And I love the colors!
13. Nautical Rope Mirrors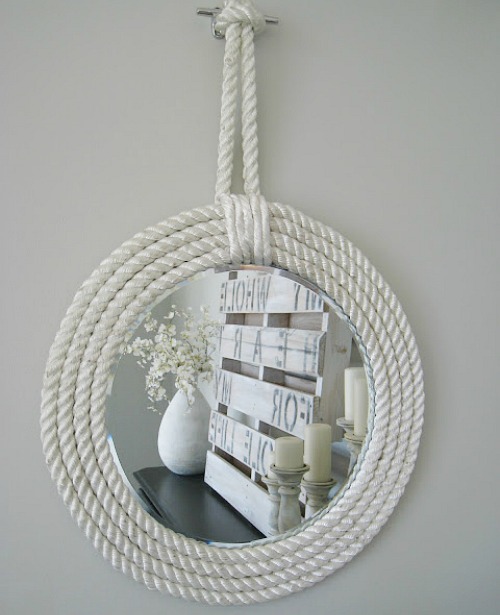 I had to share with you these Nautical Rope Mirrors by Lily Pad Cottage. These are Pottery Barn knockoffs that she made for a fraction of the cost!
14. Seashell Shadow Box
Create a seashell shadow box to display your shells from various trips. Find the post from Running With Sisters.
15. Beachy Candle Holder
Running With Sisters made this cute beachy candle holder. You could use shells that you have found or ones that you purchased to make this cute candle craft.
16. Burlap & Rope Mirror
Craft Bits has step-by-step directions to make this cute burlap & rope mirror. What a fun way to add some nautical theme to any mirror you already have!
17. Sea Glass Coasters
DIY sea glass coasters are adorable and easy to make! Lovely Indeed has the original post with easy-to-follow directions to make your own set.
18. Towel Rack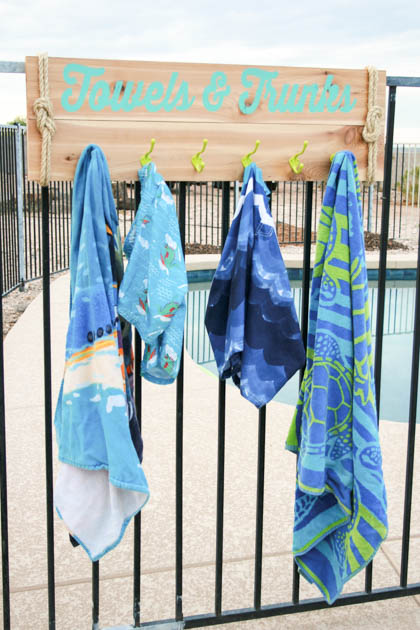 I like this towel rack and can see it hanging in a bathroom or by the pool. Change the words and hand it in a mudroom. Addicted 2 DIY has the original post.
19. Chalky Finish Mirror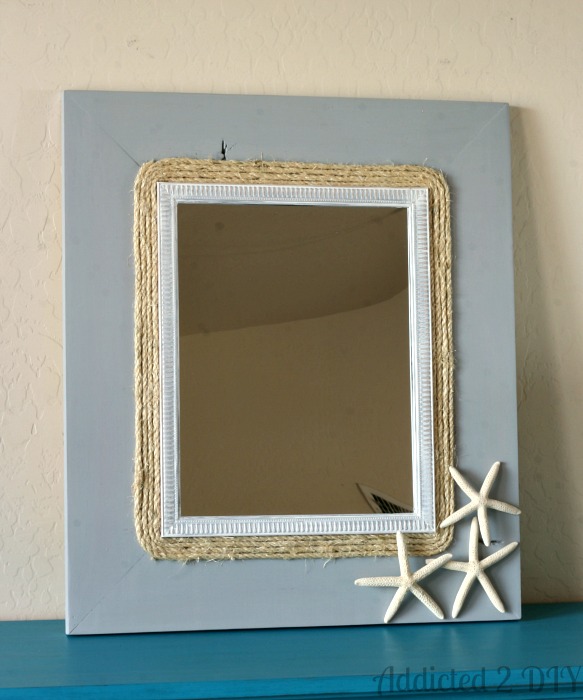 Another great idea to upcycle an old mirror to a beachy theme! Addicted 2 DIY makes this cute chalky finished mirror for her nautical room.
20. Wooden Tray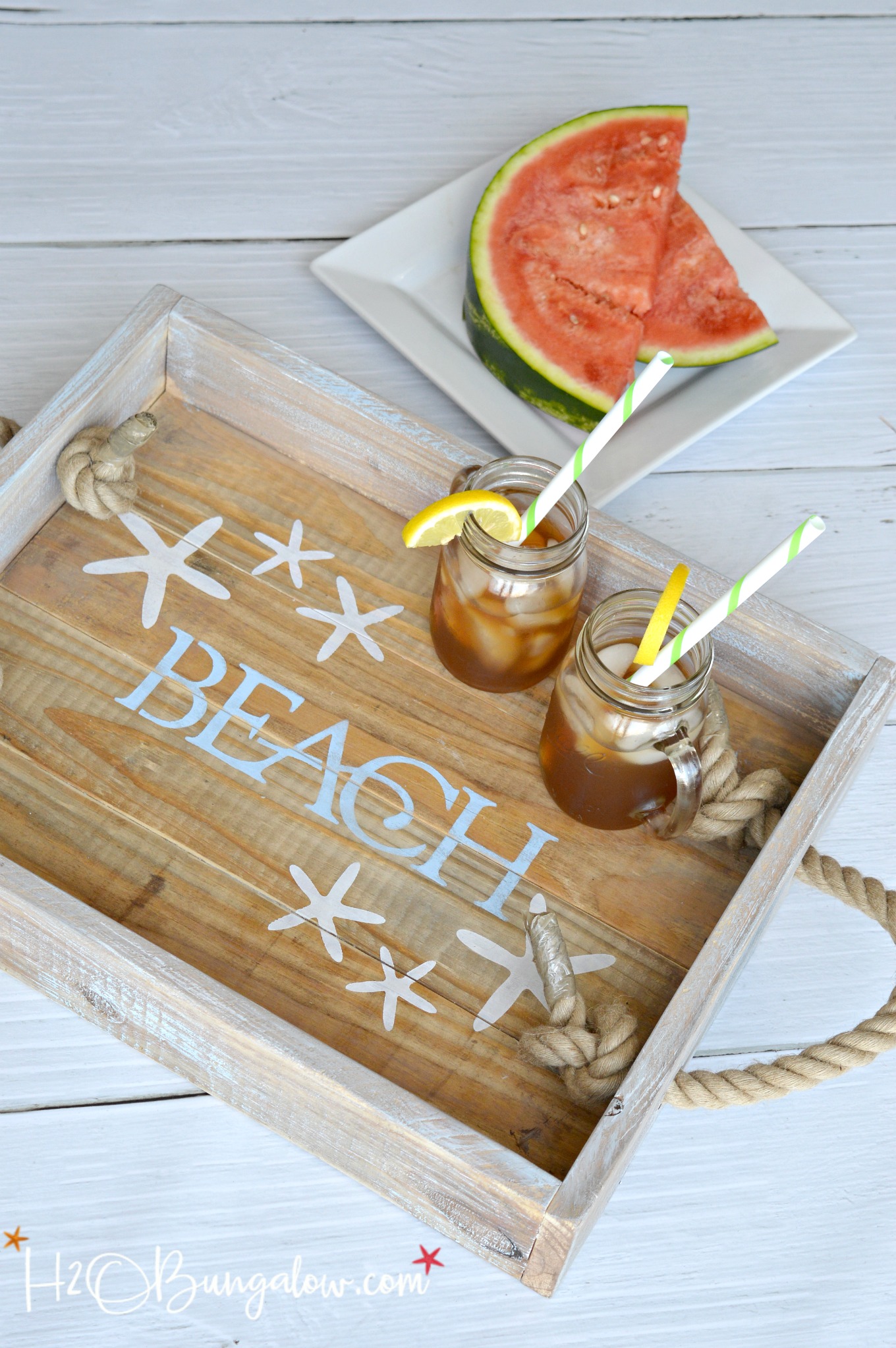 Make this cute wooden tray with rope handles from H2O Bungalow. Useful and cute! The perfect craft project to make for your nautical house.
I can't wait to hear how you've added some beachy décor to your space!
More Great Coastal Design Inspiration:
Coastal Style: Home Decorating Ideas Inspired by Seaside Living
Written by ACN Team Member Evelyne N. :  Evelyne is the fearless, axe wielding, quirky, hardworking and incredibly funny creative genius behind Nemcsok Farms and Knits' End. Who also has a weird fascination with soil, and wreaths.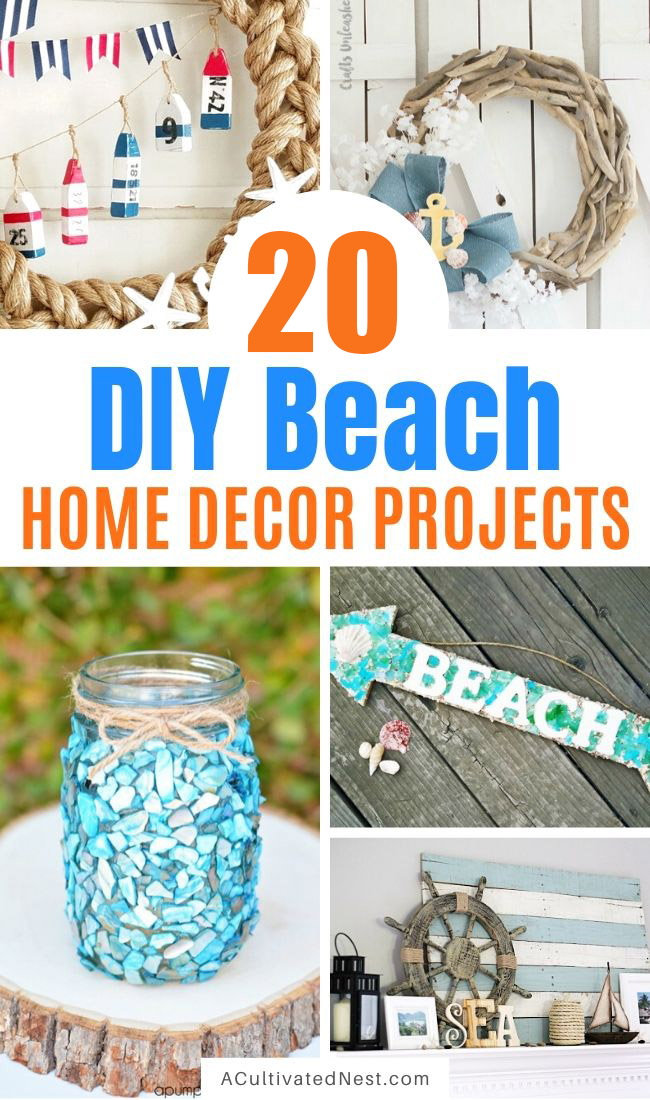 You might also be interested in: 15 Fun Summer Mason Jar DIY Ideas