Creative Summer Mason Jar Crafts.
It's now officially summer! It's time to enjoy the heat and sunshine, and time to make fun summer themed crafts! And what's a better material for summer DIYs than Mason jars! You can make them into vases, lights, and other fun indoor and outdoor decor elements! Check out these 15 Summer Mason Jar Craft Ideas for fun inspiration for what to do with your Mason jars this summer!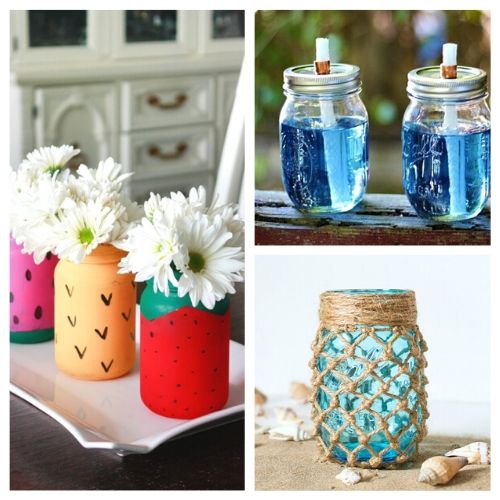 15 Fun Summer Mason Jar Craft Ideas
Disclosure: This post may contain affiliate links to Amazon and/or Etsy, which means that I may earn a small commission from some of the links in this post. Please see our Disclosure Page for more information.
Not only are Mason jars great for canning food and organizing things, but they also add a fun and festive feel to your space, too. We are so excited to share these ideas with you because they are all so adorable. Here are some ways to get some Mason jars to use for these ideas:
Grocery Store – Okay, this is the easiest option because you can simply head in the grocery store and pick up some jars. Because Mason jars are mass-produced you can find them at pretty much any of your local markets. If your local store doesn't have any, or doesn't have the size you want, you can also buy Mason jars on Amazon.
Yard Sales – I also love to hunt for Mason jars at yard sales. You will often find jars that have been around for years and years. Plus, you can pretty much pick them up for practically nothing.
Buy, Sell, Trade Groups – Often times you can literally get Mason jars for free. If people don't have the space for them they will often just get rid of them. Via sites like Facebook, Craigslist, or NextDoor. You can post a message that you are searching for them or keep your eyes peeled for others posting them.
1. Watermelon and Lemon Mason Jars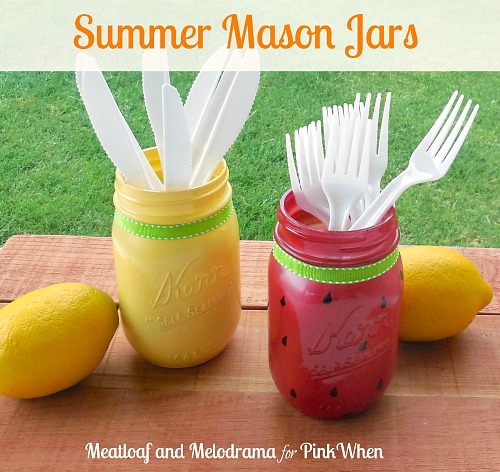 These would be perfect for a summer picnic table or outdoor barbecue! And they're very easy to make! Check out the tutorial on PinkWhen on how to paint your own summer Mason jars!
2. Mason Jar Flower Vases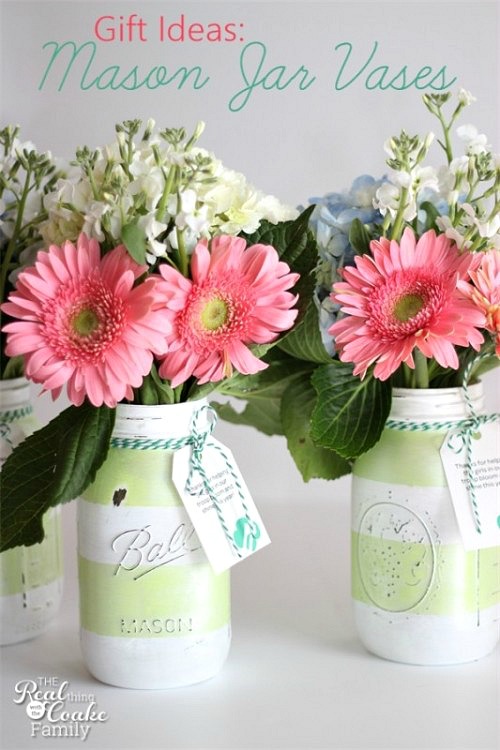 Aren't these pretty? They make great centerpieces, or gifts! The tutorial on The Real Thing with the Coake Family explains how to make your own pretty DIY Mason jar flower vases!
3. Frosted Mason Jars and Picnic Caddy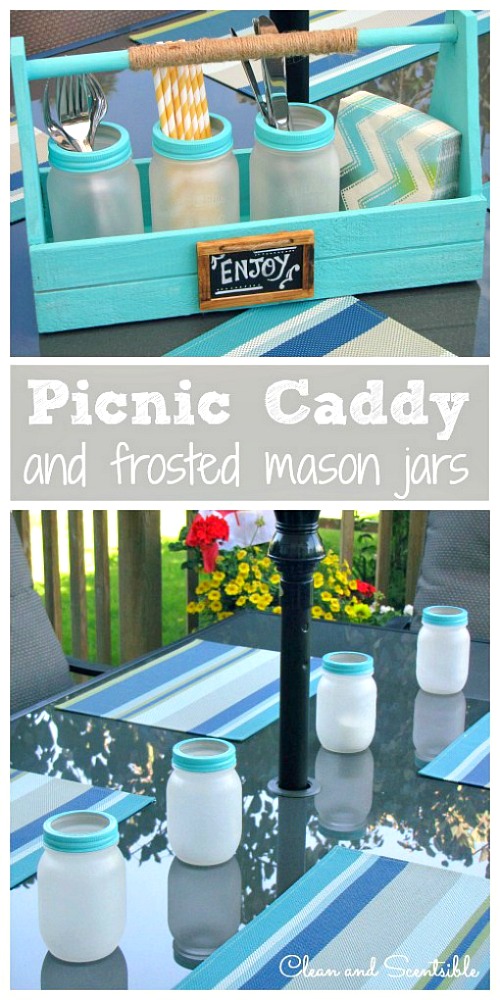 This is such a cute and handy idea! And I love the idea of frosting the Mason jars! Clean and Scentsible shows how to turn an old planter and regular Mason jars into a pretty frosted Mason jar and picnic caddy combo!
4. Jar Flower Chandelier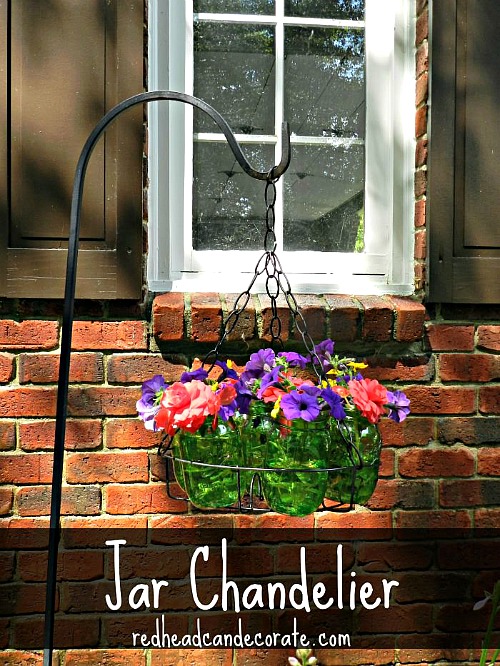 This is so pretty! It looks great outside, and I bet it would look pretty inside the house, too! Redhead Can Decorate shows how to put together your own DIY jar chandelier!
5. Watercolor Mason Jar Vases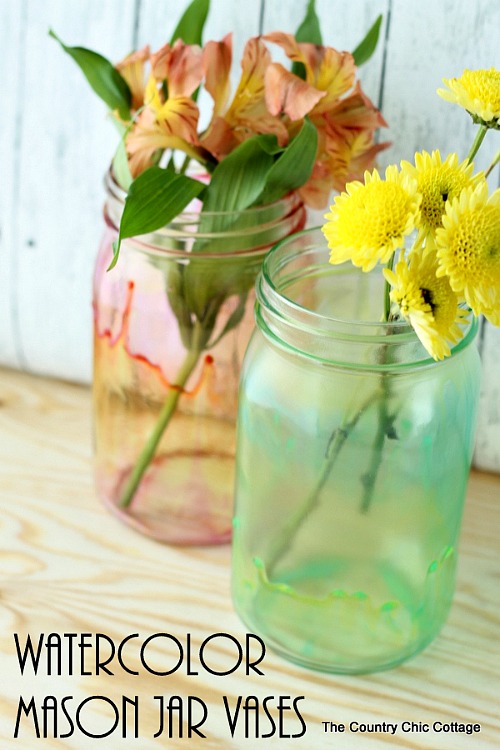 I love the light tinting of these jars turned vases! And there are so many possible pretty color combinations! Follow the tutorial on The Country Chic Cottage to find out how to easily make your own watercolor Mason jar vases!
6. Mason Jar Lights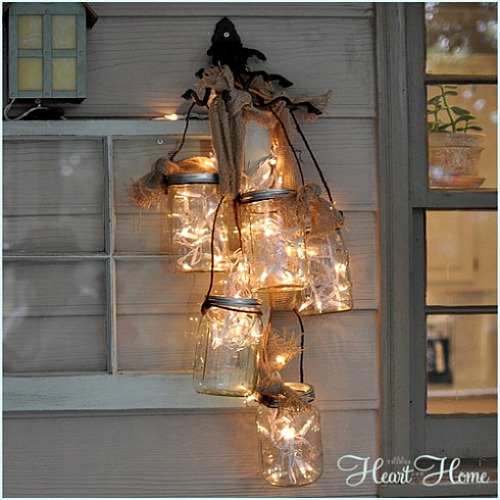 This Mason Jar light cluster is so pretty! They look like they contain fireflies! All Things Heart and Home shows how to make your own pretty grouping of DIY Mason jar lights!
7. Memory Mason Jar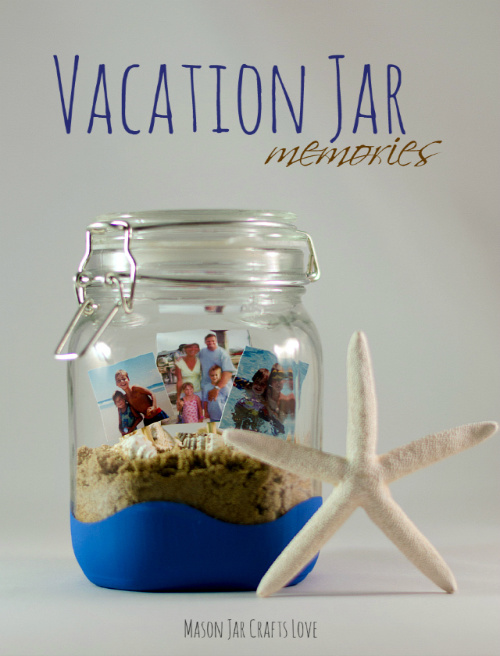 Isn't this a great idea? It's the perfect way to commemorate and remember a great family vacation! Mason Jar Crafts shows how to put together a few souvenirs to make a pretty memory jar showcasing your vacation!
8. Mason Jar Bird Feeder
One of my favorite things to do in the summer is watch the birds at the feeder in the morning, before it gets too hot. Make a pretty feeder for your backyard birds with this DIY Mason jar bird feeder tutorial from Little House Living!
9. Mason Jar Citronella Torches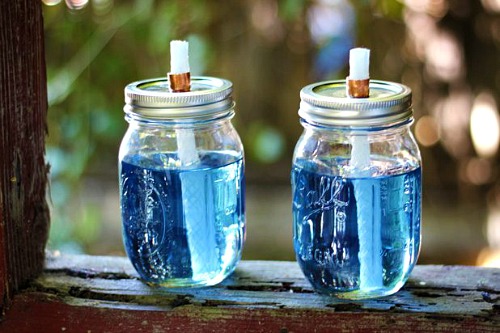 It can be hard to enjoy pretty summer afternoons when mosquitoes are biting you! To keep them away, you can use these pretty jar torches! Follow the eHow tutorial to find out how to make your own handy Mason jar citronella torches!
10. Summer Pinwheel Mason Jar Centerpiece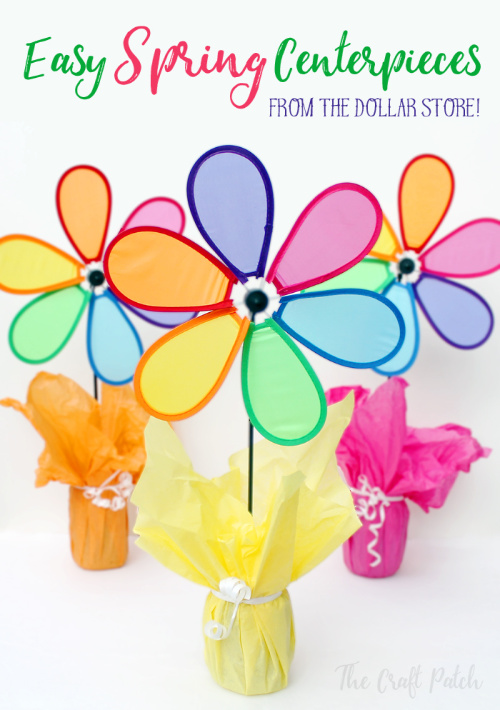 This is such a simple and fun DIY that is sure to look pretty on your table! And you can use whatever scrapbook paper you like to help it tie in with the decor of your home! Check out the tutorial on The Craft Patch to find out how to make your own pinwheel Mason jar centerpiece!
11. Unicorn Mason Jar Succulent Planter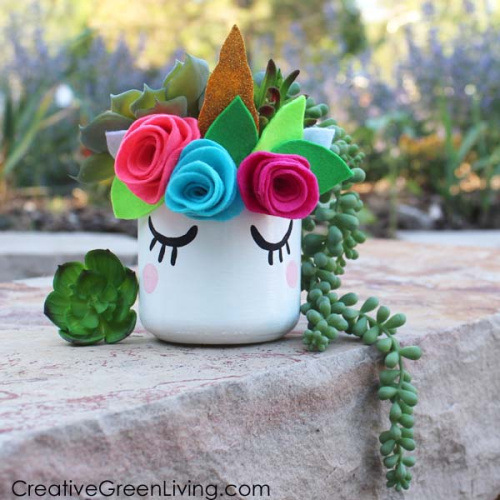 You know anything that has to do with unicorns is sure to be a huge hit. Creative Green Living created this adorable unicorn mason jar planter and it turned out perfect.
12. Easy DIY Lantern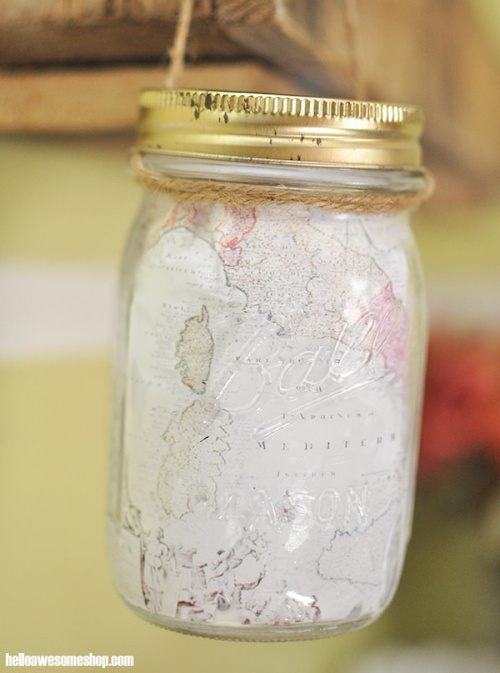 DIY Candy did a lovely job making these travel themed mason jar lanterns. They are adorable and a great way to add some extra lighting to your home or patio.
13. Fruit Themed Jars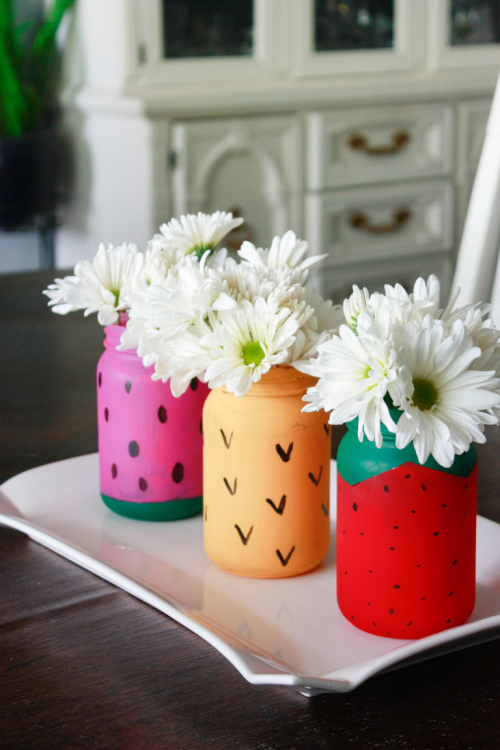 Whether you are hosting a party or just want to add some summery or spring character to your space, these jars are excellent. These fruit-themed jars are bright and cheery. Find out how Amber Oliver made them.
14. Glow In The Dark Mason Jars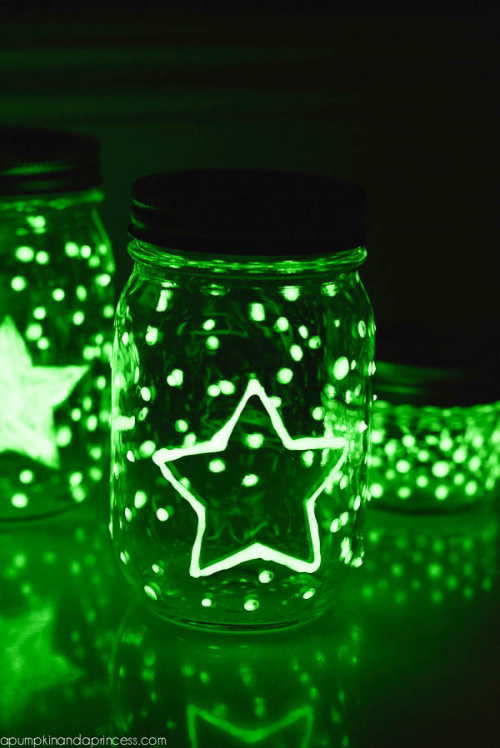 Summer is meant to be spent outdoors enjoying the weather and cooler evenings. These glow in the dark mason jars are easy to make and look so cute. Take a peek and see how A Pumpkin and a Princess made it happen.
15. Fishnet Wrapped Mason Jar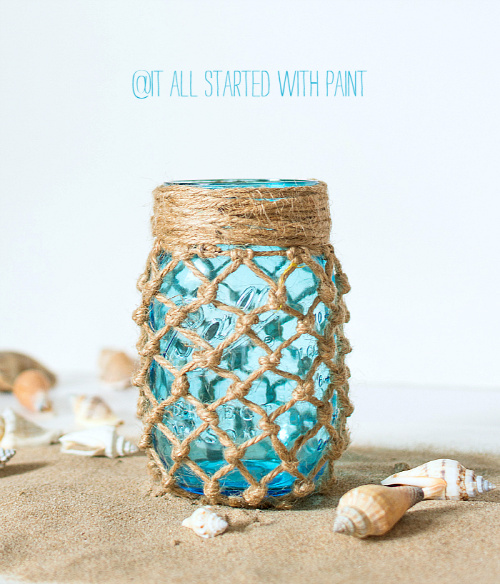 If you are hosting a beach-themed party, or just want to add some beachy decorations to your home, this is a wonderful craft idea. It All Started With Paint shares exactly how to make this fishnet wrapped mason jar so you can do it too.
How do you like to use Mason jars?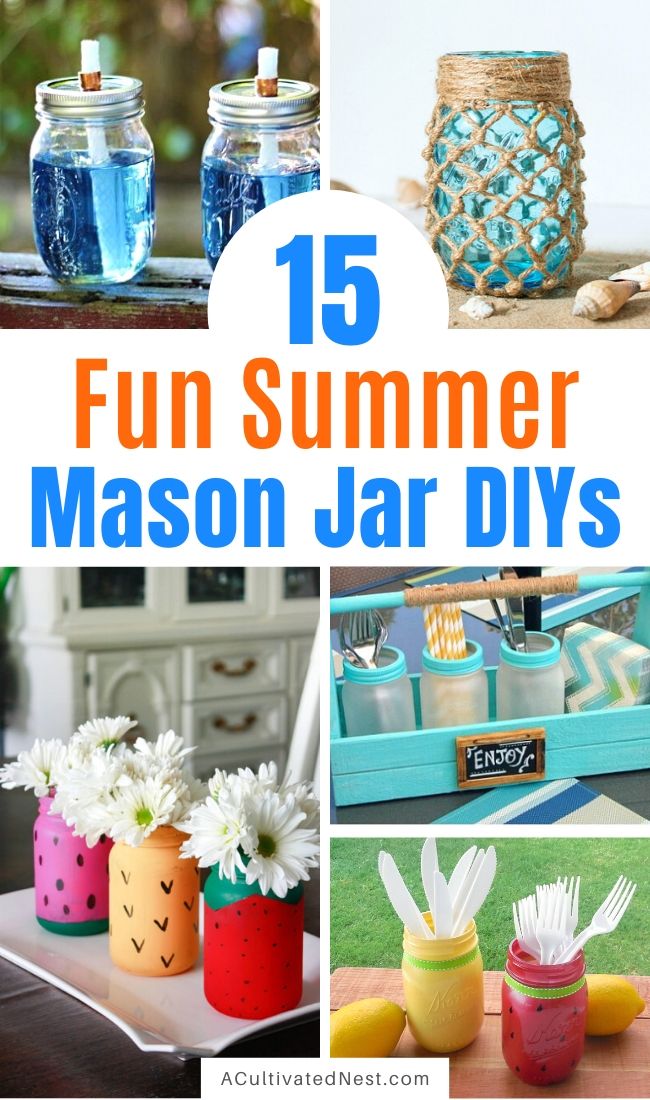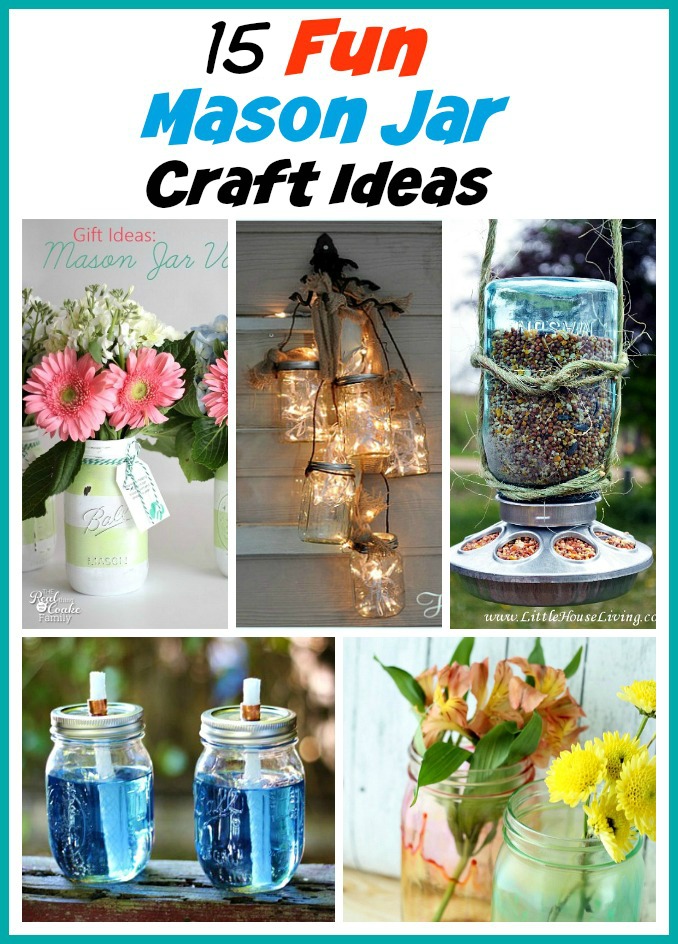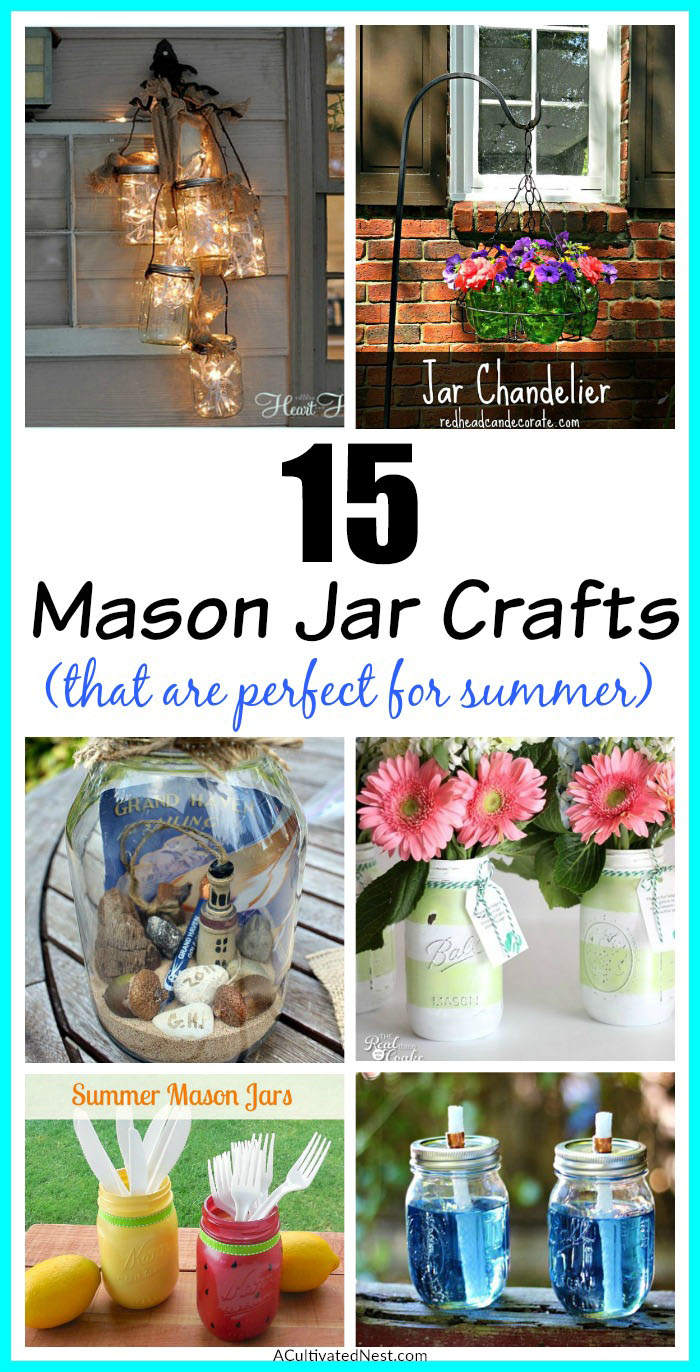 You might also like: DIY Hanging Summer Lantern