Creative Mason Jar Organization Ideas.
Mason jars are wonderful! You can cook in them, make them into decor, and store things in them! They're one of the most versatile supplies out there! I particularly enjoy using them in organization, because they're both useful and pretty. If you DIY them a bit, they can have even more uses, and can fit your personal style even better! If you've got some Mason jars and you'd like to organize your home, you have to check out these 15 Clever Mason Jar Organization Ideas!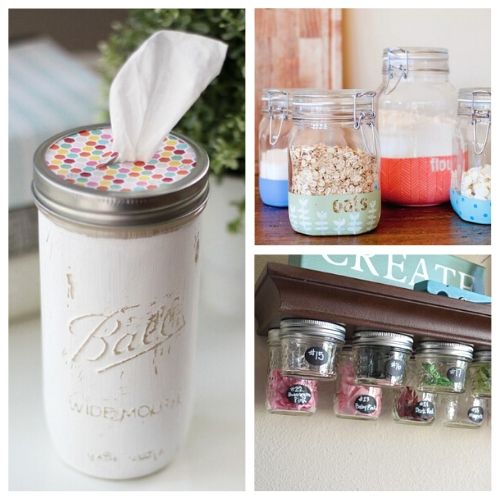 Disclosure: This post may contain affiliate links to Amazon and/or Etsy, which means that I may earn a small commission from some of the links in this post. Please see our Disclosure Page for more information.
Of course, you don't have to use actual Mason jars for the tips below. Upcycled pasta sauce jars, jelly jars, or pretty much any kind of glass jar will do!
15 Clever Mason Jar Organization Ideas
Organizing with Mason jars is a wonderful way to repurpose jars and keep everything orderly. You can store spices, craft supplies, garage supplies, food, and tons of other items! Take a look at these helpful tips when using Mason jars for organization.
Don't be afraid to use Mason jars in all your rooms. They are just as useful in the bathroom as they are in the kitchen or garage. Once you start using them, you will be able to think of even more uses for them!
Buy jars at yard sales or other places you find them for cheap. You don't have to buy brand new jars if you aren't using them for canning food. Just make sure to clean them properly when you get them and you can start using them!
Keep a variety of sizes of jars. Having a lot of different sizes will give even more options. That way if you are looking for something to store small things like thumbtacks or larger things like cinnamon sticks you will have a jar handy.
1. Mason Jar Paint Organizers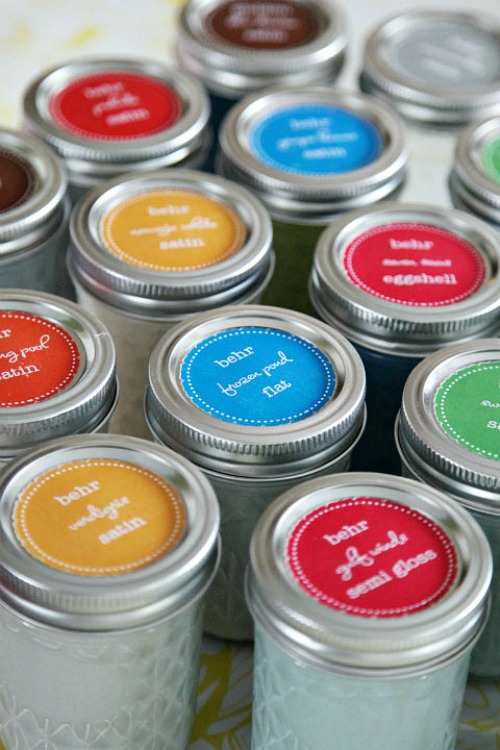 Isn't this Mason jar organization idea so cute and clever? Follow I Heart Organizing's tutorial to make your own handy Mason jar paint organizers!
2. Mason Jar Twine Holders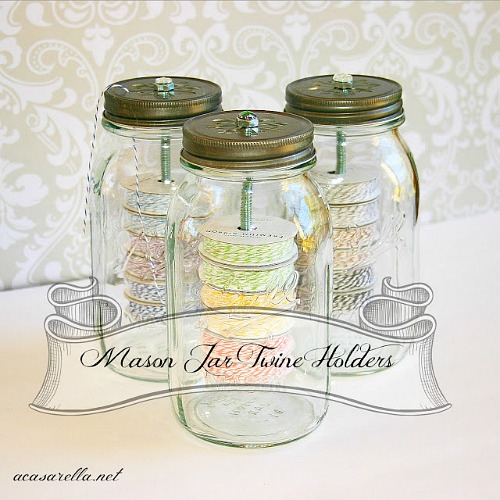 If you have a lot of twine for crafting, you've got to make this adorable organizer! 'A Casarella explains how to make these wonderful Mason jar twine holders!
3. Mason Jar Bathroom Organizers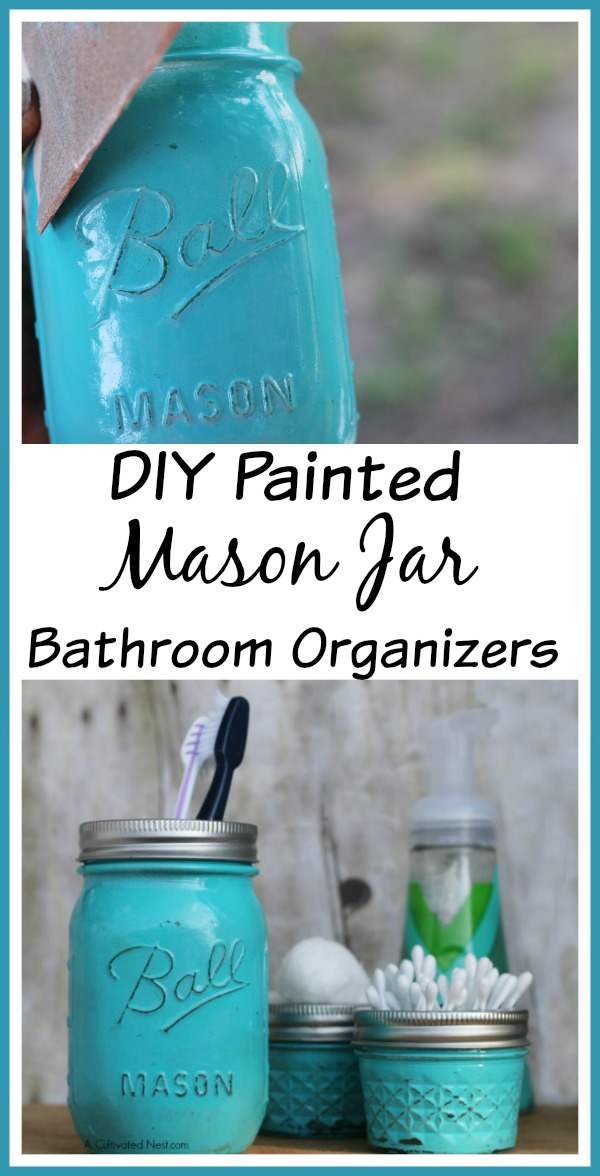 Mason jars are perfect for organizing any space, including the bathroom! Follow my tutorial to make these pretty painted Mason jar bathroom organizers!
4. Mason Jar Kitchen Food Storage
This is a great idea to help you with organizing the food in your pantry or on your counters! Follow This Little Street's tutorial to make this DIY dipped Mason jar kitchen food storage!
5. Mason Jar Utensil Caddy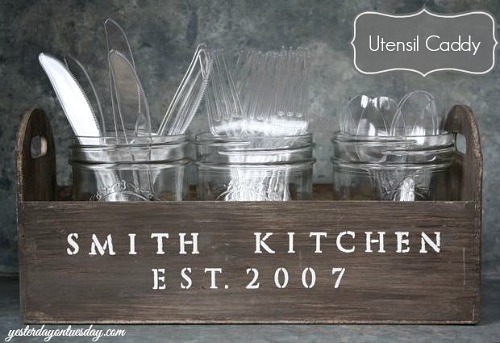 This caddy is a wonderful way to organize your utensils for everyday use or picnics! Yesterday on Tuesday explains how to make this helpful Mason jar utensil caddy!
6. Mason Jar Matchstick Holder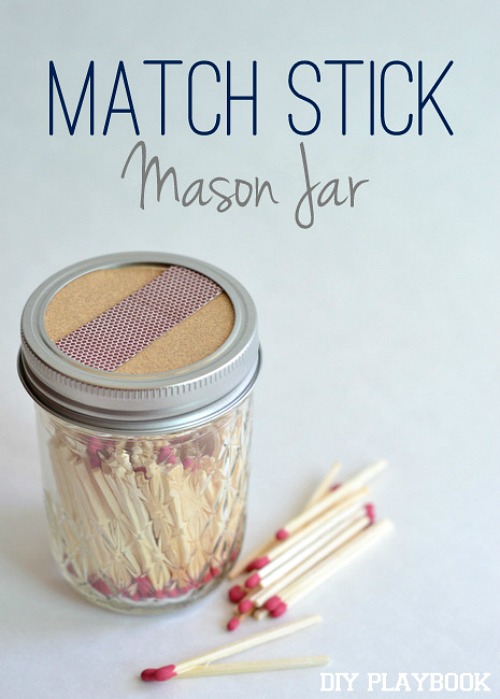 You'll never want to keep your matchsticks in the box when you have this cute holder! Follow The DIY Playbook's tutorial to make your own Mason jar matchstick holder!
7. Mason Jar Undershelf Storage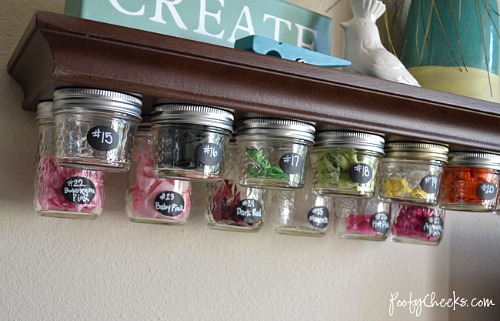 If you've run out of space on top of your shelves, you can still organize by using the undersides! Poofy Cheeks shows how to make this adorable Mason jar undershelf storage!
8. Mason Jar Tissue Holder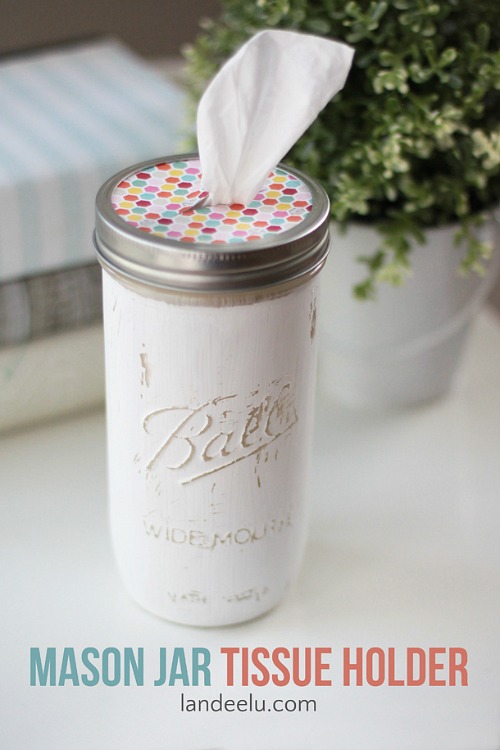 Why keep tissues in their box if you can put them in a pretty holder like this? If you want to make a cute Mason jar tissue holder, follow Landeelu's tutorial!
9. Mason Jar Craft Supply Storage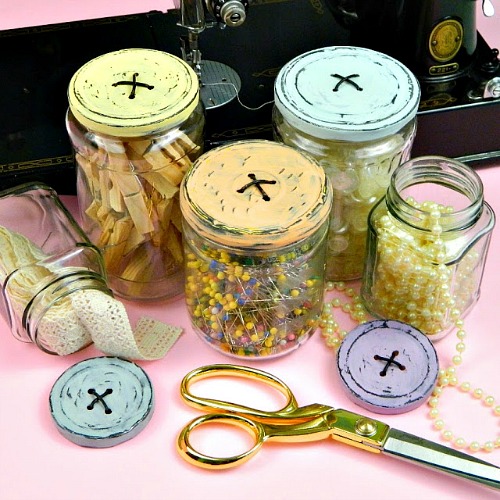 It can be difficult to organize all your little craft supplies. Get them in order with this DIY button Mason jar craft supply storage by Make Your Mark!
10. Mason Jar Salt Holder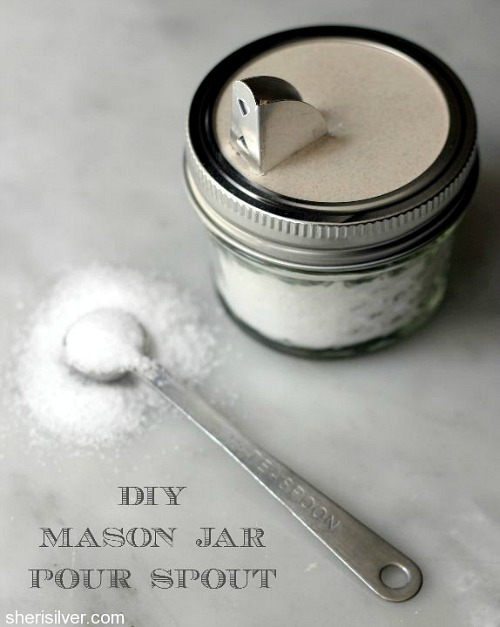 This is such a clever idea! Donuts, Dresses, and Dirt show how to make your own Mason jar salt holder with a pour spout!
11. Spice Organizer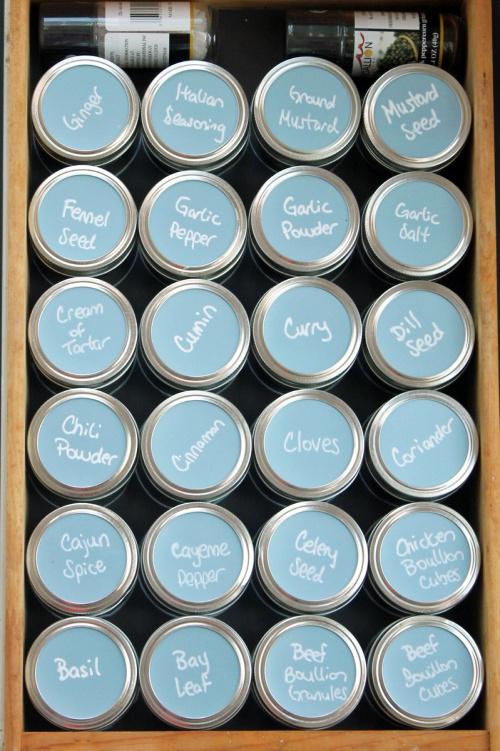 This spice organizer is so adorable and would look great in any style of decorating! The Darice Blog used basic crafting supplies to complete this look.
12. Cupcake Liner Organizer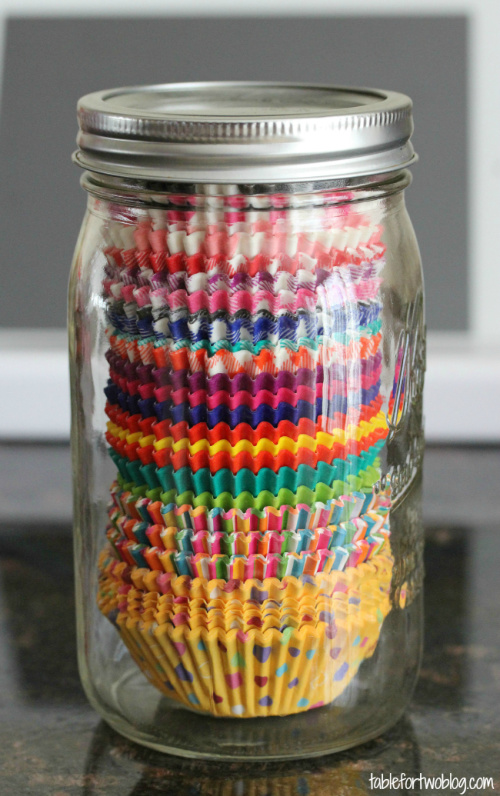 Do you ever feel like you have so many different cupcake liners and have no idea what to do with them? This creative cupcake liner storage solution by Table For Two is fantastic!
13. Utensil Caddy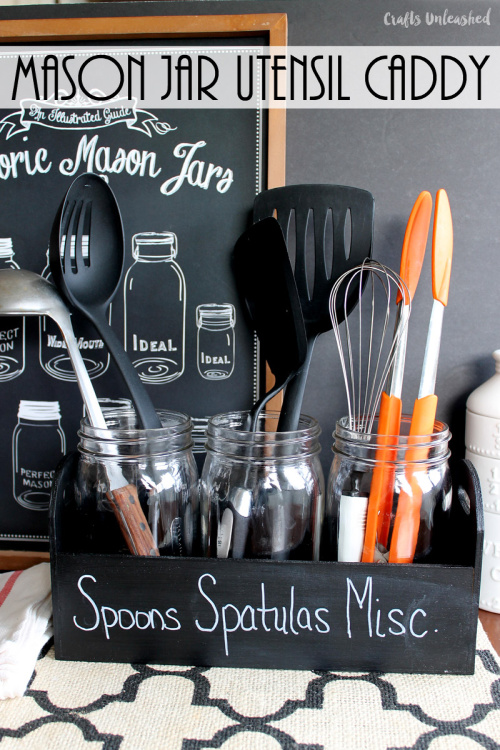 Organizing your kitchen utensils just got a lot easier with this utensil caddy! Crafts Unleased shares with you how to make your own in no time! It's so pretty too.
14. Mason Jar Toothpick Dispenser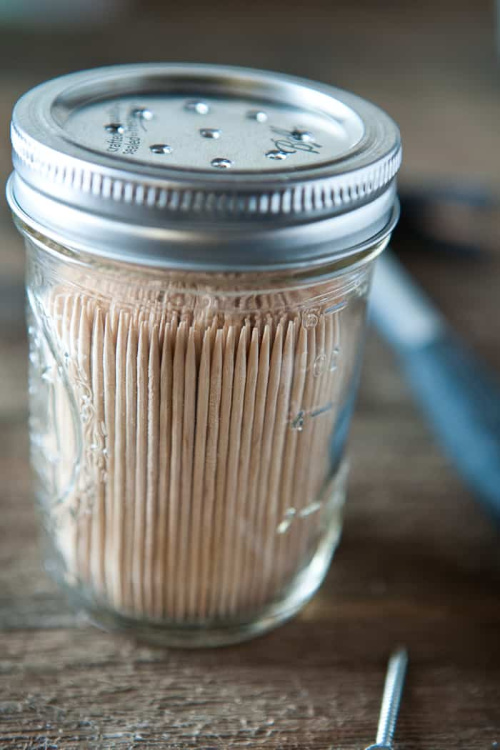 If you buy toothpicks in the little boxes, you know that they can make a disaster in your cabinet! This adorable Mason jar DIY toothpick dispenser from Eclectic Recipes is a much better way to keep organized.
15. Bathroom Organizer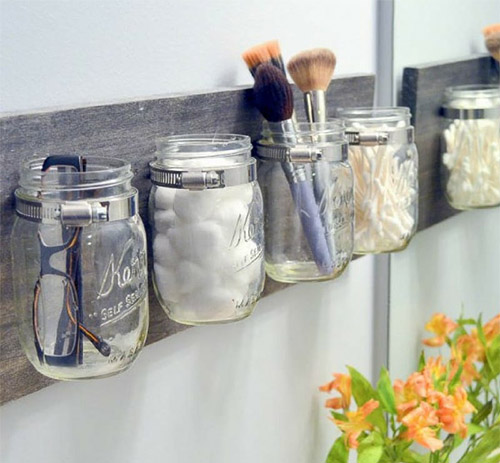 The DIY Playbook shows you that it's easy to make a lovely bathroom organizer! You can keep q-tips, cotton balls, make-up brushes, and so much more in them too. Plus, they add some elegance to your space as well.
What do you like to store in Mason jars?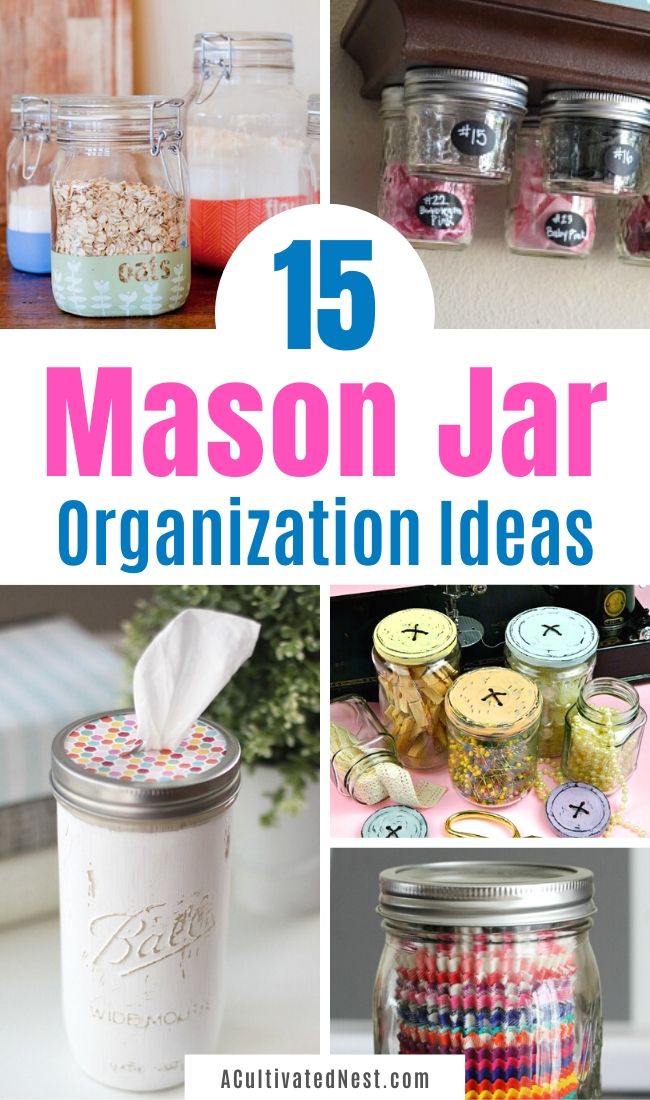 You may also be interested in: 10 Ways to Organize with Jars