DIY Pinecone Crafts.
If you're looking for inexpensive craft materials, you can't find anything better than materials that you can just pick up outside! One of my favorite natural fall materials is pinecones! They naturally come in different shapes and sizes, and they're so versatile! Also, they're so easy to find for free, either in your own backyard or the local park! You can also buy bags of pinecones in most large craft stores if you can't find free ones. If you're looking for easy and frugal ways to had some rustic decor to your home for fall or winter, then try some of these 12 DIY Pinecone Crafts!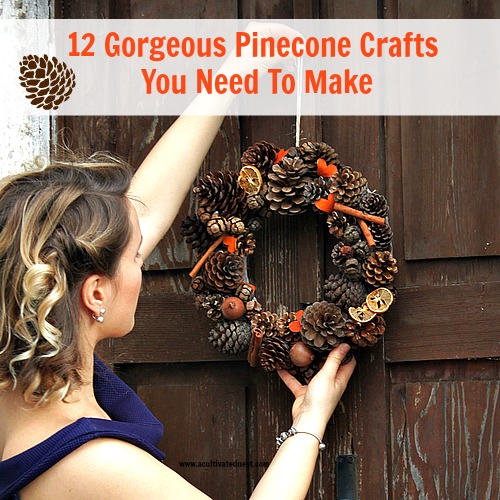 Prepping Pinecones
Disclosure: This post may contain affiliate links to Amazon and/or Etsy, which means that I may earn a small commission from some of the links in this post. Please see our Disclosure Page for more information.
If you don't live in an area where pinecones naturally occur, you can easily find a bag of them at your local craft store or on Amazon here. Those can be used right out of the bag unless you want to change the color.
Pinecones that you find outside need to be treated before you craft with them because they have bugs (and sap)! All you need to do is to line a baking tray with parchment paper and bake them in a  200° oven for about 90 minutes. Be sure to check on your pinecones periodically (they are flammable after all). This should burn off the sap and bugs
You can always lighten up the normal color of pinecones by bleaching them or painting them whatever color works for your decor (white, orange, red, green etc).
Pincone Craft Ideas
1. Knockoff Pottery Barn Glitter and Snow Pinecones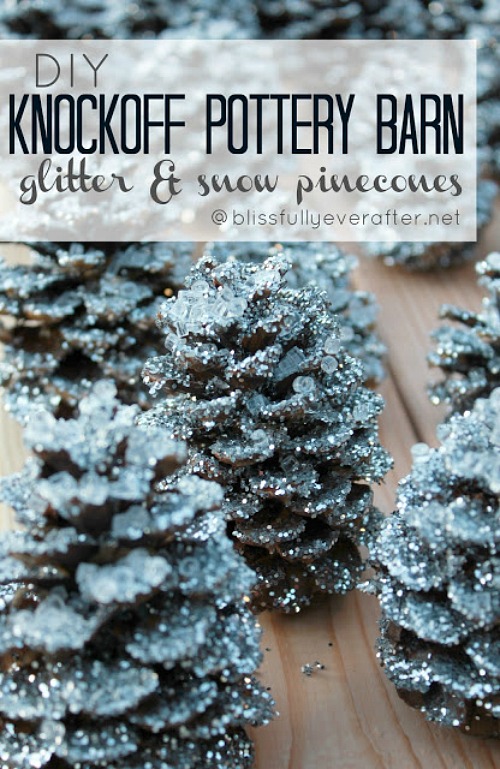 If you want to decorate with pinecones, you do always have the option of just buying some already put together pinecone craft in a store. But if you'd rather save some money, you can usually make a similar look for a much lower cost! Check out Blissfully Ever After's tutorial on how to make pretty knockoff Pottery Barn glitter and snow pinecones!
 2. DIY Pinecone Wreath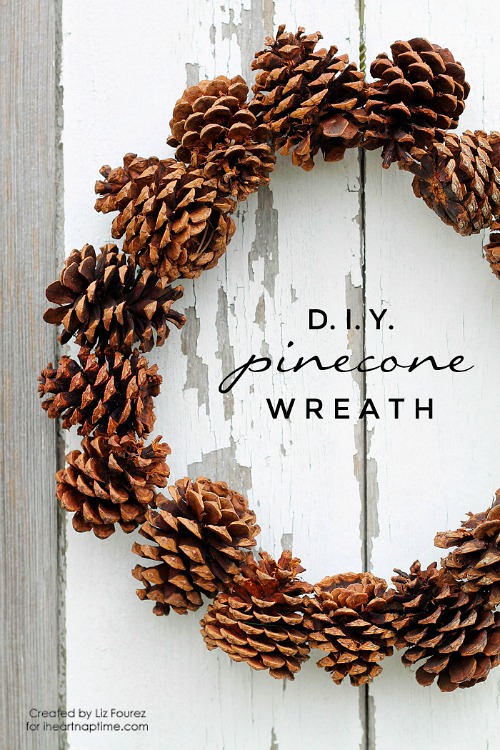 Doesn't this look pretty? And it's not hard to make, either! I Heart Naptime explains how to make your own DIY pinecone wreath!
3. DIY Mini Pinecone Wreath Placeholders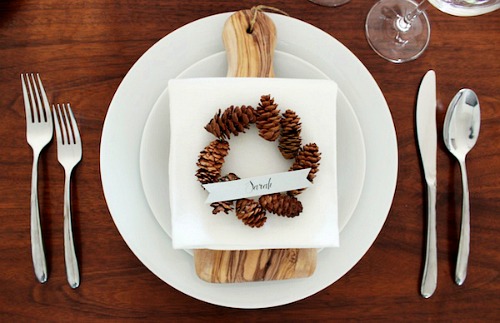 This would look so cute as a placeholder for Thanksgiving, or any other fall/winter get-together! Oh So Beautiful Paper shows how to make your own custom DIY mini pinecone wreath placeholders!
4. DIY Candy Corn Pinecones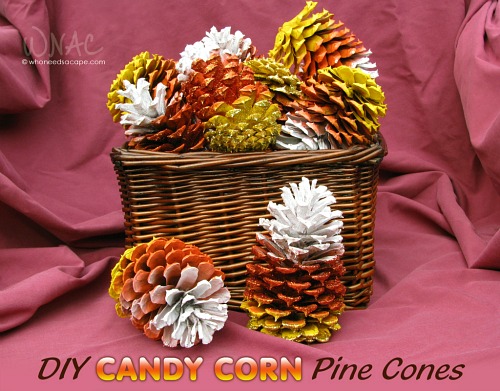 These would look great as part of a fall or Halloween display! Follow  Who Needs a Cape's tutorial to make cute DIY candy corn pinecones!
5. DIY Pinecone Bird Feeders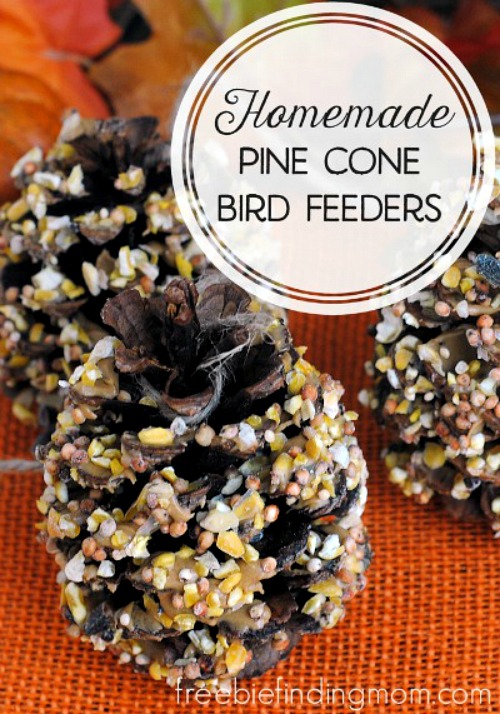 Now that it's getting colder, it's even more important to keep your backyard birds fed. Luckily, you can make them some cute and seasonal bird feeders out of pine cones! Follow Freebie Finding Mom's tutorial on how to make your own DIY pinecone bird feeders!
6. White Painted Pinecones Craft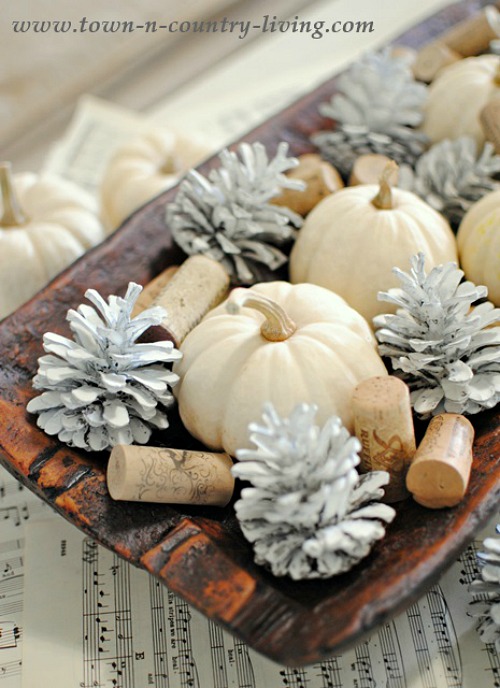 If you're looking for an easy pinecone craft, you definitely have to try this! It's amazing what a little paint can do! Check out Town and Country Living's easy tutorial on how to make DIY white painted pinecones!
 7. DIY Pinecone Topiary Trees
You don't have to use the whole pinecone when doing a pinecone craft! Follow By Stephanie Lynn's tutorial to make your own pretty DIY pinecone topiary trees using pinecone petals!
8. Ombre Painted Pinecone Craft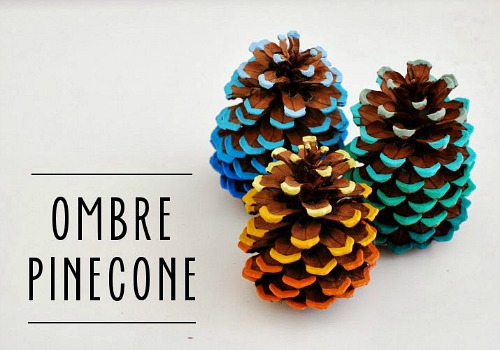 I love ombre painted things! Find out how to make your own adorable ombre painted pinecones by following Whimzeecal's tutorial!
9. DIY Pinecone Christmas Trees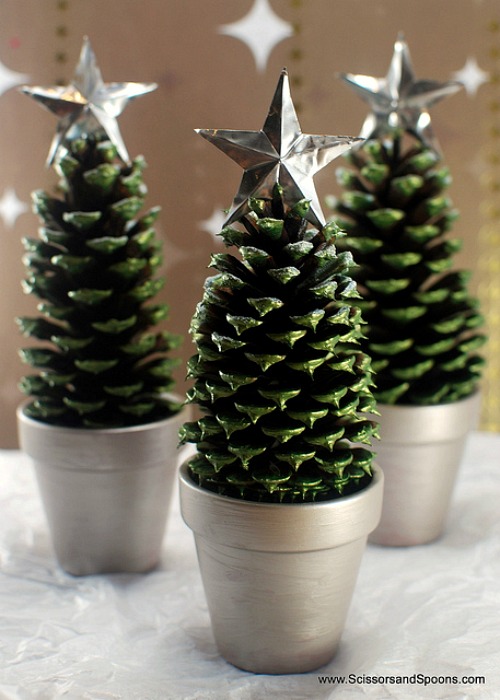 If you've ever thought that pinecones look like tiny trees, then you need to try this craft! Scissors and Spoons shows how to turn ordinary pinecones into pretty pinecone Christmas trees!
10. DIY Pinecone Spheres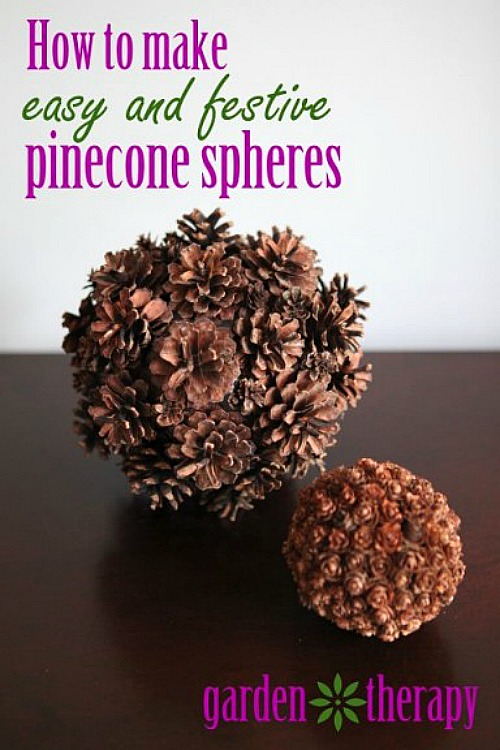 You've likely see these decor spheres for sale in stores before. They look wonderful, but sometimes can be costly. Easily make your own by following Garden Therapy's tutorial on how to make DIY pinecone spheres. These would be so pretty bleached or painted white and glittered!
11. DIY Gilded Pinecone Thanksgiving Wreath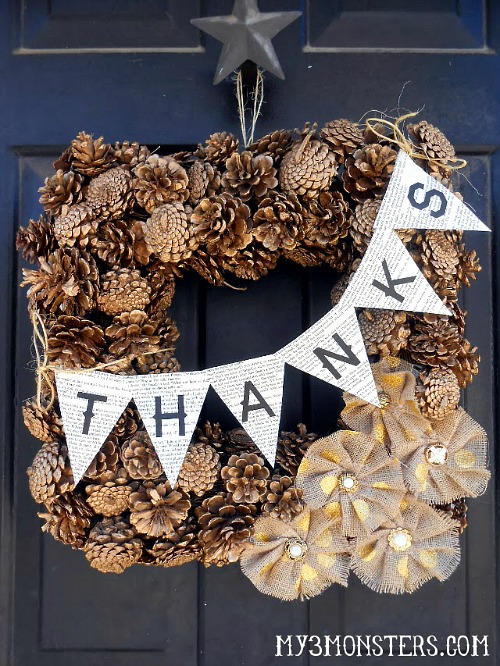 All wreaths don't have to be round! Try making My Three Monsters' cute DIY gilded pinecone Thanksgiving wreath and give your Thanksgiving guests a nice welcome!
12. Pinecone Garland Craft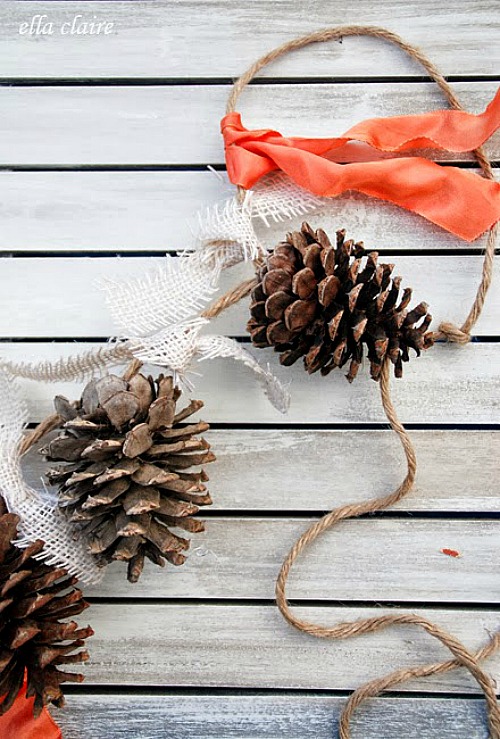 So simple and pretty! This would perfectly complement a mantel with pinecone decor! Ella Claire explains how to make an easy and pretty DIY pinecone garland!
I hope you got some inspiration from these awesome DIY Pincone Crafts!
How do you like to use pinecones?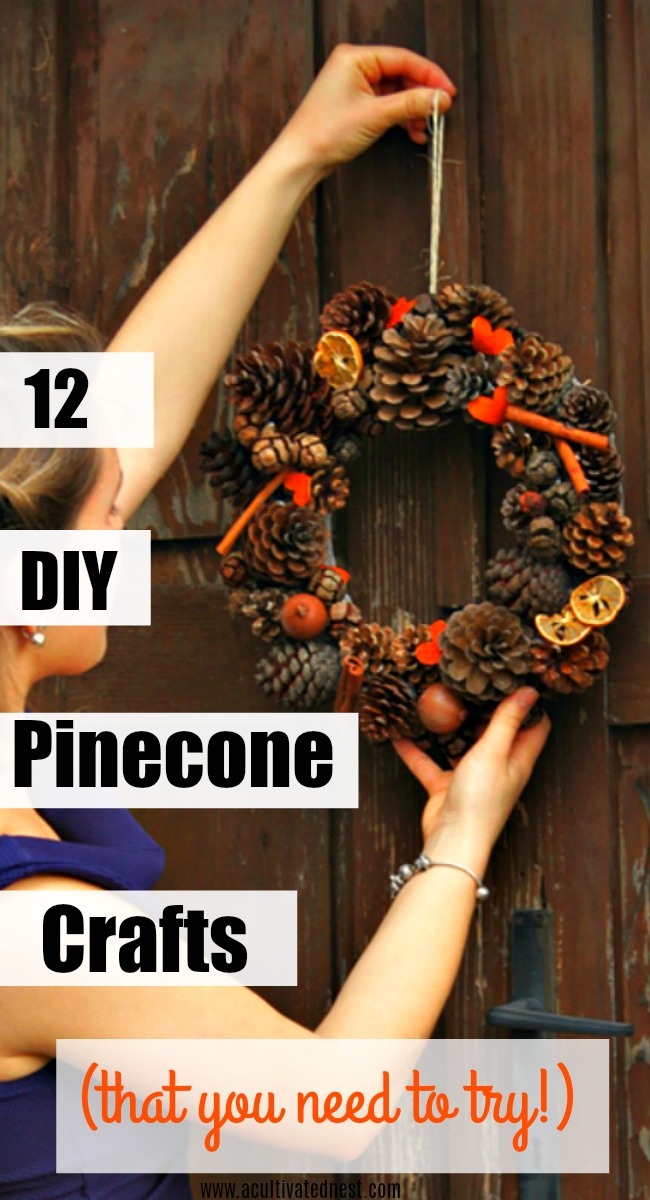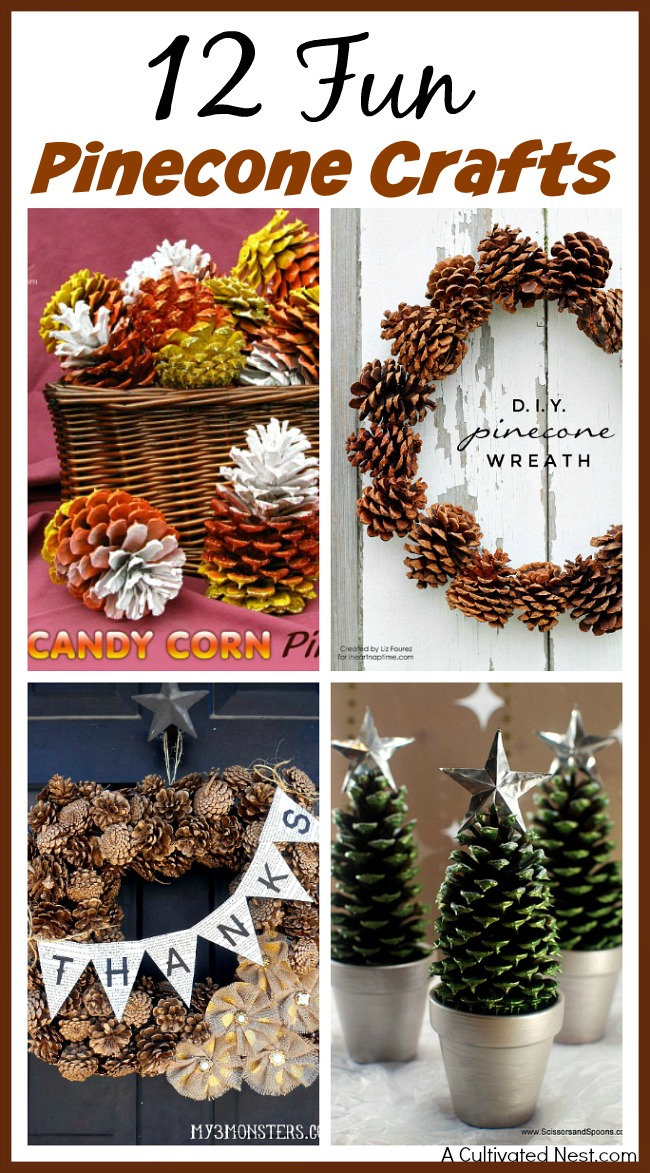 You may also be interested in: How To Make Scented Pinecones