Creative Plant Marker Ideas.
I know what everything is in my vegetable garden. But if I send someone else in there they would have no idea if there weren't some plant markers! Especially things that look similar like cilantro, parsley, and carrot tops! I know my husband would come back with a fistful of  carrot tops thinking he'd cut some parsley! So I decided I need to make a few more plant markers. I've collected 11 Inexpensive and Creative DIY Plant Marker Ideas to share with you since I was looking for inspiration!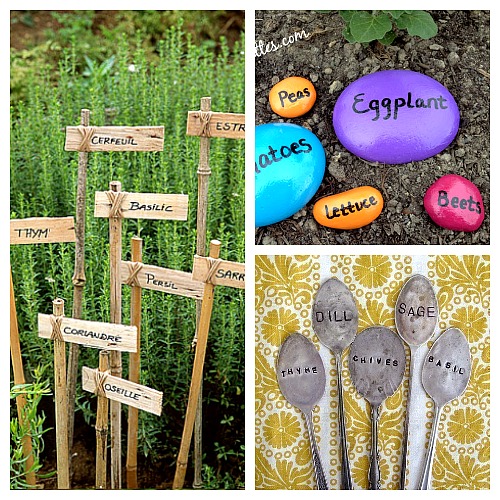 Disclosure: This post may contain affiliate links to Amazon and/or Etsy, which means that I may earn a small commission from some of the links in this post. Please see our Disclosure Page for more information.
It can be easy to create cute and helpful plant markers, if you're creative! Plus, all of these DIY ideas are really inexpensive, which is great if you have a lot of different plants. Take a look at the DIY garden marker ideas below and get inspired!
11 Creative Plant Marker Ideas
1. Stamped Silverware Plant Markers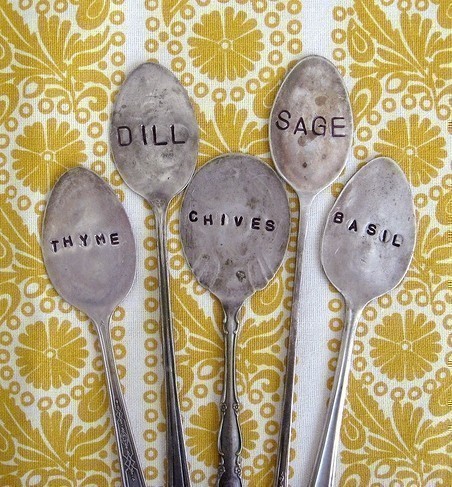 A few years ago I made stamped vintage silverware plant markers like these. They're great because you make them once and they last forever! You can get an inexpensive metal letter stamp set on Amazon. The pretty stamped plant markers above are made by Shrimp Salad Circus. Visit her for the tutorial.
2. DIY Paint Stick Plant Markers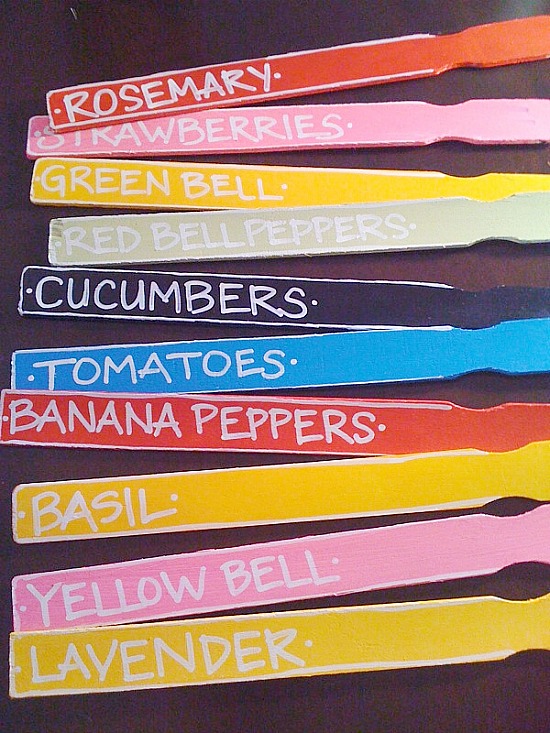 This is one of my favorite DIY plant marker ideas! You can usually get stir sticks for free from Home Depot/Lowe's. To find out how to turn them into pretty plant markers, follow Katy Harper's paint stick plant marker tutorial! (Edit: It looks like this blog has moved. If you know where it's moved to, let us know and we'll update this link!)
3. Clothespin Plant Markers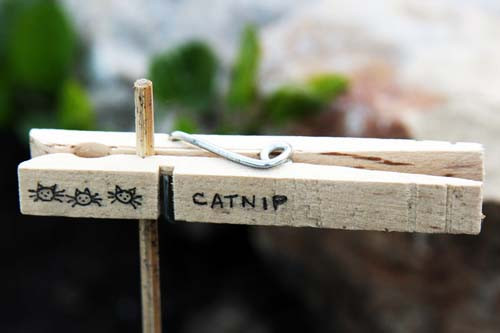 These clothespin plant markers would be very inexpensive to do. You could even get jumbo clothespins if you wanted them to be a bit bigger. Check out the tutorial on Glue and Glitter! (Edit: It looks like the original tutorial has been removed, but Glue and Glitter has a revised clothespin plant marker tutorial available)!
4. DIY Wooden Spoon Plant Markers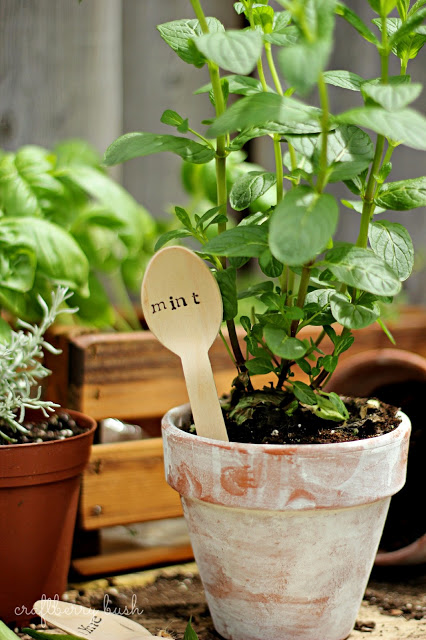 Aren't these wooden spoon plant markers a neat idea? I found some similar looking un-stamped wooden spoons on Amazon. You could probably use the same stamping set for #1 to make these. Visit Craftberry Bush to find out how to make your own cute wooden spoon garden markers!
5. Colorful Stone Plant Markers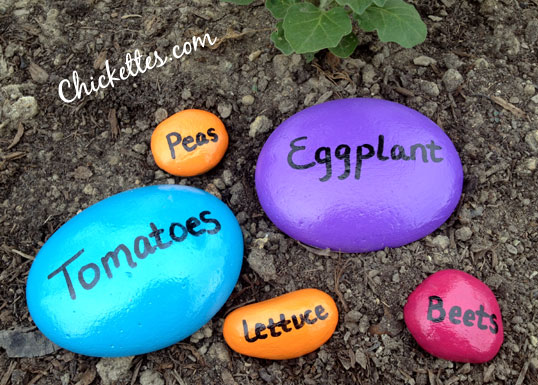 These garden stones are bright and colorful and will last a while. Chickettes explains how to make your own painted stone plant markers!
6. Wine Cork DIY Garden Markers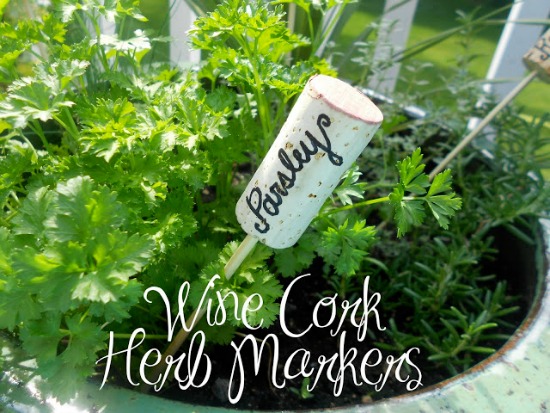 I don't have any wine corks, but if you do you can upcycle them to make these adorable garden markers! Shine Your Light explains how to quickly and easily make these DIY wine cork herb markers!
7. Auluminum Duct Tape DIY Plant Markers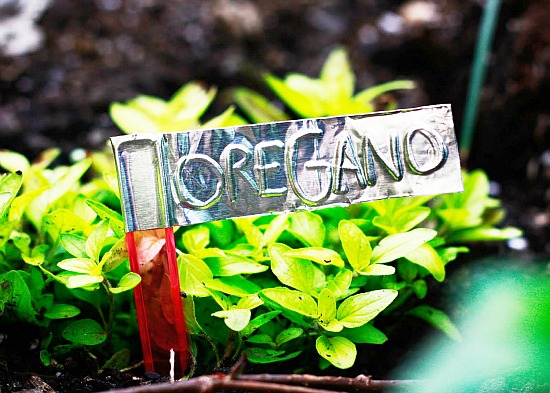 How about these plant markers made from aluminum duct tape (which you can get at a home improvement store or on Amazon)! Visit Aunt Peaches to find out how to make these aluminum tape plant markers.
8. Upcycled Broken Pot Plant Markers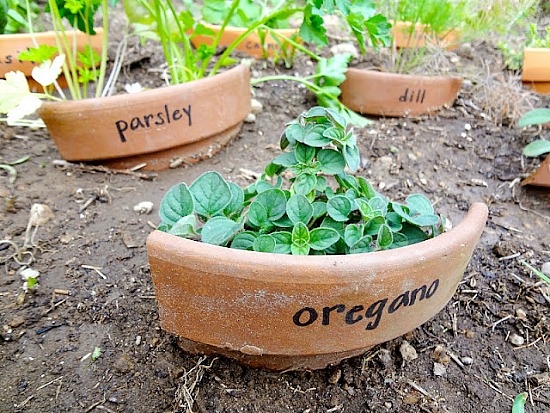 This is one of the best upcycling plant marker ideas I've come across! These broken pot DIY plant markers are from Hardly Housewives. Mmmm…. I'd have to purposely break some pots….
9. Tiny Clay Pot Garden Markers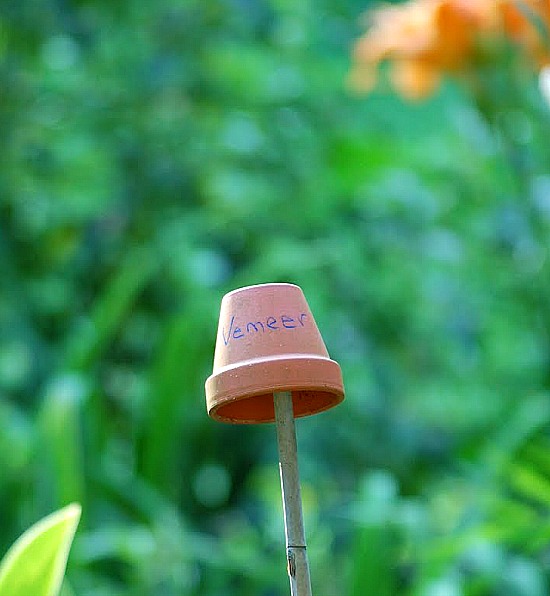 You can get the really teeny clay pots at Michael's/Hobby Lobby or from Amazon. Head on over to Tidy Brown Wren to read about how she made her tiny clay pot plant markers.
10. Stripped Twig Plant Markers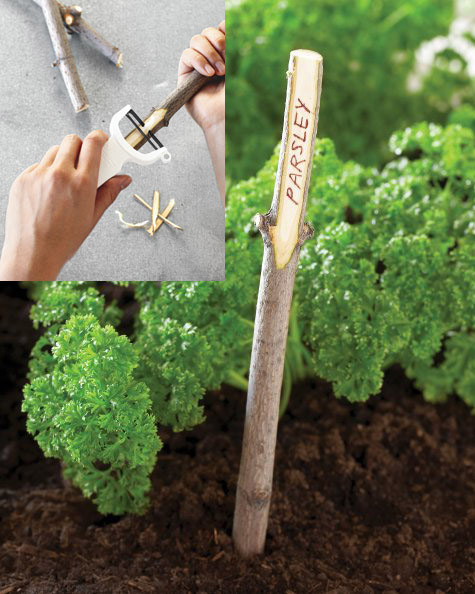 These twig plant markers would be super easy to do! Visit Martha Stewart for instructions on how to turn branches from your yard into DIY twig plant markers!
11. Rustic French DIY Garden Markers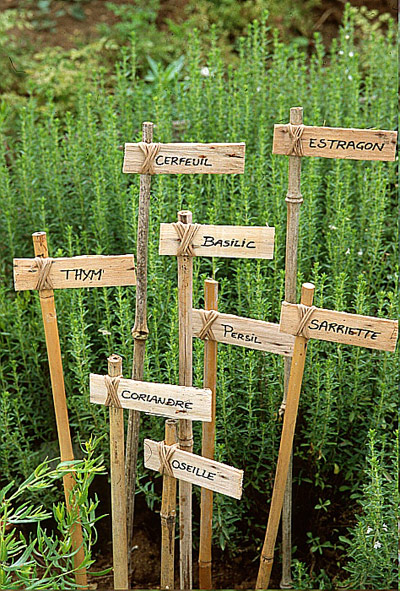 I absolutely love the look of these rustic garden markers. Visit Pith and Vigor for how to make these DIY rustic French plant markers!
How do you label your plants?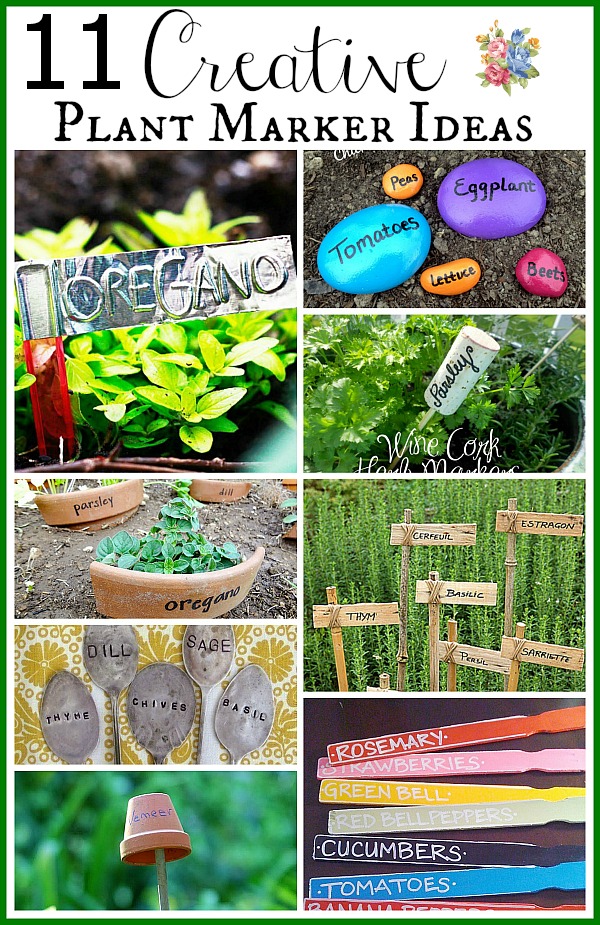 You might also be interested in: Two-Tone DIY Wooden Spoon Plant Markers