Cute DIY Plant Marker Ideas.
I know what everything is in my vegetable garden. But if I send someone else in there they would have no idea if there weren't some plant markers! Especially things that look similar like cilantro, parsley, and carrot tops! I know my husband would come back with a fistful of carrot tops thinking he'd cut some parsley! So I decided I needed to make a few more plant markers. I've collected 20 Inexpensive and Creative DIY Plant Marker Ideas to share with you since I was looking for inspiration!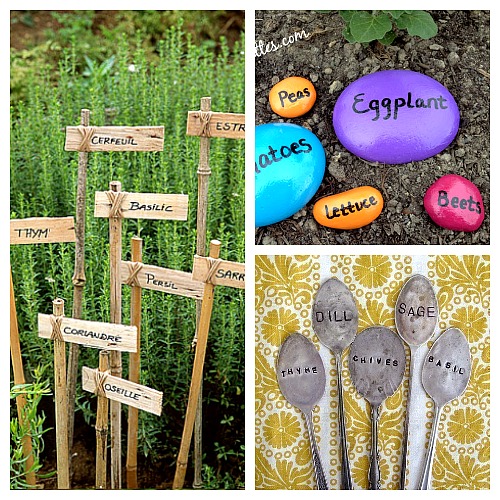 Disclosure: This post may contain affiliate links to Amazon and/or Etsy, which means that I may earn a small commission from some of the links in this post. Please see our Disclosure Page for more information.
It can be easy to create cute and helpful plant markers, if you're creative! Plus, all of these DIY ideas are really inexpensive, which is great if you have a lot of different plants. Take a look at the DIY garden marker ideas below and get inspired!
20 Creative Plant Marker Ideas
Here are some tips for making your own DIY plant markers:
Be creative! Have fun and be creative with this project! Most of the ideas are simple and will turn out beautifully with a little personal flair.
Some may not last. Some of these markers will have to be made each year since the weather will take a toll on them. A few of the ideas are more durable.
Try acrylic paint Some of these projects use chalkboard paint but chalk markers won't last in the rain. Try acrylic paint instead to ensure your labels don't disappear after a rain.
1. Stamped Silverware Plant Markers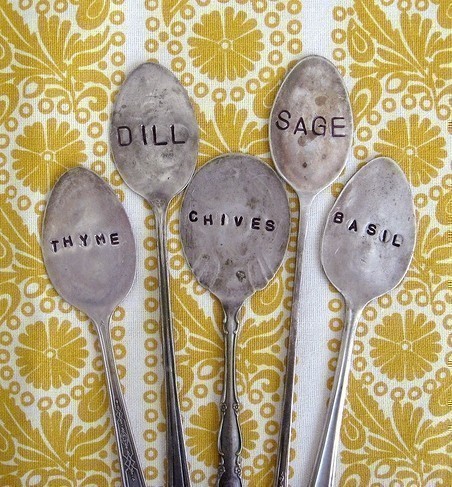 A few years ago I made stamped vintage silverware plant markers like these. They're great because you make them once and they last forever! You can get an inexpensive metal letter stamp set on Amazon. The pretty stamped plant markers above are made by Shrimp Salad Circus. Visit her for the tutorial.
2. DIY Wooden Spoon Plant Markers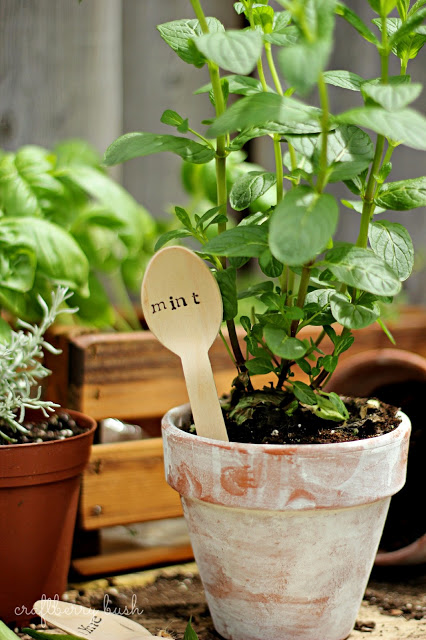 Aren't these wooden spoon plant markers a neat idea? I found some similar looking un-stamped wooden spoons on Amazon. You could probably use the same stamping set for #1 to make these. Visit Craftberry Bush to find out how to make your own cute wooden spoon garden markers!
3. Wine Cork DIY Garden Markers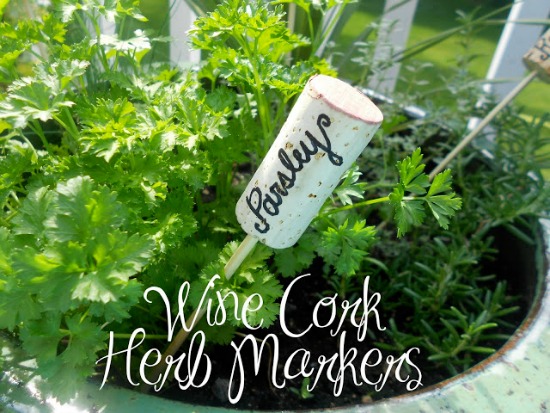 I don't have any wine corks, but if you do you can upcycle them to make these adorable garden markers! Shine Your Light explains how to quickly and easily make these DIY wine cork herb markers!
4. Upcycled Broken Pot Plant Markers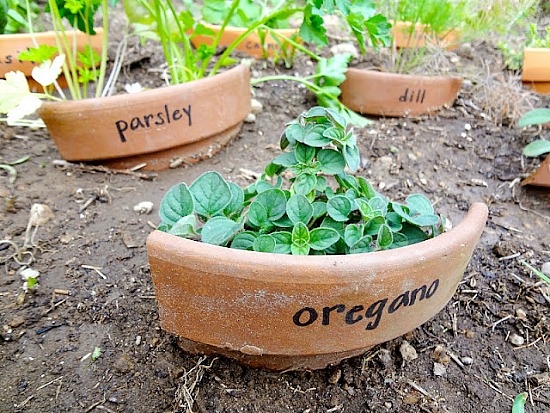 This is one of the best upcycling plant marker ideas I've come across! These broken pot DIY plant markers are from Hardly Housewives. Mmmm…. I'd have to purposely break some pots….
5. Tiny Clay Pot Garden Markers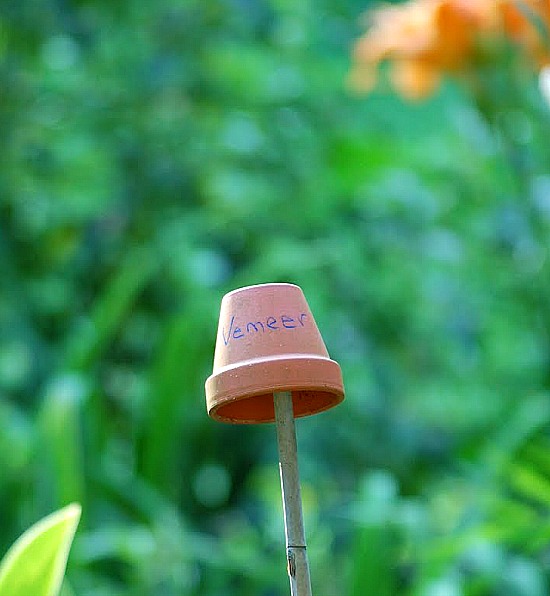 You can get the really teeny clay pots at Michael's/Hobby Lobby or from Amazon. Head on over to Tidy Brown Wren to read about how she made her tiny clay pot plant markers.
6. Rustic French DIY Garden Markers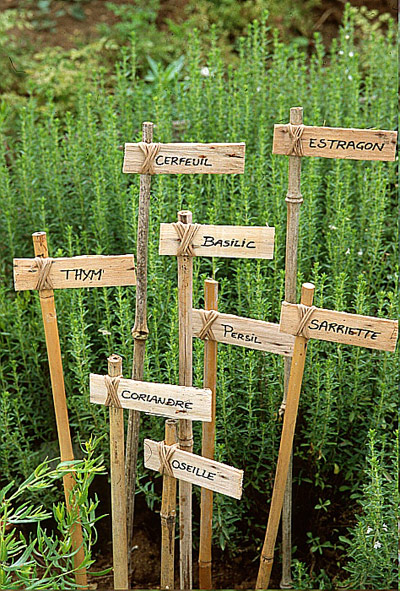 I absolutely love the look of these rustic garden markers. Visit Pith and Vigor for how to make these DIY rustic French plant markers!
7. Terracotta & Copper Markers
Use a terracotta base and some copper wire to make these cute hanging plant markers. I like these markers and can't wait to make them! Check out the post from Pith & Vigor.
8. Simple Plant Markers
Use cedar shims (find them at a hardware store or on Amazon), carbon paper, and a fine tip permanent marker to make these simple plant markers. Find all the steps from Craftberry Bush.
9. Printable Plant Markers
Create Craft Love has a free printable to make these cute garden markers.
10. Paint Stick Markers
Use paint sticks and some colorful paint to make these plant markers. They are simple and cheap to make; perfect for a busy house! See how to make them from The Resourceful Mama.
11. DIY Clay Markers
These clay garden markers are so cute and simple to make! Use oven-bake clay and the stamps from above. Sarah Hearts has a post about this fun idea.
12. Washi Tape Garden Markers
Brighten up your garden space with colorful washi tape! Sarah Hearts wraps washi tape around wooden garden markers and writes her plants in permanent marker.
13. Color Blocked Garden Markers
Use wooden garden markers and old paint and make some color-blocked plant markers. Sarah Hearts has step-by-step directions to make these trendy garden markers!
14. Reuse Old Vinyl Blinds
Use an old set of vinyl blinds to make these cheap and simple garden markers. Crafting a Green World is where this easy project comes from.
15. Scrabble Tiles and a Butter Knife
What a clever idea?! Crafting a Green World posted this upcycling idea to use old Scrabble tiles and butter knives to make your garden markers.
16. Glass Bottle Markers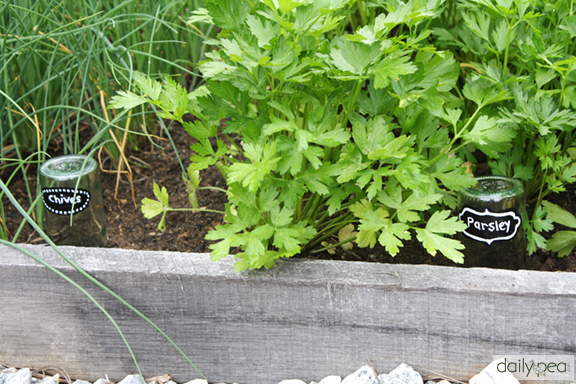 Daily Pea on Home Talk shows you how to use old glass bottles and chalkboard paint to make these fun markers.
17. Brick Garden Markers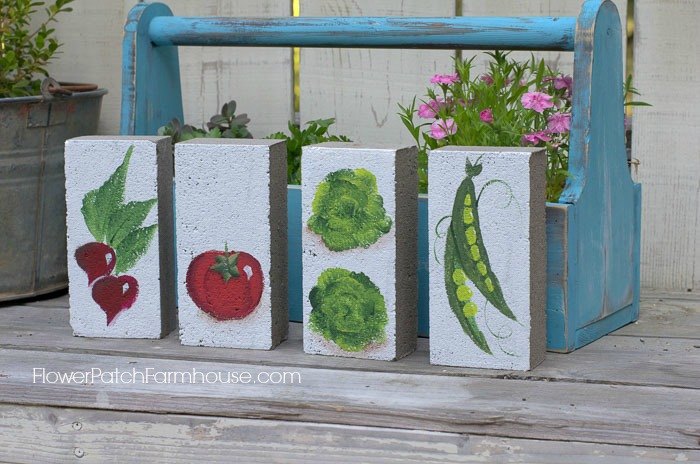 Need something that is sturdy and will last a while? Paint bricks and use them in your garden like these ones from Flower Patch Farmhouse on Home Talk.
18. Seashell Markers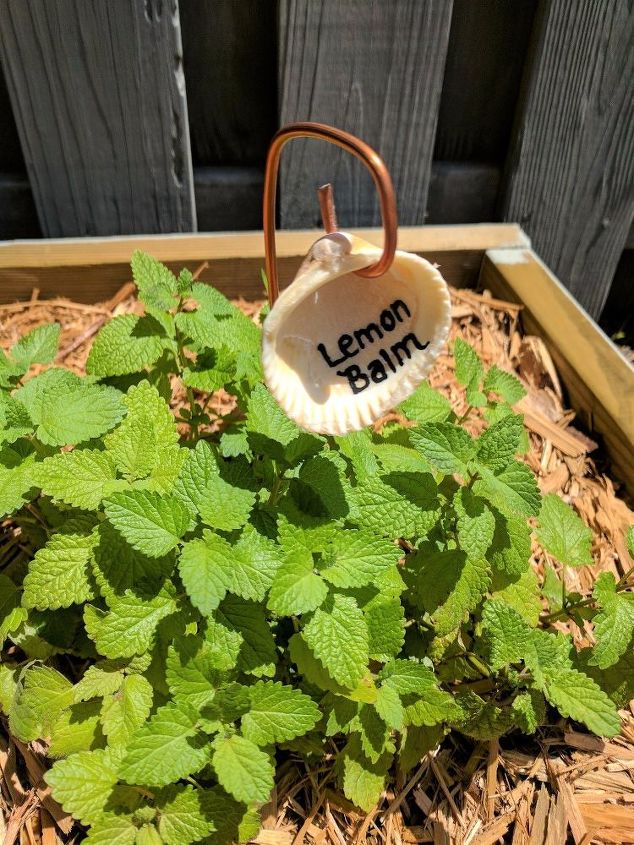 Use seashells, wire, and paint to make these fun garden markers. Add some beach flair to your garden with the ideas from Michele Pappagallo on Home Talk.
19. Upcycled Tin Can Markers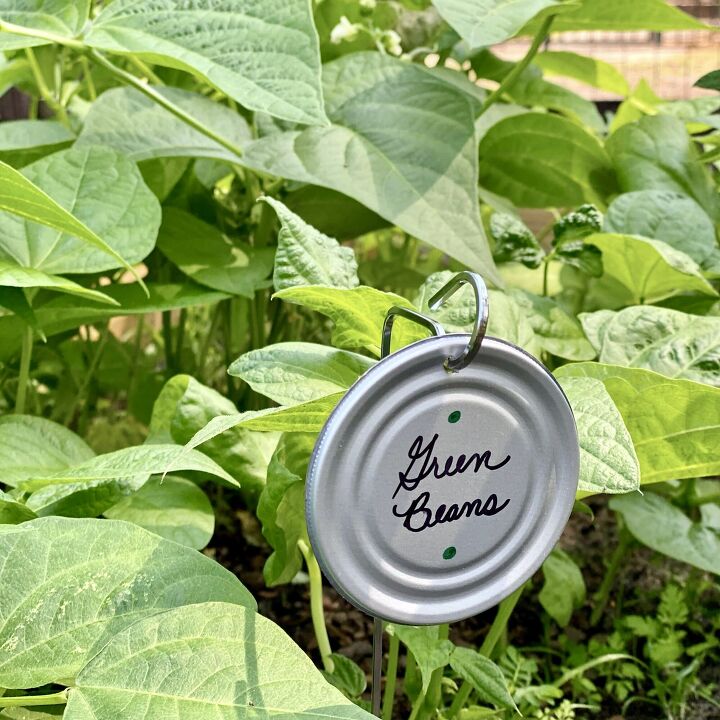 I love to upcycle things from my house; so why not use old tin cans? Punch holes in the can bottom and label each one with all your plants. Meeghan Aimone on Home Talk shows you how to make these.
20. Wooden Spoon Markers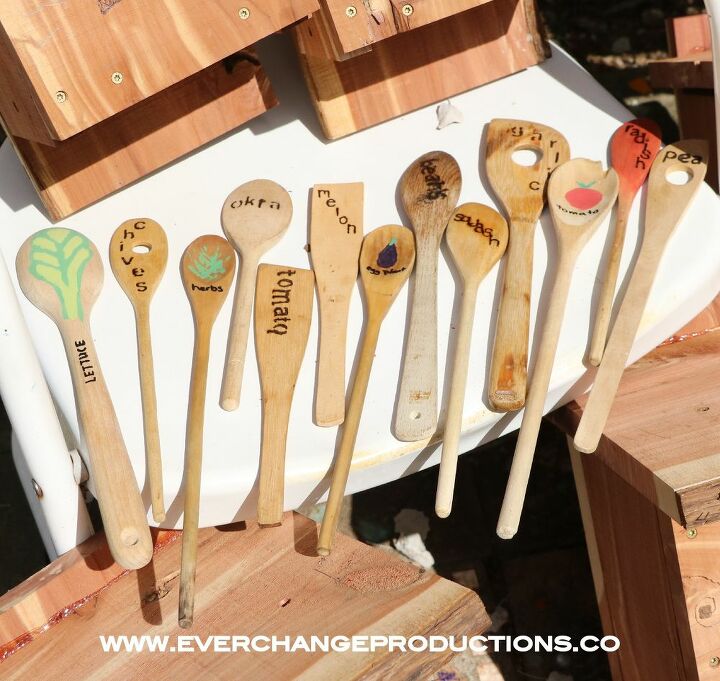 Create garden markers from wooden spoons! Ever Change Productions on Home Talk shows you how to use a wood burner kit to make these markers that won't fade with the weather.
How do you label your plants?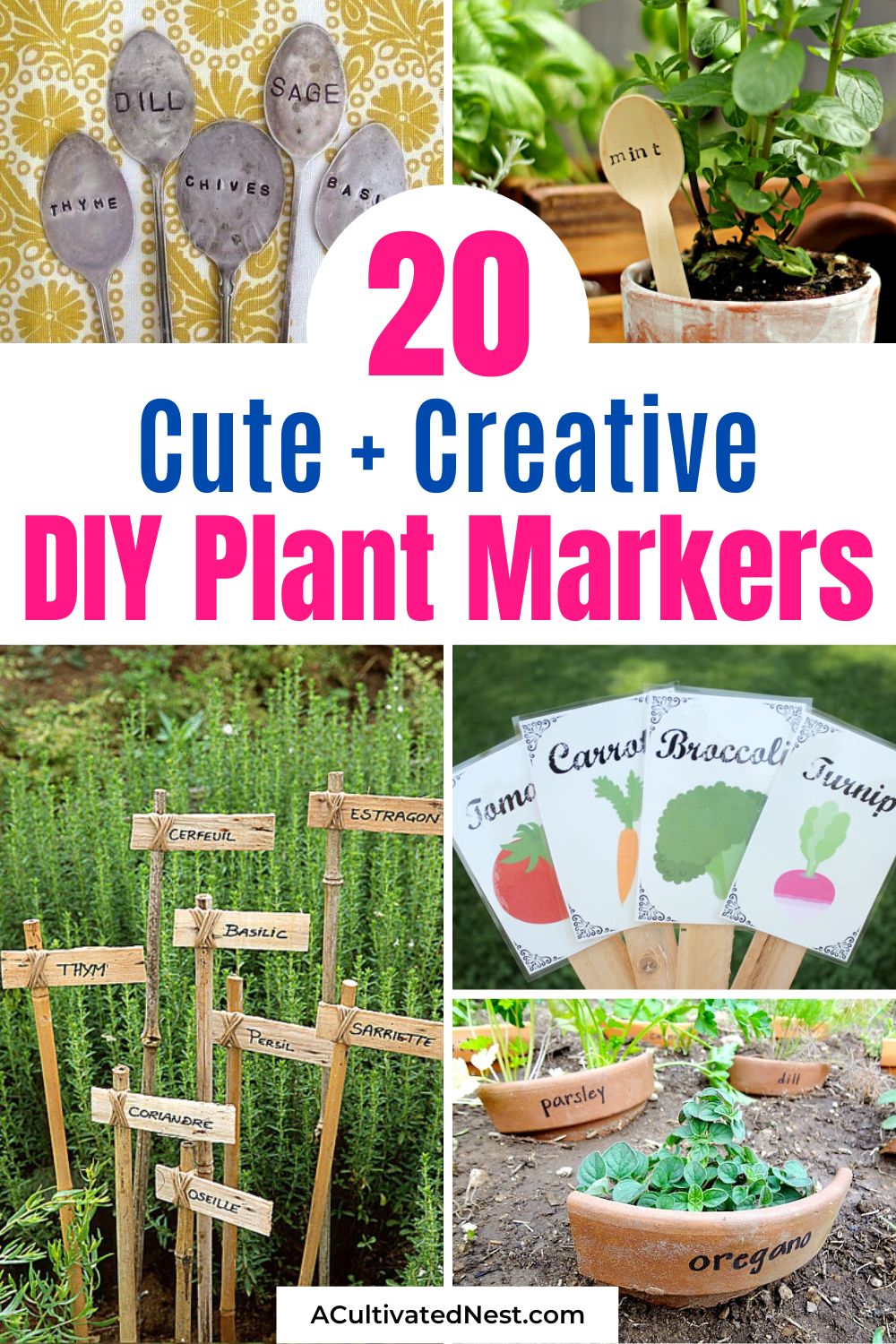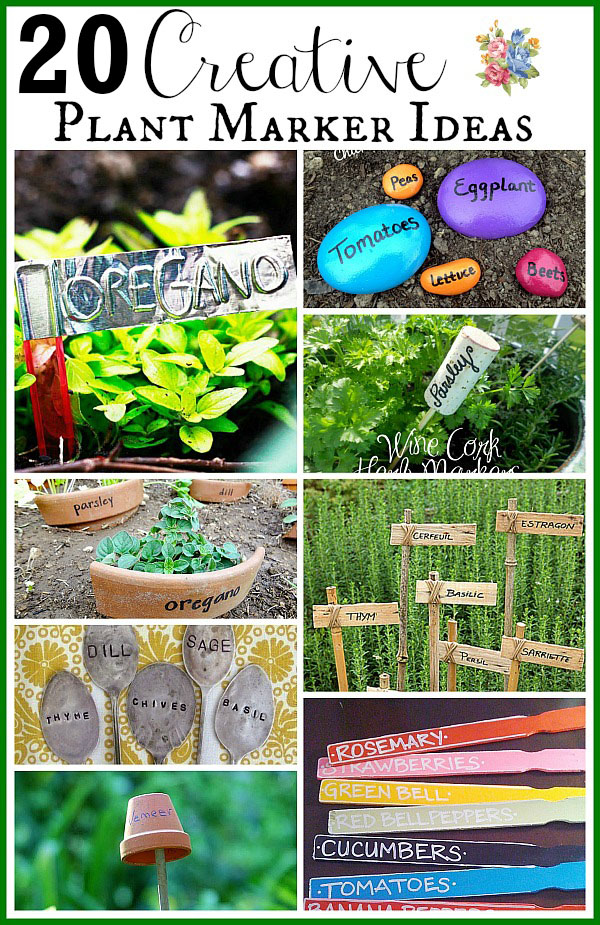 You might also be interested in: Two-Tone DIY Wooden Spoon Plant Markers