In today's world, it seems as though everything keeps getting more expensive but wages are staying the same. It's no longer about keeping up with the Jones', but instead, it's about just being able to pay your bills on time and trying to keep some money set aside for when you really need it. If you're not used to it, living on less may be challenging!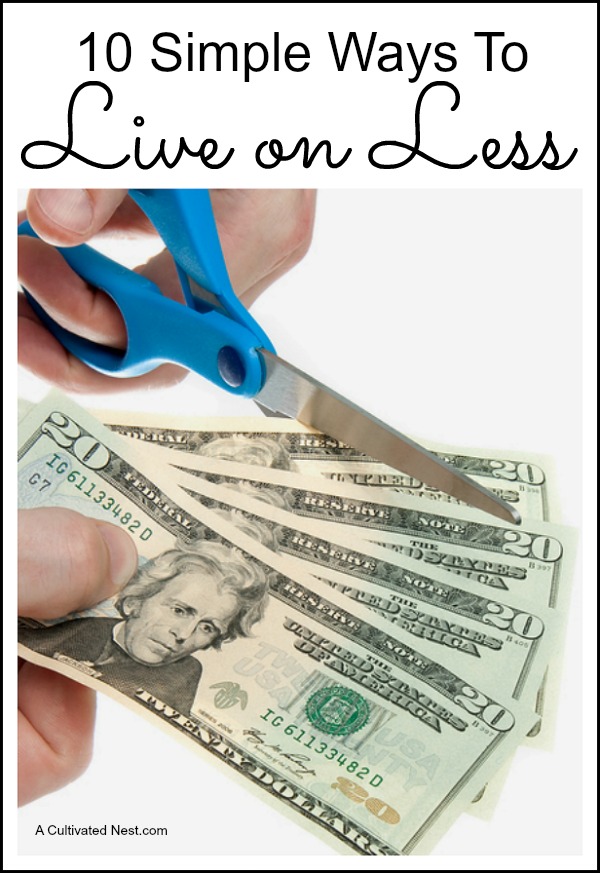 Disclosure: This post may contain affiliate links to Amazon and/or Etsy, which means that I may earn a small commission from some of the links in this post. Please see our Disclosure Page for more information.
It may also require determination and willpower! Living on less is possible, you just need the right tools. Here are 10 Simple Ways To Live On Less.
10 Ways To Live On Less
1. Go without – This may be easier said than done! But it's worth trying.  Even if you can't totally go without something, it would be good to stretch the time in between purchases.
2. Make your own stuff –  Start with something as simple as your own hand soap or taco mix. I have a whole Nesting Skills Series that shows you how to make all sorts of things yourself!
3. Ditch the extra and declutter –  You don't need to buy a bigger house to store your stuff in or more organizing bins. Most of the time, the size of your house is just fine, you just need to ditch the extra stuff. In a world where we're consumed by "things" sometimes it's nice to just ditch the extras and in doing so you can either donate items or sell them and beef up your savings account.
4. Keep things simple – Signing up for a million and one extra-curricular activities doesn't help the budget or the sanity. Keep your schedule as clear as possible to help keep your budget simple.
5. Get Thrifty – Thrift stores are an awesome way to live on less. You can also support a locally owned thrift store by doing an Internet search for thrift stores in your area. You can find clothing, household items, toys, tools, almost everything at thrift shops. If you don't have thrift stores in your area then check out garage sales and Facebook groups that buy and sell items in your area. You'll be surprised at all the resources for buying second hand!
6. Wash your own car and change the oil yourself. Every time you go to change your own oil, you are probably spending close to $40. Learning how to change your own oil can easily cut that cost in half!
7. Use Freecycle – If you're looking for something in particular, then consider checking out Freecycle. You can get plants, furniture, clothes, food, boxes, all sorts of items for free!  All you usually have to do is pick up the item.
8. Live Below Your Means – Living on a lobster budget when you have the budget of raman noodles is one way to not live on less. Start living on less by spending less and actually spending the amount of money you earn. It may take you several tries to get it right, but make a budget and stick to it.
9. Buy at Discount Stores – If you do a quick search, you will find discount stores around your area. These stores sell all kinds of things from home decor to food items at prices below marketed value. Purchase discounted items to stay on budget and overall spend less.
10. Pay Attention – How many times have you lost money because you didn't pay attention? Maybe you got charged too much at the grocery store or overcharged at the gas tank. Paying attention to what happens with your transactions can really help you live on less in the long run.
What are some tips you have for living on less? I'd love to hear them!