Easter Treats In A Jar.
Easter is almost here! You may have your Easter decorations in place, but what about gifts for kids, family, neighbors and friends? There are few better gifts than food gifts, but food can be messy and hard to transport. But that's not the case if you put your gift in a pretty jar! Mason jars tend to be the most popular jars, but you can also put your gift in cleaned out baby food, peanut butter, or tomato sauce jars! For some cute (and delicious) inspiration, check out these 10 cute Easter treats in a jar!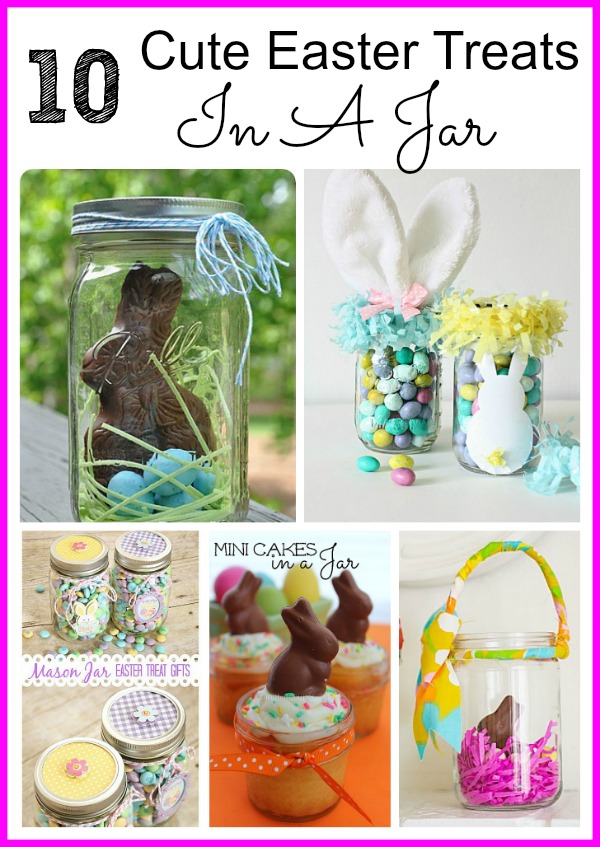 Please visit each linked source for the complete details on how to make your own Easter treats in a jar.
10 Cute Easter Treats in a Jar
Disclosure: This post may contain affiliate links to Amazon and/or Etsy, which means that I may earn a small commission from some of the links in this post. Please see our Disclosure Page for more information.
1. Chocolate Bunny in a Jar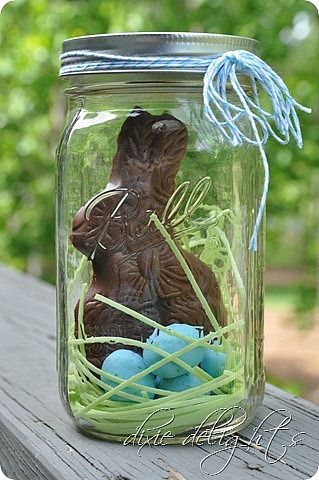 This is such a cute Mason jar treat! All of the insides are edible. Check out how Dixie Delights made such a tasty chocolate bunny Easter jar gift!
2. Mason Jar Easter Treat Gift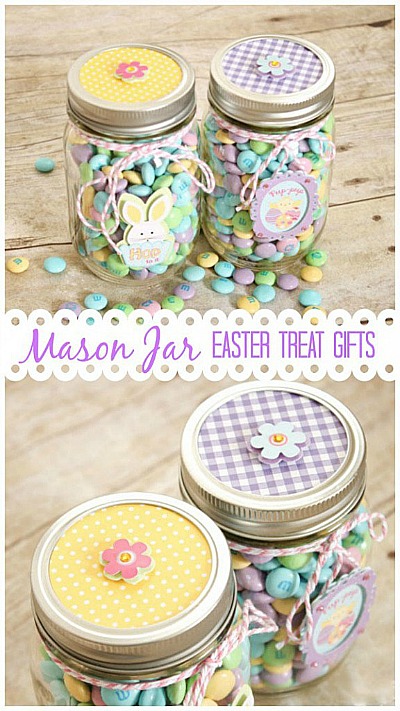 These look so pretty, and can be filled with your gift recipient's favorite treat! Create, Craft, Love shows you how to make your own pretty Easter treat jars with some scrapbooking elements.
3. Easter Bunny and Fringe Jar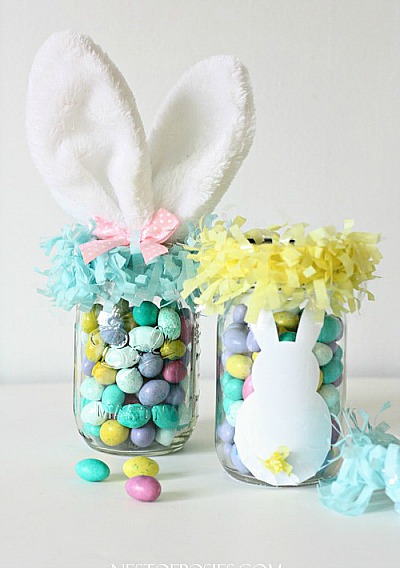 I love how cute these Easter jars look with their bunnies and fringe trim! Nest of Posies explains how to make your own DIY Easter bunny and fringe treat jar!
4. Mason Jar Easter Basket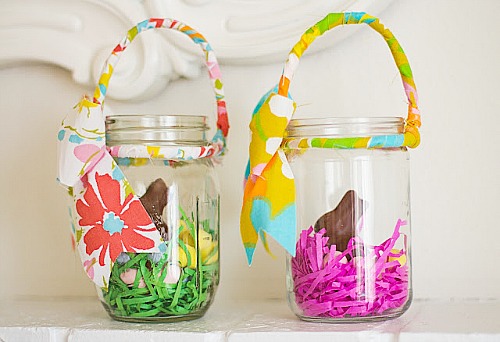 This adorable Easter basket's main materials are a jar and some pretty fabric or ribbon. You can fill it with whatever you like! Check out Beautifully Rooted's tutorial on how to make your own Mason jar Easter basket!
5. Easter Mini Cakes in a Jar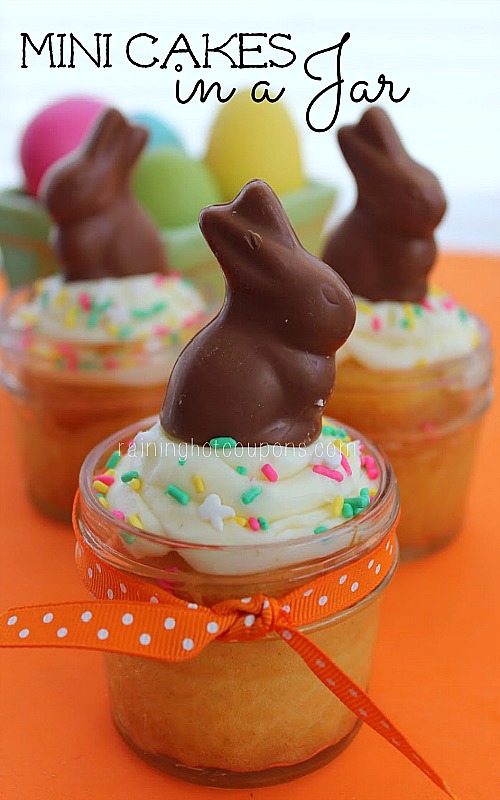 These adorable little Easter cakes are cooked straight in the jar! Check out Raining Hot Coupons' recipe to find out how to make your own mini Easter cakes in a jar!
6. Easter Bunny Candy Holder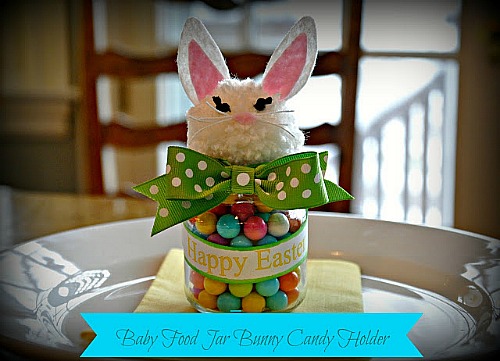 This is such a cute candy holder with a fuzzy bunny face! Follow Serendipity Refined's tutorial on how to make Easter bunny candy holder jars!
7. Easter M&M Cookie Mix in a Jar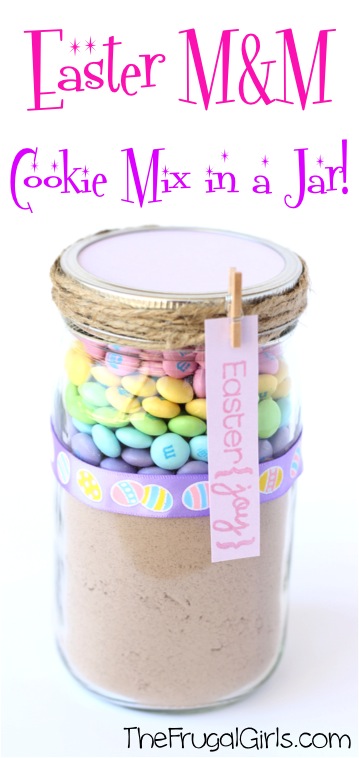 This would be such a pretty (and tasty) Easter gift to receive! The Frugal Girls tell you what few things you'll need to make your own Easter M&M cookie mix jar!
8. Bunny S'mores in a Jar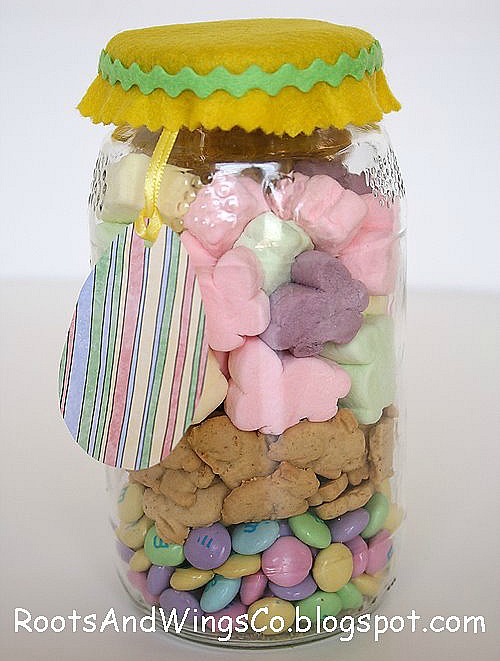 This recipe in a jar looks so pretty, and the cooked s'mores look delicious! Follow Roots and Wings Co.'s tutorial to make your own delicious Easter bunny s'mores jar!
9. Easter Bunny Ears Jar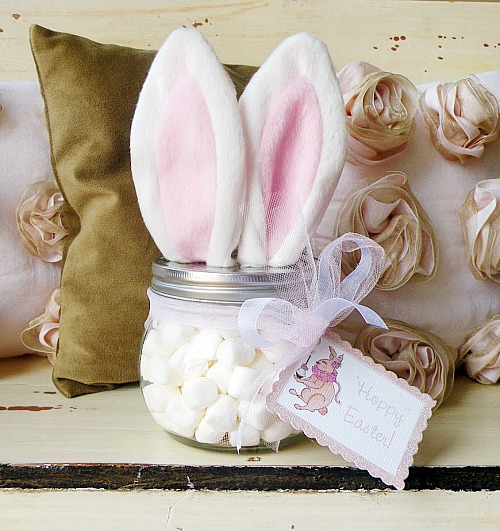 This Easter bunny jar looks absolutely adorable with its rabbit ears! Icing Designs explains how to make this easy DIY Easter bunny treat jar!
10. Peeps and Glitter Mason Jar Easter Gift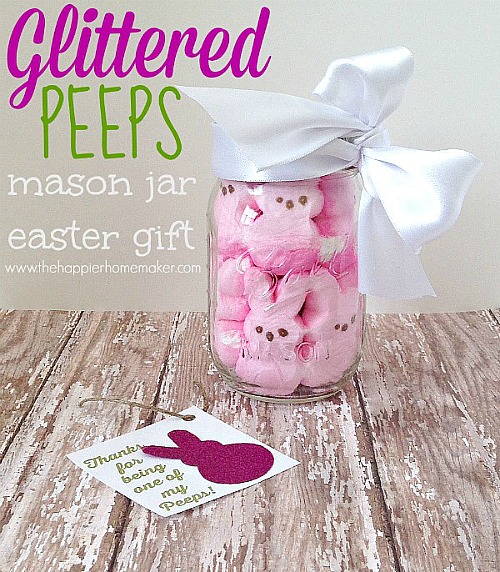 This is such a pretty Mason jar gift! The Happier Homemaker shows how to incorporate glitter Duck Tape, candy, and a Mason jar to make an adorable Peeps Mason jar Easter gift!
You can make any of these cute Easter treats in a jar in no time!
You may also be interested in:
Easter Egg Rice Krispie Treats