20 Festive Patriotic Outdoor Décor Ideas.
The Fourth of July is just around the corner! If you need some new Independence Day decorations, or just like the look of Americana décor, then these DIY projects are perfect! On top of that, all of these DIYs are easy and inexpensive! Check out these 20 Cute Patriotic Outdoor Decorations!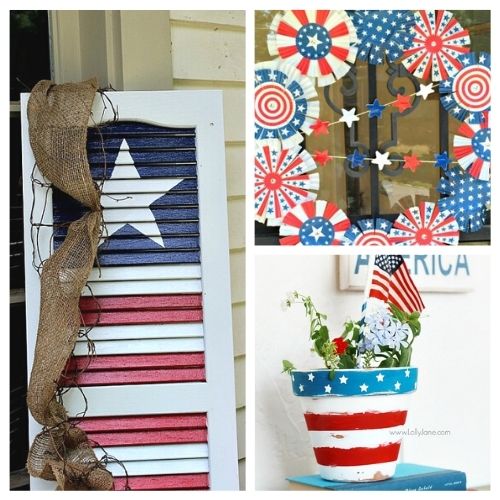 Disclosure: This post may contain affiliate links to Amazon and/or Etsy, which means that I may earn a small commission from some of the links in this post. Please see our Disclosure Page for more information.
These cute patriotic outdoor decorations ideas will turn your ordinary yard or front porch into the festive place to be! And they're all so easy to make!
20 Patriotic Outdoor Decorations 
So now that you have decided to decorate your outdoor living space with patriotic decorations, I have a few tips to help out:
Hit dollar stores. You will be amazed by how many great things you can pick up at dollar stores nowadays! They typically have all sorts of ribbons, flowers, and crafting materials.
Another great place is hardware stores. You could snag a few paint stir sticks or other clearance items. You never know what kind of deals they may have, so don't be afraid to check them out.
Yard sales, consignment shops, and thrifts stores are great places to shop. You can often find old terra cotta planters or scrap items that can be transformed into something new. And the best part is that you can usually get things for next to nothing.
Collect items out of season. If you go to your local craft store, you can find all sorts of great deals for out-of-season fabrics and other items. Start to build a collection throughout the year, then you will have things on hand when you want them!
1. Patriotic Cupcake Liner Wreath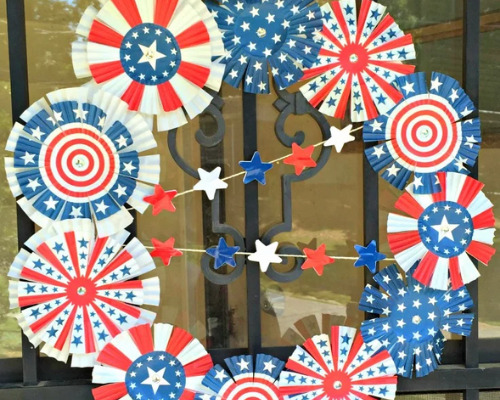 Isn't this pretty? Since the main material is cupcake liners, this wreath is quick to make and budget-friendly! Only use it of course in a covered area unless it's just a decoration for a party. Check out the tutorial from Bullocks Buzz on how to make a pretty patriotic cupcake liner wreath!
2. DIY Painted Wood Fireworks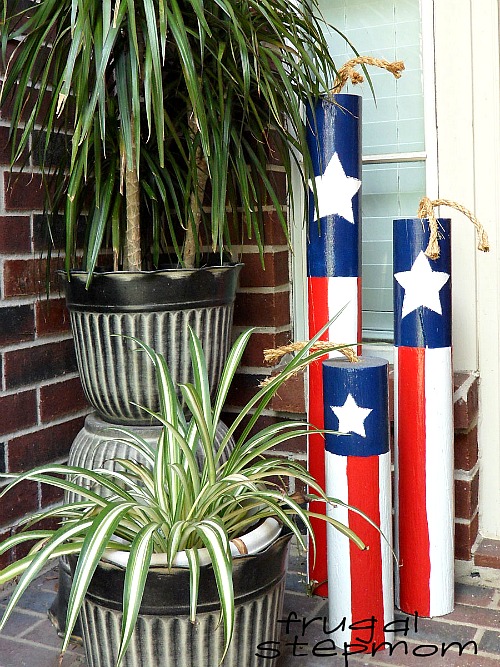 This patriotic DIY is great for the outdoors since it's painted wood! Frugal Stepmom explains how she made her painted wood fireworks!
3. Paper Bag Patriotic Bunting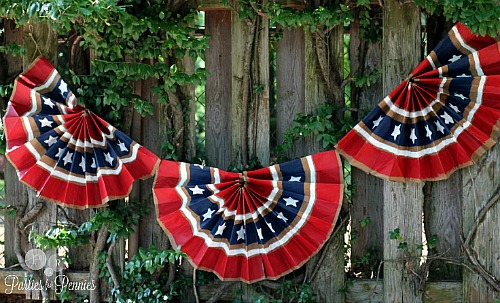 This is such an inventive DIY! They don't look like they started out as paper bags, but they did! Follow Parties for Pennies' tutorial on how to upcycle paper bags into patriotic bunting decor.
4. Red, White, and Blue Bamboo Table Runner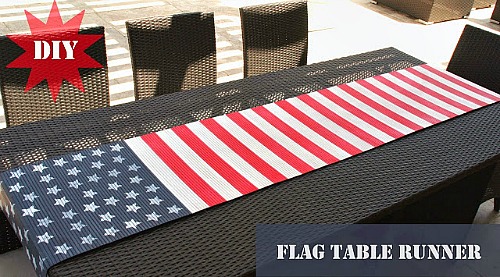 This would look really pretty as the table runner at a 4th of July barbeque! Bliss Bloom Blog explains how to turn a plain bamboo table runner into a patriotic flag table runner!
5. Wood Flag Wreath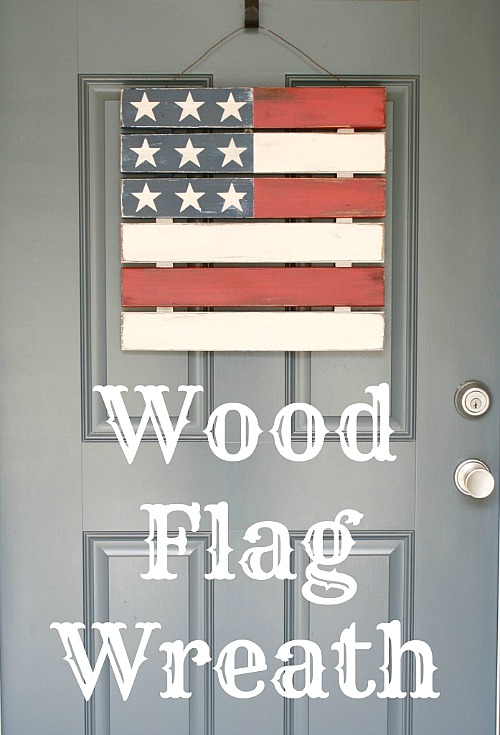 I love the look of this wood pallet flag door decor! A Diamond in the Stuff explains how she took a small craft pallet and turned it into a wood pallet flag wreath!
6. DIY Patriotic Shutter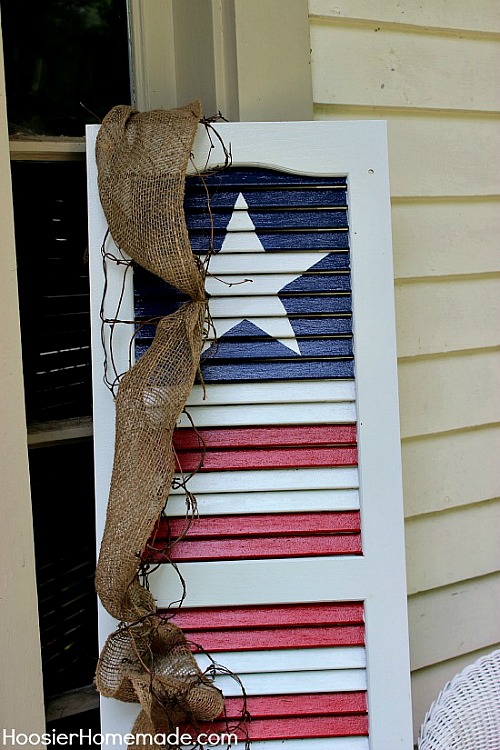 Isn't this a great shutter upcycle DIY idea? Hoosier Homemade shows how to turn a normal old shutter into a flag shutter outdoor decoration!
7. DIY Burlap Flag Banner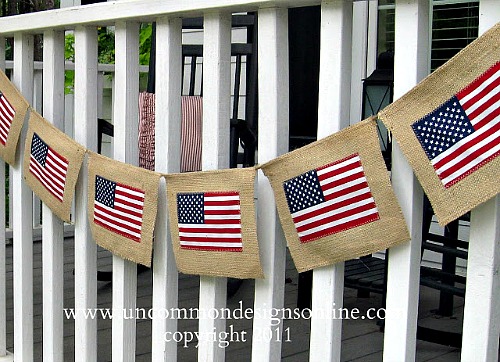 Burlap is always fun to use in crafts because of its great texture! Uncommon Designs explains how she put together her DIY burlap flag banner!
8. Distressed Wood Flag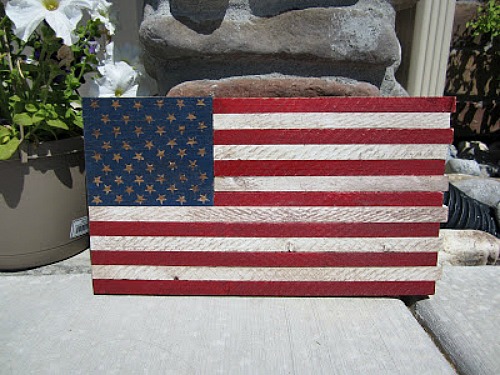 This would make a great front porch decoration! And you could make it whatever size you like! Love Sweet Love explains how she made her distressed wood flag decoration for under $5!
9. DIY Burlap Patriotic Porch Banners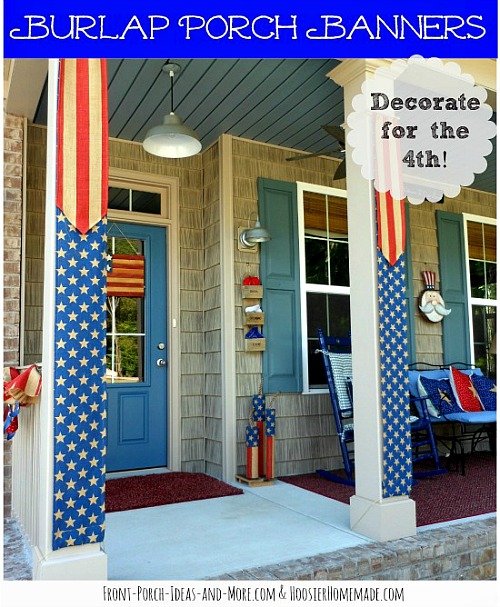 These would make a great patriotic outdoor decoration if your house has pillars/columns! Follow Front Porch Ideas and More's tutorial to make your own burlap patriotic banners!
10. DIY Painted Patriotic Flower Pot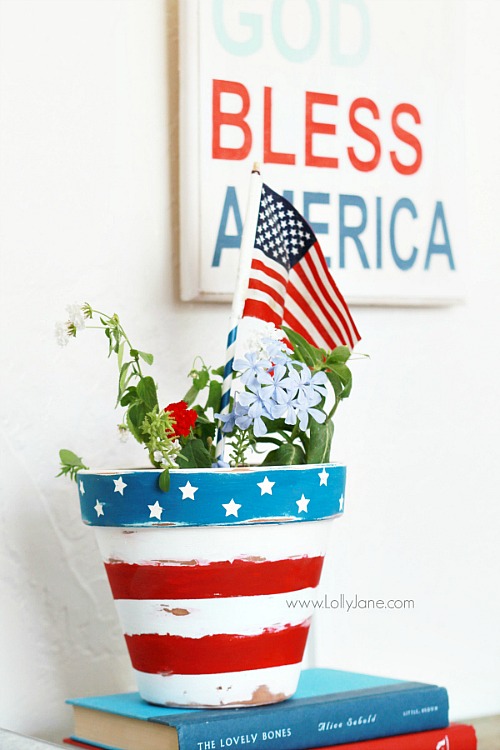 This is a great patriotic outdoor decoration for a house of any size! These would also look really nice on a balcony or as the centerpiece on a table! Check out Lolly Jane's tutorial on how to paint your own patriotic flower pots!
11. Denim & Burlap Lighted Garland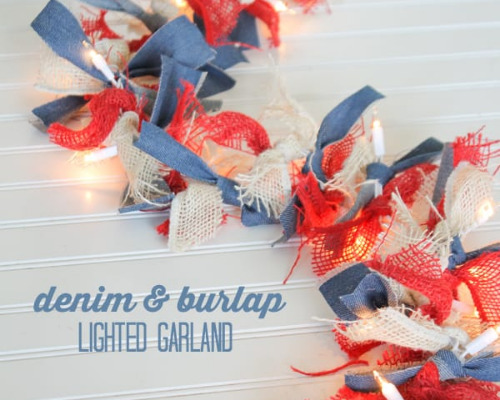 Add some elegance and patriotic style to your outdoor space with this denim and burlap lighted garland. Create Craft Love did an amazing job and it turned out beautiful, plus it can be used indoors or outdoors!
12. Easy Bandana Wreath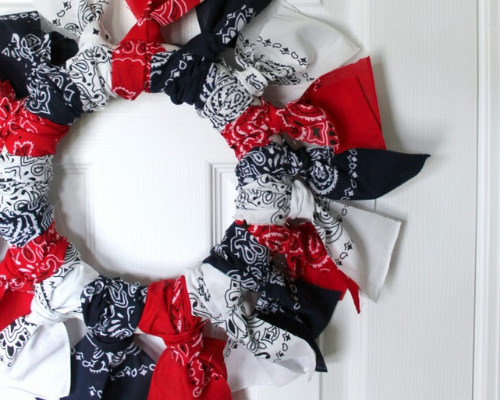 Everyone is going to rave about how adorable this easy bandana wreath is! Girl in the Garage is the mastermind behind this project and it turned perfectly. It's very inviting and patriotic.
13. 4th of July Ribbon Wreath
Create Craft Love shows you how to make this cute 4th of July ribbon wreath. She takes pieces of ribbons and rolls them into little cylinders and glues them onto the foam wreath.
14. Denim 4th of July Wreath
Create Craft Love uses denim ribbon to create this simple wreath that is festive and patriotic. She wraps the foam wreath in the denim ribbon and adds some finishing touches to create this denim 4th of July wreath.
15. Stamped Placemats
Use a piece of cork to create a stamp to make these patriotic placemats. Running With Sisters shows you how to make these simple placemats that would be great for an outdoor picnic.
16. Patriotic Owl
Decorate your door or wall with this patriotic owl. The DIY Mama Blog shows you how to create this fourth of July decor item.
17. Fourth of July Galvanized Tub
Use vinyl to create this patriotic galvanized tub for a flower planter, drink tub, or whatever you see fit for your party! A Pumpkin & A Princess gives you step-by-step directions to create this.
18. Patriotic Glitter Candles
A Pumpkin & A Princess makes these gorgeous glitter candles that would be great for an outside party.
19. Fourth of July Party Decorating Ideas
I love this red, white, and blue setup from A Pumpkin & A Princess! She gives tons of ideas to make your party festive this summer!
20. Glass Bottle Centerpiece
Use some glass bottles and a wooden box to make this cute patriotic centerpiece from Creations By Kara. Super simple and a great way to make use of some things you have around your house.
What outdoor decorations do you like to put up for the Fourth of July?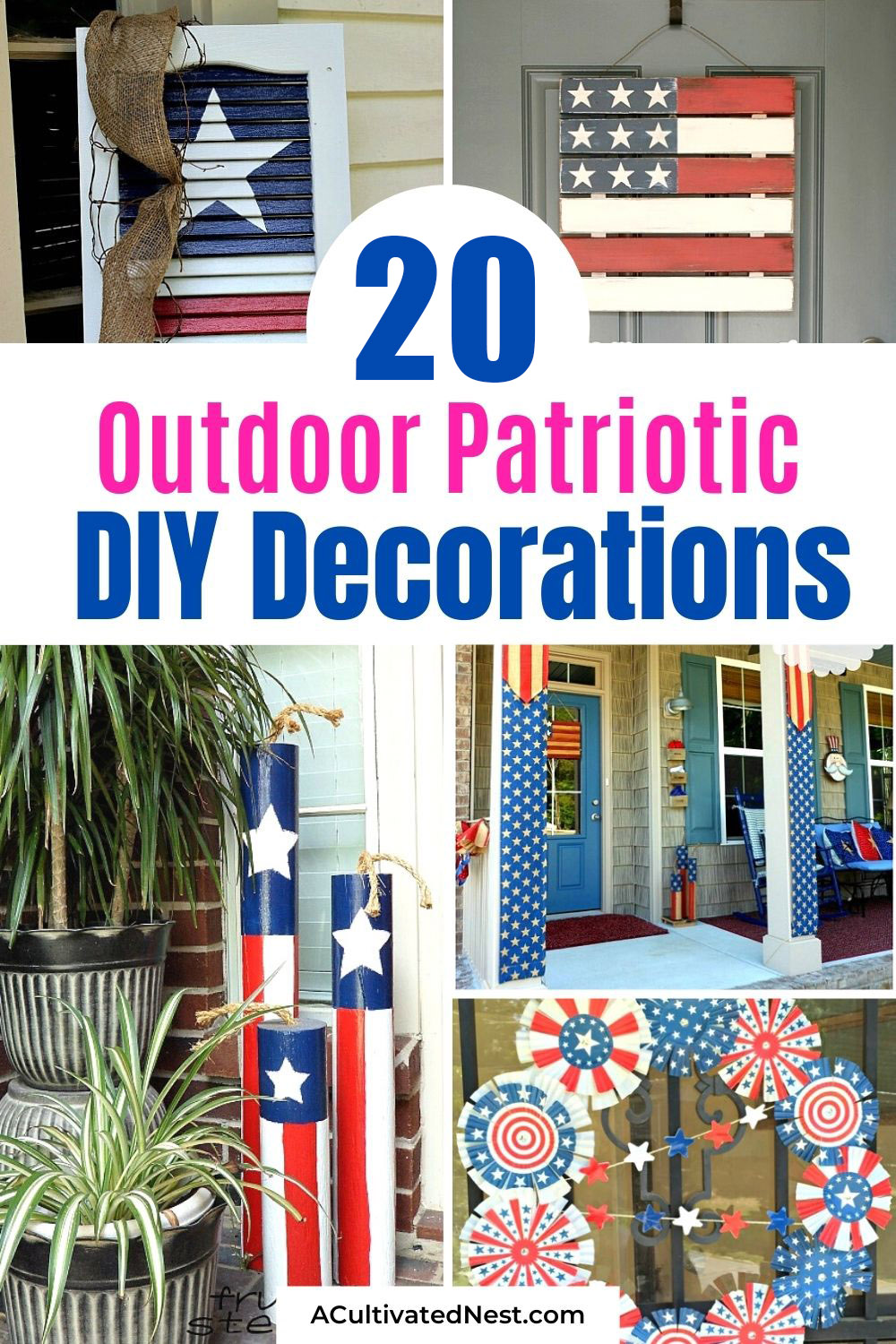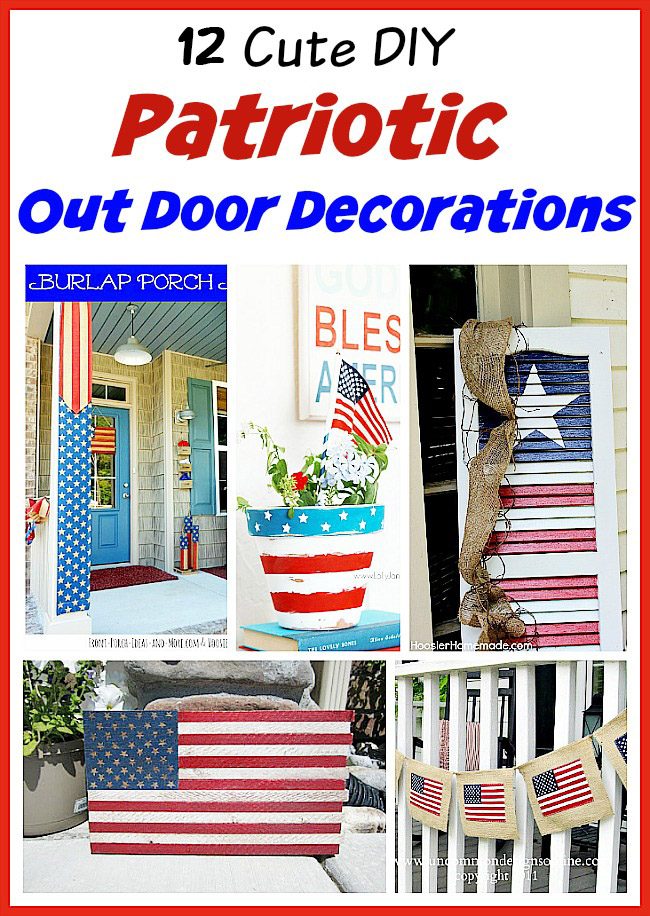 You may also like: Easy American Flag Rice Krispie Treats