12 DIY Ways to Upcycle a Dresser.
We've spent the last two weekends clearing out our garage. We have pile for Goodwill and a garage/Craigslist sale pile. One of the things I was debating on whether or not to sell is a vintage dresser that was the first piece of furniture I ever painted (before blogging). It's huge! It takes up a good bit of space and I'm not sure it's worth keeping the way it is now. So I thought I'd see how others have repurposed dressers to see if I can get some ideas. These 12 Clever Ways to Repurpose a Dresser are spot on!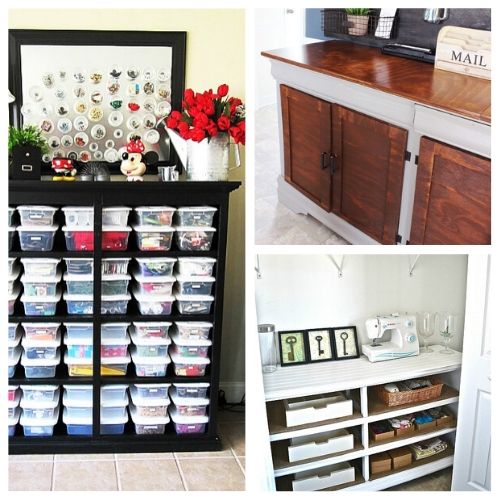 Disclosure: This post may contain affiliate links to Amazon and/or Etsy, which means that I may earn a small commission from some of the links in this post. Please see our Disclosure Page for more information.
I'll show you my dresser at the end of this post!
12 Clever Ways to Repurpose A Dresser
Repurposing furniture is so much fun and can be so rewarding. Taking a piece of furniture that is ugly, lifeless, and no longer wanted and transforming it into something gorgeous just feels good. Whether you have a dresser up in your attic or found an inexpensive one at a thrift store you can easily give it new life. Here are a few tips to consider:
Always keep your eyes open for used dressers. You'll be amazed at how many people are trying to sell old furniture that they don't want. The Facebook Marketplace and local ads are a great way to get started. You may even find items sitting on curbs when people no longer want them. Thrift stores, yard sales, consignment shops, and antique stores are great too.
Sand the surface to scuff it up so the paint can stick to it properly. Whenever you add paint to a finish that hasn't been painted before, it's important to scuff it up a little bit. You can take a scouring pad and lightly rub over the entire thing. This gives the primer and paints something to stick to and will make your paint job last a lot longer.
Go wild! You can be as creative as you want to be. Don't be afraid to think outside the box and come up with something entirely on your own. These ideas are lovely inspiration to get you started and brainstorming.
1. Craft Supply Shelf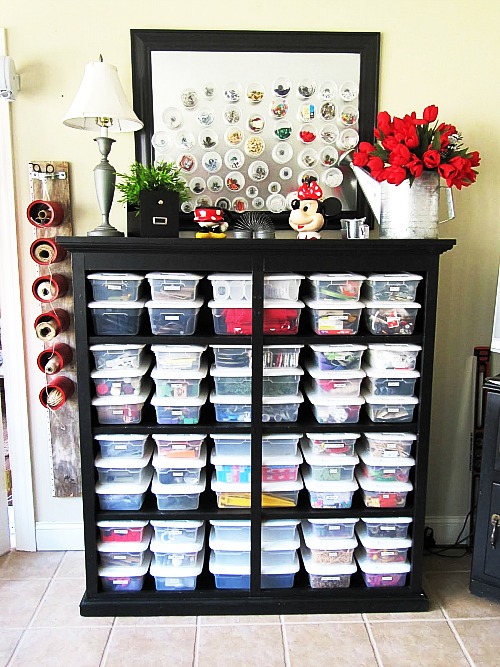 I love the idea of taking the drawers out and using plastic storage containers instead to organize all your crafting supplies. Sew Many Ways really knows how to update a craft room and make the most out of an old dresser.
2. Repurposed Dresser Closet Storage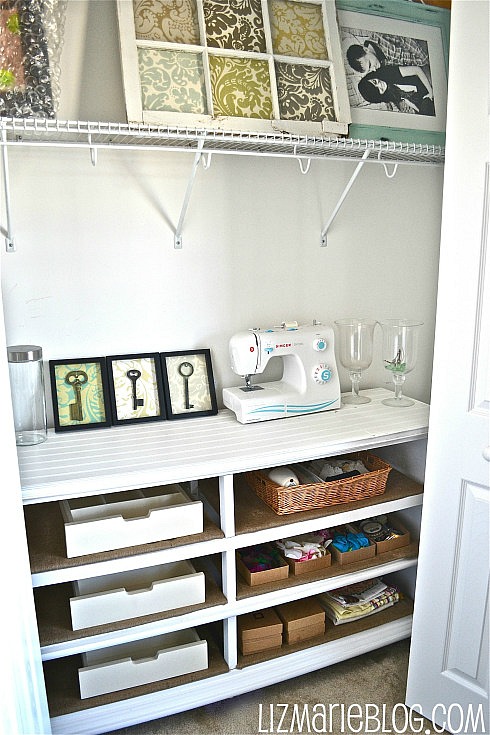 Make the most of your closet space by adding a dresser without the drawers. It's fantastic shelving and looks great too. Liz Marie Blog did a great job of organizing her items and adding life to the space.
3. TV Cabinet Dresser Upcycle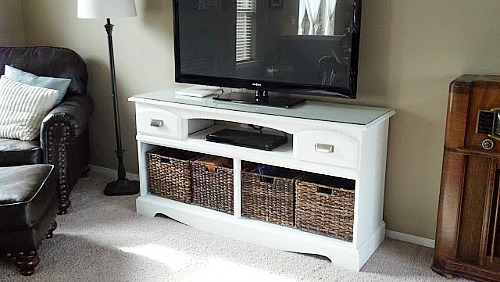 This is a dresser turned TV cabinet – you have to check out the before and after! At The Parks did a lovely job on this project and if you have checked out the price of new TV stands, you understand this idea is the way to go!
4. Hide-Away Printer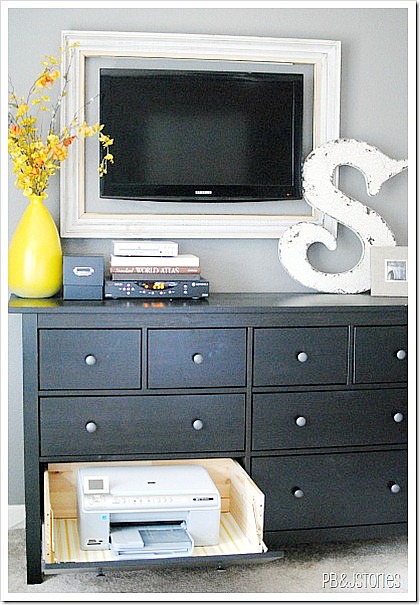 We all know how unsightly items like printers can be. Having a pull out drawer is a great way to get organized but remain stylish too.  PB & J Stories brought this idea to life and did a great job.
5. DIY Tool Chest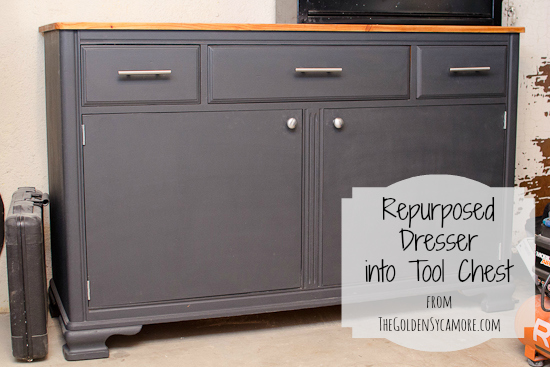 If you've checked the prices of tool chests lately, you know they are super expensive. Why not save money and use a dresser and transform it into an incredible tool chest just like The Golden Sycamore did. Another amazing before and after! They added doors where drawers used to be.
6. Repurposed Dresser To Bench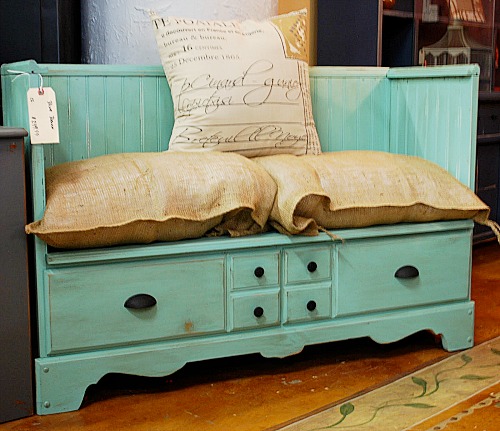 I am in awe of how lovely this dresser turned bench turned out. Chic Staging and Design made it look gorgeous and super comfy too.
7. Dresser Dollhouse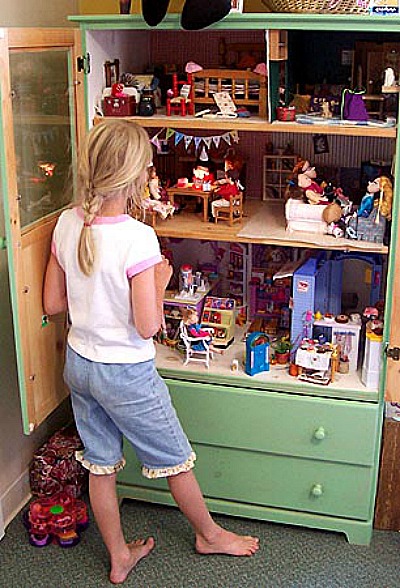 Every little girl dreams of having a dollhouse! Turkey Feathers turned an old dresser into a wonderful dollhouse. It even has drawers to hold extra toys too. This is such a cute idea.
8. Bookshelf from an Upcycled Dresser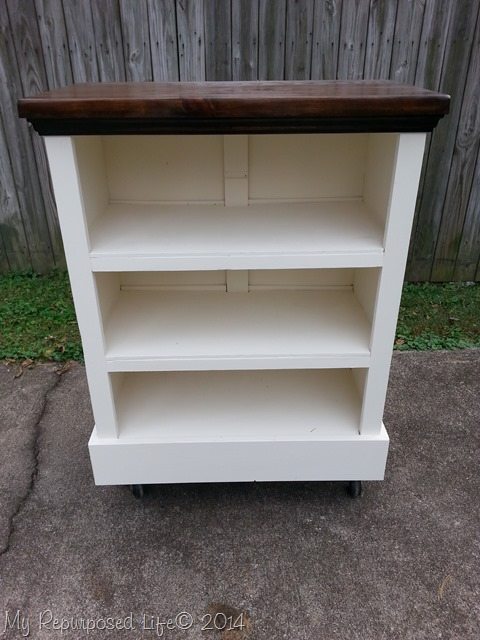 Transform a dresser into a lovely bookshelf. It's great for all your books and items that you want to display while looking fabulous too. My Repurposed Life thought of everything!
9. Buffet from Repurposed Dresser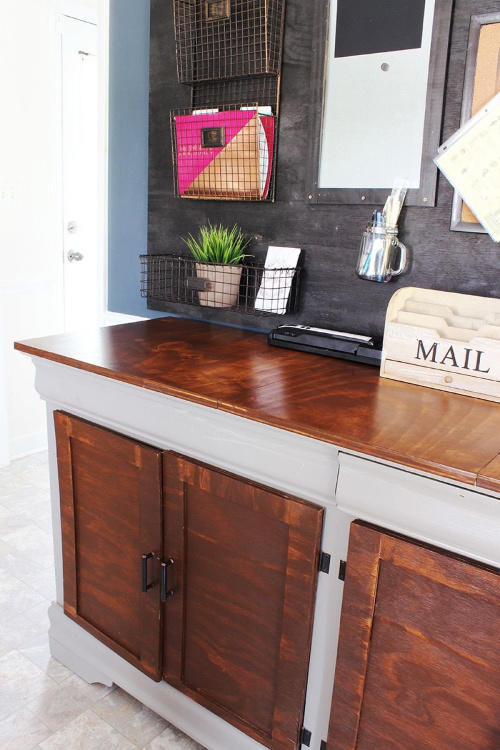 Kenya Rae repurposed an old dresser into a stunning buffet. It has given her lots of extra storage space and looks perfect in her dining room.
10. Dresser Desk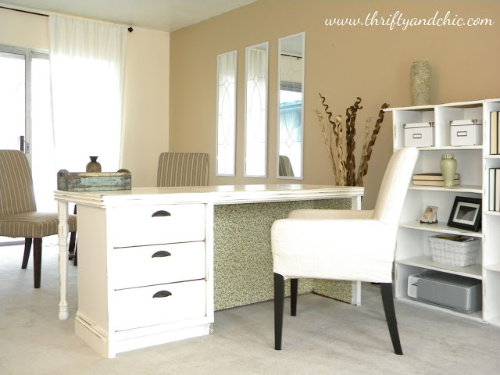 If you have been on the hunt for a new desk, then consider repurposing an old dresser into a desk just like Thrifty and Chic did! It turned out so wonderful and can be used by the entire family.
11. DIY Pet Bed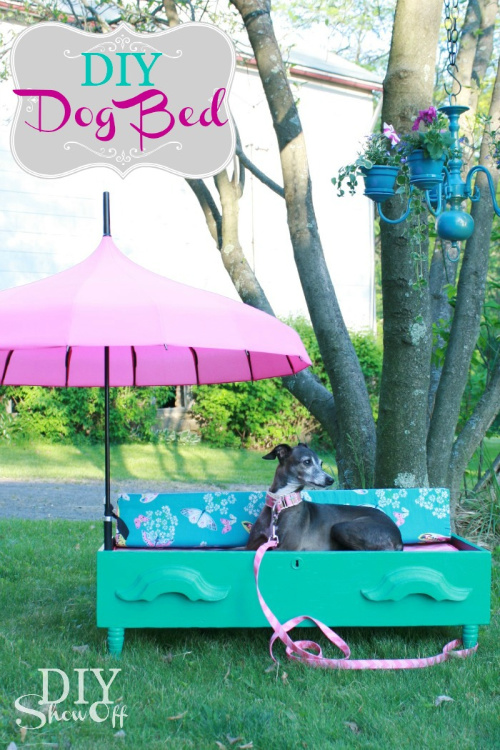 Roeshel at DIY Showoff got really creative and turned an old dresser into a pet bed. Imagine how comfy your doggie is going to be in a fancy bed!
12. Hall Table Dresser Upcycle DIY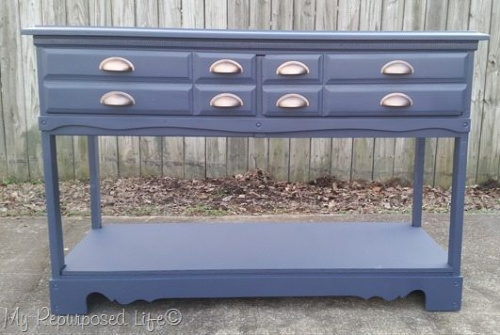 My Repurposed Life turned a dresser into a hall table. The color she chose is gorgeous and can easily be replicated. This is a great project even for beginners.
So as you can see, there are lots of clever ways to repurpose old dressers!
Here's what I have to work with.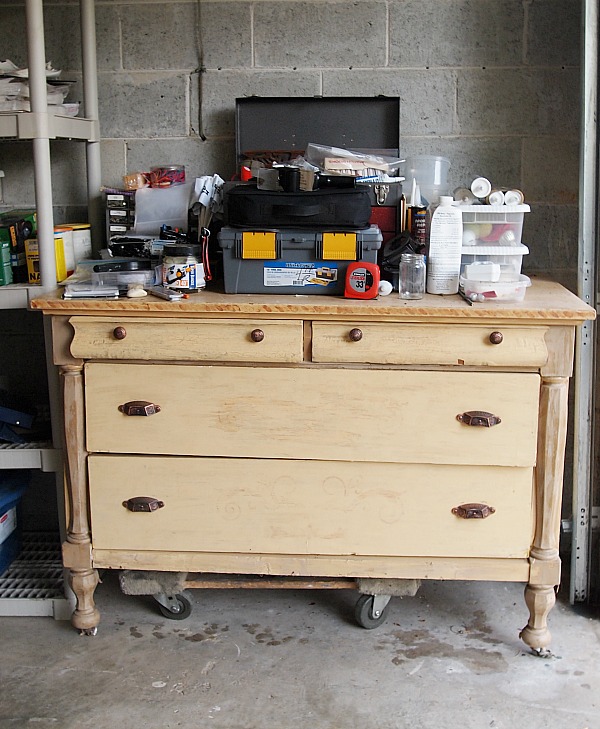 I'm pretty sure I'll remove the 2 large drawers since we want to use it for storage in the garage. They're heavy and hard to pull out anyway. Smaller bins in their place would work well I think! **Update – I wound up selling it to a neighbor!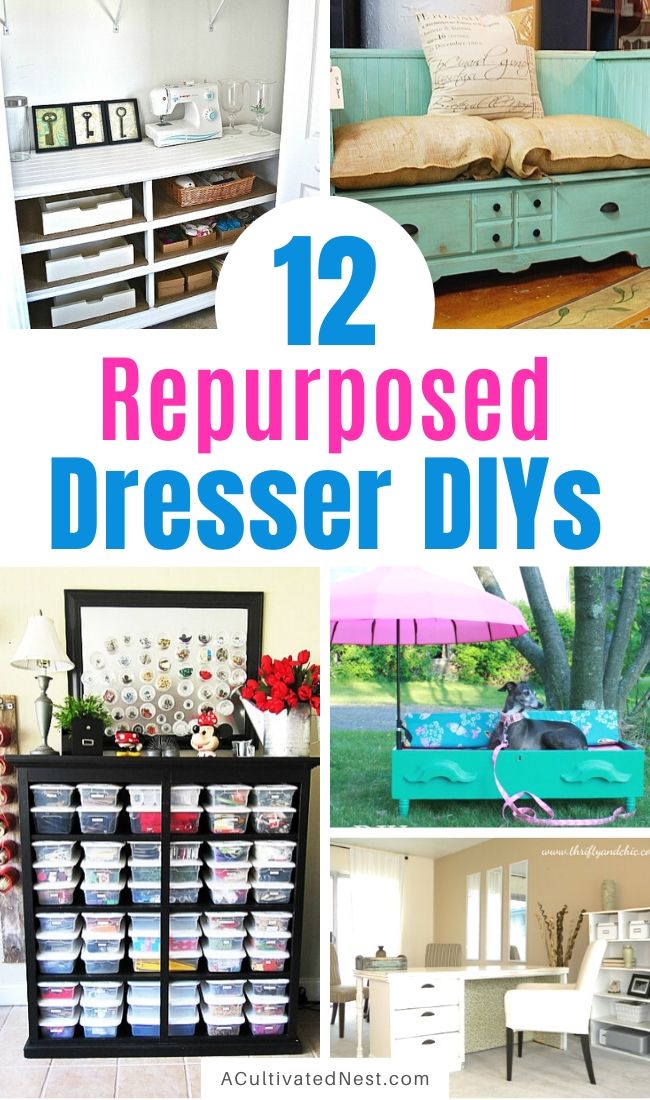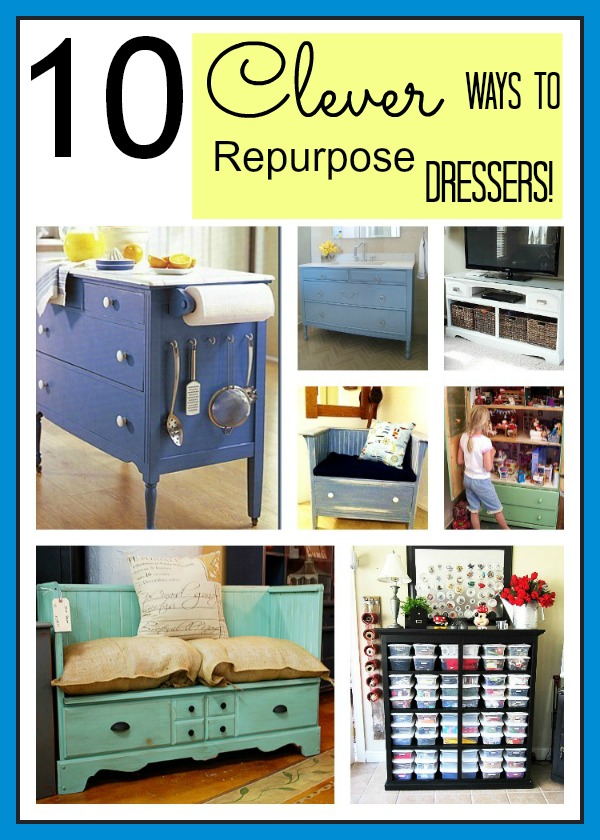 You may also so be interested in: 15 Ways To Repurpose a Suitcase