There are just some things that I'm drawn to. Certain colors and patterns that make my  heart race.  Red is my favorite color (could you tell

). I like to pair it with white and every room needs a bit of black. Here are some white, red, black cottage style kitchens that I love.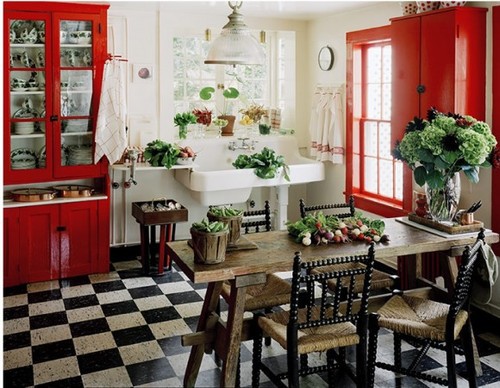 I've always loved checks in all sizes (especially since they go so beautifully with toile). Love checkerboard floors!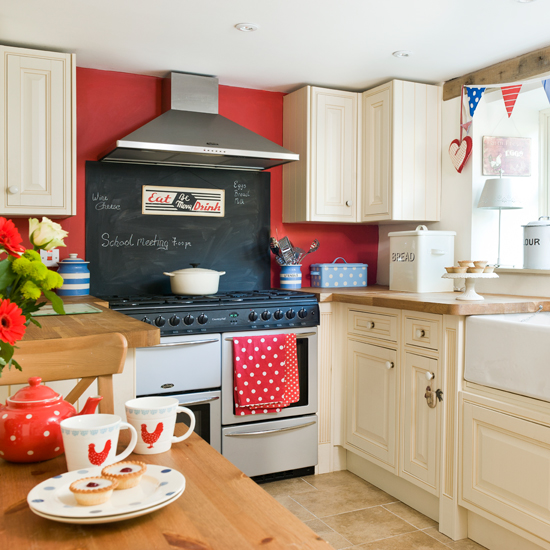 Then there's the relaxed style of country or cottage. They're both interchangeable to me.  Although I can admire a home decorated in modern or traditional style, I don't think I'd be happy living in one.
Why am I showing you photos of cottagey kitchens?
Because I keep thinking about painting my kitchen cabinets!!
Now that I'm basically through with planting and most outside projects. I'm thinking about tackling some indoor projects and I keep thinking about painting my kitchen cabinets – again.
They're beige right now.
That's my floor above.
I think I want white cabinets on top and red on the bottom like in the photo above.
Or maybe all white cabinets with some touches of red. Like this red bookcase.
I don't know. Red and white cabinets and a black and white checkerboard floor may be too much for some people when we sell this house. Maybe just the white cabinets with red accents would be a better choice long term.
Honestly, I didn't enjoy painting my cabinets – it's a tedious, time-consuming project – I've painted them twice already. But I've been disliking my cabinet color for some time now (also my wall color).
I don't know….what do you think?
I think I would love it and be very happy with it when it's done.
Let's paint Manuela's kitchen cabinets party anyone?

*****click on the photos to go to the source