I wanted to share with you an on going project that I started way back in March.  Basically I widened the liriope circle around a clump of trees and added some new plantings and a new focal feature.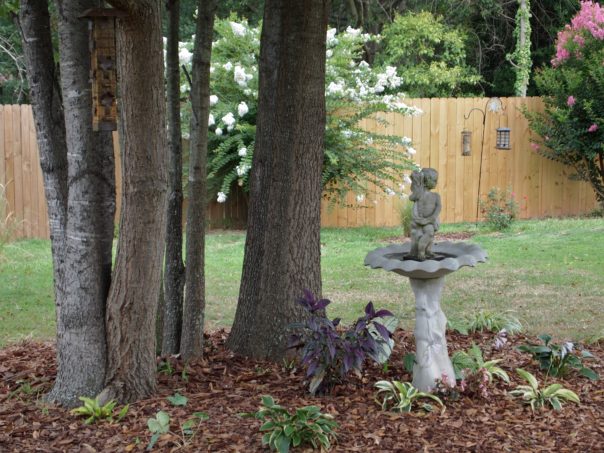 I had two reasons for doing so – the main one is that my husband and I sit out on our screened porch in the mornings with our coffee and watch the birds that go to the feeder that's there and I wanted to make it a nicer area to look at.  #2.  Well it really needed some renovating as it was pretty weedy and the original circle was  planted when the trees and tree canopy were much smaller than now and it just looked dinky.
It's an on going project because I have more hostas and daylillies to divide and plant in this area this fall. Plus I want to plant some spring blooming bulbs. If you want to save some money on landscaping projects it's always a good idea to see what you've got that can be moved or divided.
So here's a look at Phase 1.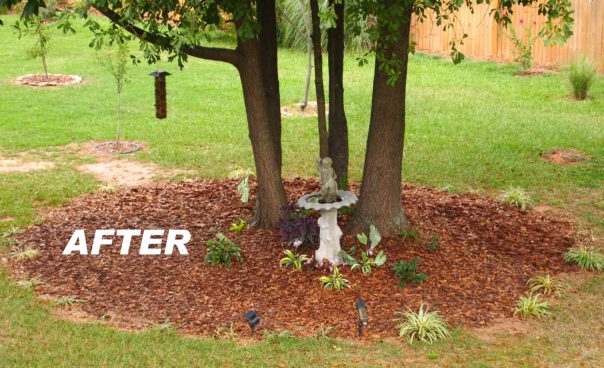 I'd love to be able to show you a fully planted gorgeous area, but as usual I have more time than money. So slow it goes. Besides,  even though I think it's wonderful if you are able to… say… totally re-do a room at once or totally buy all the plants you need for a new garden area… the reality is that most people have to do things a little at a time. I think blogs can give you the idea that all makeovers are or should be done instantly.  Before and totally done after. But that's another post for another time

I switched out the statue for a birdbath (we have 4 birdbaths I just moved one) because I though we'd enjoy seeing the birds splash around and we have. They are so cute and entertaining!  Plus they really appreciated having a place to cool off and get a drink during this weirdly hot summer we've had. Because I see this birdbath all the time it's much easier for me to keep it filled.
Some Tips For Planting Under Mature Trees
When planting under a mature tree you really need to be careful of the roots so I find it's best to go with small plants. They will grow! Also, sometimes where I want to put a plant is not where I can dig a hole  because of roots. So you need to be flexible.
I think that the one thing that people forget about when they plant under a tree is that you are planting in a dry shade area.  Unless the wind blows the rain – it stays pretty dry under this tree canopy. Also your plants are competing with tree roots for water and nutrients so keep them watered until they acclimate.
Light requirements for plants is something that should always be considered. This particular area is in shade part of the day, get's some sun part of the day and half of it gets pretty strong sun right now until my fruit trees get bigger. So light requirement is something to definitely think about.  Now some hostas are better suited to light sun than others.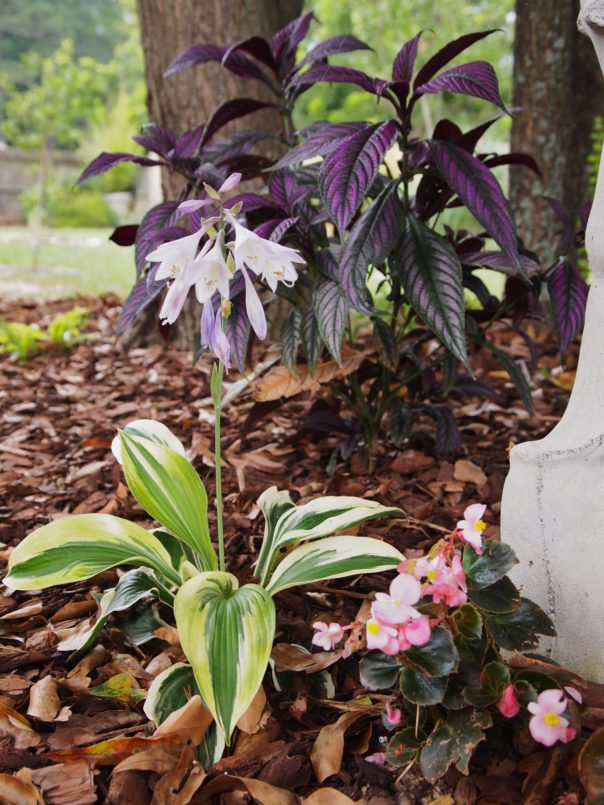 I bought one big varigated hosta (that I divided) that said partial light on the tag.  I noticed that  most of the others said shade. I've found that the  Blue hostas are more tolerant of deeper shade. I think hostas are like hydrangeas. People always want to plant them in deep shade but they do better with a bit of sun!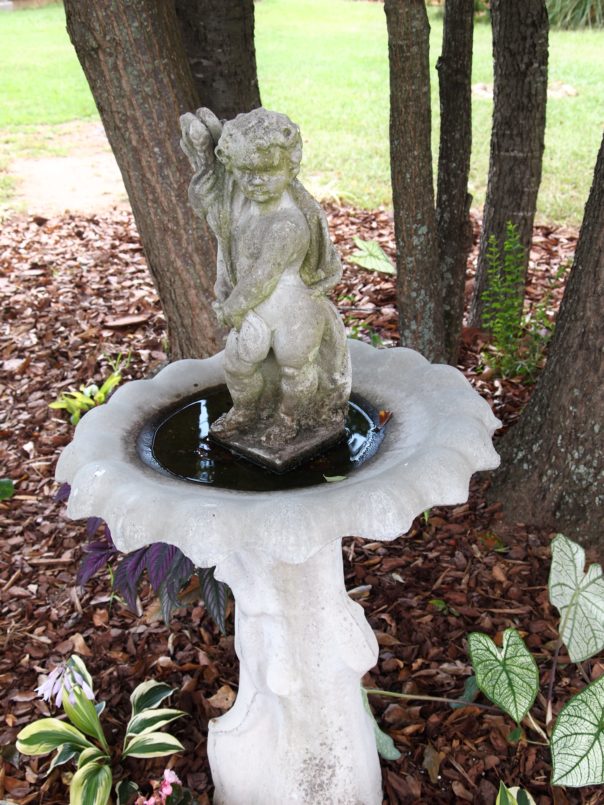 I did spread a very thin layer of soil before planting because we had a lot of exposed roots do to erosion from heavy rain run off.  It's not a good idea to spread a deep layer of soil over tree roots as you can smother them.
I did buy a few bags of pine bark mulch which I spread thinly knowing that in the fall I always shred the leaves and use them for mulch. Adding mulch helps to conserve moisture and adds a finishing touch.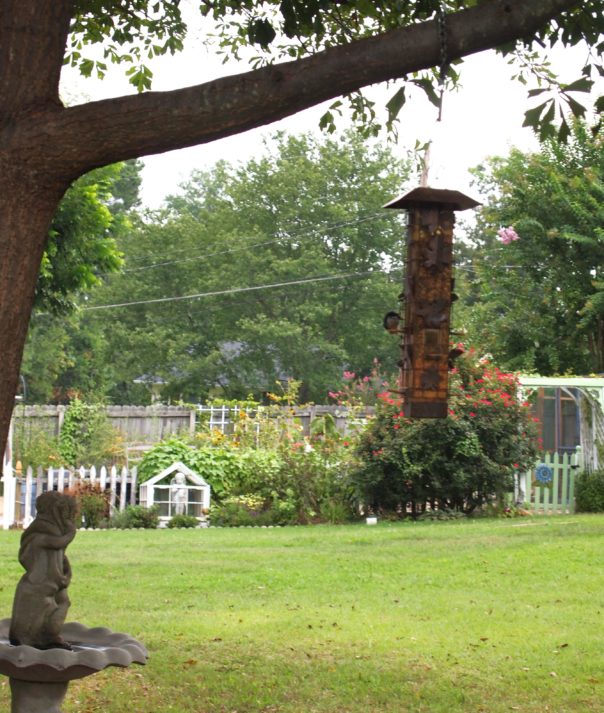 I'll post some more photos next spring when the spring bulbs and other plants   I'll plant will be in bloom so you can see how this area progresses.
Here are some good articles that give more information about planting under trees:
Planting Under Trees: There's a Right Way and a Wrong Way