Gardening season is just around the corner, so it is time to start thinking about gathering those garden supplies. If you need new garden supplies this year, or just want to refresh the stash you have, you might be seeing dollar signs. But don't worry; because the truth is there are plenty of places to find frugal gardening supplies, you just need to know where to look. Take a peek below at where to find frugal gardening supplies so you can grow your garden for less.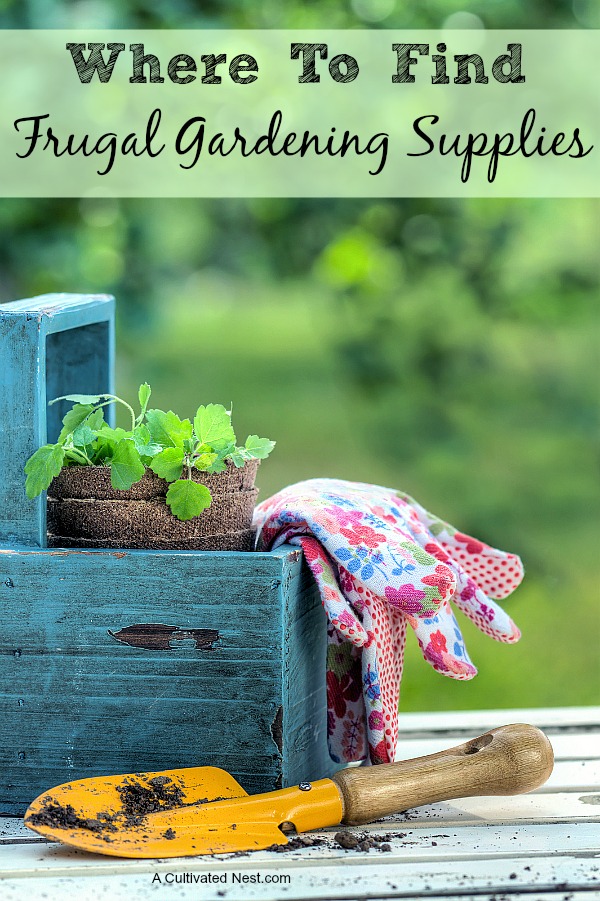 Frugal Gardening Supplies
Disclosure: This post may contain affiliate links to Amazon and/or Etsy, which means that I may earn a small commission from some of the links in this post. Please see our Disclosure Page for more information.
1. Lowes
Lowe's takes back the plastic pots that they sell plants in as part of their recycling program (not sure about Home Depot as I haven't see a cart there). Just wander around the garden center and I'm sure you'll see a cart full of plastic pots and trays of all sizes. My local one has it right by the front where the cashiers are. Ask and they'll let you help yourself to FREE CONTAINERS. Just be sure you wash them out well before using.
2. The Dollar Store.
You won't want to buy all of your gardening supplies at the dollar store, but they do offer a few great deals. For example, you can score seeds at 4 for $1. I normally buy seeds from these seed companies, but one year I had very limited funds and bought my veggie garden seeds at Dollar Tree and had great success with them. You can also find packs of seed starters for just $1 each, fertilizer spikes, planters, and  gardening gloves for $1. Skip the tools, as you will want something more durable!
3. The Thrift Store.
Can you really find gardening supplies at the thrift store? You bet! Visit the thrift store for an assortment of pots and planters that you can use for container gardening. Also keep your eyes out for watering cans, tins that can be used as starters, and even ceramic garden décor. I have found some amazing gardening things at Goodwill! Like this Smith & Hawken Bird Attracting Seed Kit for $2.92. Nothing was even missing!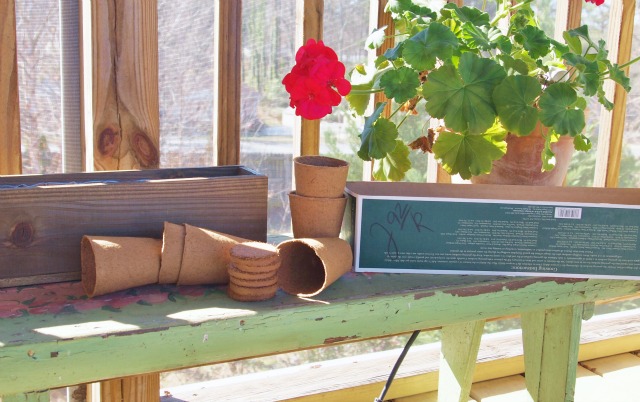 4. Amazon.
Amazon is a hot spot of bargain gardening supplies. Find seeds, fertilizers, hoses, tools, bulbs, starter kits, and more for under $10 each. Plus when you spend $35 or more, your order will ship to you for free. Now that growing season is here, Amazon will no doubt have some competitive prices.
5. Garage sales.
It seems as though gardening tools are at just about every garage sale you attend. Score planters, tools, even leftover fencing and edging people have to get rid of. People often sell what they have excess of so it is a great way to score like new for less.
6. Social Media Sale Sites.
Join local sale or gardening groups on Facebook and other social media sites. This is a great way to buy gently used items, find gardening freebies, or even do some swaps.
7. Craigslist free pages & Freecycle
Check out the free page on Craigslist to find people who might be getting rid of plants they are thinning out. Often times gardeners will do this since they don't want to throw away the plants. This is a great way to score garden plants for less. Freecycle is a great one to check out as well. I've offered free plants quite a few times to people who would be willing to come and dig/divide them. You list things for people to take or you can list wanted items. Here's the link Freecycle.org. Put your town and state in the search bar and it will bring up the closet Freecycle group to you.
Growing your garden this season doesn't have to be pricey. Give these tips for finding gardening supplies for less a try and get ready to get growing!
You might also be interested in these gardening posts:
Apple Tree You Can Grow In Pots
10 Amazing Tipsy Pot Planter Ideas