Winter is here and of course that means snow and ice are here too! If you hate coming out to your car and seeing an inch of ice on your windshields, you might be wondering how you can melt the ice fast and get on with your day. The good news is there are several simple and frugal DIY ways to melt ice fast so your windshield is clear and you are free to go. Take a look at these 5 Ways to Melt Windshield Ice Fast so you can tackle that ice without worry!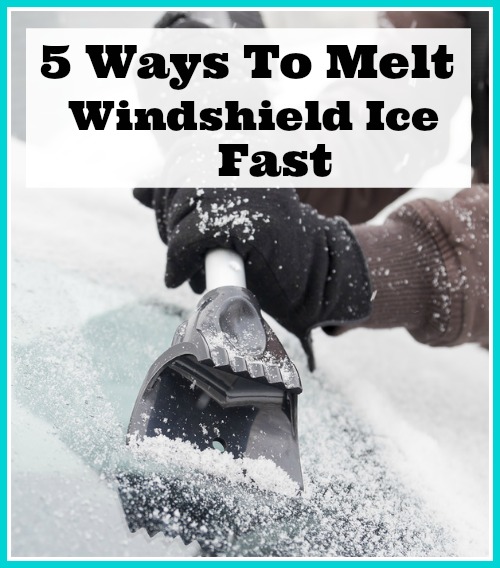 Disclosure: This post may contain affiliate links to Amazon and/or Etsy, which means that I may earn a small commission from some of the links in this post. Please see our Disclosure Page for more information.
If you can get into your car and you have time, it's best to start your car and turn on your defrost settings to help the DIY de-icers work faster. (Lucky you if your car has a remote starter!) A thin sheet of ice should melt off the windshield or be easy to scrape off after about 5 minutes or so. Use a credit/debit/store loyalty card or plastic spatula if you don't have a ice scraper. Below are some other DIY ideas for defrosting your windshield quickly.
5 Ways to Melt Windshield Ice FAST
1. Spray on some DIY Windshield De-Icer
Most store bought de-icers  are one time use so they can be pricey if it's something you need often. Here's how to make your own de-icer for pennies! In a spray bottle mix 1/3 room temperature water to 2/3 isopropyl alcohol to create a spray on mixture that will melt ice fast. Spray liberally on the window, allow to set, and then you can start scraping or start your wipers if it's a thin sheet of ice. I've heard that hand sanitizer works in a pinch since it's mostly alcohol but haven't tried it.
2. Try salt water.
This is a tried and true trick that works great. Make a salt water mixture to pour onto the window or spray on liberally. Give it a few seconds to set and start scraping. Always use room temperature water as hot water can cause the windshield to crack. Salt water can have a corrosive effect on your car over time so try to keep it contained to the windshield.
3. Give this vinegar mixture a try the night before.
You can give this mixture a try the night before if you know you're expecting icy conditions.  Make a mixture of 1 parts water and 3 part vinegar and add it to a spray bottle. Like the recipes above, always use room temperature water. Spray on your windows the night before and this should help inhibit the formation of ice.
4. Press a dense, warm object to it.
If you have no access to any of the ingredients above, another one of the ways to melt windshield ice fast is to take a warm dense object and press it to the glass. You want warm, not hot as hot can cause cracking. A book or shoe that has been warmed over the heat is perfect. Just press, hold, remove, and scrape. It is best to focus on the thickest parts of the ice first.
5. Try prevention.
If you are worried about having access to any of the items above, prevention will be your best friend. You can run a piece of fabric or sheet across your windshield to help the ice from sticking. There are also commercial covers you can use like this Premium Windshield Cover from Amazon that you can keep right in your car when not in use. Prevention may be ideal if ice is an issue but you don't always have access to the products above.
If you are tired of dealing with icy windshields, give these tips for de-icing your windshields fast a try! You'll find they are perfect for getting the job done!
Do your windshields ice over a lot in the winter?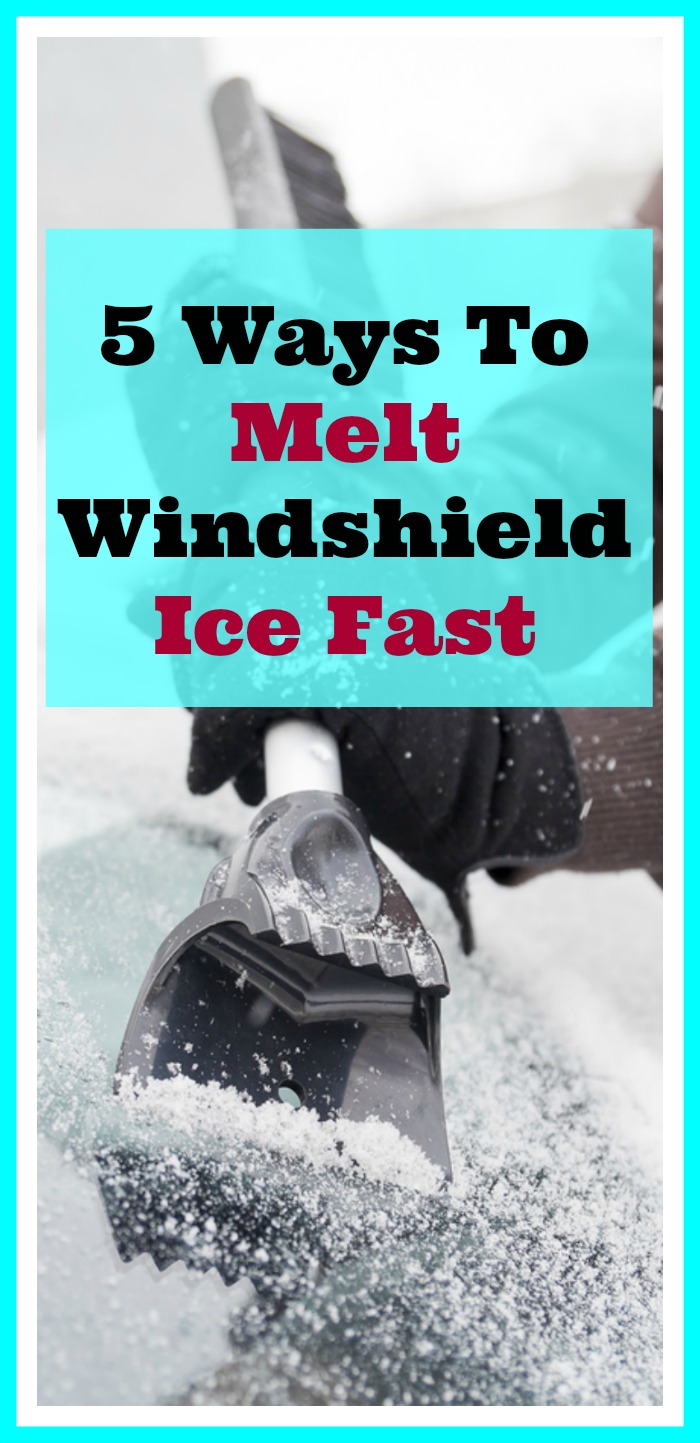 You might also be interested in: DIY Homemade All-Purpose Cleaner