Frugal Living Tips You Need To Know.
Use it up, wear it out, make it do, or do without was a very popular saying back in the day! I've always admired people that could think of ways to make items stretch longer and were creative and resourceful to make things they needed. Back then, people knew how to stretch a penny and those depression era frugal tips are still relevant today!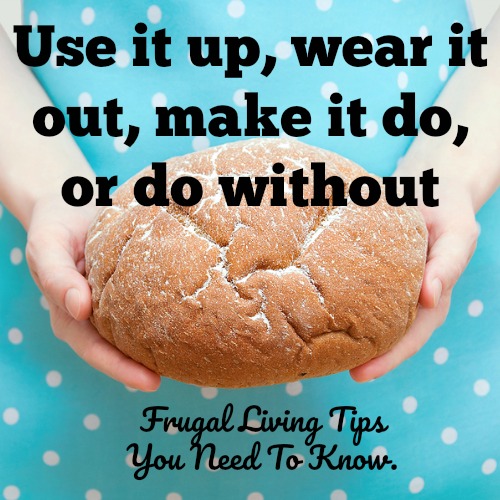 Disclosure: This post may contain affiliate links to Amazon and/or Etsy, which means that I may earn a small commission from some of the links in this post. Please see our Disclosure Page for more information.
Repurposing a  sweater into a pillow the other day is what really made me think of that expression. I'm afraid that so many of us have not learned the frugal trick of making the most of everything we have. I remember reading that in the Depression they made dresses out of flour sacks, saved string to make string balls, kept all leftovers and made them into soup and were the early adopters of such trendy things as repurposing & upcyclying!
If you are trying to get out of debt you really need to adopt this attitude because any money that you don't spend is money you can use to reduce your debt or save for the future!
If you're looking to "Use it up, wear it out, make it do or do without" then here are some ideas and tips to get you started:
Use It Up, Wear It Out, Make It Do, Or Do Without Frugal Tips
Be sure you completely use every last drop in a bottle or jar (use a spatula).
Unravel old wool sweaters to re-use the yarn or felt them into something else
Before you buy something new be sure to check to see if you or a friend already has the item.
Use old sheets for quilt backing, drop cloths, tablecloths or anytime you need extra fabric
Wear an apron or old shirt over your clothes when cleaning, baking, painting etc to protect your good clothes and make them last.
Make quilts from old pieces of clothing
Wash out jars and use them to organize items like your pantry, nails, buttons, silverware, or craft items
Don't let leftovers go to waste. Either freeze right a way or have a plan.
Don't pay someone to do something you can do yourself.
If a shirt has holes and is no longer wearable, take the buttons off and cut the shirt to make rags or quilt pieces
Mend clothing-If something has a small tear or rip check YouTube, Google, Pinterest for how to repair it instead of throwing it  away (at the very least cut up that piece of clothing for rags).
Use the last bit of ketchup in meatloaf or soup
Clean with vinegar, baking soda and water
Add a bit of water to the last of the hand soap to make it last longer or try making your own
Save wrappers from butter and margarine to grease pans
You can use old bread to make french toast,  croutons or bread pudding instead of just trashing it. Bread also freezes so if you think you might not use it all before it dries out you can wrap it and toss in the freezer.
Let down the hems of dresses and pants as the kids grow.
Put on a sweater if you're cold or more socks (gloves even) instead of turning up the heat.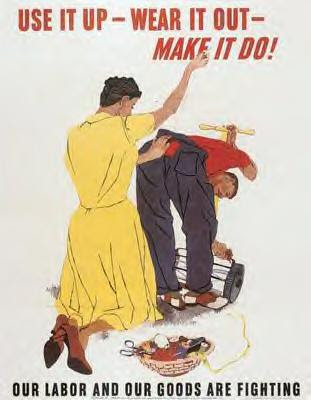 My husband usually gets his work shoes resoled at least one time often more instead of buying new. But when he does buy new he buys a good quality.
Make your chicken stock from your leftover chicken bones instead of throwing them in the trash. Save them in the freezer if you don't have enough.
Do without cable TV – rent movies from the library or Redbox or get a Rouku or other streaming device.
Do without meat a few times a week to save money and it's good for your health.
Glass bottles can become edging for a garden.
An old garden hose can become a soaker hose
You can use old shower curtains as drop cloths and tablecloths
Find free or useful ways to entertain yourself
Use old greeting cards gift tags or frame them as art
Save for big purchases and don't use credit
We don't have to take it to the extreme and become packrats never throwing anything out for fear we made need it one day or hoarding sugar packets that were taken from restaurants. But I do think we need to ask ourselves if we can use it up, can we make it do for the short term or indefinitely, can we do without it. We as a nation waste so much! You'll find that there's a certain gratification that comes with being resourceful and creative!