Today, Tatanisha Worthey from A Mitten Full of Savings is sharing her fabulous idea for how to make a beautiful thrifty tablescape for under $20!
It can be easy to spend a ton of money decorating your home. However, if you're a fan of looking for deals, clearance shopping, bartering, and thrift shopping, you can come up with some amazing ideas for much less cost. Recently, I was looking for a few white plates to put together an all-white tablescape. But, I didn't want to pay a lot of money for just a few plates. I decided to stop by my local thrift store to see what I could find. I was able to find six white plates, as well as some flowers to add to the look I had designed in my head. Here's how I put together this pretty All-White Thrifty Tablescape for under $20 bucks!
Disclosure: This post may contain affiliate links to Amazon and/or Etsy, which means that I may earn a small commission from some of the links in this post. Please see our Disclosure Page for more information.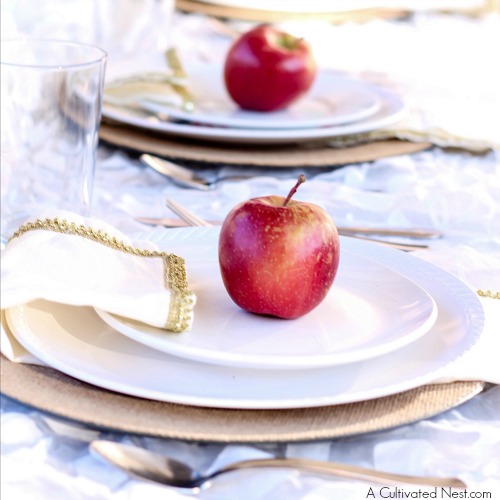 Did you know shopping at thrift stores not only saves you money, but helps our planet? By reusing items, it definitely cuts down on the waste. And I am a big fan of recyling and reusing!
All-White Thrifty Tablescape for Under $20
Supplies
(all can be found at your local thrift store, garage sales or craft store)
Lace shimmery white curtain (I used this as a tablecloth; you can easily find one at the thrift store). You could also use a regular white tablecloth.
6 plastic white plates (had at home, however they were purchased at Kohl's for $2 bucks each)
6 china white plates (picked up at the thrift store for .79 cents each)
6 linen chargers (craft store or dollar store for $1.00)
10 fake white hydrangeas (can find at the thrift store or craft store)
6 clear glasses
Silverware
6 cream napkins with gold trim (I picked up at Pier 1 Imports for under $5 bucks)
Apples (just for a pop of color)
Additional white flowers towards the end of the table for added effect (can be found at your thrift store.)
I only had to purchase the white china plates, since I had everything else on hand. However, if you shopped in your collection of decorations, traded with a friend or two, and picked up a few more items, you will still only spend about $20 bucks.
Directions
1. First, lay out your lace curtain or white tablecloth.
2. Lay out your linen chargers, then add the cream cloth napkins. Follow with the plastic white plates. Set the white china plates on top.
3. Place a set of silverware and a glassware by each plate.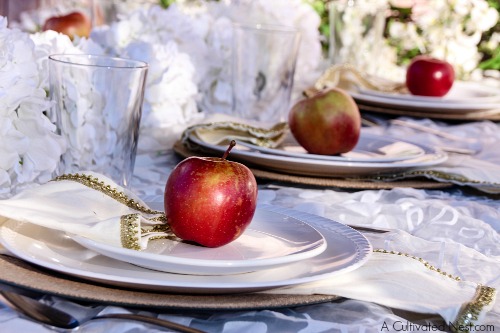 4. Place a red apple on top of each place setting. Not only does this add a pop of color, but it's something for your guests to munch on while they wait for the dinner party to start!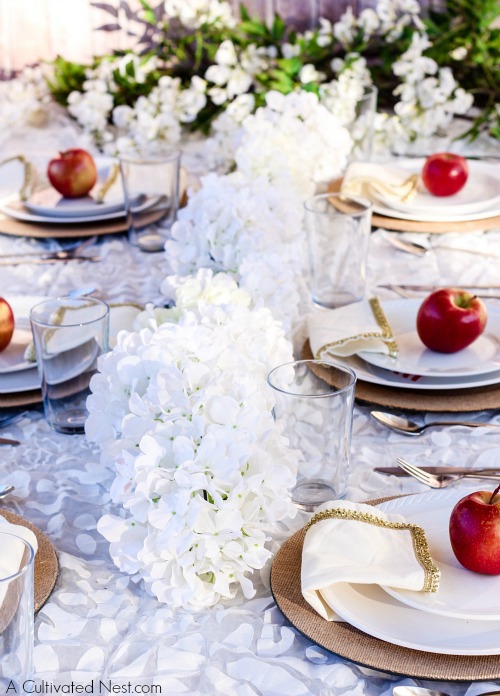 5. For the center of the table, I used fake white hydrangeas. I carefully set one hydrangea towards the top of the center of the table. Then, carefully I laid another one right under it, and continued this process until I got towards the other end of the table.
6. To finish off the all-white thrifty tablescape, I added more white flowers to help give it a light and airy look.
And that's it! A beautiful, simple, white tablescape using items found at the thrift store! And what a great idea for an All-White Party. These type of parties are pretty popular in the summer, for Christmas, or just because!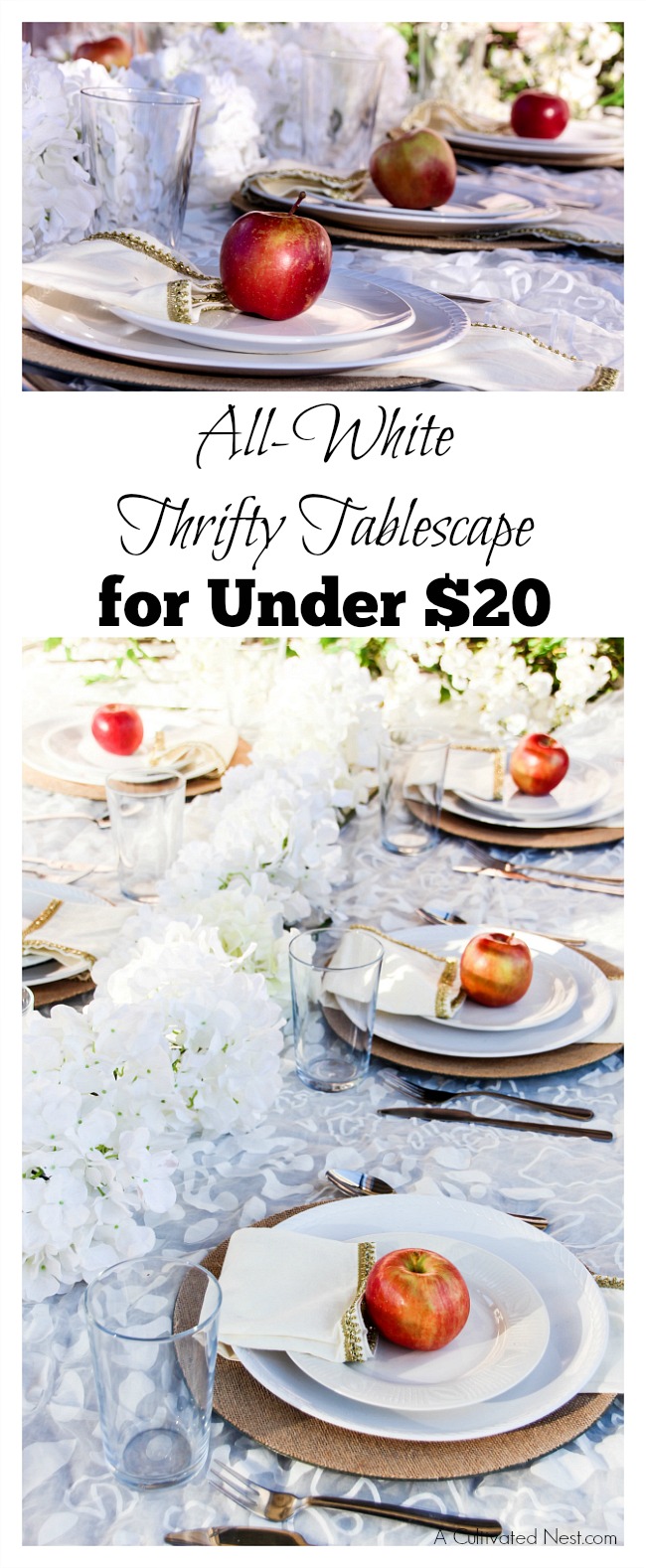 Tatanisha plays a Super-Fun Mom to three active & handsome boys. A Foodie at heart and Wife to an awesome Chef. When she's not blogging about ways to save money or Autism, she loves to travel and try new food. You can find her creating new tablescapes over at A Worthey Read, as well as saving you money on A Mitten Full Of Savings.
You may also be interested in: