Gardening 101 Pt. 1 – Planning Your Garden
Planning is important for success when starting a vegetable garden!  But before we get into the basics of planning your vegetable garden, I'm sure some of you are asking why should I even bother to  grow my own vegetables?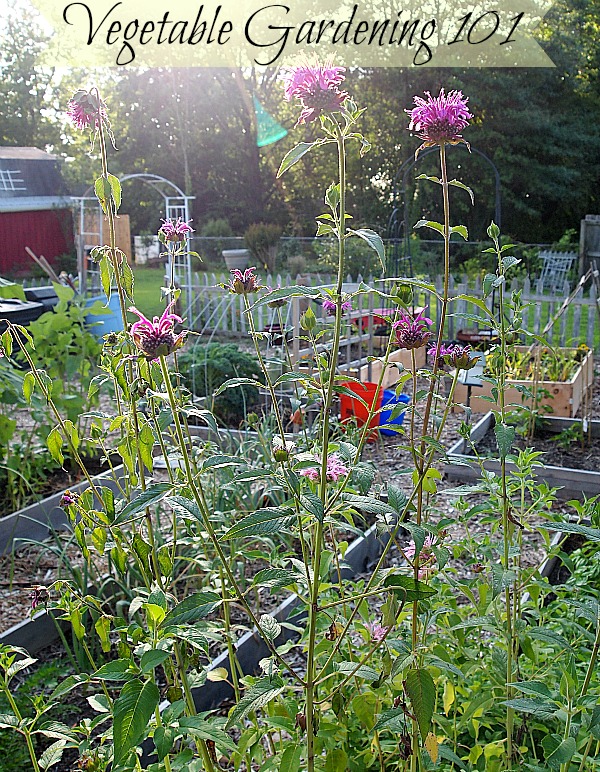 There are many many MANY reasons to have a vegetable garden but here are my top 3.
My Top 3 Reasons For Growing Your Own Vegetables:
 Safety – You know exactly what you're getting. You know what soil was used and what was or wasn't sprayed on it.
Freshness – You'll be able to pick your veggies at their peak flavor vs commercial growers that have to pick and ship. The flavor of homegrown can't be matched by a grocery store!
Self-sufficiency – gardening gives you the skills you need to feed yourself.  There's something comforting in knowing that you aren't solely dependent  on a grocery store and once you get going you can save money growing your own.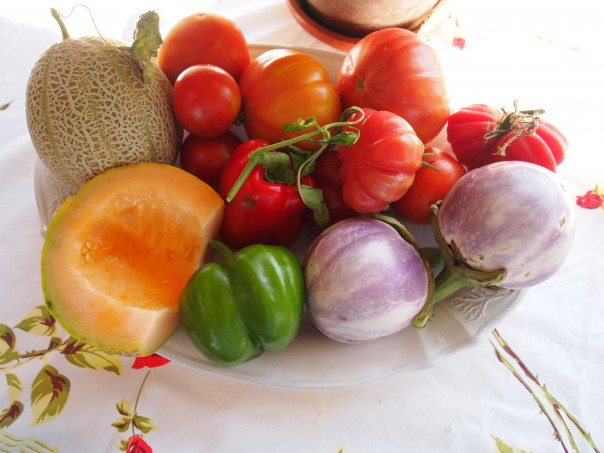 Disclosure: This post may contain affiliate links to Amazon and/or Etsy, which means that I may earn a small commission from some of the links in this post. Please see our Disclosure Page for more information.
Where to begin? Well first you need a plan –
The Basics of Planning A Vegetable Garden
Step 1  in planning – Where are you going to put your garden?
Site location is SUPER important.
All vegetables need some sun to grow.  A vegetable garden needs a minimum of 6  hours of full sun to do well.  8-10 hours is ideal. Especially for sun lovers like tomatoes.
*Choosing a sunny  site is a major factor in success.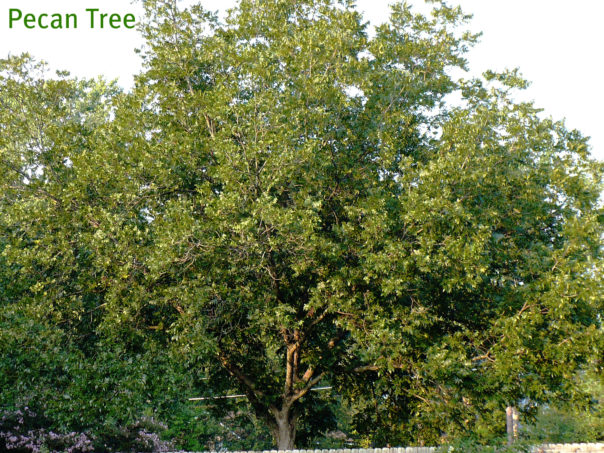 You may have to think about removing trees or at least removing lower limbs to let in more light. It's not an easy decision.  I had to remove a beautiful large crabapple tree when I originally put in my garden. Recently, I had to decide what to do with a pecan tree on the outside of my vegetable garden . It wasn't  a problem tree until I increased the size of my garden last year plus it had gotten huge (as you can see in the photo above). I was going to cut it down but it's such a beautiful mature tree that  I opted to remove the branches that were causing a problem and give the whole tree a haircut. I'm going to see what happens this summer when it leafs out. I may still wind up having to remove it.
However, here  is a list of  vegetables that are shade tolerant if that's what you've got to work with. It's mostly greens and some root vegetables. Don't be discouraged if you don't have the ideal sun requirement.  Since there are different levels of shade, sometimes trial and error is the only way to know if something is going to work. Or you may decide to grow in containers so you can move your plants around in what sun you do have.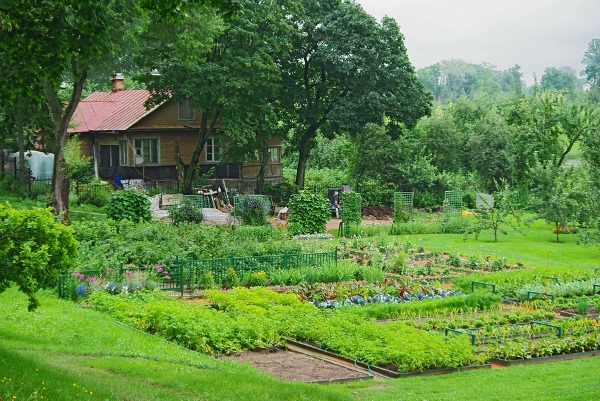 *Put your garden where it's convenient for you to take care of it.
If you can, place it where it's close to the house so you don't forget about it. Vegetable gardens don't usually thrive on neglect! You need to be able to see if you need to weed, or harvest, maybe the tomatoes need staking, or you need to check for pests etc. The no-care vegetable garden doesn't exist!
Watering is critical even if you mulch around plants. So be sure that you site your garden where you have easy access to water.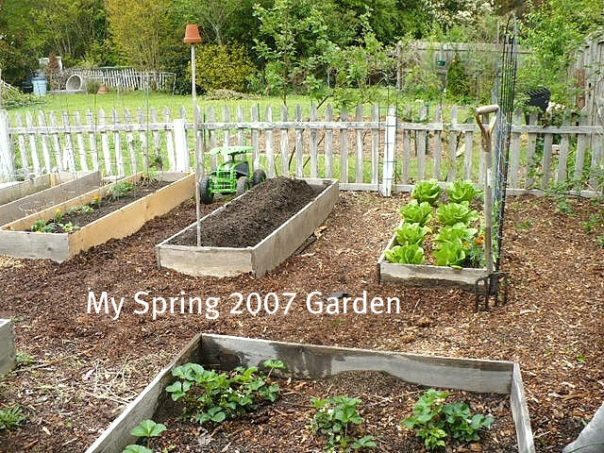 *Decide how much time you want to devote to your garden. Which in part will determine the size.  It's usually a good idea to start small when you're new to gardening and build from there. I started with containers – moved on to one raised bed – then I  had 4 – then 6 and this summer I plan on having  9 or 10 raised beds! See how I layed out my vegetable garden –  My 2012 Garden Plan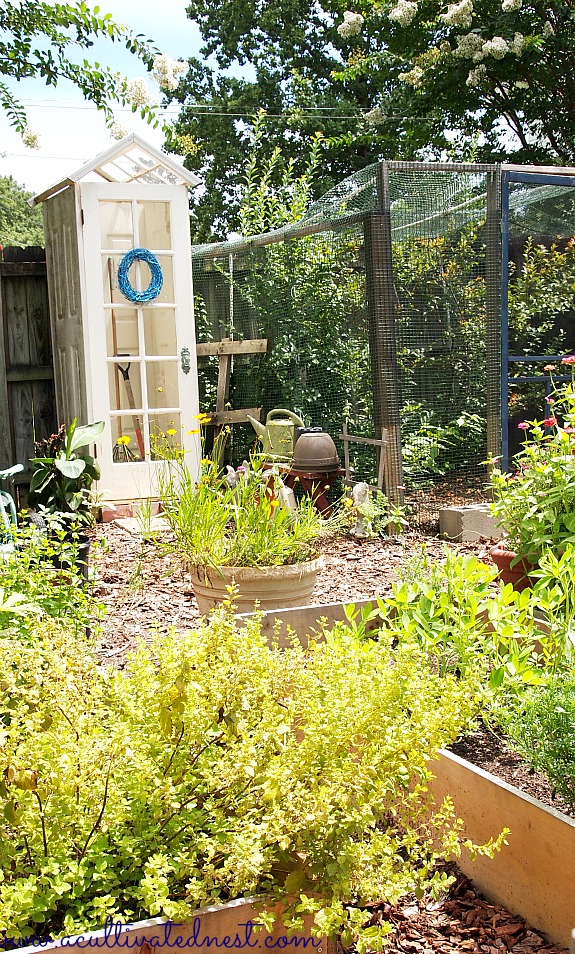 Now that you know where to place your garden you need to decide if you are going to use raised beds (photo above) or an in ground method. I use the raised bed method. The main benefits of using raised beds is less weeding, better drainage, and no soil compaction.
Next time I'll show you how to make a raised bed and tell what I soil combinations I use to fill mine.
The entire series is linked below for your convenience. I hope you find these post helpful in starting your vegetable garden!
Gardening 101 How to Make a Raised Bed
How to make a raised bed with concrete blocks
Gardening 101 The Dirt on…Dirt, Seeds or Starts & Fertilizer
Gardening 101 Backyard Chickens & Compost
Gardenning 101 Using Technology – How to Plan Your Vegetable Garden Using Online Garden Planners
Gardening 101 Adding Flowers to Your Vegetable Garden – Attracting Pollinators
Blooms on a Budget – How to have a beautiful garden without spending lots of money
Happy Gardening!