I've really become a fan of chickpeas (AKA garbanzo beans) lately! Of course, I like beans in general, so that shouldn't be much of a surprise. But chickpeas just have a great texture, and can be used to make some quick, filling dishes! I needed something simple to bring as a side to a BBQ last weekend. I considered a couple different options, but when I came across a can of chickpeas in my pantry, I knew exactly what I wanted to do! Here's how I made this Tangy Chickpea Salad!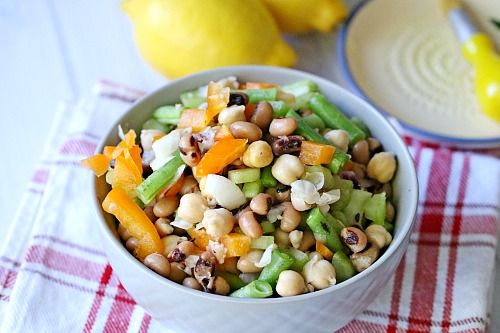 Disclosure: This post may contain affiliate links to Amazon and/or Etsy, which means that I may earn a small commission from some of the links in this post. Please see our Disclosure Page for more information.
I made this chickpea salad the day before I needed to take it to the BBQ. It tasted good when I taste tested it right after making it, but by the next day it was even better! So you totally could serve it right away if you're in a rush, but if you have the time, let it sit. Like fine wines, salads like this get better with time!
If you're not making this tangy chickpea salad for a group, you may want to halve the recipe. Or you can just keep the excess in the fridge for a few days as your family eats their way through it. Nothing wrong with having a homemade prepared side ready in the fridge!
Tangy Chickpea Salad
Makes 8 cups.
Ingredients
Salad
1 can chickpeas (28 oz)
1 can black eyed peas (19oz)
1 orange bell pepper, diced
2 stalks celery, chopped
1 cup green beans, cut into 1 inch long pieces
1 small red onion, diced (roughly 1/2 cup)
Dressing
1 clove garlic, minced
1/4 cup apple cider vinegar
3 tablespoons olive oil
1/2 lemon, juiced (about 1 Tablespoon juice)
2 tablespoons honey
Directions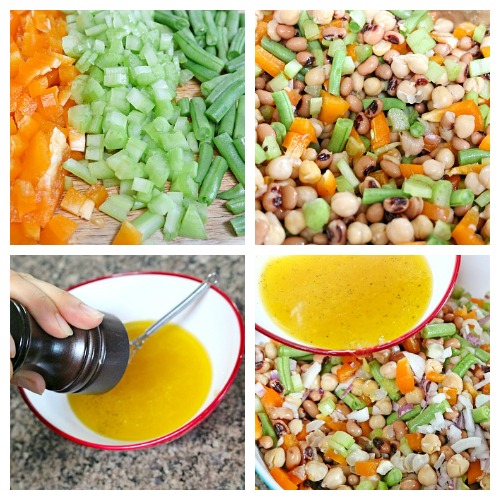 1. In a large bowl, mix together the chickpeas and black eyed peas.
2. Prep your veggies. Add them to the chickpea bowl. Mix well.
3. In a small bowl combine the dressing ingredients. Whisk.
4. Pour the dressing over the chickpea salad and mix to combine.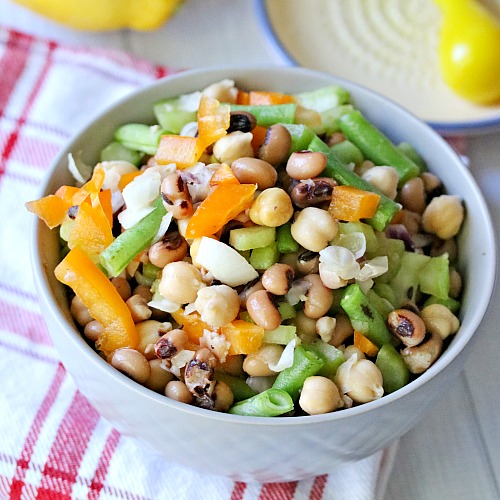 5. Refrigerate for 12-24 hours to allow the flavors to combine. Then serve and enjoy!
How often do you make bean salads for sides?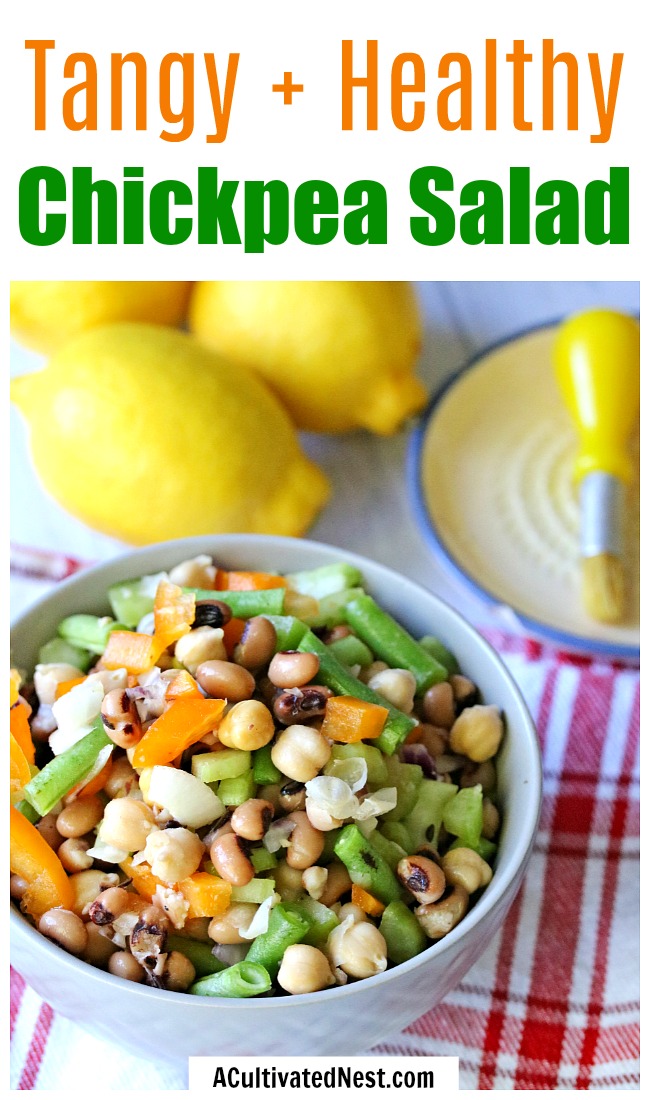 You might also be interested in: Italian Pasta Salad