I wanted to show you our upstairs hall bathroom since it's pretty much done as far as decorating goes. There's lots of  organizing stuff left to do in there, but I don't think I'm going to do too much else in there decor wise. 99% of everything in this bathroom was re-used from our hall bathroom at our old house (we sold our house, downsized and are renting for those of you that are new).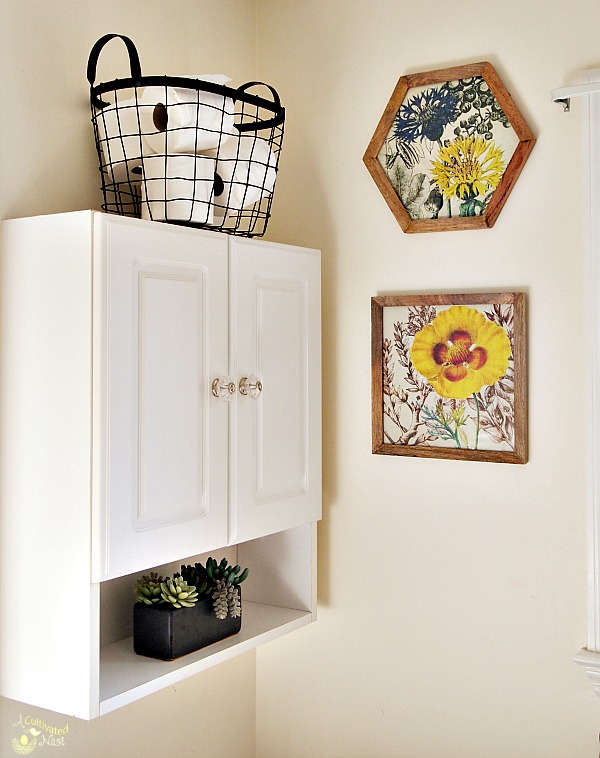 Disclosure: This post may contain affiliate links to Amazon and/or Etsy, which means that I may earn a small commission from some of the links in this post. Please see our Disclosure Page for more information.
The light in this room room is just gorgeous! It's at the back of the house which gets all of the sun.  It's so sunny that I thought yellow would be a good color for this room. Here's our sunny yellow hall bathroom!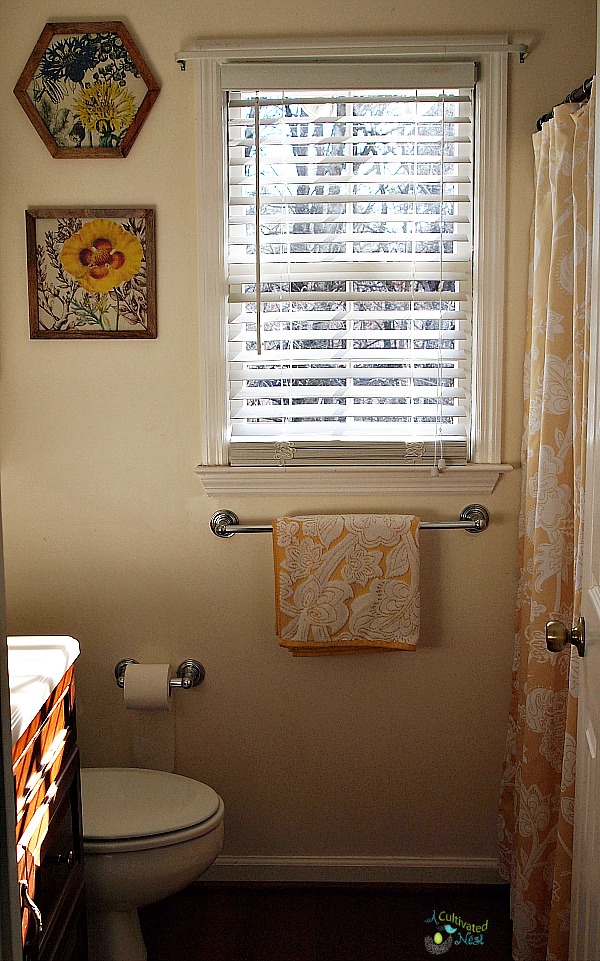 Most everything was purchased at Target – it the Threshold line.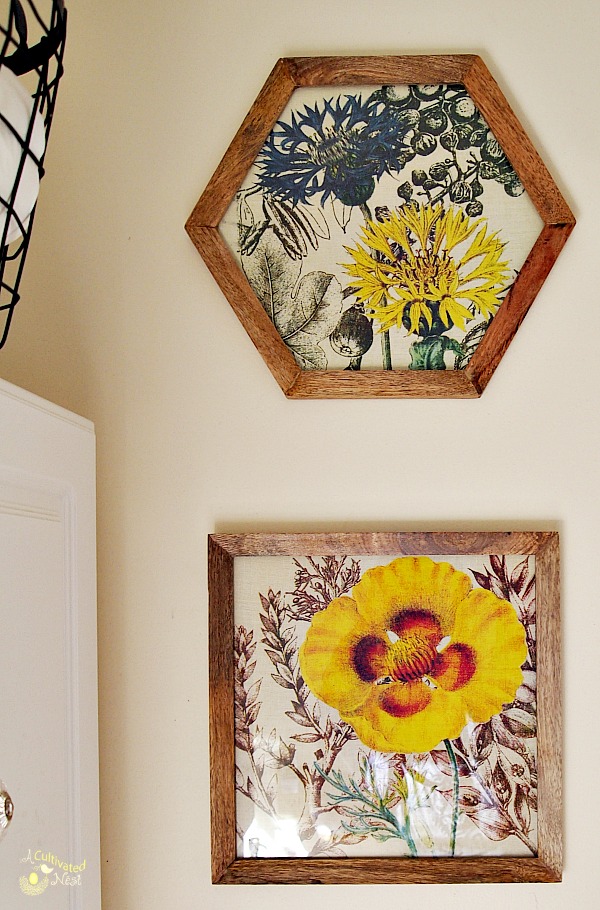 They do still have the shower curtain and towels but the artwork is no longer sold (I think it was from last year or maybe the year before)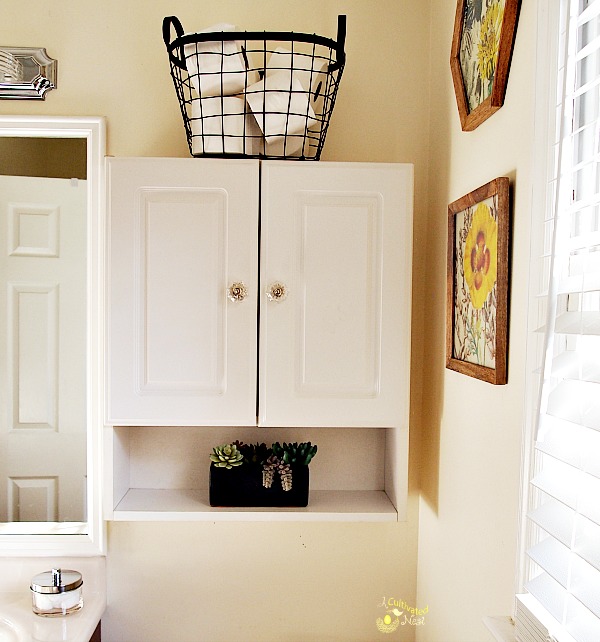 I'm pretty happy with the amount of storage in this bathroom. I probably wouldn't have chosen to put the white cabinet over the toilet area if I owned this house. But since it's there we're going to use it. I replaced the knobs with these crystal looking ones from Hobby Lobby.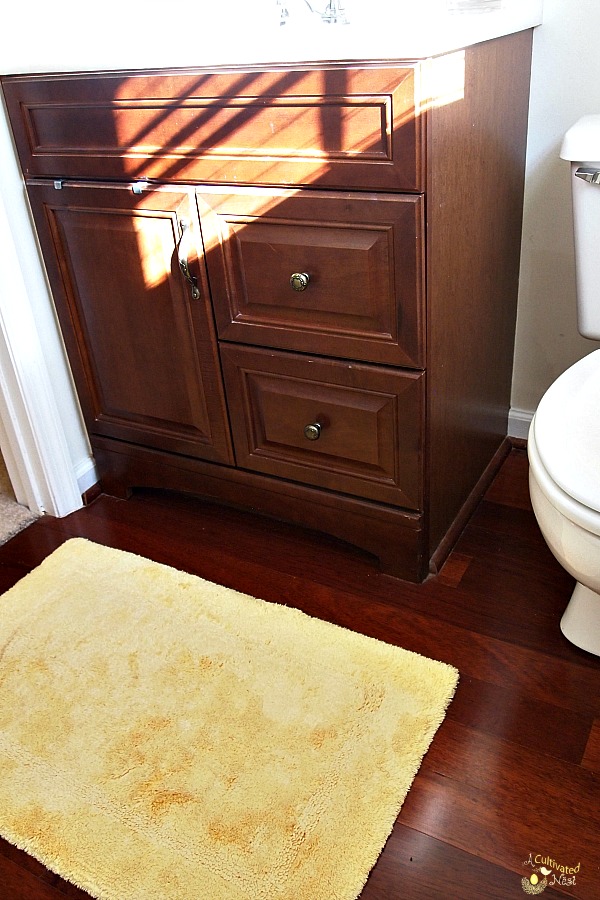 The vanity has drawers which we are thrilled about since we had no drawers in any bathroom in our old house! I'll replace the knobs when I find some at a good price.  The floors are either vinyl wood "tiles" or some type of engineered flooring. I haven't been able to figure them out yet! They're really pretty!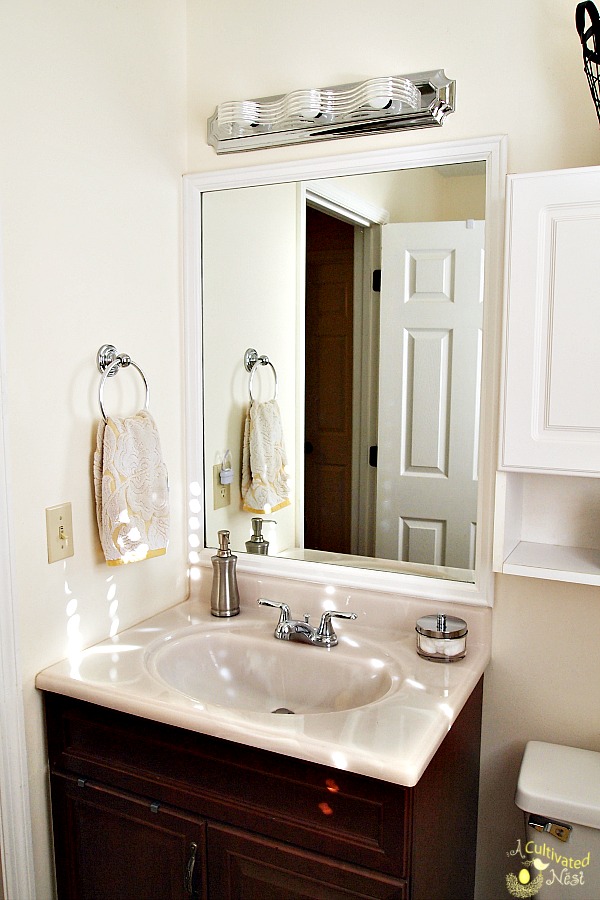 All the bathroom sinks are incredibly low – even for me and I'm 5'4". My husband who is 6'+ really has hard time! Again, not the light fixture I would have picked out. If I find a nice inexpensive one at Habitat Restore or the thrift store then I'll change it out (as long as it's basically the same size). So far I'm keeping a box of things that we've taken down as we change things out, so that when we move out we can put everything back.
I love this yellow ombre shower curtain so much I bought it in blue for the masterbath!
Things are moving along and there's less and less boxes in the garage!
****Just FYI – some work will be done on this site Wednesday morning so if you have trouble accessing just come back later in the day. Hopefully everything will be working by noon!