Have you decided on your New Year's resolutions? If not, now is the time to make them! And if you really want to succeed, now is the time to plan how you're going to accomplish them! The best way to plan anything out is to write it down. If you're getting your resolutions ready for the new year, you need these New Year's Resolution Printable Goal Sheets!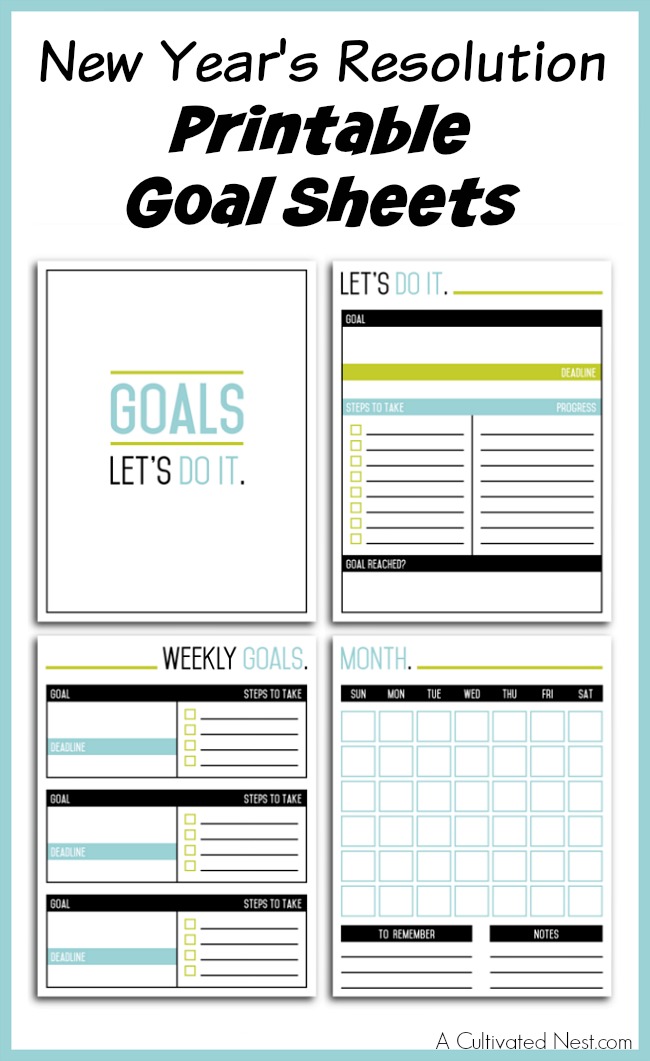 Disclosure: This post may contain affiliate links to Amazon and/or Etsy, which means that I may earn a small commission from some of the links in this post. Please see our Disclosure Page for more information.
These sheets are very useful because they help you plan out your goals in the short-term and long-term!
New Year's Resolution Printable Goal Sheets
This pack of printable goal sheets includes 4 pages. One is a pretty cover, which you could just staple on top of the other pages, or could use to separate this section out in a binder that you have. The next sheet is your main goal page. It's where you explain your goal and set a deadline. You also should list out the steps you plan to take, and you can journal your progress. The third printable goal sheet is for your weekly goals. These can be related to your main resolution, or can be entirely different mini-goals. For example, maybe your main goal is to become debt free. But one of your weekly goals could be to go to the gym three times a week. Lastly, the fourth printable goal sheet is a blank monthly calendar. You can write in the numbers, so it's perfect for any month in any year. Use it to write down major appointments and task reminders related to your goals.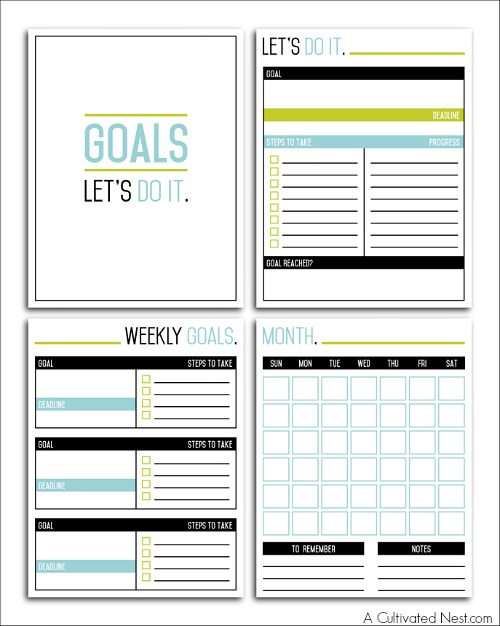 You may be wondering, do you really need to do all of this? Sure, you can just remember your resolution and minor goals. But can you remember the specific steps you need to take to achieve those goals? And will you be able to see how well you're progressing? Having a concrete plan and being able to track your progress is critical to achieving goals of any size. And if you've ever read the fantastic book Write It Down, Make It Happen, then you know there's a lot of benefit in just writing down your goals in general!
If you use these New Year's resolution printable goal sheets, you're much more likely to achieve your goals! Click the link below to download and print your free printable goal sheets!
New Year's Resolution Printable Goal Sheets
What are your resolutions this year?
This post contains an affiliate link to Amazon. Please see our Disclosure Page for more information.
You may also be interested in: