Hi everyone! I wanted to show you a few easy DIY bookmarks that I made this year to give as presents. I originally saw this idea at Andrea Singarella's blog way back in Jan and then rather surprisingly, my Michael's had a demonstration on how to make them recently!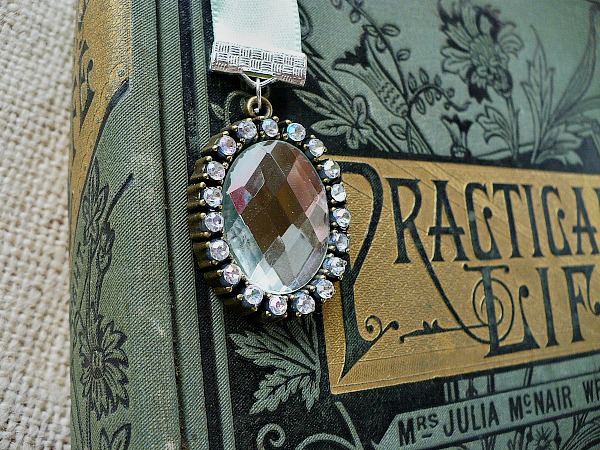 Add some pretty bling to your bookcase with this easy project. They make beautiful gifts too!
 DIY Bookmark Tutorial
 Below are the supplies you need to make the bookmarks.
Disclosure: This post may contain affiliate links to Amazon and/or Etsy, which means that I may earn a small commission from some of the links in this post. Please see our Disclosure Page for more information.
What you need to make the ones I show are:
jump rings (all found in the jewelry making section of craft stores)
various widths of ribbon to fit the ribbon clamps (velvet ribbon looks very elegant)
 charms or vintage jewelry to add to the ends.  You use those straight connector pins if you want to add some beads to the ends but I decided not to do that for these.
They're really easy to make and not expensive but they look expensive! I think they're a nice present to give to anyone that you know is a bookworm.
Step 1. You measure how long you want your bookmark to be. I made my daughter's (the blue ribbon with the cross) 8 inches.
Step 2. Place one end of the ribbon between the ribbon clamp and close clamp (I used some needle nose pliers). Repeat on the other end.
Step 3. Add the jump ring (use your pliers) and your charms to both ends. That it! Aren't they pretty!
These DIY Bookmarks were so easy to make! Really the hardest thing is deciding on the ribbon and jewelry!  I love things that are pretty yet practical.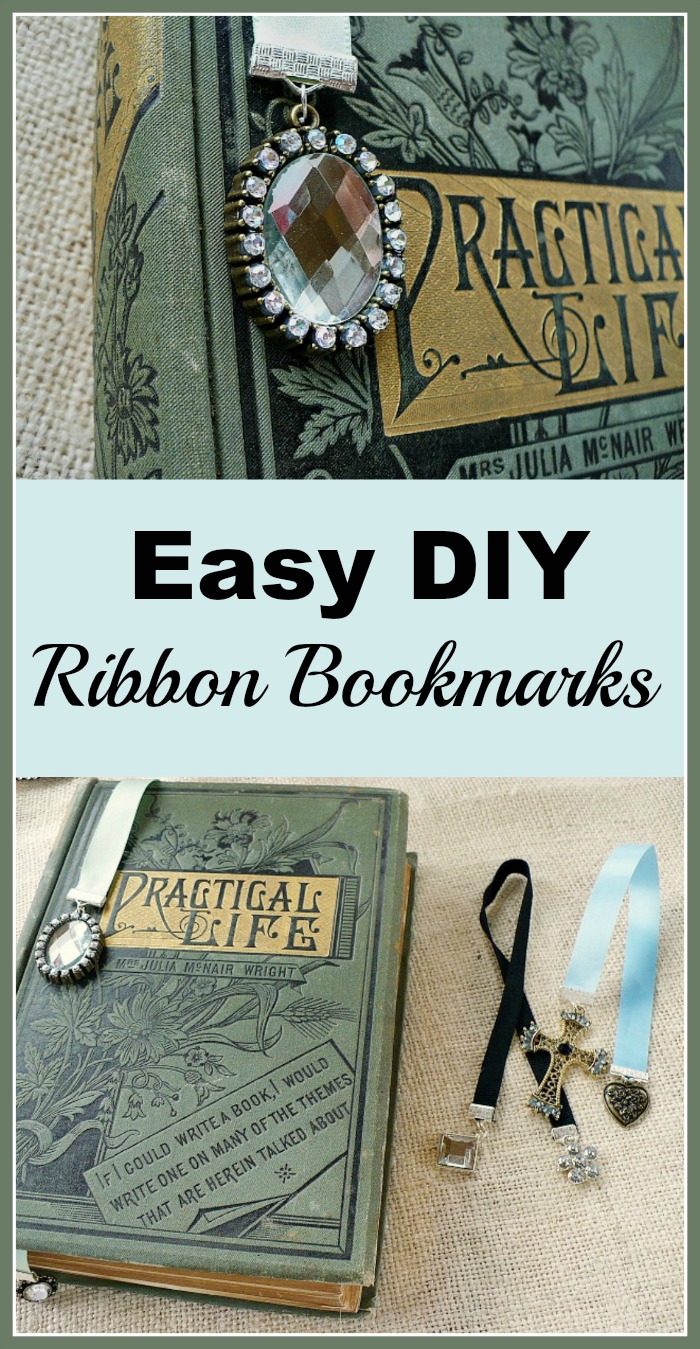 This post contains Affiliate links. Please see our Disclosure Policy for more information and thank you for supporting this blog.