Hi everyone! Hope you've had a good week so far. I've been looking for some white books to use when decorating and just couldn't find any. I have yellow books & black books that I use mostly to lift things up, but just couldn't find any light colored ones. So I decided to make my own. I'll show you how to make these really easy altered books for your decor at the end of the post. It's a great way to upcycle old books that are damaged or that you're never going to read!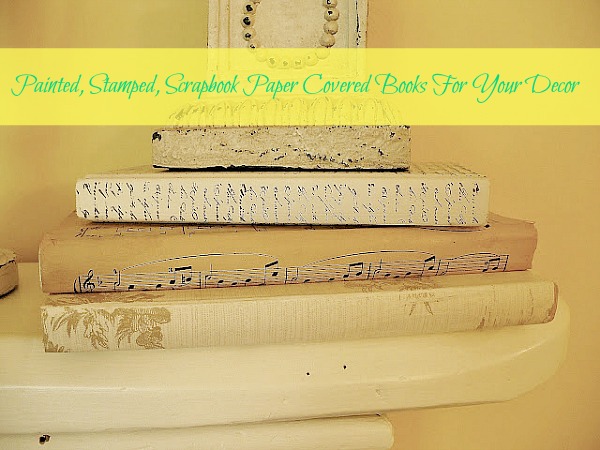 But first I want to show you how I used them on my faux fireplace mantel.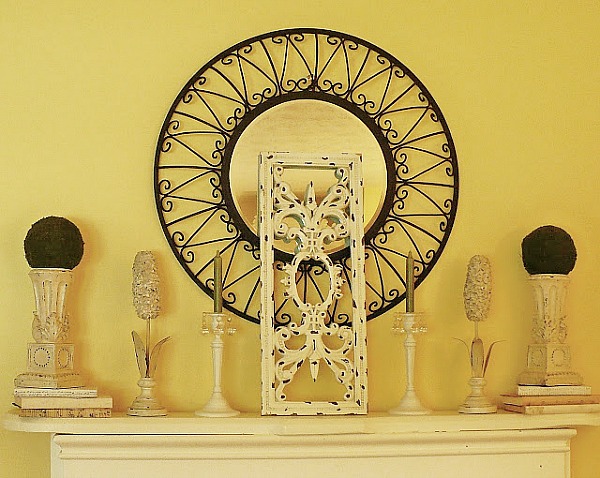 Disclosure: This post may contain affiliate links to Amazon and/or Etsy, which means that I may earn a small commission from some of the links in this post. Please see our Disclosure Page for more information.
I'm aiming for a light summer look!
I'm tried to use light colors to give my mantel a lighter look for summer.
The candleholders with the apple green tapers were ugly brass ones that I got at Goodwill. I few passes of spray paint and some plastic boboches make all the difference don't you think?
These white iron flowers are from Big Lots last year. I bought them at the end of the season clearance but don't remember how much I paid for them. The original stickers says $10 so maybe I spent $8? I know most of you savvy shoppers have patience and buy at the end of the season too!
I put a mirror in my faux fireplace last year (I think). I changed out the darker candles that are usually there for some white ones.
The white piece in the center is one I've had for years and years. I've seen that some of you also have it. I took the mirror out and am just using the pretty frame. The mirror I got at Hobby Lobby a while ago but I think they still have it or something like it.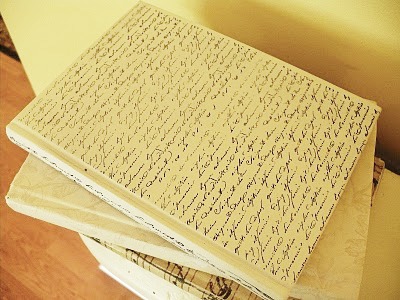 How to Make Painted, Stamped & Scrapbook Paper Covered Books
For the French scrip book I spray painted an old book with some flat white spray paint.
Then I took a stamp and stamped the front and sides. That's it! The possibilities are endless and if I had more than the 4 stamps that I have, I would have made more of these. I will be going to Hob Lob next time stamps are on sale and getting a few to use on other books!
The other books I decoupaged with various things. I used some toile wallpaper on one, some old sheet music on another and some scrapbook paper on others.
Cut your paper to size. If you are doing a rather large book you will need to piece together your paper unless you're using wallpaper/giftwrap.
Apply decopauge medium and the place your paper on top.
As you can see this piece of scrapbook paper was too short so I had to add a little piece.
That part will be on the bottom and the nice part will be on top.
Above is the top. I also sanded the edges a bit to give it a more worn appearance.
You can use any pattern you want. I'm going to do some books in a black & white harlequin pattern.
They're  great for adding to your displays and very inexpensive to do!
Thanks for spending some time with me today. I hope you try this project and let me know if you do as I'd love to see it! Have a great weekend!