I've had a few people ask to see more of my pantry. I guess the picture on the sidebar with "My Showerstall Pantry" over it is intriguing LOL! So because long time readers will know all about it I'll save it for the end and show you my broom closet first. How many broom closets do you see on blogs?~smile. I know I'm always looking for organizing ideas so hopefully you'll get some here!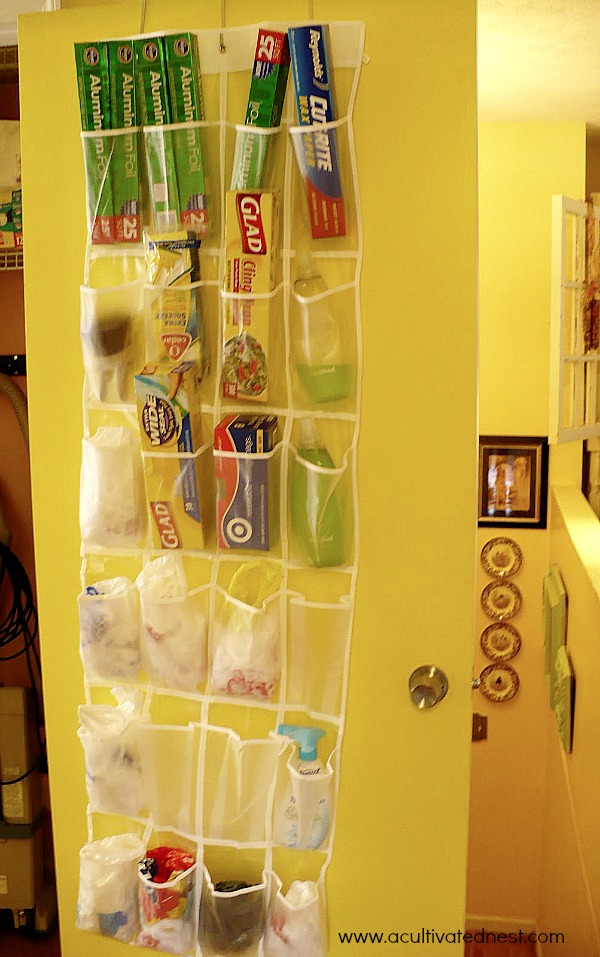 Disclosure: This post may contain affiliate links to Amazon and/or Etsy, which means that I may earn a small commission from some of the links in this post. Please see our Disclosure Page for more information.
Basically this closet is where I keep my broom, mops, vacuum cleaner & bags, kitchen garbage bags, paper products, foil, dish soap – that sort of thing. I use one of these over the door shoe organizers to store my foil, Cling Wrap, plastic shopping bags (we only keep the really big ones the others we recycle), dish soap, sponges…whatever will fit. These are such handy things and can be used anywhere! You can use them to organize toys, craft stuff, sewing stuff, office stuff and use them for food storage like canned goods. All kinds of things. Be sure you get the clear one so you can see what's in each pocket. This was under $10 at Target.
Do use some kind of hanging systems for your brooms and mops instead of just piling them in a corner. This keeps them organized and off the floor.
There was only one shelf in here when we moved in and so much wasted space. So we put another shelf above it so we could utilize all the space to the ceiling. My tall husband and daughter have no problem reaching that top shelf. Me, I need a step stool!
Isn't that a cute feather duster? I hardly ever use it though!
I keep all my cute in aprons here too. I always forget to put one on though!
You may have noticed that the inside of the door is yellow and the inside of the closet is a orangey yellow. I have painted the insides of all my closets and my kitchen cabinet doors (there's a picture on my sidebar). I just think it's such a happy surprise to open a door and see some color. So often we get caught up in doing things to our homes just for other people or for show and forget to do little things that maybe just we would enjoy!
Behind this curtain is my food pantry. I don't have a pantry in my kitchen. I also don't have a closet that I can devote to food storage. This is an old house on the smaller side (18-1900 sq. ft.) I really believe in having a pantry. You never know what will happen and I know so many people who have lost jobs and were able to feed their families because they had a stocked pantry. Anyway, I thought about where I could store food and decided that the showerstall of my downstairs bathroom would be perfect. We don't use this bathroom so it was just wasted space.
I did this bathroom 10 years ago which is why it still has the rag painting technique on the walls (remember that)! It's due for an update.
You can buy your jars like this but this one I made. I painted the lid and just marked off an area with tape and painted it with chalkboard paint. You can you use that stuff on anything!
I like to keep like things together. I have all my baking things together on a shelf, all my canned fruit together, all my condiments together, all the soups are together etc.
This works for us since we have two other full bathrooms upstairs and it's only my husband, myself and my daughter.  Plus the temperature in the basement is cool and just perfect for food storage. I like things to be pretty as well as functional so I added some paper on the outside of the shelves.
My point is that you need to

think outside the box if your home is storage challenged like mine.
Even if you have to use the space under a bed or maybe you don't need a linen closet for your linens, or maybe you have a window seat, or a trunk that you use for a coffee table that you can use for food storage. Those over the door organizers can hold canned food, pasta boxes etc. You'd be surprised at how much space is in those pockets!