I love decorating my home  by using my creativity! I've been wanting to put some buffalo check curtains in my dining room for a few years now. So one day I was in TJMaxx and I was looking at the merchandise on those rolling carts they use to bring out the new stuff  and I saw a couple of packages of black and white buffalo check tablecloths. I do believe a light bulb appeared over my head!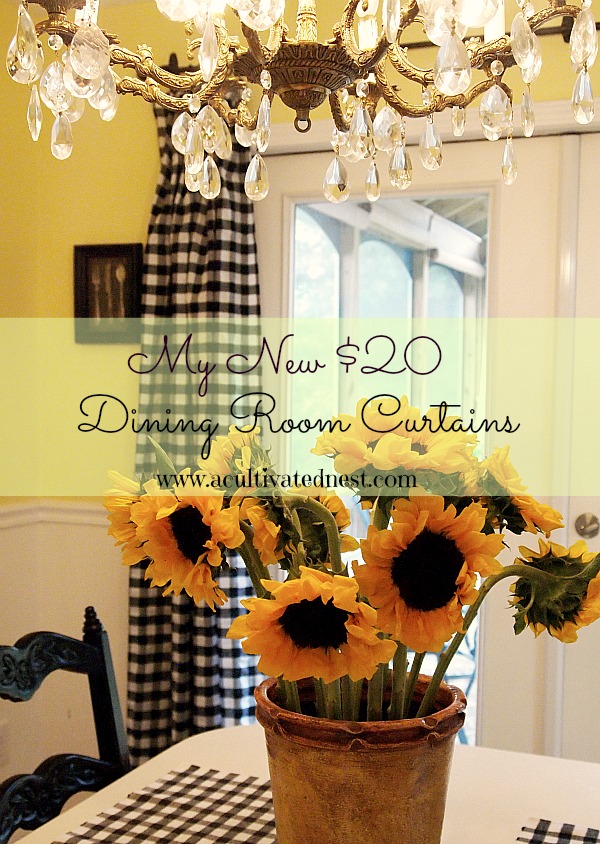 So I took 2 of them off their cart before they could even put them on the shelves! (isn't that terrible 🙂 ) Came home and took my toile curtains down and clipped up my tablecloths and instant buffalo check curtains! DIY cheap curtains that don't look cheap!  LOVE THEM!!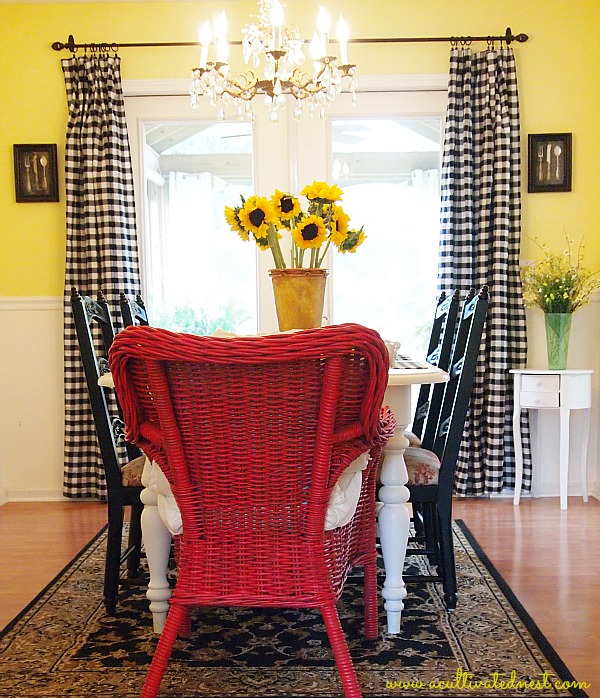 Disclosure: This post may contain affiliate links to Amazon and/or Etsy, which means that I may earn a small commission from some of the links in this post. Please see our Disclosure Page for more information.
Using tablecloths as curtains isn't a new idea, but I've just never found any tablecloths that I wanted to use as curtains before! Oh, I changed my living room around and put the red wicker chair that I painted in the dining room for now. It's a great height for my dining room table! If they didn't take up so much space, I'd change all my dining room chairs to this Ikea wicker one – it's soooo comfy!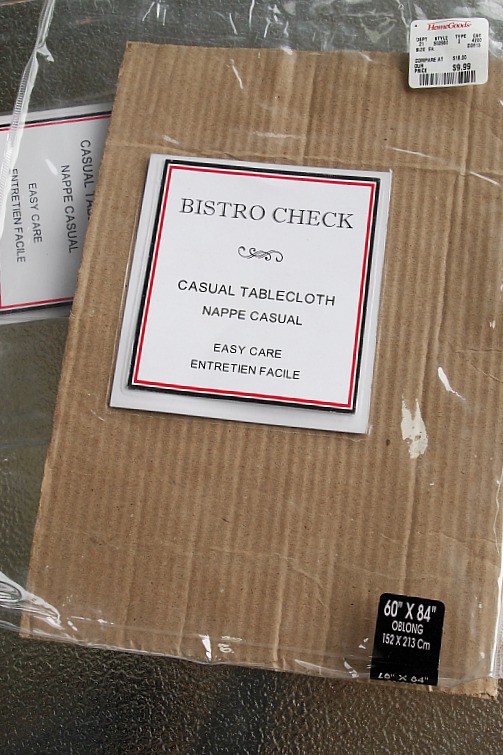 Back to the curtains…each tablecloth was $9.99 and the size I used was 60×84.  As you can see from the photos , my curtain rod hangs a few inches above my door frame. I already had the curtain clips since that's how my toile curtains were hung, but they're not expensive. You can get them at Target/Lowe's/TJMaxx/Bed Bath & Beyond….basically anywhere. I see them at the thrift store all the time too!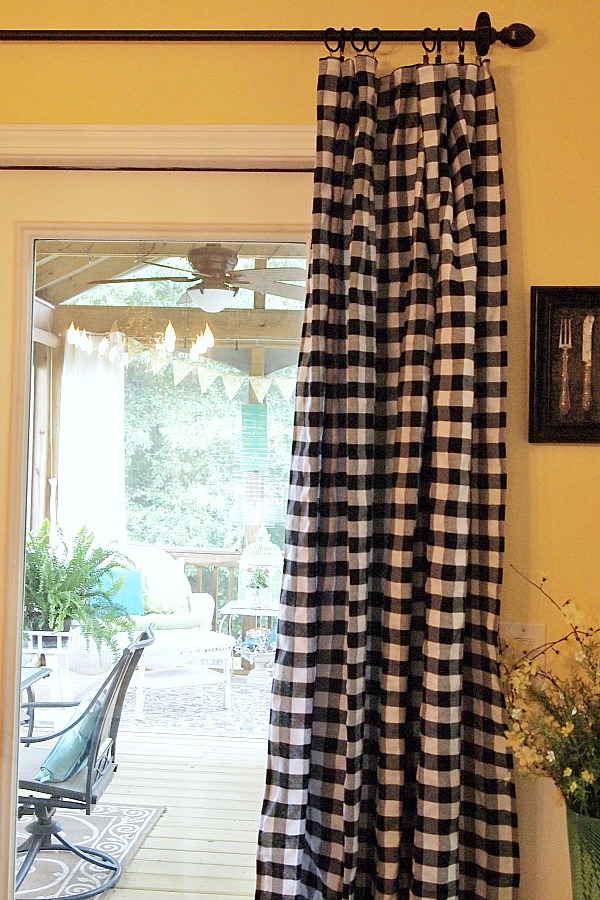 If they had had a longer size I would have bought it but this size is good and the price was fantastic for new curtains! $20 total for new curtains!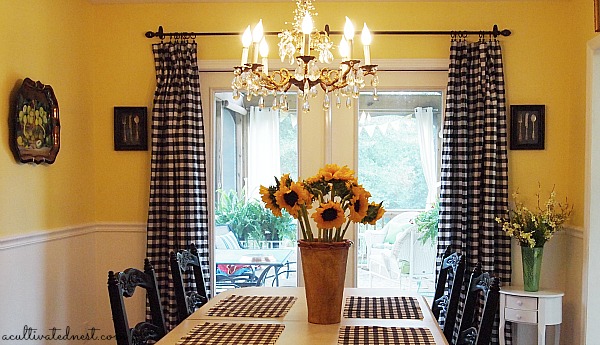 One of my tips for decorating on a budget is to keep an open mind. I had originally wanted red buffalo check curtains but when I found these black and white tablecloths I said why not try them. Also, I knew that people had used tablecloths, sheets etc as curtains, but I never had- so I wasn't too sure about that whole aspect. But again, I was willing to give it a shot.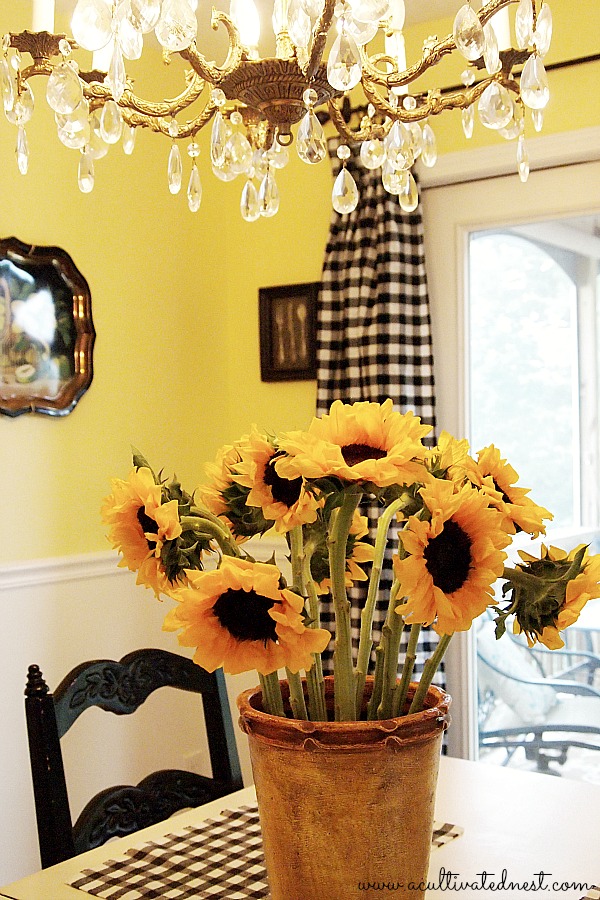 Did I mention that I LOVE them!
Want to see more of my dining room? Click on the photo: