I wanted to show you guys my new chalkboard kitchen wall and a few little changes in the kitchen! My kitchen has been in a crazy state lately because I'm clearing my counters off, re-organizing cabinets and purging lots of stuff.
Disclosure: This post may contain affiliate links to Amazon and/or Etsy, which means that I may earn a small commission from some of the links in this post. Please see our Disclosure Page for more information.
So this chalkboard project started because I  had lots of stuff sitting on this part of my kitchen counter (next to my cook top) that I moved to other places and then, since this area looked so nice, I just wanted a new look. 🙂  So I painted that wall with some chalkboard paint that I already had and for now I have a sort of kitchen measurement conversion chart on it.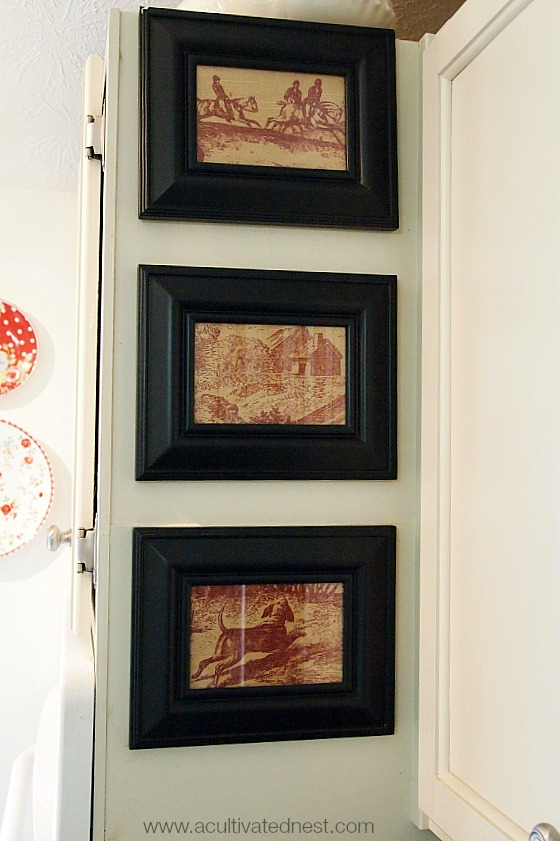 This is the before. I made these pictures I think about 10 years ago. They're just pieces of toile fabric that I glued onto some cardboard and framed. This wall is a little strange in that the wall oven is behind it. This wall is actually covered in white with gold fleck formica! I've painted over it many many times because this kitchen has been about 7 different colors!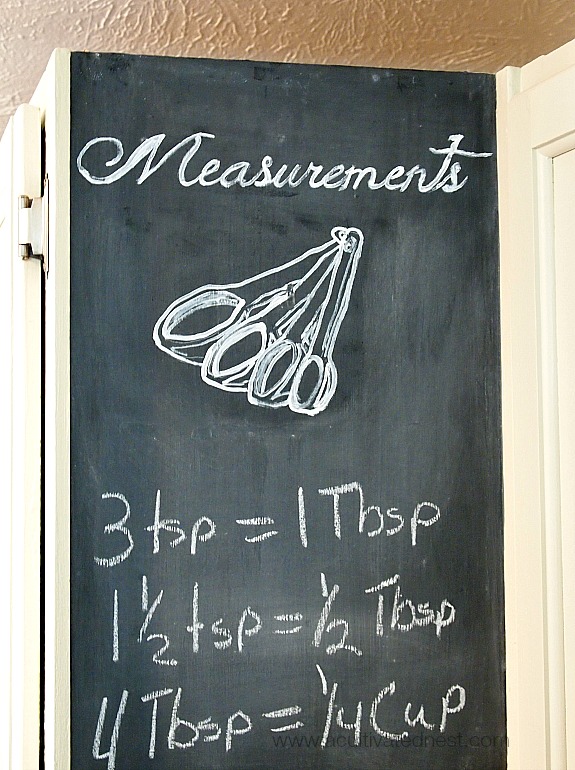 This is the after. I thought cooking measurements would be cute for now.  I can always change it to something else like dinner menus or a saying later on. That's the beauty of chalkboard – it's definitely for those who like to change things up!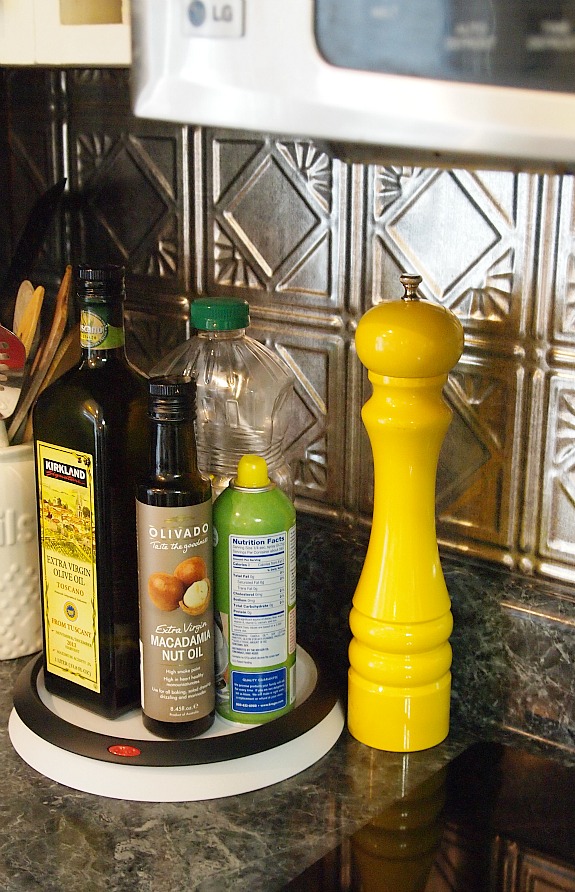 Some changes I made to this little counter top area -I used a Lazy Susan that I was using in my refrigerator to organize my most used oils (not sure I like it in the fridge – I think it took up too much space). I would have liked to have put the oils in the cabinet with the spices but those shelves don't move so these bottles don't fit. That's my fancy Davis & Waddell pepper mill that I got at the thrift store in May!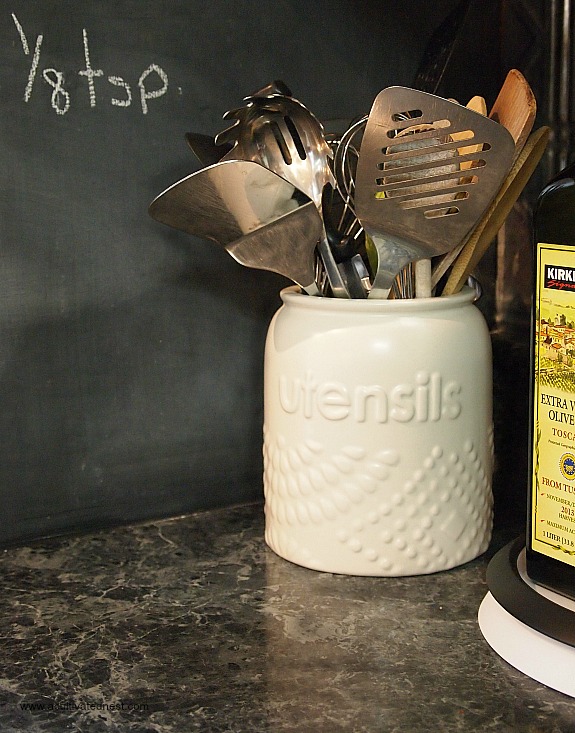 I don't have a lot of drawers so I like to keep my larger utensils out since it makes them easy to grab when I'm cooking. I cook a lot! I sometimes cook 3 meals a day – most days at least 2. So whatever makes things easier for me!  I just got this cute utensil holder at Target – it's part of the Threshold line.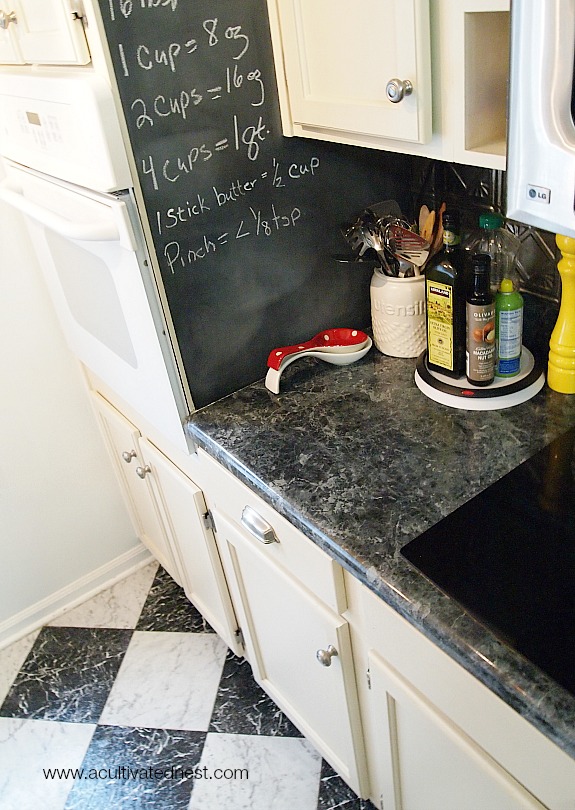 So this little counter space used to be filled with all kinds of things that have found new homes! Now I have a little more room to the left of my cook top and I was really shocked at what a difference this little change makes in my enjoyment of cooking!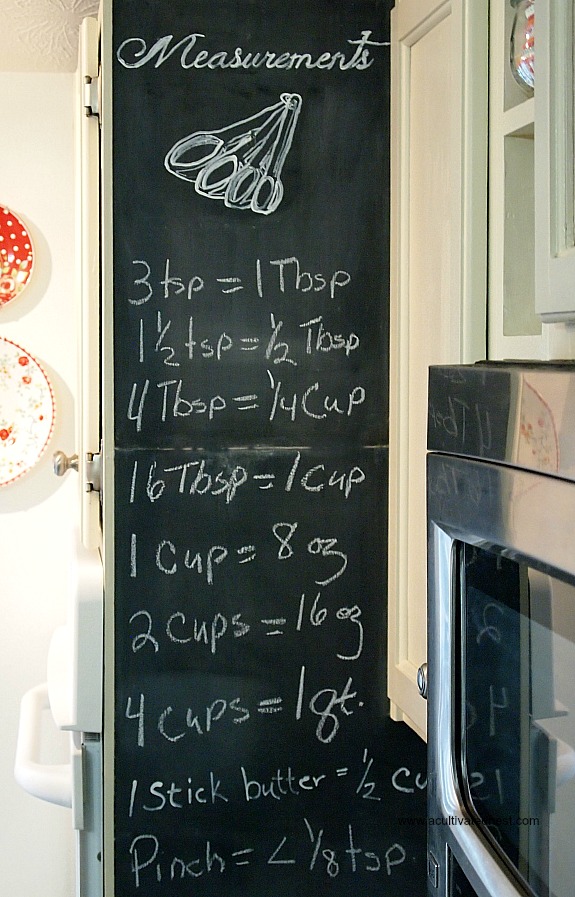 My favorite thing though is the chalkboard wall!
I also re-organized my broom closet turned pantry and a few other things in the kitchen – so look for those future posts!
Have a great weekend!