A couple of people have asked me what my screened porch looks like this year. So I took some photos of  the "living room" section since I had most of it spruced up for the Memorial Day weekend. I tried to keep my screened porch decorating simple this year!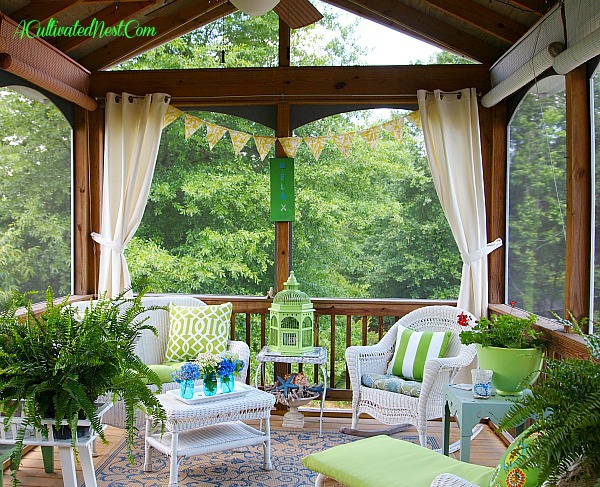 A screened porch is pretty much a necessity in the South if you want sit outside without getting eaten alive by bugs! Plus it's nice to be able to sit outside in the rain (as long as the wind isn't blowing it inside)! We had this one built and it's my favorite room in my home!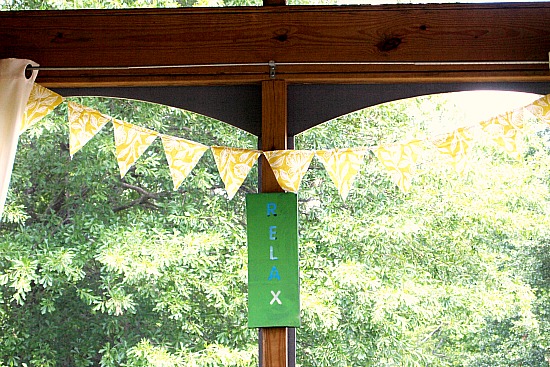 Disclosure: This post may contain affiliate links to Amazon and/or Etsy, which means that I may earn a small commission from some of the links in this post. Please see our Disclosure Page for more information.
I painted over an old painting that I've had outside for a few years and made this little RELAX painting the same way I did this diy quote wall art.  The banner is made from a vinyl tablecloth from the dollar store.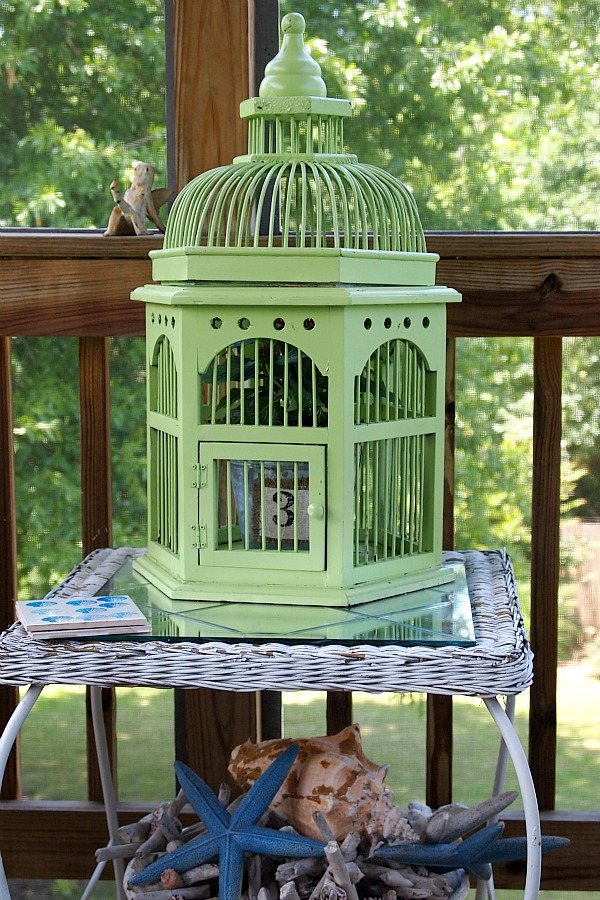 The birdhouse I got years ago at the thrift store and I painted it green this year. Usually it's full of shells but this year I put a plant in it (the top comes off).
Here are a few more screened porch photos: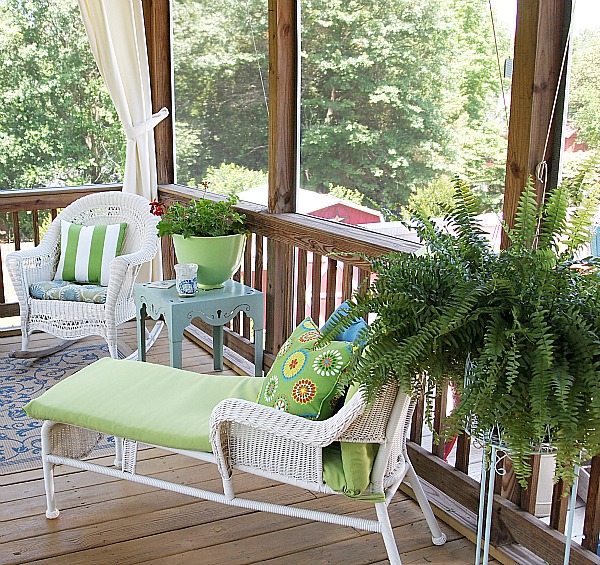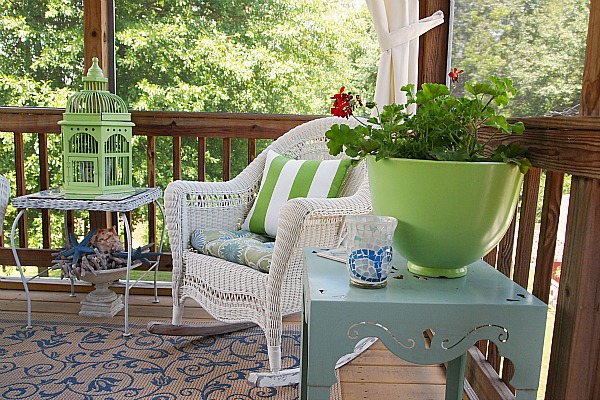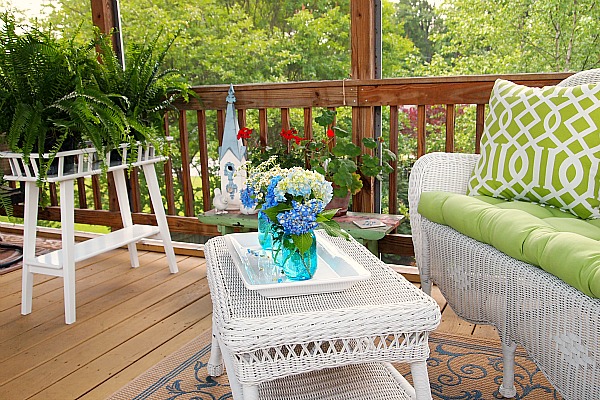 This year I'm using ferns and geraniums on the porch. I've found these two plants to require the least amount of maintenance from me and they look great all through the summer and into fall.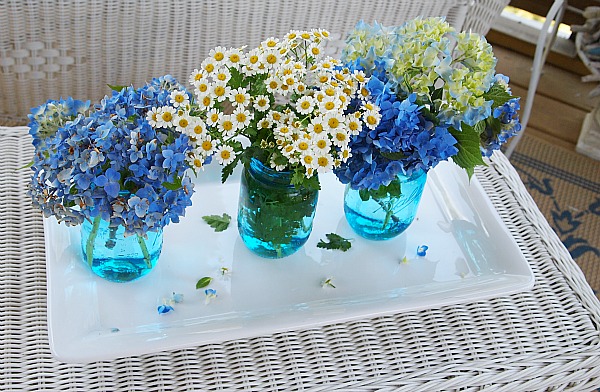 I picked a few blooms from my garden and used some Ball jars I got at Target as vases (Target has the case of re-issued blue Ball  jars that everybody's been buying online).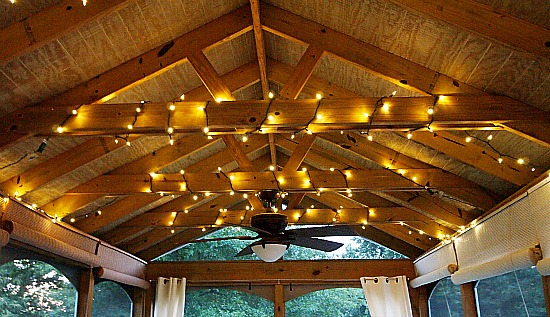 Something we did last year that we love…last Christmas we wrapped the beams of the ceiling in lights and loved it so much we've kept them up there. They're on a dusk to dawn timer so they come on automatically.  It's just magical to look out at night and see the lights on!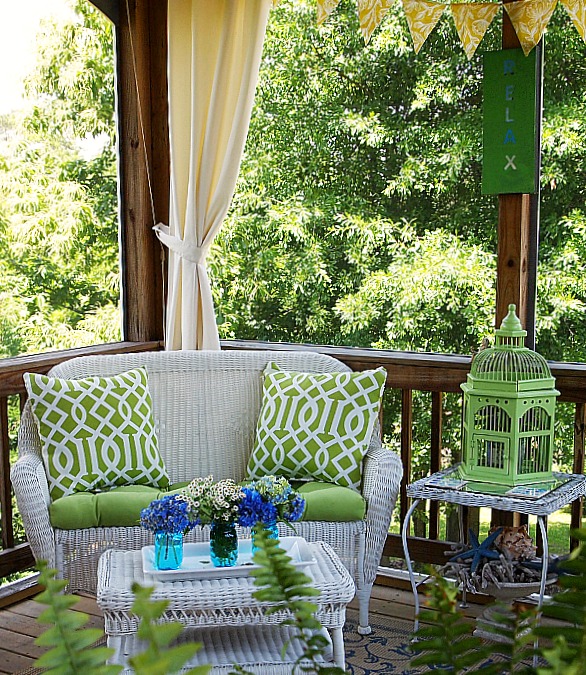 Well that's part of the screened porch. I'll show you the other part – the dining area – next week. I want to re-paint and hang one of my old shutters before I do  and I probably won't get around to doing that until this weekend.
Thanks for stopping by!
You might like to see what it looked like other summers:
My Summer 2009 porch is here
My Summer 2010 porch is here
My Summer 2011 porch is here