DIY Teacher Appreciation Gift + Free Printable.
The end of the school year is nearly here! Which means it's time to thank your kids' teachers for all that they've done to help your children learn and grow this past school year. A fun way to do that is with a little homemade gift with a cute gift tag. And we have the perfect idea! For a gift your kids' teachers will love, check out our Jackpot DIY Teacher Appreciation Gift and the free printable gift tag that goes with it!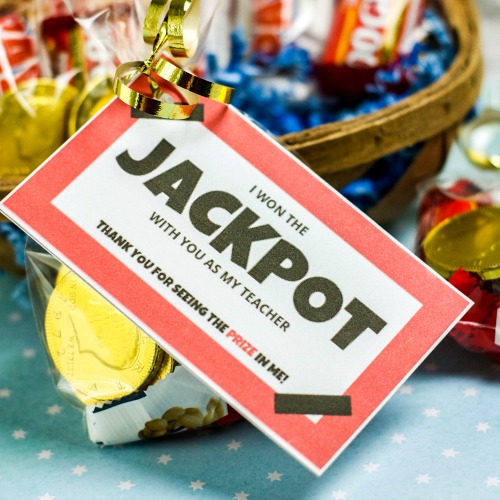 Disclosure: This post may contain affiliate links to Amazon and/or Etsy, which means that I may earn a small commission from some of the links in this post. Please see our Disclosure Page for more information.
It's not easy being a teacher. The pay isn't great and some of the kids can be difficult to work with. But teachers help everyone so much, so it's the least we can do to give them fun DIY teacher appreciation gifts like this one!
Jackpot DIY Teacher Appreciation Gift
This DIY teacher appreciation gift is very easy to make! Since the tag says "I won the jackpot with you as my teacher" the theme for the treats you include ideally would be related to money. But this tag would be fun on a gift bag filled with anything, really. Here's how I made my jackpot homemade teacher's appreciation gift!
Materials
Money themed candy bars (Payday + 100 Grand) and gold chocolate coins. Feel free to use different fillings to account for the teacher's tastes/allergies.
Jackpot Teacher Appreciation Gift Tag Free Printable
Directions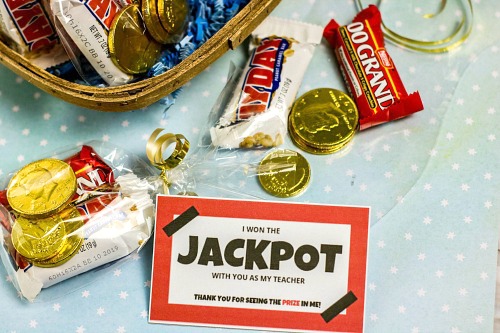 1. Print and cut out the free printable gift tags from the link above.
2. For each teacher you're giving this gift to, fill a cellophane bag with candy bars and chocolate coins.
3. Hole punch the tags in their top left corners. Tie the tags onto the bags with the gold ribbon.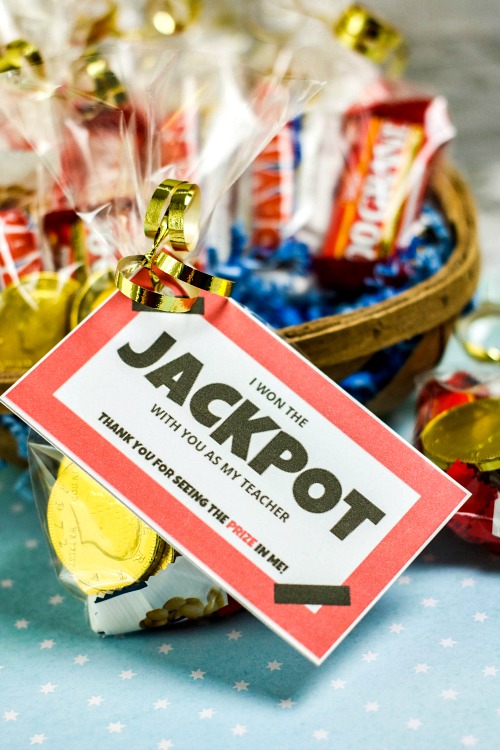 Then your DIY teacher appreciation gift is ready to give! This is such a clever and fun way to tell any teacher thank you at the end of the school year, and is suitable for teachers of any grade!
What other fun DIY gifts have you given to teachers?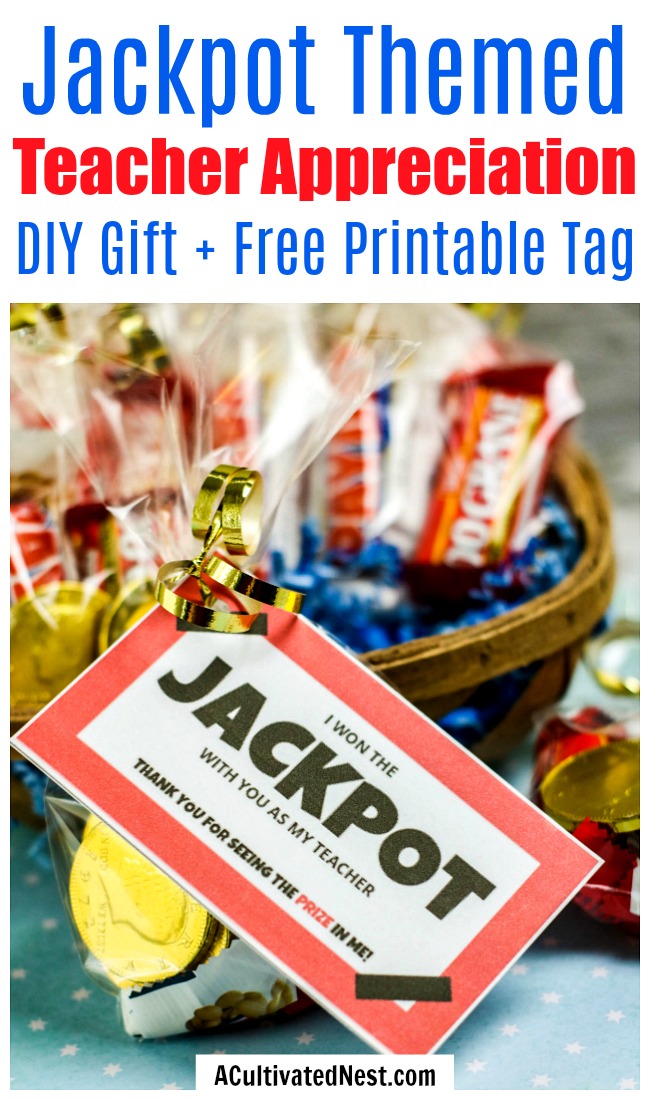 You might also be interested in: Brilliant DIY Teacher Gifts