I've been wanting to paint a  focal wall in  my bedroom with stripes but I thought I'd better try it on a smaller wall first and I'm glad I did. Painting stripes is hard and I only painted 3 wide stripes! But I love how it turned out!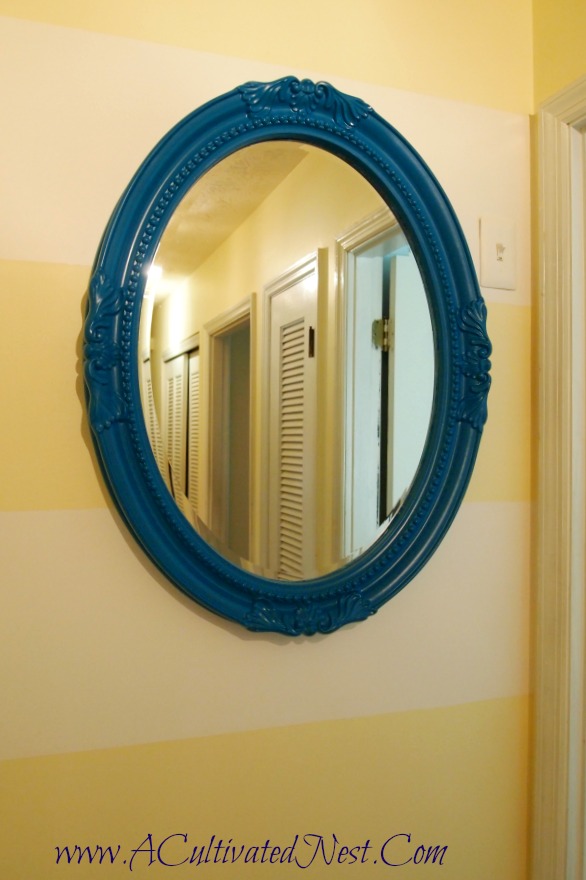 I used what I had as far as paint is concerned. The base coat is the yellow of living room/hallway and then I used the white from my kitchen for the other stripes.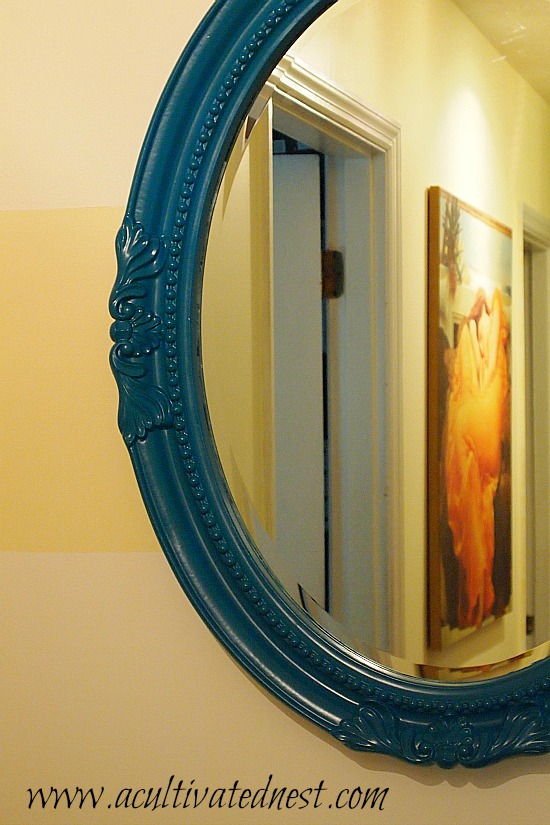 Disclosure: This post may contain affiliate links to Amazon and/or Etsy, which means that I may earn a small commission from some of the links in this post. Please see our Disclosure Page for more information.
The mirror looks sort of navy in these photos  but it's really more turquoise. I painted it with Rust-Oleum Ultra Cover (paint & primer) in satin. The color is Lagoon.
The end of this hallway used to be a deep brown with a big mirror at the end and sign over the mirror. I totally forgot to take a before photo so this is from a post about my cross gallery wall.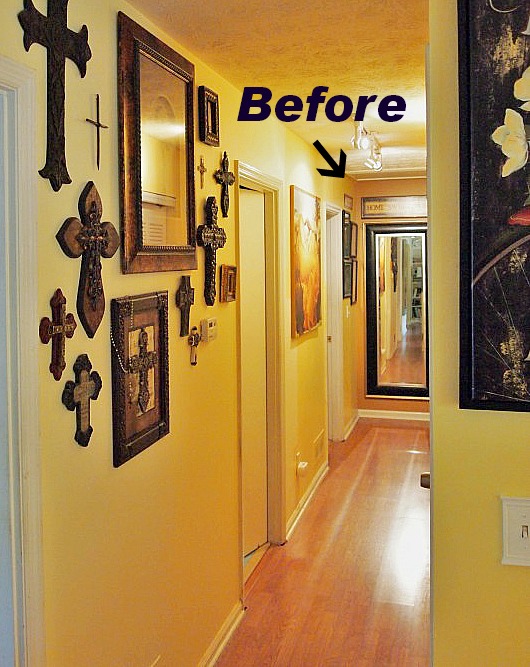 Here's the after. I LOVE it! It looks so fresh and the stripes actually make the space feel wider.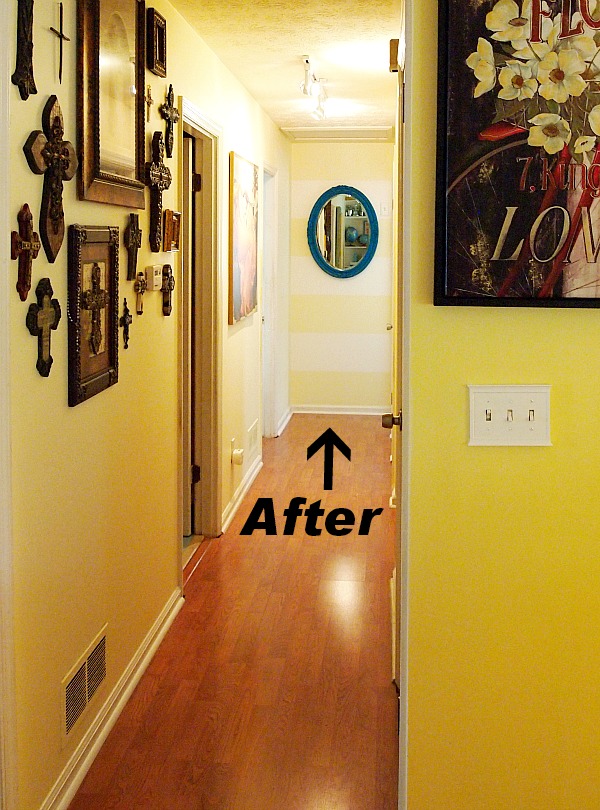 How To Paint Horizontal Stripes On A Wall:
Step 1: To paint stripes on a wall, you're going to first paint the wall a solid color that you want one of the sets of stripes to be or use your existing wall color like I did.
Step 2:  Next is the hard part! The measuring and taping! To decide the width of your stripes, measure the total height of the wall from the ceiling to the base molding and divide by however many stripes you want in total. I like the way odd numbers look, but that's up to you. You will probably have to fudge a bit and make the bottom stripe a little larger than the rest of your stripes (which is what I did and you can't tell) to get it to all work out.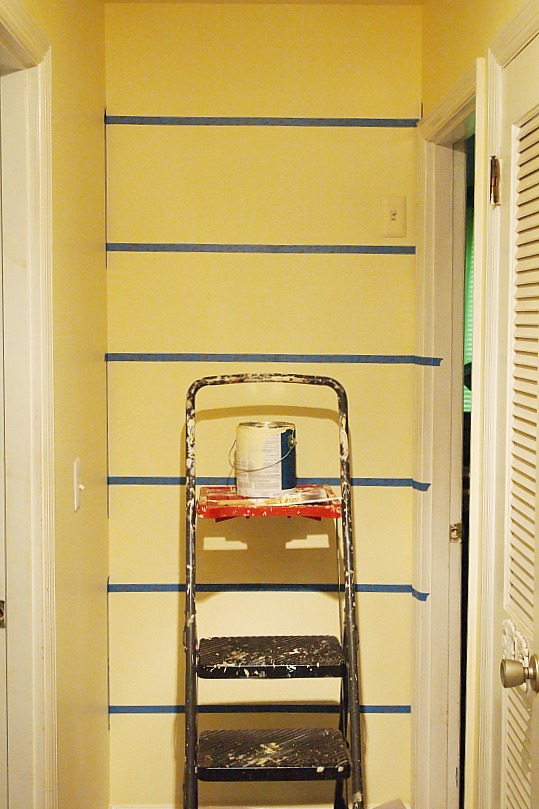 Step 3.   Use a level to make sure your stripes are nice and straight and level and mark off your stripes with a pencil or chalk. Then use a good painters  tape to tape  off your stripes. Press the painters tape down with a credit card to make sure it's adhered well to the wall. All this prepping to paint is the hardest most time consuming part of this project!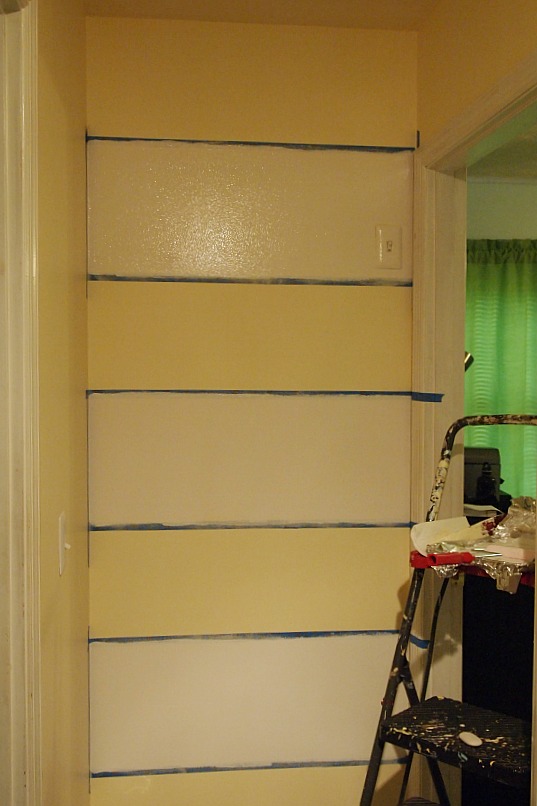 Step 4. Dry brush using very little paint and LIGHTLY coat the edges of your stripe where the painter's tape is with the base color. Let this dry and then use a roller to paint the rest of your stripe. I didn't have any bleed through doing it this way and got nice straight lines.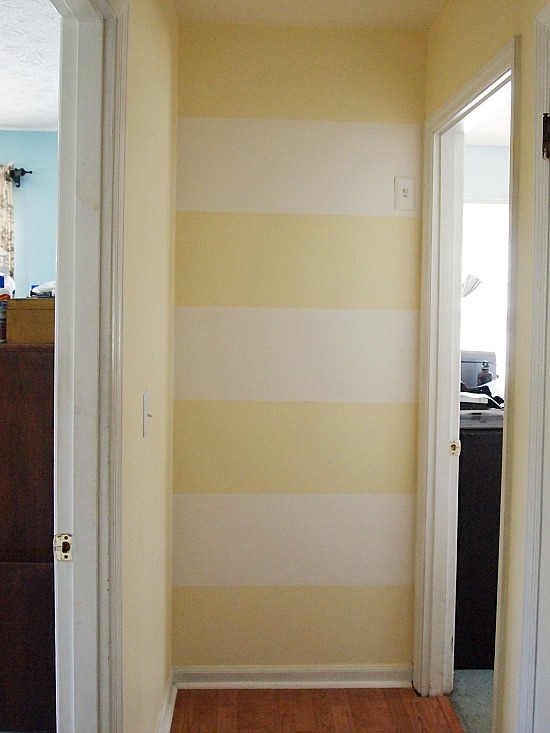 Step 5. When you're finished painting peel the painters tape off the wall before it's totally dry and peel it at an angle.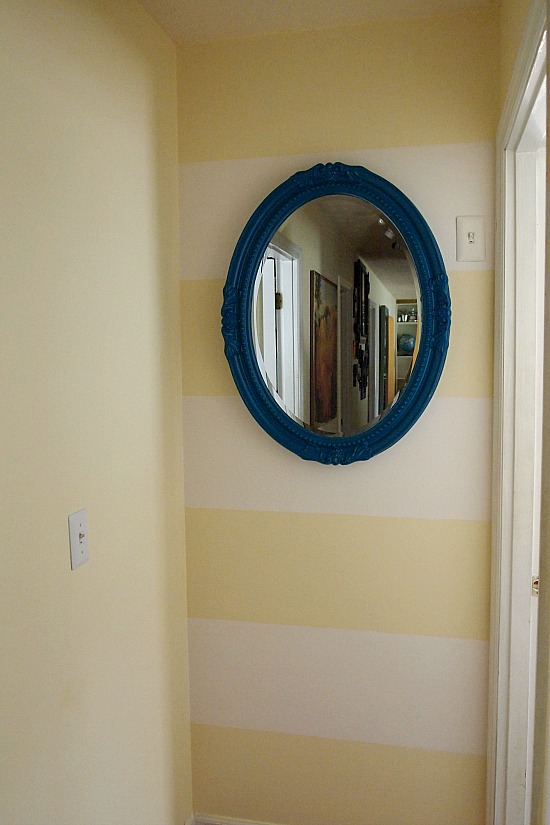 I really love the way it looks but I'm going to have to give it some time before I try doing a larger wall!