It's back to school season! I know, who wants to think of back to school, right? This means not only buying school supplies but also some clothes shopping. Everyone's budget is different, but who wants to spend more if you don't have to!  Here are some tips I use to Save Money on Back to School Clothes!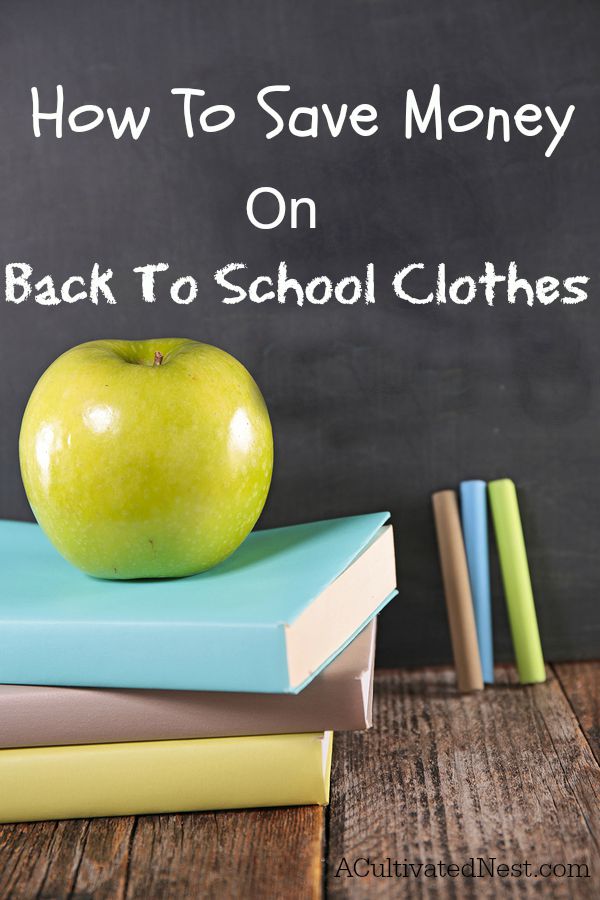 How To Save Money on Back to School Clothes – 7 Tips
Disclosure: This post may contain affiliate links to Amazon and/or Etsy, which means that I may earn a small commission from some of the links in this post. Please see our Disclosure Page for more information.
1. Know What Your Kids Have and What They Need –  You don't want to buy them things they already have a ton of. Having a inventory of their clothes is a good idea.  You can have a written inventory or just an informal one where you take note of what they have and whether they need different sizes.
2. Host a Back to School Swap– Gather up your girlfriends and the kiddos and organize a back to school brunch with coffee, juice and pastries (keep it simple). Invite everyone to come and bring their child's outgrown clothes, even backpacks and lunchboxes. Swap item for item even if it is not with the same person. The idea is that everyone goes home with some great "new to them" pieces. I recommend setting some guidelines up front- only quality, near new pieces, item for item swaps, etc. Whatever is left can go home with its original owner or can be donated.
3. Shop a Size Ahead– Kids grow fast and sometimes its hard to gauge what size they will be a year from now, but if you catch great sales at the end of this back to school season it will be worth packing some away for next year.  Outerwear like coats and sweaters are easier to buy ahead than items like jeans since the length is harder to guess.  If you can catch something at a steal and your child is too big for it when the season comes, you can recoup your money by selling it on Ebay.
4. Stretch out the Season– Buy when the summer items are beginning to hit clearance racks. Some schools  start in August in some areas and some in September. Either way, the first day/week of school will probably be fairly warm. Simple plain t-shirts or those with your child's favorite characters emblazoned on them can later be slipped over a plain long sleeve shirt for fall and winter use. Put leggings under a sundress or even shorts to extend their life well into cold weather season. Likewise, in the summer when pants still fit their waist but are too short in length, cut them off, hem them and extend their life!
5. Shop Ebay–  We  have already established that kids grow quickly, sometimes after wearing an item once, twice, or not at all. Ebay is a treasure trove of like-new clothing in all sizes and seasons.  Look for bigger lots of clothing, I think those tend to be better deals and you can probably score most of your child's back to school wardrobe with one or two of these.
6. Shop Thrift Stores, Consignment Stores, and Garage Sales – You can find great deals all year long on secondhand clothing!
7. Take Advantage of Sales/Coupons– When the shoe stores offer Buy 1 Get 1 for  50% off sales and you only have one child, you can still take advantage by purchasing a second pair in the next size up- you will be well ahead of the game you smart momma.  Gather coupons in flyers, newspapers, and the ones you earn during the summer for purchases- stores often take competitor coupons or will stack multiple coupons. Shop the sales (never pay full price!).
Of course, be sure you've set a realistic budget for back to school shopping. Try to shop with cash – it will help you stick to that budget!
  About Jody: I am a Florida girl through and through living the semi-country, small town life.  I am making my way through it with my amazing hubby, 2 beautiful kids, 2 of the best Dachshunds to ever walk the face of the earth, massive amounts of coffee and a whole lot of Jesus.  I homeschool, craft, cook, scrapbook, garden, raid the thrift shops, snap 1,000's of photos, and read when I can grab a spare minute (which is rare). You can find me blogging at Simply Southern Sunshine.
You may also be interested in: